Paris Hilton's transformation into Kim Kardashian's double for Kanye West's Yeezy campaign in late January caused a widespread double take on social media. In one photo posted to Kardashian's Instagram account, which got nearly 2 million likes, Hilton is carefully styled into a quasi-Kardashian: platinum hair with dark roots, full eyebrows, and pouty lips, as she strolls down a street in tailored sweatpants, lollipop in hand. W magazine declared the image "iconic," and it was, by design, playfully acknowledging Hilton's history with Kardashian as one-time co-conspirators turned supposed frenemies.

Both celebrities let us know they were in on the joke: Kardashian called Hilton "#ForeverTheOG" in her caption, and Hilton enthused, "So much fun being a #KimClone." But the social media reaction was dominated by tweets about tables turned, framing Hilton's arc as a tragic decline from Kardashian's onetime boss to just another employee working for the Kardashian family empire. And in overlaying the public images of the two women, the Yeezy ads became another reminder of the differences between them — which, in part, explain why Hilton quickly faded from groundbreaking symbol of a new era of reality fame to an icon of aughts nostalgia.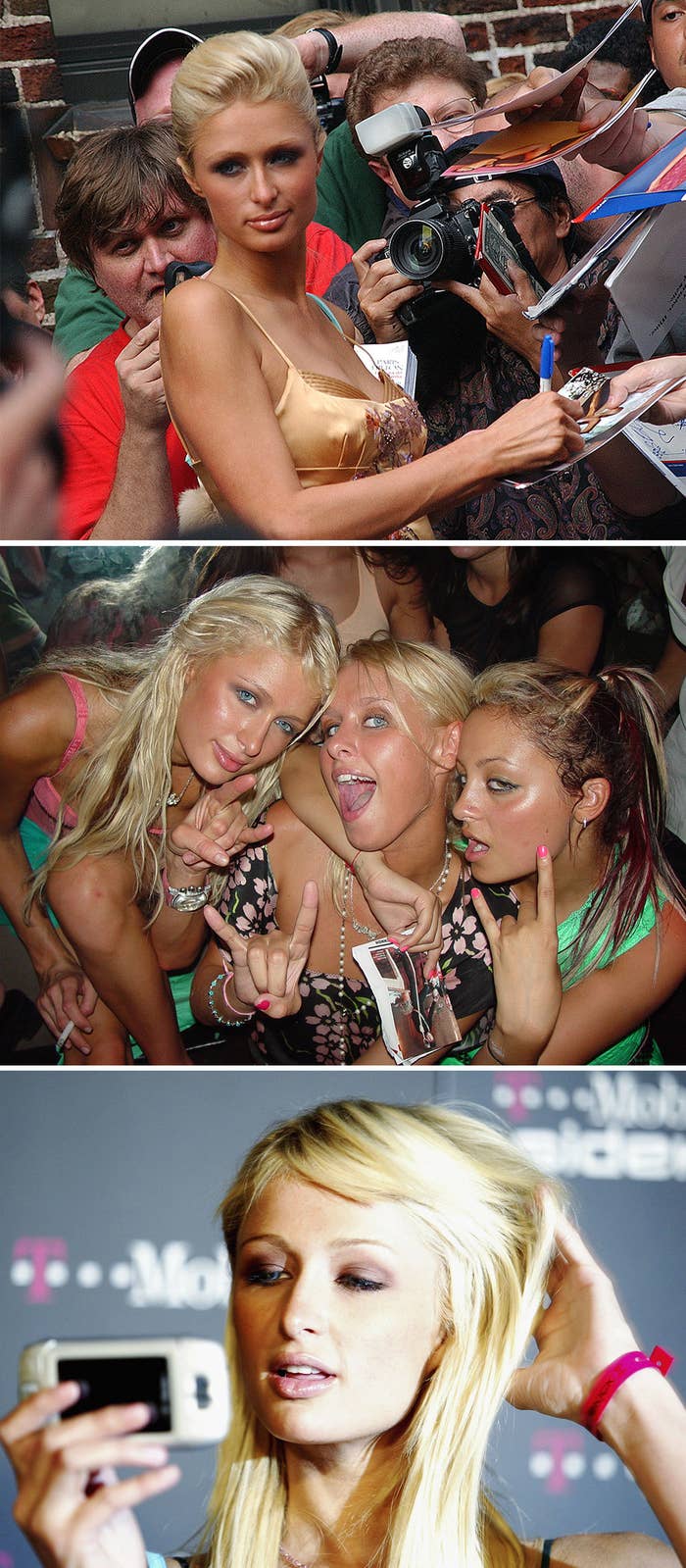 Hilton is often described as the first of a new and noxious turn-of-the-millennium celebrity class, who were "famous for being famous." From the moment she appeared in the national spotlight in 2003, with a scandalous sex tape and the reality show The Simple Life, she seemed to define the period, feeding the booming online gossip industry so much that she even became the namesake of Perez Hilton's wildly popular blog. She was the subject of portentous hand-wringing over this seemingly empty kind of notoriety: "In a ravenous celebrity culture, Ms. Hilton's rise shows how far celebrity itself has been devalued," one writer opined in the New York Times Styles section the year her show debuted.
The media is still dotted with occasional reminders of Hilton's one-time dominance. Sofia Coppola's 2013 film The Bling Ring features teens so taken with Hilton's image that they rob her mansion. Hilton, who lent her house for the film, has gladly taken credit as a trailblazing figure, half-jokingly suggesting that she invented the selfie with Britney Spears, and claiming she was a reality "pioneer" with The Simple Life, which was "before its time." But Hilton's media ubiquity was remarkably short-lived, precisely because she was very much of her time, and she never actually learned how to fully control her fame.
The same industry — composed of reality television and gossip blogs — that aided and exploited Hilton's rise also eroded her celebrity. The Simple Life was, in fact, remarkably simple, a narrative playing up a caricature of Hilton that operated in a bubble apart from the real world. And while she was able to parlay that reality television persona into a lucrative fragrance and fashion brand (and a forever-iconic pop single, if not a full-fledged pop career), she didn't keep up with the changes of the reality-celebrity landscape.
Instead, a new generation of reality personalities — from Real Housewives and Kardashians to Sur servers — figured out how to turn themselves into brands whose "real" lives were integral to their shows. Gossip blogs and social media feuds became parts of the plot, demanding a constant stream of content and convincing performances of authenticity. But Hilton only got caught being "real" (usually through an arrest, or friend feud) outside of her reality productions, and seemed unwilling to embrace the scandals of her own making as part of her brand or her onscreen narrative. The public soon grew bored. By the time Kim Kardashian appeared on the scene, Hilton had become an emblem of a quaint past where mystery could still work as PR strategy, rather than a part of the media future where nothing is private and everything — if you look at it the right way — is content.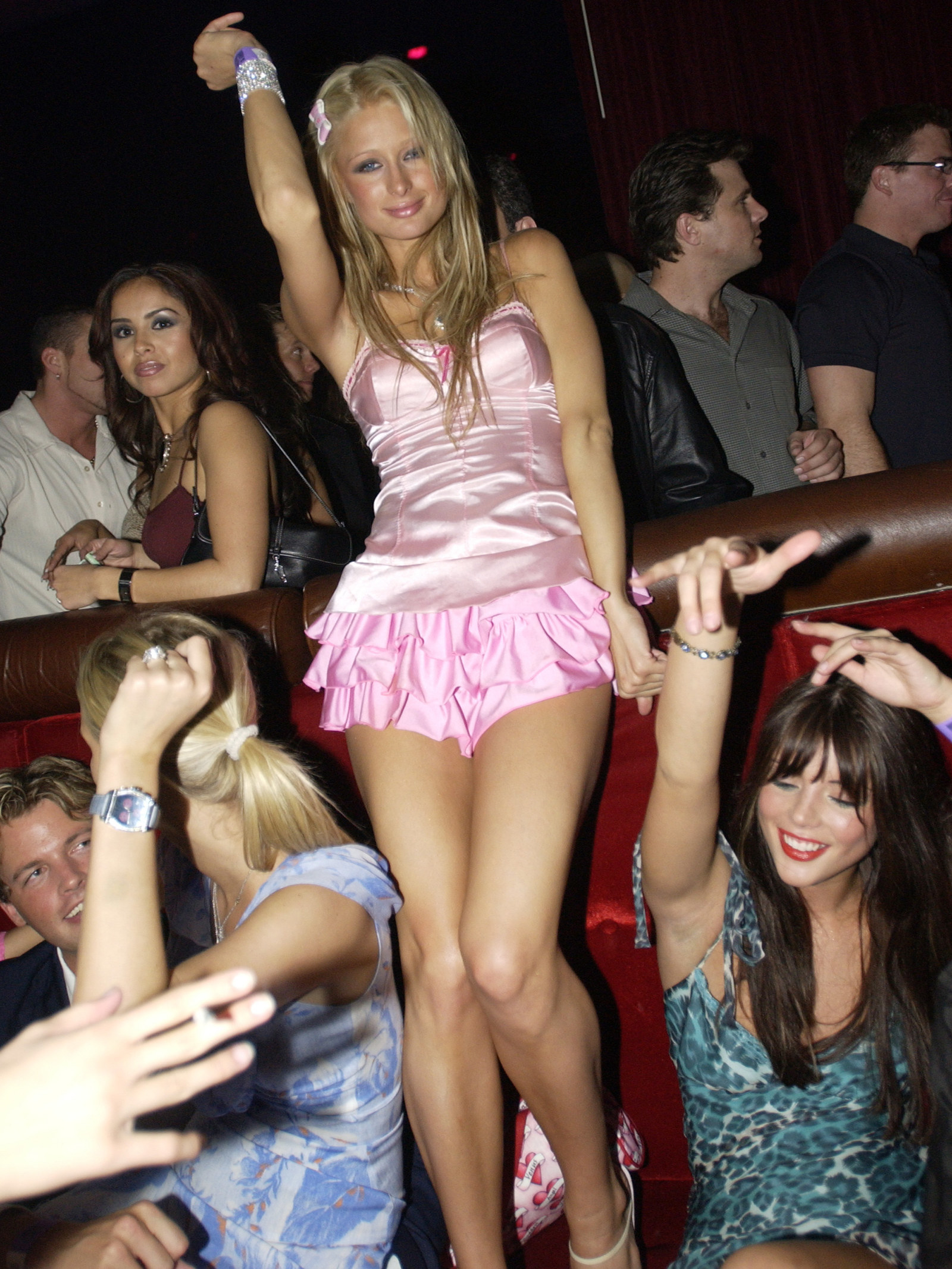 By finagling her way into all the best parties and dancing on tables, Hilton became a fixture of New York City's late-'90s nightlife scene, which was (before blogs) exhaustively covered by paparazzi, gossip columns, and the New York Times Style section. Her particular combination of vulgar Trump-era exhibitionism and Girls Gone Wild antics made her a tabloid staple and a new kind of heiress It girl. In 2000, a New York Post article chronicled this new breed of debutantes "who swap prim-and-proper personas for attitude," and highlighted Hilton, who had "a tendency to flash her thong," as the "most outrageous" example.

That same year, her notoriety scored her a Vanity Fair profile (ostensibly also about her sister Nicky), which fleshed out Hilton's persona beyond the tabloid caricature. It was the most intimate portrait of her — with her family — that she ever allowed the public to see. Looking at it now, it's almost like a print version of Keeping Up With the Kardashians, with its hints of a rivalry between Paris and Nicky, feuds with other debutantes, and details of Hilton's relationship with her seemingly overbearing mother Kathy, who persistently interrupted her during the interview in an attempt to control her image. "It wasn't a G-string!" she said about the tabloid thong story. "Paris is the most modest girl."
But the photo spread accompanying the article, by famed photographer David LaChapelle, certainly didn't match that description: In one shot Hilton wears a mesh, see-through top, with her middle finger up. In another she lies on the beach with her breast exposed, surrounded by loose cash and lecherously staring surfers. It's the same image of careless privilege she was being asked to play as she transitioned into acting and pop stardom. She was already working with music producers, had just played a rich party girl in the indie film Sweetie Pie, and went on to play a "strung-out supermodel" in the 5-minute short QIK2JDG (2002) and a "female club-goer" in the live-action adaptation of The Cat in the Hat (2003).
Despite these small forays into film and music, no traditional path to stardom had readily presented itself to Hilton. Which is why, when producers for The Real World and the Fox network approached her with the idea to star in a reality program, she went for it. The producers of The Simple Life would send Hilton and friend Nicole Richie (daughter of Lionel) to live with a family on a farm in Altus, Arkansas, making comedy out of transplanting two urban heiresses into the "unglamorous" rural South.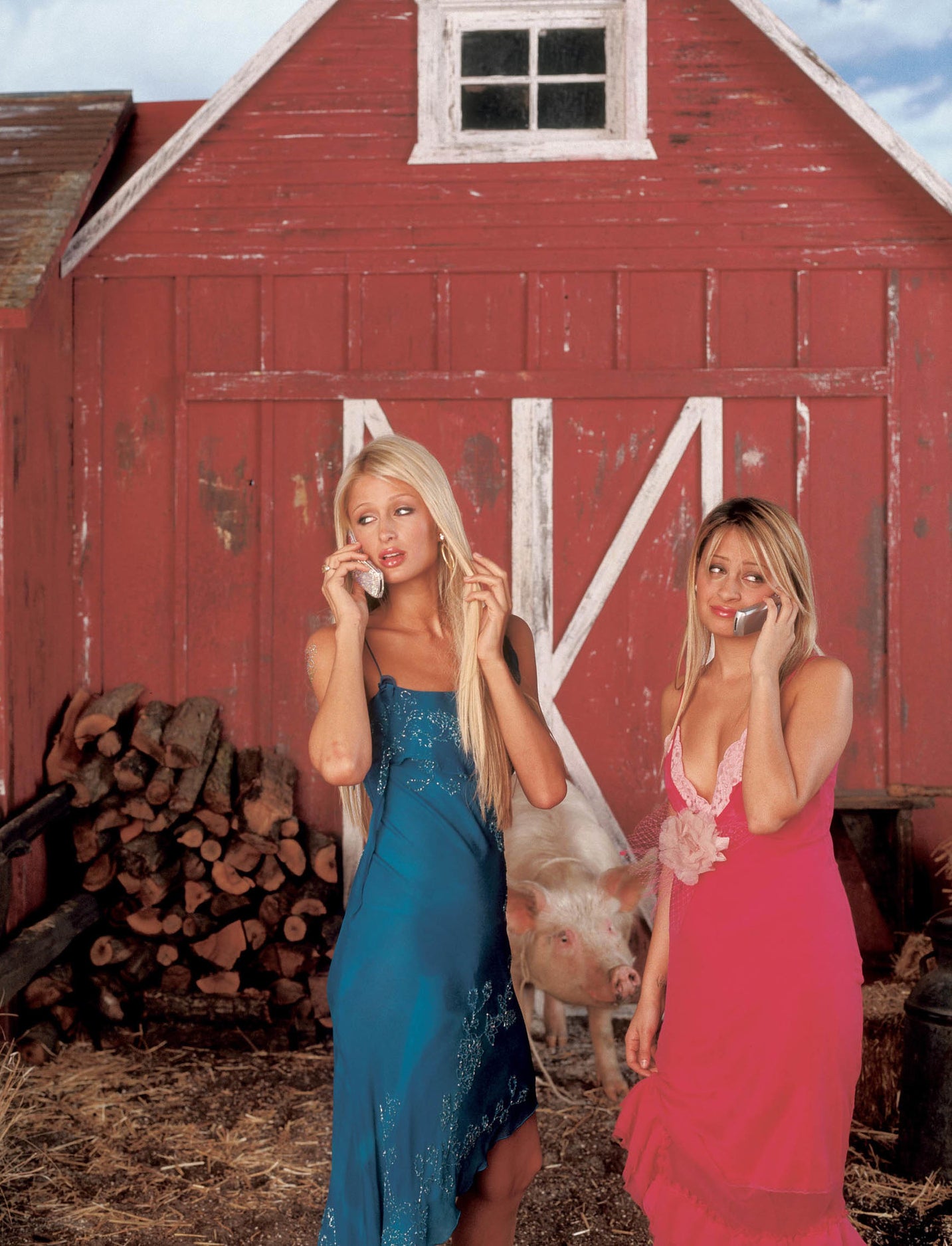 "The producers told Nicole and I, 'Nicole, you be the troublemaker, and Paris, you be the ditzy blonde rich girl,'" Hilton later explained. "I tried to play the character of Cher from Clueless mixed with Eva Gabor from the Green Acres show." In other words, she would be playing a new variation on the same caricature that already defined her in the public's eyes.
While The Simple Life was supposed to turn Hilton into a mainstream star on her terms, the show's announcement brought out another tabloid-ready story: a sex tape featuring Hilton and former boyfriend Rick Salomon. That was the story the media latched onto, but it wasn't one she orchestrated herself, and it instantly took on a life of its own.
The Simple Life was originally a risible midseason replacement for the Fox network; when the sex tape, later commercially released as 1 Night in Paris, leaked weeks before the show's December 2003 premiere, it seemed to some like a savvy marketing ploy. Today, such a tape might be seen as revenge porn; Hilton later reminded the public that she was just 18 when it was made, and Salomon was 12 years her senior. And while Hilton may have been comfortable being sexualized on her own terms, the tape was a humiliating development outside her control.
"I feel embarrassed and humiliated," she said in a statement. "I was in an intimate relationship and I never, ever thought these things would become public." But her statement was met with a flippant, cynical, and arguably misogynist tone by the media; the story of the tape as a marketing stunt aligned too well with the shamelessly underwear-flashing, bird-flipping image Hilton had seemed to embrace.

If the tape sold the show, it wasn't on Hilton's own terms.
"Many have assumed Paris Hilton had no shame — but she's proved them wrong," was Entertainment Weekly's lede. The New York tabloids excitedly noted the tape's release, with headlines like "NAUGHTY TAPE 'ALL OVER' H'WOOD." Saturday Night Live mocked the tape in a Weekend Update segment, and PR "bad girl" Lizzie Grubman told Fox News, "I think that it is personally embarrassing, a complete invasion of her privacy. But she does have a show to promote, and I think it will help sell the show."
And the show's reception was certainly buoyed by media excitement over the tape. Over 13 million viewers watched the first episode, and the audience hovered in the tens of millions all season. Hilton generated reactions with "dumb blonde" jokes that played into her class cluelessness ("What's Walmart?" "What's a soup kitchen?") in the style of Jessica Simpson's airheaded commentary on the hit MTV reality show Newlyweds, which had debuted the summer before.
But if the tape sold the show, it wasn't on Hilton's own terms. Before the rise of social media that helped the newer generation of reality stars craft their own narratives, traditional publications and networks held most of the power. The closest Hilton could get to "owning" the scandal or redirecting the narrative around it was coyly playing along with jokes about it on SNL. Kim Kardashian, on the other hand, later made the release of her own sex tape in 2007 into a plot point in the first season of Keeping Up With the Kardashians. It even became an iconic meme after momager Kris Jenner explained, "When I first heard about Kim's tape, as her mother I wanted to kill her, but as her manager, I knew that I had a job to do." The Kardashians acknowledged the tape and turned it into a family drama on their own terms, thus controlling the narrative around it, in a way Hilton was never able to.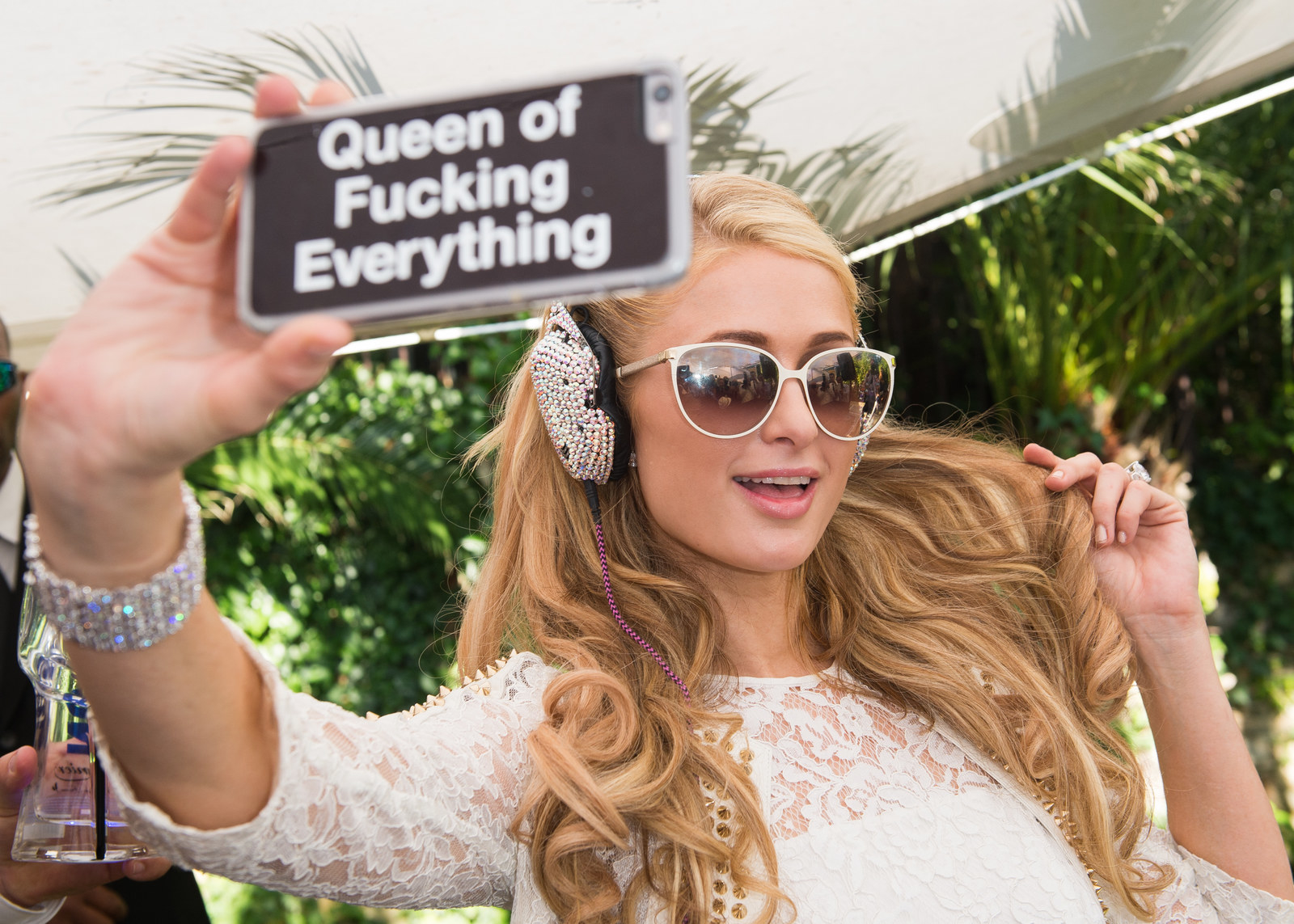 Hilton did use the initial ratings success of her show to springboard into new revenue streams that were becoming part of the rapidly expanding celebrity economy: paid appearances and building a fragrance line and fashion brand. Ratings for The Simple Life remained high through the second and third seasons, which were most memorable for giving us Hilton's petulantly insouciant catchphrase, "That's hot." She also paved the way for years of what Gawker dubbed "slutburger" ads, showing up in a much-hyped Carl's Jr. commercial aired during the 2005 Super Bowl, where she performed a car wash with leisurely, porny relish, biting into a burger before her motto appears onscreen.
But Hilton kept trying to frame herself as a conventional star and launch a career outside of reality shows, rather than embracing the now-common approach of building a celebrity brand on the (supposed) reality of her own life. In a 2006 GQ UK interview written by Piers Morgan, when Morgan asked her why she was famous, Hilton compared her brand to J.Lo, and explained, "I've been a model, and then an actress, and now I'm a singer." Her 2006 pop single "Stars Are Blind" was surprisingly catchy; it sounded something like Britney Spears channeling Marilyn Monroe in a remake of Blondie's "Tide Is High." But the culture didn't need another Britney, and despite the song breaking into the Top 20, a singing career never materialized. Similarly, Hilton's role in the unloved 2005 horror movie House of Wax didn't bring noteworthy acting offers.
Embracing her own embarrassing episodes seemed beyond the pale for an heiress who believed in the power of mystery.
Hilton's hesitation to exploit the gossip and drama swirling around her as content for her show became most clear by 2005, when she had a falling out with former best friend Nicole Richie. While tabloids were busy investigating what could have gone wrong between the two, Hilton opted not to air their grievances on The Simple Life, or manufacture a media story out of it. Instead, she put out a characteristically cryptic statement about their disagreement: "Nicole knows what she did, and that's all I'm ever going to say about it," she wrote. She was so unwilling to address the feud that she instead tried to pitch a new version of the show with Rod Stewart's daughter. Without any drama to ignite the now-tired trope of rich girls in the sticks, Fox ultimately dropped The Simple Life that year due to low ratings, and it moved to cable on E!. Her real-life conflict with Richie was half-heartedly hinted at in the final episode of the fourth season. "We need to talk," Hilton tells Nicole. "So talk," Richie replies, in what ends up as an unresolved cliffhanger.
There was plenty of other drama going on in Hilton's life offscreen at the time, as she got engaged to and broke up with Paris Latsis (they were dubbed "Paris Squared"), feuded with Lindsay Lohan, and in 2006 was arrested on suspicion of DUI, which got pleaded down to reckless driving and got her three years' probation. All of this fed the emerging network of blogs and magazines, like TMZ and US Weekly, that were just starting to use their websites to break celebrity news on a daily basis. "A lot of [the craziness] had to do with the introduction to the world of my website and a few others like mine that hadn't existed before, like TMZ," Perez Hilton told Complex magazine last year, looking back at the moment. "All of the girls were reacting to the fact that anything they did was going to be talked about the next day. It was almost like a drug for them. They were just being wilder and crazier, purposefully."
As her revamped reality show was struggling in the ratings at its new cable home, Hilton's arrest for driving with a suspended license in 2007 became the final peak of her fame. The media covered every second of Hilton's court appearances, featuring dramatic footage of her crying in the car and yelling for her mother while being driven to court, and turning a perp walk into a runway on the day of her release. Even the New York Times reluctantly covered her post-release Larry King Live interview like a major television event. "What is it about you?" Larry King asked her, and Hilton replied, with studied innocence, "I have no idea; I'm just living my life."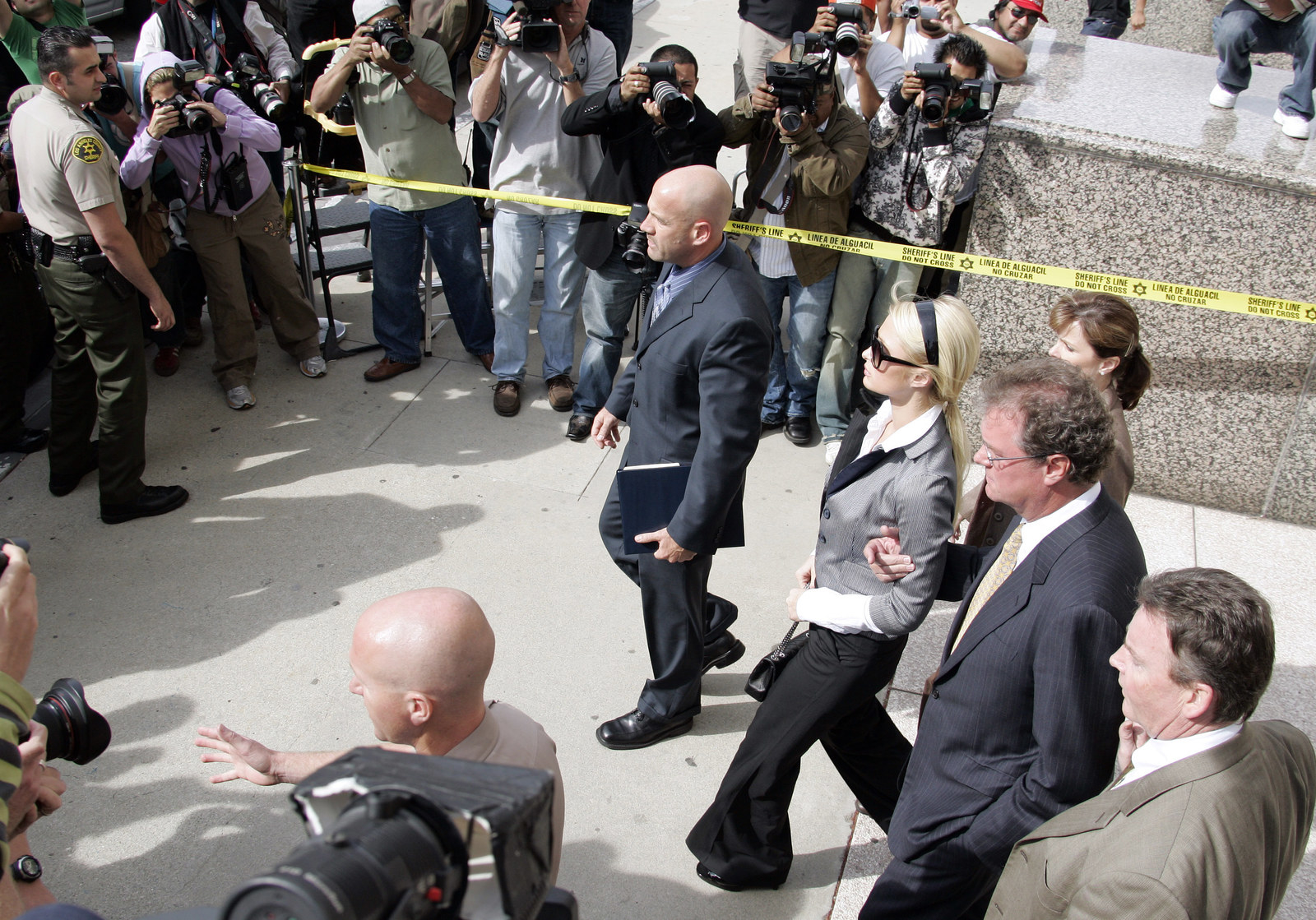 But still, Hilton didn't care — or understand how — to fully leverage those big media moments, and the social media platforms that most celebrities now use to shape their own narratives and offer an "authentic" version of themselves to fans didn't yet exist. These unscripted moments in Hilton's life still garnered the public's attention because, like the sex tape, they didn't feel manufactured. They became a window into the life of a Chanel-wearing debutante but created an image much messier than the one-dimensional caricature Hilton seemed intent on trying to sell.
Ultimately, embracing her own embarrassing episodes seemed beyond the pale for an heiress who believed in the power of mystery, and who felt she could afford the increasingly costly privilege of keeping her real life and emotions off limits to the public. "Have some secrets," Hilton wrote in her 2004 memoir. "Secrets are very important assets if you're going to be an heiress." By 2007 The Simple Life was canceled, and Hilton lost her most valuable asset: a venue where she could attempt to reframe her narrative on a national scale. And, of course, the public was about to move on to a new family of privileged Hollywood daughters — who were willing, unlike Hilton, to let viewers see their lives from every angle.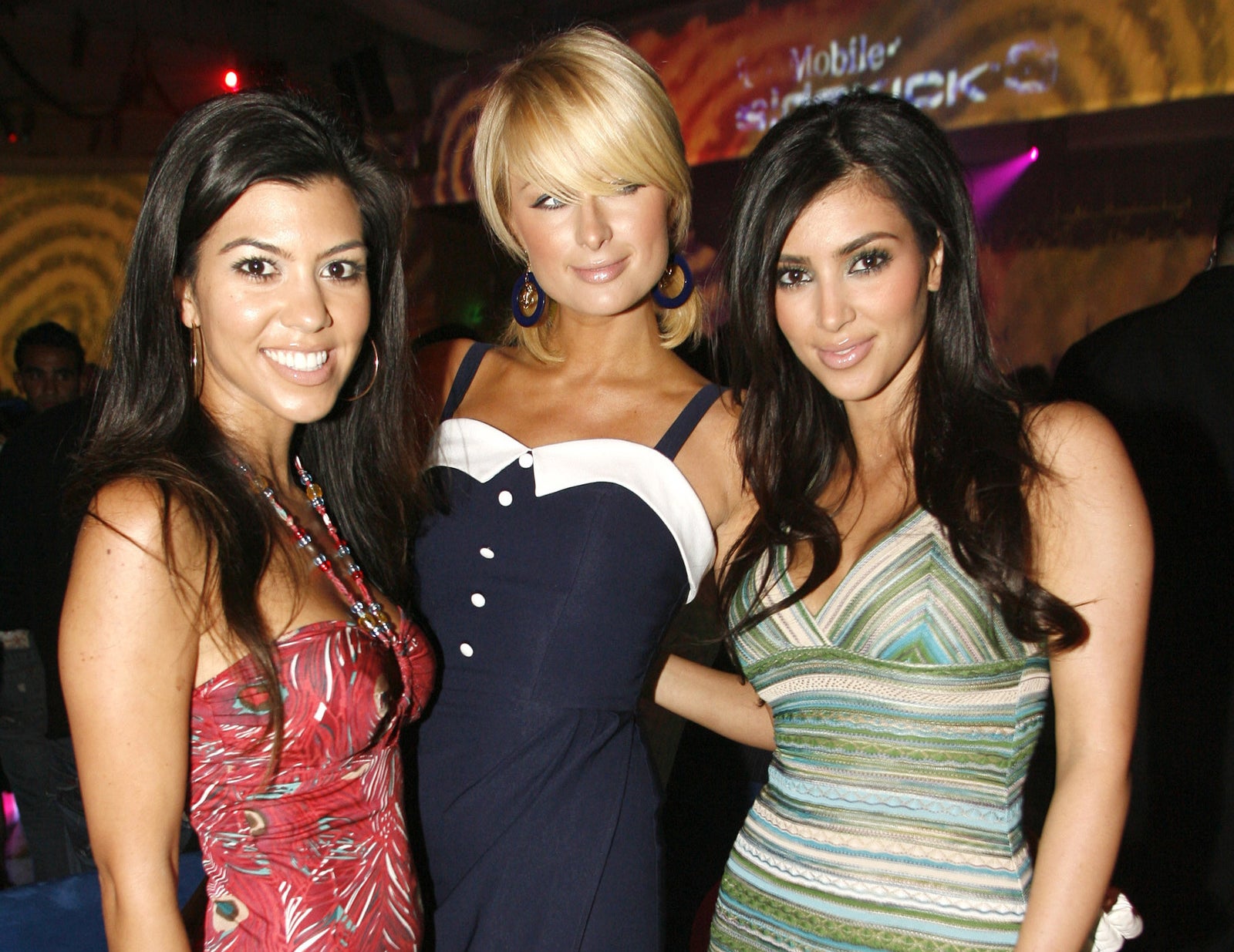 Keeping Up With the Kardashians debuted in October 2007, as reality television audiences were beginning to demand a new kind of all-access pass. Where Hilton was aloof and artificial, the Kardashians seemed completely open, performing a kind of emotional nudity. They happily cataloged nearly every moment of their lives — from divorces to family rifts to gagging over dog poop duty — and turned it into branded content for mass consumption. As Kris Jenner recently recalled in a Hollywood Reporter story looking back at their success, "I sat everyone down and said, 'If we're going to do this, we have to be all in. We have to be who we really are.'"

When Paris finally caught on to this new expectation of reality stardom with 2011's The World According to Paris, on Oxygen — a closer look at Hilton's life in Los Angeles, which even featured vulnerable scenes with her mom, Kathy — it was too late for anyone to care. Her attempt to flesh out the sitcom caricature of her public persona couldn't compete with Keeping Up's dramatic multi-platform storylines, which incorporated Twitter feuds and Snapchat shade, creating complex portrayals of the family through serial plotlines. The World According to Paris didn't even draw half a million viewers, and was canceled after the first season.
In the reality television and social media landscape that now defines the culture, Hilton is frozen in time.
Tellingly, what ultimately made news was Hilton's unscripted confrontation with ABC anchor Dan Harris, in an interview about the show. "Do you ever worry about your moment having passed?" he asked point blank, as Hilton looked to the side, seemingly waiting for guidance from her publicist. As she stood up and walked off camera, her microphone stayed on, and ABC aired the interview with off-camera grumbling intact: "Well, I don't want all this being used," she said testily.
Most reality stars would have used that moment to improvise a snappy comeback, to endear themselves to fans with a joke or generate headlines with a confrontation. But Hilton sounded genuinely upset at being asked the question, once again refusing to honestly assess or open up about the mechanics of her stardom and turn that conversation into content that could work for her. Sticking to her business executive image, she returned later to film a response, visibly snapping back into her trademark sugary-voiced persona. "I've been in this business for 15 years now," she said, robotically parroting a PR rep's line, "so it's been a very long time; and just like any other business person, or someone in industry, it's always important to reinvent yourself and come up with new projects."
But Hilton never did reinvent herself effectively enough to capture the public's attention in the same way. As the lucrative appearance fees economy moved on from reality television personalities to DJs, she followed suit, and in Abu Dhabi she headlines with the likes of Drake. But in the reality television and social media landscape that now defines the culture, Hilton is frozen in time. She joined Instagram in 2012, and remains part of an older, top-down media model; her 8 million followers seem grateful for minor, self-flattering snippets of her life. She curates images of her life through a familiar pink-coated lens, celebrating previous glories, promoting her fragrances and DJ appearances. She recently shared a video of her engagement to actor Chris Zylka, which has racked up nearly 7 million views. It comes across as comically scripted, as Zylka kneels to propose at the top of a ski slope and Hilton, sounding vaguely impatient, says "yes!" In contrast, Kardashian turned Instagram into an integral aspect of her brand, using it to stage dramas that generate more content for TV. She's encouraged interaction and conversation among her followers, gaining 108 million of them (compared to Hilton's 8.5 million) in the process.
The subtle media jujitsu through which Hilton was turned into memeworthy content by Kim and Kanye this winter is part of a long trajectory of Hilton not controlling her celebrity, or understanding what is most interesting about her image to the public. Hilton once wrote that mystery is the key to fame. If you only give people tidbits, she noted, "They will want to know everything about you." She always relied on the public's willingness to fill in her blanks from afar. But as reality television celebrity in the social media age came to demand the illusion of 24/7 exposure, keeping secrets as a strategy turned into the most passé thing of all. Perhaps Hilton never realized — or minded — that holding on to them might also mean the public would just stop caring. ●