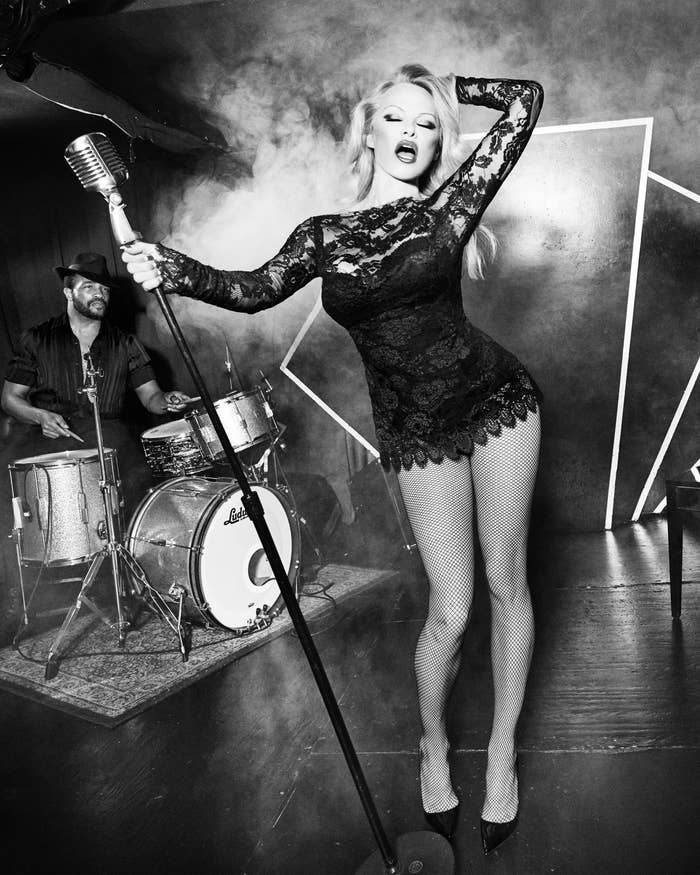 Ten years ago, Pamela Anderson was with her sons at a surf competition in Malibu when a man came up to her on the beach. "I've been watching you, and you should really do Broadway," she remembered him saying. She said she laughed at what sounded like a line, thinking, And who are you?

The man was Rob Marshall, director of the 2002 Oscar-winning film adaptation of Chicago. "That vulnerability that's lacking a little bit in Hollywood, you got it," she remembered him telling her. "I'm making a call." Broadway producer Barry Weissler got in touch, but Anderson said she was too busy being a mom and wife to take on the grueling schedule of theater work.
Last month, Anderson got another call from Weissler. This time, she was at a different point in her life. "I always have people to think about and people that I'm supporting, or I'm always protecting people," she said when we met in March at the Theater District's discreet Civilian Hotel. "I'm sick of it; I want to do something for me. That's why this is important for my soul."
From April through June at the Ambassador Theatre, Anderson is playing Chicago's Roxie Hart, the proto-Kardashian who leverages the publicity from a scandalous murder story into her own front-page infamy, a faux-pregnancy plot, and vaudeville stardom by the play's end.

For Anderson, who parlayed her rise to prominence as a Playboy icon into screen stardom and the tabloid obsession with her into enduring celebrity, the story "feels very parallel," she said. "It's about the power of media, making something out of nothing."
The role comes as Gen Z is discovering her '90s style via a TikTok revival. "Something about it feels very meant to be," she said. "It gives me chills just being in the theater."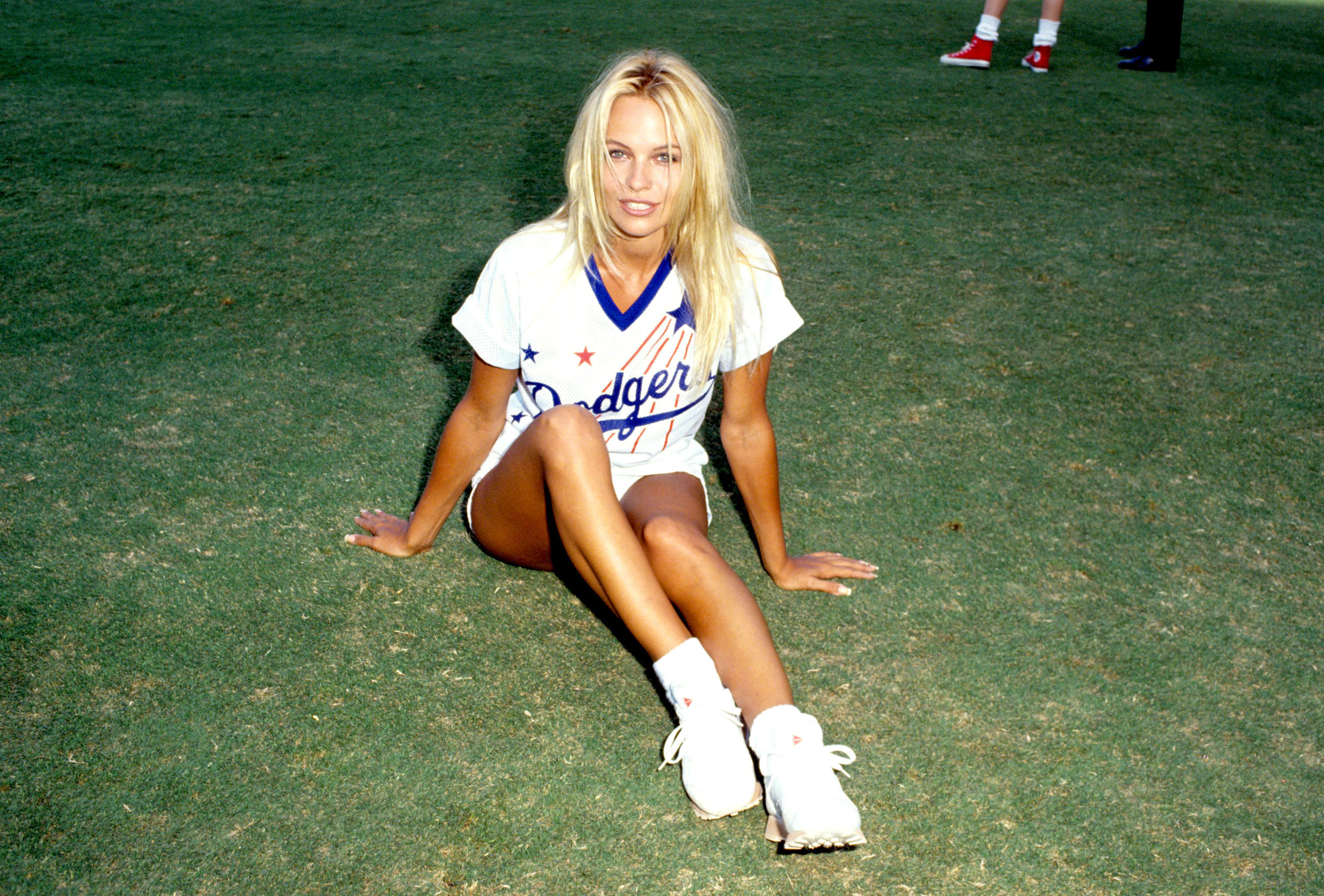 Anderson's story, like Roxie Hart's, began, in some ways, by chance. Plucked from being a Labatt's Beer model in Vancouver to pose for Playboy at 22, she said she was an unlikely candidate for the spotlight. "I had never done anything like that before," she said. "I didn't know if I could possibly do it; I was extremely shy."
Long before social media gave everyone a platform, Playboy was a unique launching pad. She embodied the magazine's vision of a naughty but fresh-faced girl next door so convincingly that she ended up on 14 covers.
Inspiration came from "all the glamorous girls" of the pinup tradition, including Anita Ekberg and Ursula Andress. Her big breakout TV role in 1992, as lifeguard C.J. Parker on blockbuster soap opera Baywatch, made her their '90s counterpart. Images of Anderson running on the beach in a red bathing suit, mixing glamour with the athleticism of a coastal Canadian girl, became indelible pop culture imagery.
Offscreen, the paparazzi era was beginning, and Anderson reveled in fashion as a way to express herself; "to really find who you are, be unapologetic, just get out there and have fun," she said. The looks, as one stylist recently described, were a "mix of [Brigitte] Bardot and Barbarella, with a rock 'n' roll undertone."
"I think the '90s really represented a uniqueness, and you wanted to be original," Anderson said. "Now we are curious about other people, and we want to be like them."
"Men are always taking me down."
She took a risk playing a latex-lacquered bounty hunter in her 1996 vehicle Barb Wire. Comic book adaptations weren't yet dominating movie screens. It was years before Angelina Jolie would bring indie film credibility to Lara Croft, and Charlize Theron hadn't yet combined muscle and grit in Mad Max: Fury Road. At the time, Anderson playing a kitsch femme action hero (in one bloody scene, she smashes a heel into a heckler's face) wasn't exactly an obvious sell.
"When an opportunity comes, I take it," she said. "A lot of people usually disagree with me… There's a reason not to do everything."
The film flopped with audiences, and reviews were mixed, leaning on underhanded praise. Roger Ebert highlighted the film's "high energy level, and…sense of deranged fun," writing that Anderson, while "not a great actress, is a good sport." The New York Times' Janet Maslin declared "she can run in stiletto heels…and sneer with conviction."
Barb Wire has since undergone a minor reappraisal, gaining renewed appeal for its aesthetic and presciently "grim, misogynist" dystopian vision of America. Anderson chuckled, dispatching with any sense of self-importance as she called any new interest in the film "hysterical."
Anderson's career strategy, it seems, is using opportunities to grow. "I have met people that have supported me, and I learn from them. I'm like a sponge," she explained. "I'm just soaking in everything from everybody that's trying to teach me something."
In her review, Maslin also called her "the well-known pinup and conversation piece." It's undeniable that her relationships and tabloid popularity have often been more of a focus than her acting.
With Chicago, has her relationship to acting changed? "I never acted before, I don't think," she joked. "I think I'm capable of more than I give myself credit for, 'cause I have created something, like with Barb Wire." She paused to consider that. "I know that relationships and men…" She paused again. "Men are always taking me down," she said, laughing.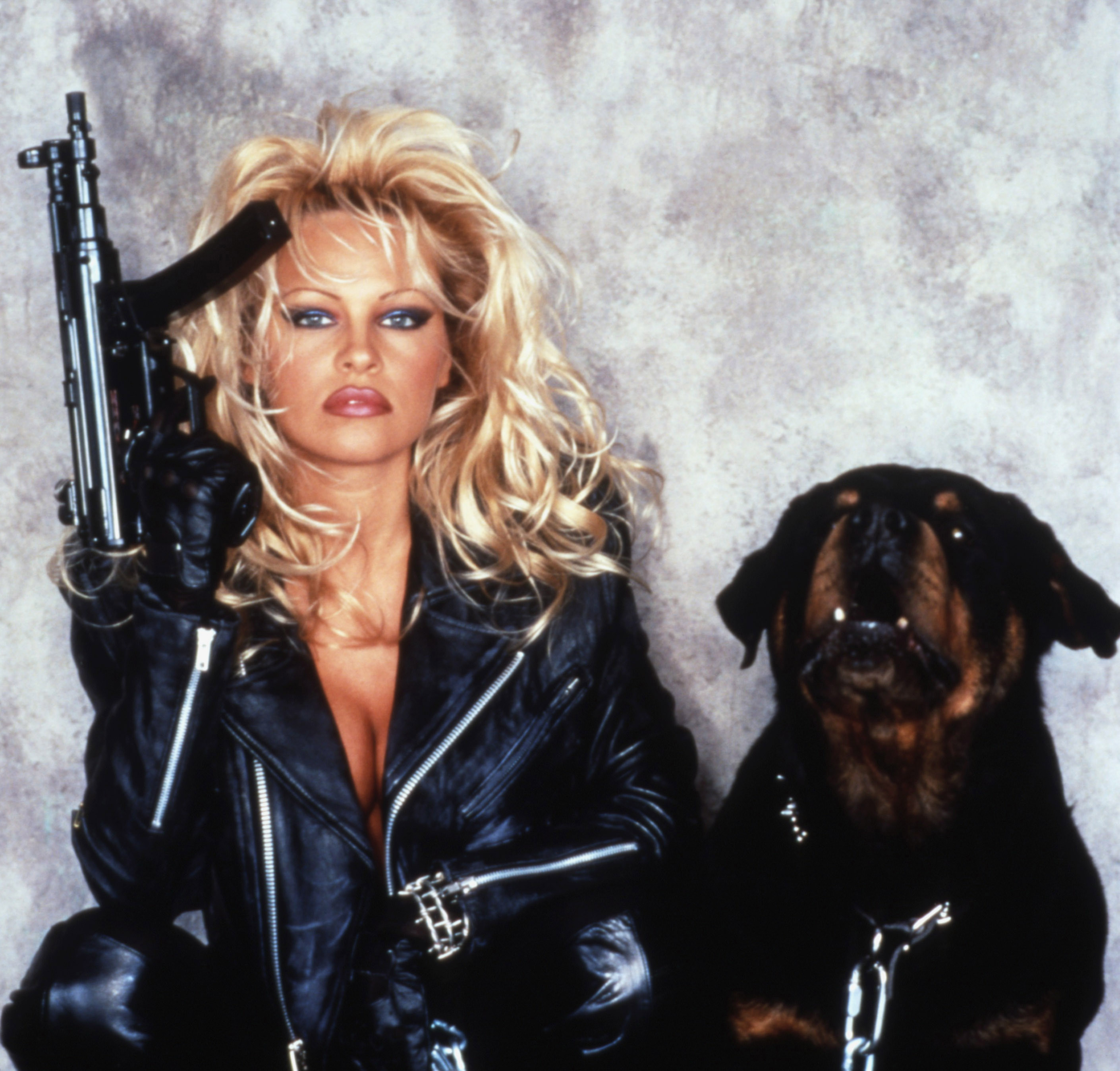 As Anderson and I talked, two makeup artists were doing final touch-ups, updating her face after her appearance on Good Morning America. The close quarters created an air of intimacy. Still, a publicist-mandated moratorium on questions about relationships made it surprising when she elliptically alluded to the narratives about her love life.
Anderson's romantic drama seems to fascinate the public. There was the marriage to Mötley Crüe drummer Tommy Lee, and most recently, relationships with Barbra Streisand's former paramour Jon Peters and then her bodyguard, Dan Hayhurst.
She said that Raquel Welch, who she counts as a friend, once told her: "Marry a John Goodman type, let someone worship you." "I took a lot of advice to heart. It doesn't always work out," Anderson said.
Yet it seems like Anderson is always having so much fun. When I asked if it was as good to be her as it seems, she said, "Of course, [though] there's always people who try to make you feel like you need to change." Someone recently told her to just be more of herself — a cliché, perhaps, but she thought it was a good directive. "You keep on thinking, I gotta be somebody else… People don't respect you, and it gets into your head," she said.
One of the glamorous former Hollywood stars she met issued a warning: "Don't let them do to you what they did to me!" Anderson recounted, putting on a mock-scared face. "I'm like, What does that even mean?"
It could well be a reference to the entertainment industry's tendency to use beautiful women and then spit them out. Anderson's fellow '90s celebrities — from Britney Spears to Monica Lewinsky — have recently been reexamined in documentaries and miniseries focused on how their images were distorted in a male-dominated industry.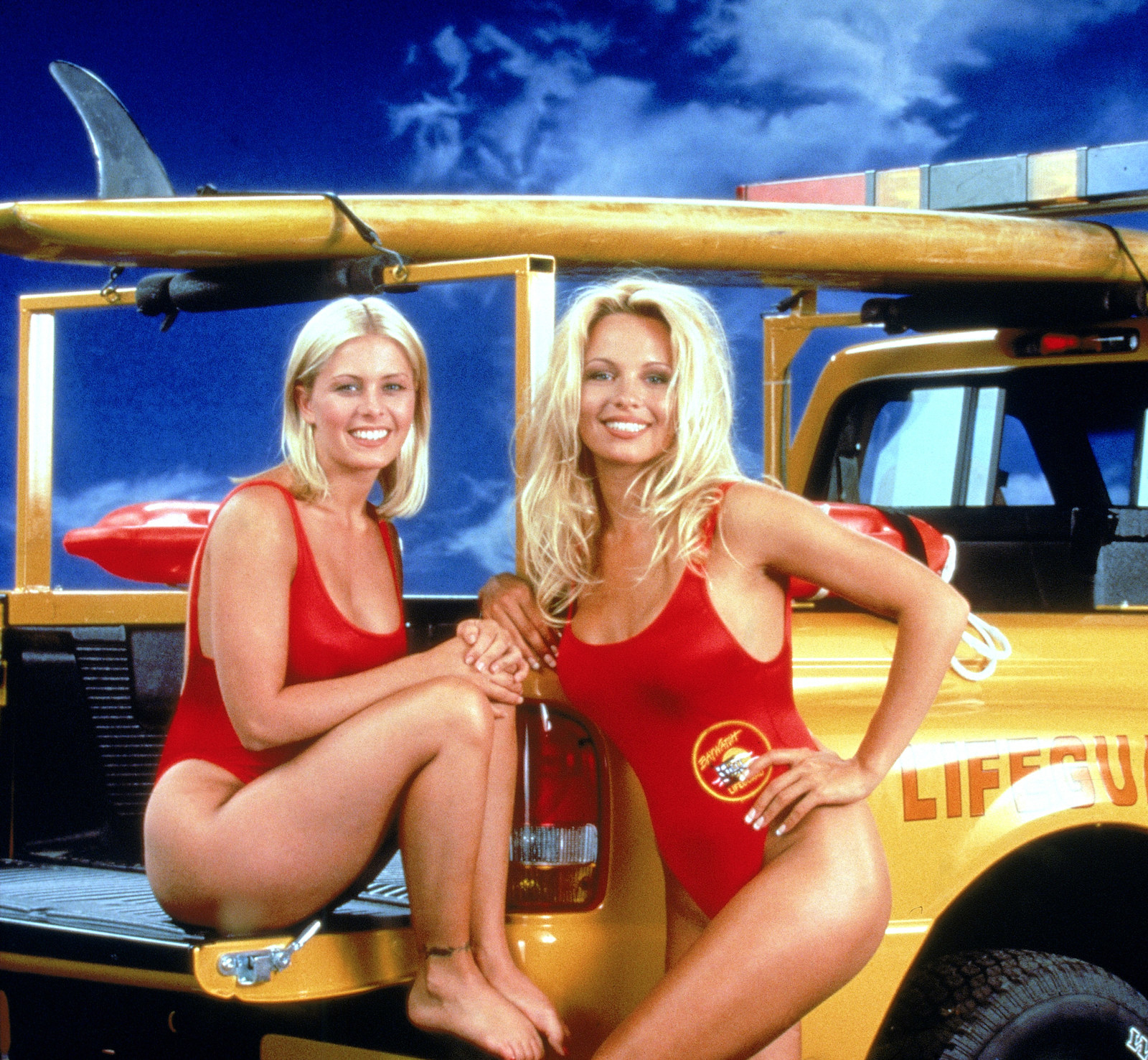 Anderson's life was the subject of a Hulu miniseries that came out in February. There was a big backlash about the program having been produced without her consent — just like the stolen sex tape it was partly about. But Anderson didn't comment on the show or the controversy.
In March, she wiped her Instagram clean and posted a single image: a handwritten announcement about a forthcoming Netflix documentary and a memoir. "Not a victim, but a survivor," it read, "& Alive to tell the real story."
It sounded like the language of feminism, though Anderson said she finds third-wave feminist debate "a bit of a bore." It was her sons — Brandon Thomas and Dylan Jagger — who inspired her to reclaim her story, she said. Brandon Thomas Lee, now 25, is an aspiring producer and negotiated the deals for the memoir and documentary.
"We kind of have this family business now," she said. "I'm like, 'Brandon, I wanna retire,' [and he's like,] 'No, not yet.' He really wants the truth to be out there… They want to make sure that my legacy is honest, authentic, and go from there."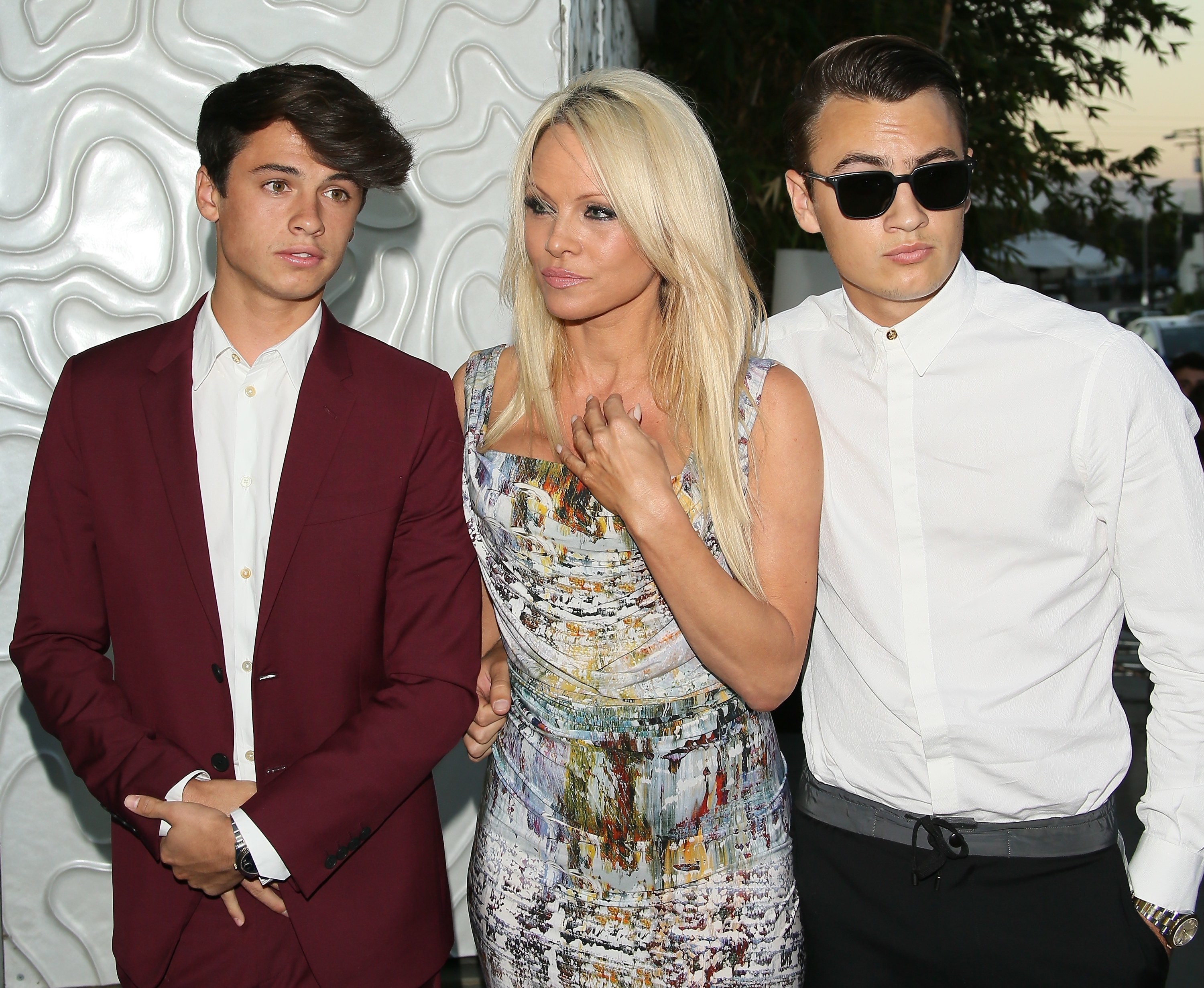 Her sons' generation is fascinated with the '90s, from its pop culture touchstones to its fashion. Most recently, this manifested in the Pamcore movement on TikTok. A play on cottagecore, a fashion trend that idealizes rural simplicity, Pamcore celebrates Anderson's '90s style, from her skinny brows to the tendrils of blonde hair that framed her face.
She's aware of the influence. "People have sent me things, and it's funny," she said, citing Tom Ford among those "that have kind of been inspired by looks, those things I just threw together in the basement in five minutes, because that was fun."
As we were chatting, Brandon himself quietly walked into the room. Strikingly tall and stylish, in black-rimmed glasses, he hovered protectively across from us. What does he think of Gen Z embracing his mother as inspiration? "I mean, I'm old school, so I'm not even on TikTok or anything like that," the former The Hills: New Beginnings star said. "But I've seen the whole Pamcore [thing] — it's funny."
Her style was about "freedom, being a free spirit," she said. But she looked pensive. "I always have my downfalls… Not gonna happen while I'm doing this," she said, as if steeling herself. "The other day we were doing a photo shoot, and there's all these men around me, and I'm like, I don't wanna have these feelings right now; I don't wanna tingle right now in those places. Focus!"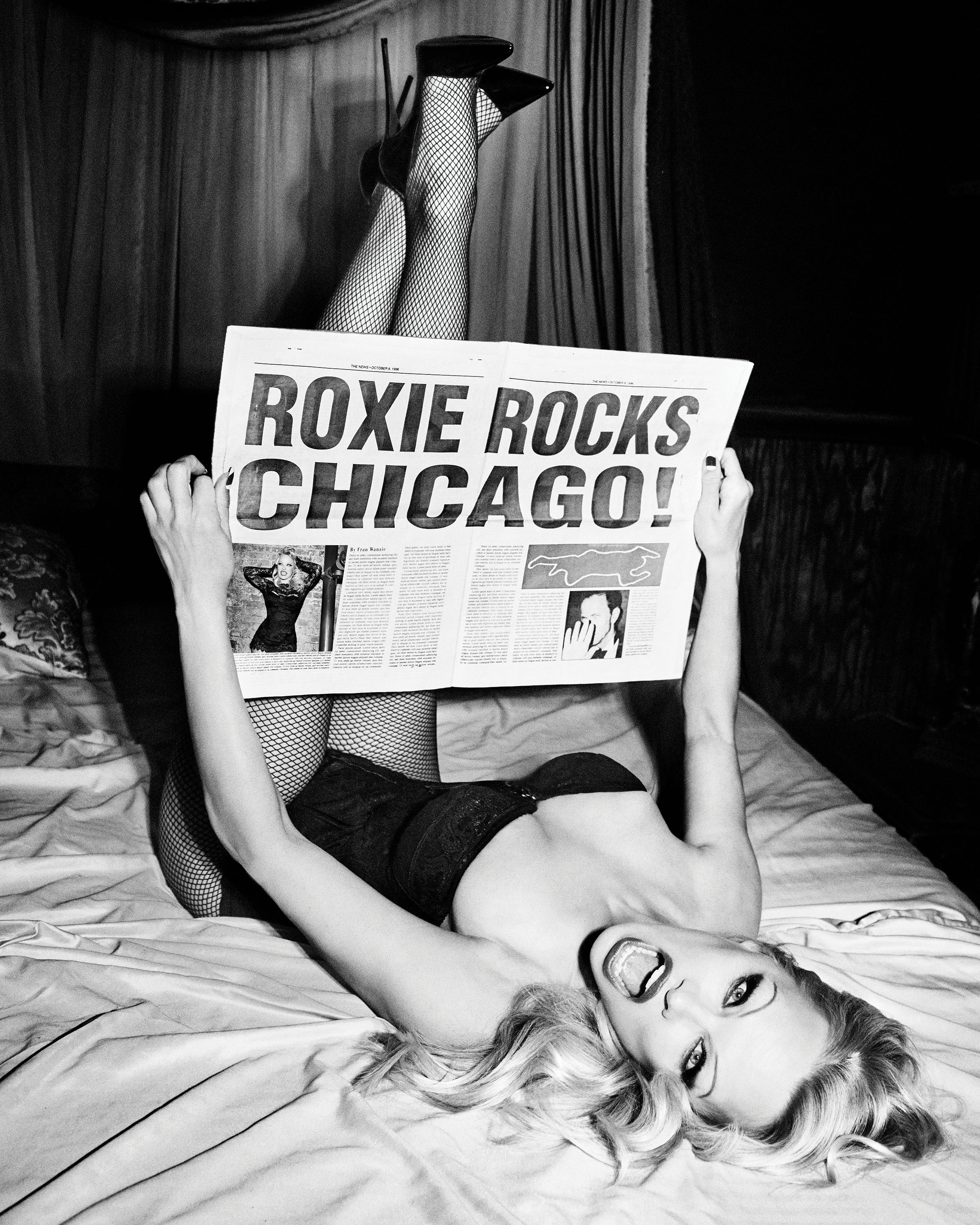 Right before she got the call from Chicago producer Weissler, Anderson, who said she is "always creating," was renovating her home base in Ladysmith, British Columbia, resetting by "planting vegetables, canning beets, hanging out with my mom and all my dogs."
She had also been delving into the stories of real people, like Matter of Heart, the 1985 documentary about Carl Jung, and 2019's Fosse/Verdon, a miniseries about Chicago choreographer Bob Fosse and star performer Gwen Verdon, when she got the offer.
The family consulted. She said that Brandon told her, "With all this craziness that's gone on, this image you have, this is something your soul needs, because you're capable of it."
The Roxie Hart lineage is a lot to live up to. Ginger Rogers played her in old Hollywood, while Renée Zellweger took her up in the aughts. Verdon herself played Hart during the musical's first run in 1975.
The current 1996 revival originally starred another Fosse muse, Ann Reinking. But for at least the past decade, Weissler has cast performers from nontheatrical backgrounds, from pop star Brandy to Real Housewives star Erika Jayne, to refresh the characters and bring in new audiences.
"You find something in them that says, Oh, you are right for this role," dance coach David Bushman told me over the phone. A ballet-trained concert dancer, he helps new Broadway-ites embody the spirit of the show as intended by Fosse while encouraging them to put their own spin on the character.
Anderson's training began even before she got to New York, with assimilating the dance "vocabulary and getting that in her body," Bushman said. "The beauty of Fosse is the isolation and the use of every joint, your elbows, wrists, hands, knees, feet," he said. "It's almost a philosophy of movement that he had."
"I'm going to just give everything I possibly have, because this might be the last thing I ever do"
Pamela brings her own "understanding of her body" and humor to the role, Bushman said. "I love the identification she has with this character … it's not quite Marilyn Monroe, but it kind of is," he said.
"I just want to do it authentic, and I'll bring my own humor to it, my voice," Anderson said.
Chicago is known for spectacular dancing and singing routines to now-classic numbers like "All That Jazz." Rehearsals are also designed to help performers keep up their stamina for six performances a week.
"This is the hardest thing I've ever done," Anderson said. "The rehearsals are long: the dancing, singing, voice lessons, and I'm doing all these ranges. I didn't know I could sing … I'm not saying I can sing," she added. "But I didn't know I had that strength."
Bushman said the resonances between Anderson's life and the role deepen the performance. "Roxie has that line, 'I'm older than I ever intended to be,'" he said. "[Pamela] knows it. The universe has conspired for this to be the right time for her to do the show."
This Broadway era is being recorded as part of Anderson's forthcoming documentary. Yet after a lifetime in the spotlight, she insisted that you "have to keep a little bit for yourself." In fact, she said, Chicago might be her final project.
"I'm working my ass off, and I'm going to just give everything I possibly have, because this might be the last thing I ever do," she said. And then, almost as if convincing herself, she added: "I have complete faith. I'm scared out of my mind. But I love that feeling." ●
Correction: Anderson was referring specifically to third-wave feminism when she described the debate as "a bit of a bore." Her comment was misrepresented in a previous version of this post.