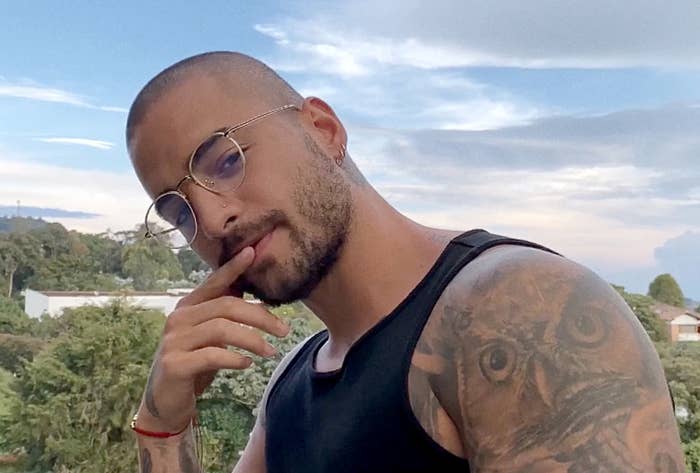 "You're teasing us, you're teasing us," Gayle King told Colombian pop star Maluma in a CBS interview last week. She was asking about a cryptic post on his Instagram, featuring the letters ADMV, which he revealed was an initialism for the title of his new single, the low-key acoustic ballad "Amor de Mi Vida." But King might as well have been alluding to the way 26-year-old Maluma has been teasing — and thirst-trapping — his way into the awareness of US audiences.
Last week, Maluma's performance during the One World: Together at Home charity broadcast alongside stars like Lady Gaga, Billie Eilish, and Jennifer Lopez opened up a new audience for him — as evidenced by the number of viewers who Shazam'd his rendition of the song "Carnaval." (After interviewing him, King tweeted, "I TOTALLY get what all the fuss is about.")
Maluma may not be the biggest name in the US pop landscape yet, but he certainly has a big following. It's been nearly a decade in the making; he's been giving us bops and body since his musical debut as a Medellin teenager in 2011. From the way he crosses his legs to the way he kisses his mom, his social media feed is almost always news. The shirtless gym videos he posts on Instagram regularly get millions of views. Gay Twitter and his fanbase, the Malumaniatikas, are obsessed with his every move.

Last month, horniness connoisseur Calvin Klein included him in its new underwear campaign, and he gave the full Maluma: sticking his tongue out in his signature style, half playful, half smoldering. Thirst Twitter quickly zeroed in on the Colombian star's charms. Fans asked him to snap their necks, offered to carry his baby, and asked to suck his feet. (It's not all that hard to see why.) Leaning into his hotness and his fans' thirst has organically turned Maluma into a social media king (accruing 50 million Instagram followers) and YouTube music video star (with 23 million followers).
Other Latinx musical artists, like J Balvin and Bad Bunny, dominate streaming much more than Maluma does, and they have achieved bigger success on the US pop charts. But his old-school Latinx lover image — a kind of reggaeton-era Ricky Martin with an Insta-thirst twist — has helped Maluma build his own audience. And in this very contradictory and chaotic time, when a lot of people are looking for fun and fantasy, he might be just the guy to seize the moment.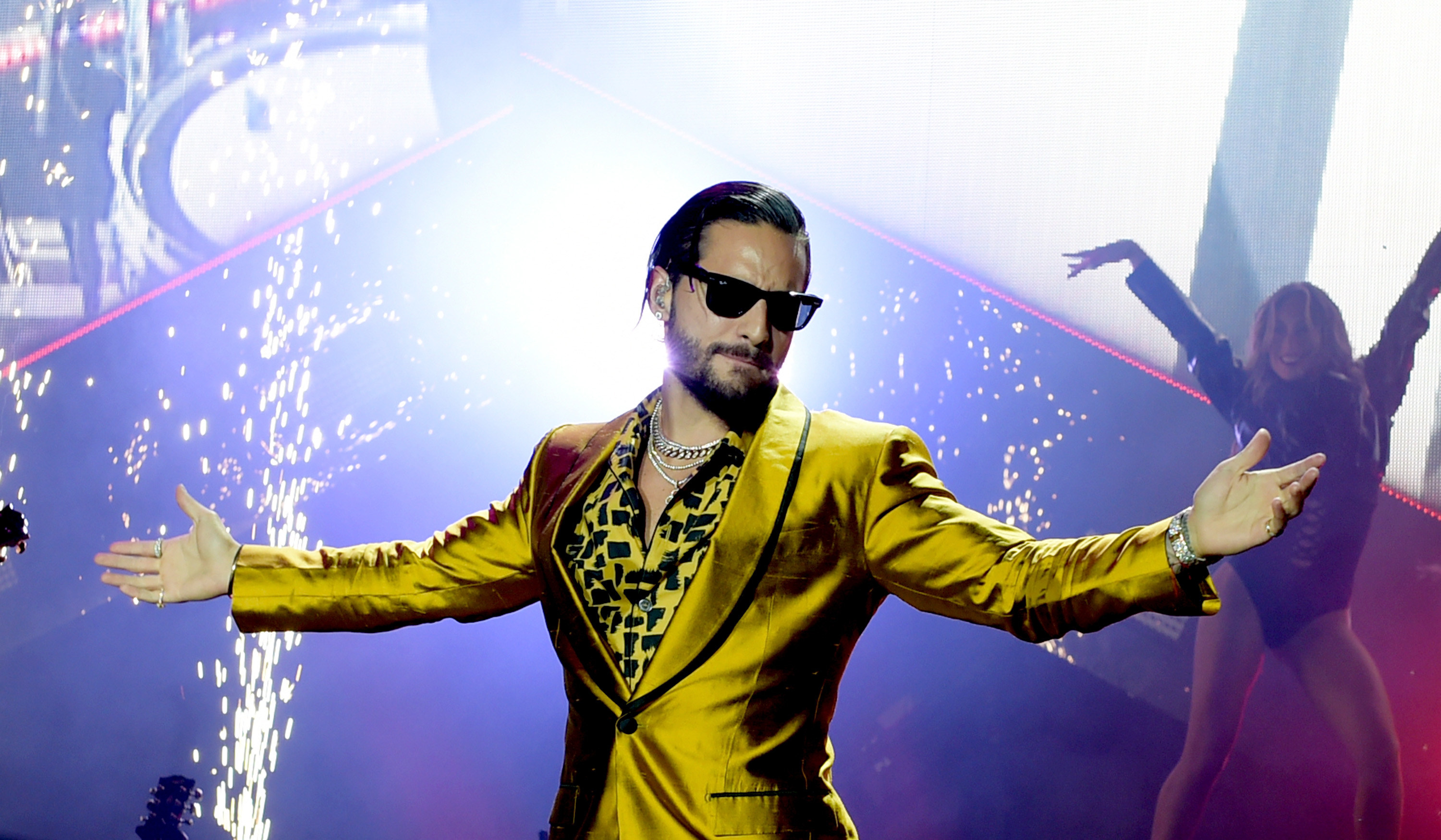 Maluma often gets compared to Justin Bieber to explain him to gringo audiences. That's because the pop star, née Juan Luis Londoño Arias, began recording music at 16 and quickly rocketed to the top of the music charts in Colombia and then across Latin America, especially propelled by his success on YouTube.
He started out in the reggaeton genre, with self-produced hits like 2011's "Farandulera," an ode to exhibitionist women. In the low-budget music video, the then–17-year-old had a shaved head, no beard, and no real style. And like Bieber, Maluma's look has certainly evolved in the decade since his debut. He grew his hair out, started showing more skin — including playfully cheesy chest-baring antics at awards shows — and fitting himself into more of an explicitly pinup pop star mold than most reggaeton and trap artists tend to.
His latest single may be an ode to lifelong monogamy, but that's a marked departure from most of Maluma's oeuvre. He starts almost every song with a smooth signature exclamation: "Maluma, baby!" His melody-driven reggaeton is totally designed around his romantic bad-boy persona, or, as the title of his 2015 sophomore album put it: Pretty Boy, Dirty Boy. In hits like "Sin Contrato," also released as a collaboration with Fifth Harmony, he sings about being in a no-strings-attached relationship. In "El Perdedor," and "Corazón," both of which have earned over a billion views on YouTube, he pines about getting his heart broken (but, in "Corazón," he then celebrates having a piece to give every "baby girl").
Maluma has fully leaned into his Romeo thirst trap image. The cover for his 2018 album F.A.M.E., shows him wearing a flamboyant, Diddy-style fur coat, his long hair covering his face, a phallic cigar in his mouth. In concerts, he brings women fans onstage, serenades them, and even kisses them. He constantly changes his hair length and colors, guided by a stylist who has helped him push back against conservative Colombian ideals of masculinity. "I've always said my style is a way to tell the world my feelings, a way to tell the world my way of thinking," he told Men's Health last year.
In the Latinx pop world, Maluma was established enough by 2016 that both Martin and Shakira turned to him for musical collaborations. "Vente Pa' Ca" with Martin was released with a very hetero bro-y video that has gotten more than 1.6 billion views on YouTube, and "Chantaje" with Shakira, about sexy blackmail, currently has over 2.6 billion views. In 2018, he was named People en Español's Sexiest Man Alive.
"I don't want people to know me as a reggaeton star," Maluma told Rolling Stone about his crossover dreams in 2018. "I want them to know me as Maluma, the star." Still, with three No. 1 albums on the Latin charts and a steady stream of YouTube hits, he has yet to really break through into the mainstream US charts — or media — in the way that peers like J Balvin and Bad Bunny have.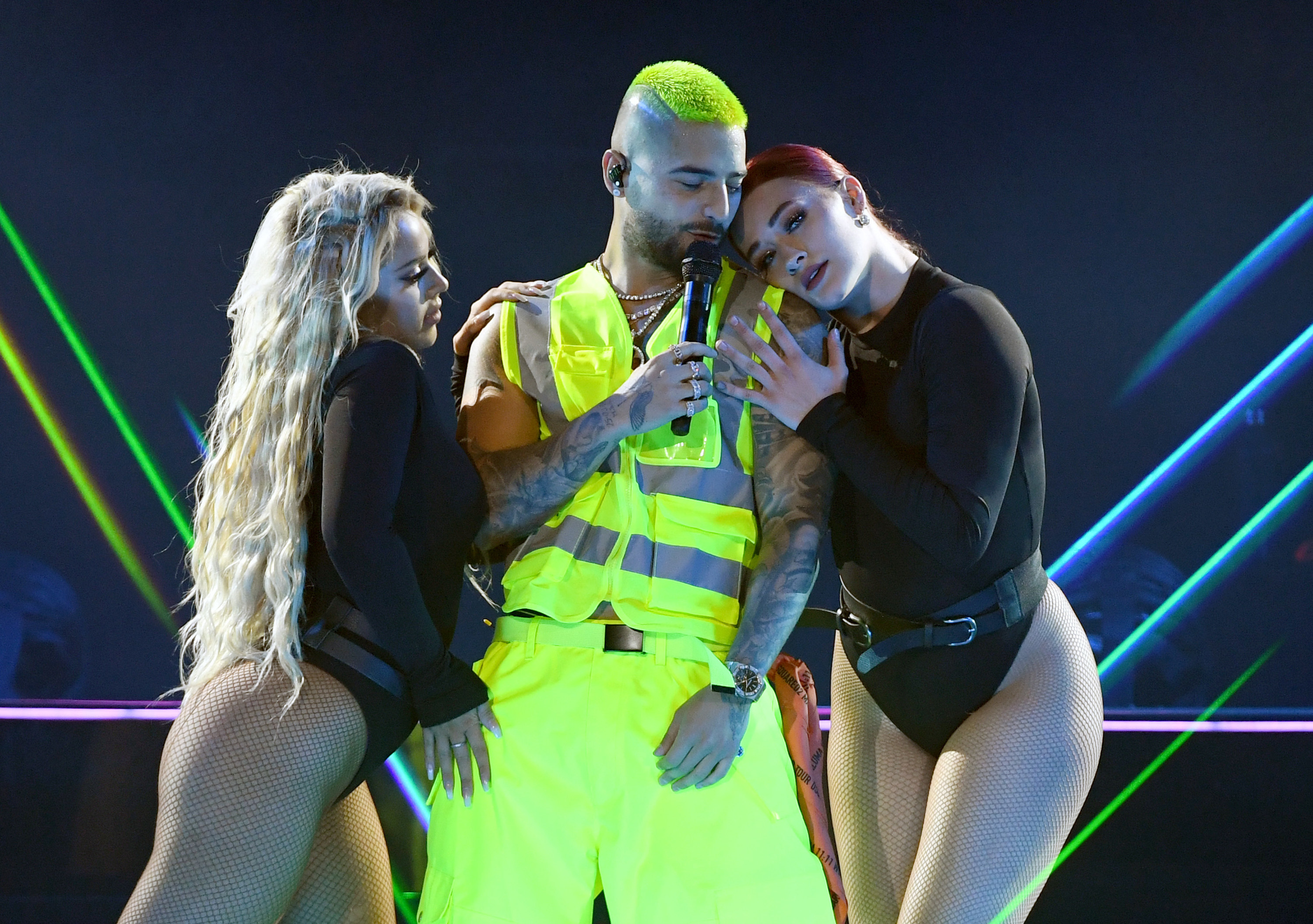 Bad Bunny's latest album broke records earlier this month, debuting at No. 2 on Billboard's charts to become the highest Spanish-language debut album ever, beating a record set in 2005 by Shakira. It was a sign of the way streaming has changed Latinx music consumption in the US.
The Shakira-and-Ricky era of the early aughts was dominated by the "Latinx explosion" model, in which Latinx artists sang in English and played into hip-shaking and tropicalizing tropes to get mainstream attention. But music stardom now seems to be more often characterized by carefully cultivated weirdness than adherence to established conventions. Bad Bunny is a much more transgressive figure than his crossover precursors. He's been an LGBTQ ally and a gender-bending fashion icon who highlights clothes by trans designers, creating a moral panic in Puerto Rico.
In contrast, Maluma's gender politics are more regressive. When responding to rumors about being gay, he joked that the accusers should "lend" him their girlfriends so he could show them he wasn't. He got in hot water for his song "Cuatro Babys" and its objectifying allusions to women as interchangeable. (When he won a Latin Grammy for Best Contemporary Pop Vocal Album in 2018, quirky singer-songwriter Natalia Lafourcade's disenchanted reaction went viral.) He's very specifically Paisa (the term for Colombians from Medellin): He's close to his mom and is a good Catholic boy; in reaction to the "Cuatro Babys" controversy, he invoked Jesus Christ.
Despite being in his twenties, Maluma's pop stardom hews closer to the Ricky-and-Shakira model, including trying to sing in English. "I'm trying to find the balance and do like Spanglish music or some songs in Spanish and others in English or do a translation," he told Reuters in 2018. His multicultural World Cup anthem "Colors" was like a neo-Ricky "Cup of Life" moment — and also, randomly, a duet with Jason Derulo.

Dueting with US pop stars also led him to play the Latin lover in Madonna's 2019 single "Medellin." (In the carnivalesque fantasia video, he wears matadorlike pants, feeding into Madonna's lifelong conflation of Spain and Latin America.) It certainly helped expand his following (at least among gay men), and her sucking his toes in the music video was definitely, erm, something. American pop divas seem to have a thing for Maluma; he's also set to play an on-brand role as Jennifer Lopez's cheating rock star fiancé in the upcoming rom-com Marry Me.
Maluma's most recent album, 2019's 11:11, featured duets with a range of collaborators from Madonna, again, to Ty Dolla $ign. (It got him a nomination for Best Latin Pop Album at the Grammys.) But so far, Maluma's biggest breakout success has come through doing his own thing. The lead single of F.A.M.E., "Felices Los 4," an ode to a four-way relationship — which also got over a billion YouTube views — was peak Maluma. The video, which features a Wilmer Valderrama cameo, gives thirsty fans random waterfall scenes in which Maluma flexes his arms and abs. At one point, he gives the camera a big, shameless "mwah" kiss.
The song (entirely in Spanish) was Maluma's first (and so far only) solo song to climb into the top 50 of the Billboard Hot 100. He got to sing the hit during the 2018 MTV Video Music Awards surrounded by a bevvy of hyperfemme dancers, one of whom scandalously kissed him at the end.
Some of Latinx Twitter groaned about Maluma's selection for the "Together at Home" special (underlined by some coded anti-reggaeton sentiment). But his plaintive, reworked acoustic version of the usually upbeat "Carnaval," sung all in Spanish, clearly translated to English-speaking audiences. It also showed the versatility that has helped him stay relevant. (His latest single, a stripped-down ballad with a sappy video featuring him in prosthetic old man–face, is yet another change of pace.)
"No importa lo que digas," Maluma sings in his hit "Mala Mía." "En el fondo, me quieren / Y por eso me imitan" — "I don't care what they say / In the end, they love me / And that's why they imitate me." It seems clear that wherever his trajectory leads, it will be inimitably Maluma, baby. ●