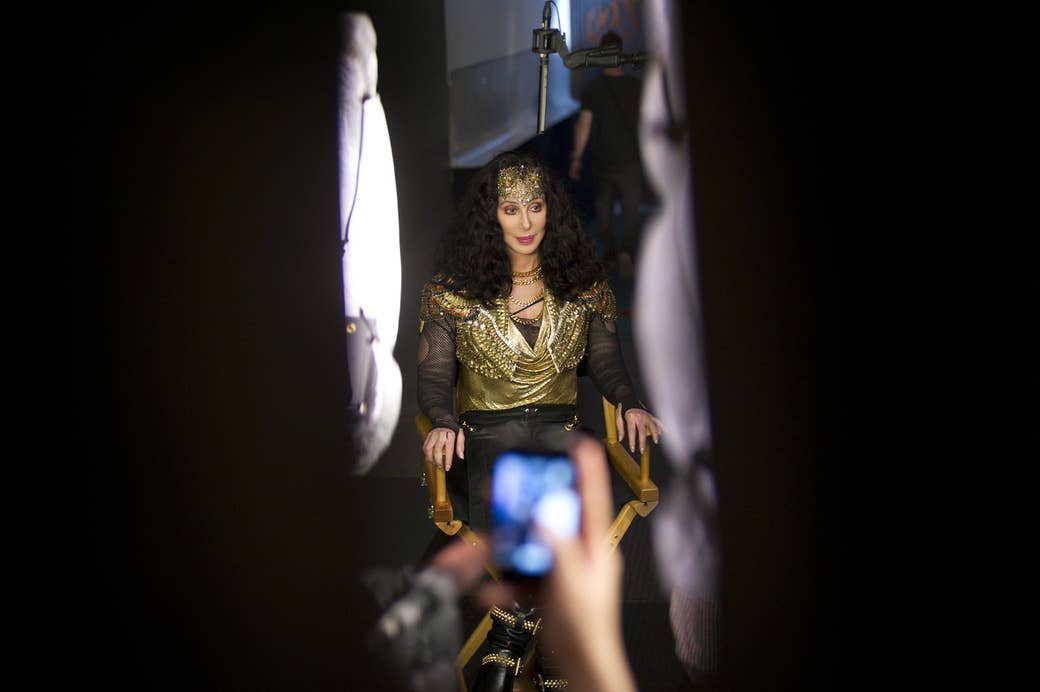 After the Trump administration announced on September 5 that it would be ending the Deferred Action for Childhood Arrivals program (DACA), Cher tweeted an offer to take DREAMers affected by the change into her home: "Those Who Can Must Take a DREAMER In2 Their Home & Protect Them!! I'm Ready 2 Do This & [praying emoji] Others in MY BUSINESS WILL DO THE SAME!! SANCTUARY."
The tweet might have gone mostly unnoticed outside of her own followers, who are used to Cher's uniquely punctuated, emoji-heavy, caps lock–intensive style. But after a skeptical user shot back, "I'll believe it when I see it!" Cher replied with a retort that's since gone truly viral, retweeted more than 34,000 times and liked by over 93,000 people (and counting): "Then keep your eyes open bitch."

This characteristically fierce comeback — effectively a motto for Cher's entire career — immediately spawned equally funny replies and more headlines, and turned into a new moment of Cher-style viral disruption. Since she started tweeting in May 2010, Cher has sashayed into the social media age by conveying her seemingly unfiltered (and often politically minded) thoughts on everything from Putin to her cats to what Republicans do in bed. This apparently seamless extension of the Cher aesthetic into the new media landscape generates constant press and has garnered her nearly 3.5 million Twitter followers.
It looks at first glance like just another natural expression of the "real" Cher, an outspoken and flamboyantly styled performer who has always been herself. She makes it all seem effortless, and tends to downplay her own hard work; earlier this year, while accepting a Billboard Icon award, she credited most of her success to luck. In fact, she has spent more than 50 years in the public eye crafting her persona, developing her skills, and finding the right media through which to convey her voice — as a fashion trend-setter, a TV comedian, an actor, and a cross-genre, cross-generational pop artist. Cher is still making headlines in 2017 because she's never stopped finding and mastering new outlets for her creative expression. She is always pushing boundaries, starting conversations, and keeping people's eyes open — all on her own sparkly terms.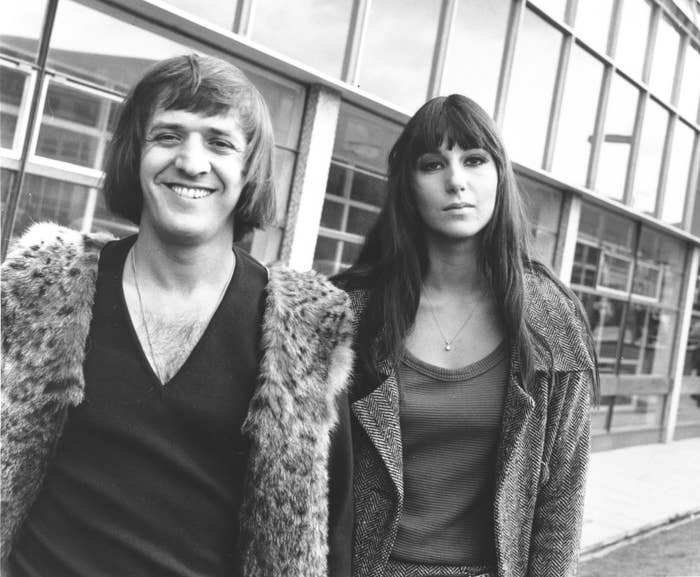 Cher has been generating memes and "moments" for decades, ever since she and her first husband, Sonny Bono, became household names in the '60s, playing America's countercultural sweethearts with hits like "I Got You Babe." But it was after they transitioned from pop music into television with The Sonny and Cher Comedy Hour in 1971 that Cher became a multimedia headline-maker. The 1970s variety show was like a mixture of Saturday Night Live and MTV; they featured skits, parodies, and musical performances, and the mixed format catered to Cher's strengths.
Cher enlisted her now-famous fashion partner, designer Bob Mackie, to create the kind of meme-generating outfits for her that would eventually become almost commonplace on red carpets, from Björk's swan dress to Lady Gaga's meat gown, which Cher witnessed in person at the 2010 Video Music Awards and gave her enthusiastic blessing to. He used everything from sequins to spray paint to craft her navel-baring ensembles, which were a scandalous novelty at a time when even Jeannie of I Dream of Jeannie had to cover her belly button to keep her show family-friendly.
Cher's trendsetting, from the beginning, was deliberate and meticulously considered. In Josiah Howard's career retrospective Strong Enough, her manicurist Minnie Smith remembers, "She wanted something different and I said, 'What the hell different can you do with fingernails?' I thought about it for a while and then I took out the round and left them blunt [at the tip] and all of a sudden Cher started a new trend." Her fashion experiments turned her non-Wasp "exotic" Armenian looks into an asset, years before Kim Kardashian made the identity cool (and paid tribute to Cher in a Harper's Bazaar Arabia fashion spread, saying "She's always had the sickest style.")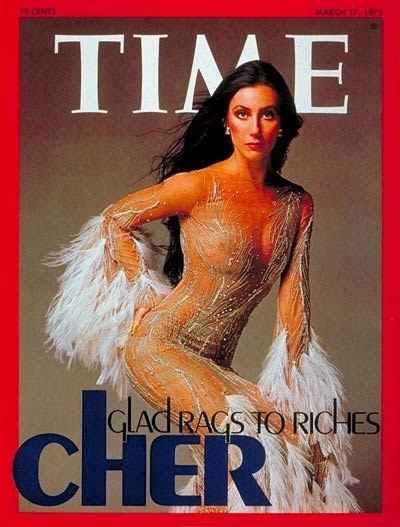 After Cher divorced Sonny Bono in 1974 and got her own solo TV show (Cher) in 1975, her style generated even more controversy because she was now a single mother, without the previously "respectable" wife-next-door angle. Even the New York Times reported on the network's battle over the newly single Cher's primetime "nudity." ("Should the American family, from the tiniest toddler on upward, be allowed to gaze upon Cher Bono's belly-button? This is the semi-awesome question that has jittery TV executives at CBS divided these days.") She also made the cover of Time magazine, with the tagline "From Glad Rags to Riches," under a picture of Cher wearing one of her sparkling, nearly see-through Mackie bodysuits, which got the magazine banned at some newsstands.
It wasn't just what Cher wore that made her producers nervous, but what she had to say about it. As a solo performer on Cher, she was also out in front as the monologuing subject — not the usual feminine object — of the show's humor, developing her trademark risqué, winking attitude. "Am I laced properly?" she asked the audience — the kind of remark that prompted a CBS staffer to tell the press, "when she-ad libs, she gets into trouble."
Cher was reliably self-aware about the work that went into manufacturing her image. "When you see me out here, I really don't look like this," she deadpans in another monologue. "When I come in, these people completely make me over. Actually, I'm really a 10-year-old boy." There were also skits where Cher joked about her supposedly wild post-divorce sex life. In one sketch with Lily Tomlin playing a nosy phone operator, Cher dismisses the rumors about her as "distortions and fabrications," prompting Tomlin to reply, "Aha, the Distortions and the Fabrications! Are those the two rock groups you're going out with?"
She knew how to create interest by commenting on the very headlines she was making, and by discussing her persona, she maintained a kind of "authentic" down-home appeal. In other words, the "natural," unfiltered Cher that a new generation has come to love on social media — cracking jokes, commenting on everything from politics to pop culture in a self-deprecating, bawdy, yet in some ways cross-generational and family-friendly voice — is a performance Cher has been developing and perfecting for more than five decades.
Cher's recent pairing with rapper Future in a Gap ad may have perplexed some, but it was nothing new for her. Cher's 1975 variety show was an early platform for her to experiment with musical genre-crossing and unexpected collaborations, with musicians from Elton John and Bette Midler to Tina Turner and David Bowie, using medleys and mashups to reconcile her multigenerational audiences. Cher's duet with Bowie swings from Buddy Holly to the Platters to Laura Nyro, bookended by Bowie's "Young Americans," and gives a sense of the way these performances crossed cultural boundaries and brought together high and low, hip and classic, doo-wop Americana and indie rock.

Cher has never seemed restricted by the bounds of genre, but she did struggle to find the right commercial musical medium throughout the late '70s and most of the '80s, recording a rock album with her second husband, Gregg Allman, and "anonymously" fronting a punk rock band called Black Rose. Instead, she transitioned into serious acting, first in 1982 in the play and movie Come Back to the 5 & Dime, Jimmy Dean, Jimmy Dean, directed by Robert Altman, and then in a string of well-received movie roles in Silkwood (1983), Mask (1985), and Moonstruck (1987). Once again, Cher was able to translate her sensibility to a new medium and make it work for her. As Janet Maslin wrote in the New York Times review of Moonstruck, "Cher has evolved into the kind of larger-than-life movie star who's worth watching whatever she does."
Those three roles earned her two Golden Globes and an Oscar — and, with each awards season, another chance to make headlines with her speeches, or Bob Mackie's red carpet creations, or both. She strode onto the stage at the 1986 Oscars to present the Best Supporting Actor award wearing a towering feathered headdress and navel-baring ensemble and calmly stole the show, saying, "As you can see, I did receive my Academy booklet on how to dress like a serious actress." As Mackie later remembered, "She was in every newspaper the next day; she's not so dumb."
Cher did finally find the right musical language to reach the center of the pop culture stage in the late '80s, through the MTV video and the synth rock-pop power ballad. The 1989 music video for "If I Could Turn Back Time" reinvigorated her musical image, as she fused heavy metal fashion with pop visuals. In the now infamous, ass-bearing video — where she wears fishnet stockings and straddles an enormous gun on a real US Navy battleship, backed by a crowd of fist-pumping sailors — she turned her performance from a potentially nostalgic look back into a powerful statement about the defiance of aging, and a fresh public controversy.
The video was banned by MTV and sparked some hand-wringing within the Navy, which had apparently hoped the video might be a "tasteful" recruiting tool. ("It'll be a cold day in hell before she ever films another video on a Navy ship," one scandalized junior officer remarked to the LA Times). It also defined Cher's image even into the late '90s, when she appeared on an episode of Will & Grace, spoof-singing the song.

Yet by the '90s, Cher's use of her persona to cut across media was viewed as cheap commercialism. Her out-and-out infomercials for Lori Davis hair products, and a re-recording of her 1965 duet "I Got You Babe" with Beavis and Butt-head, appeared less like the kind of visionary mashups of her earlier eras and more like desperation. By mid-decade she had become the namesake for the character Cher in the hit movie Clueless, who tells us she was named for "a great singer of the past who now does infomercials."
But even if she was becoming the butt of cultural jokes rather than the one making them, Cher wasn't done experimenting. She transitioned from rock ballads into dance, single-handedly turning Auto-Tune-as-effect into a thing with the 1998 single "Believe," which shot to number one worldwide. At 52, she was back on top during the reign of teen pop queens like Britney Spears and Christina Aguilera, and reinvigorated her touring career; her supposed farewell tour, starting in 2002, ended up stretching into 2005 and became one of the top-grossing tours of all time, ahead of Bruce Springsteen. Cher entered the new millennium still finding new arenas to put her talents to use, and she wasn't done yet.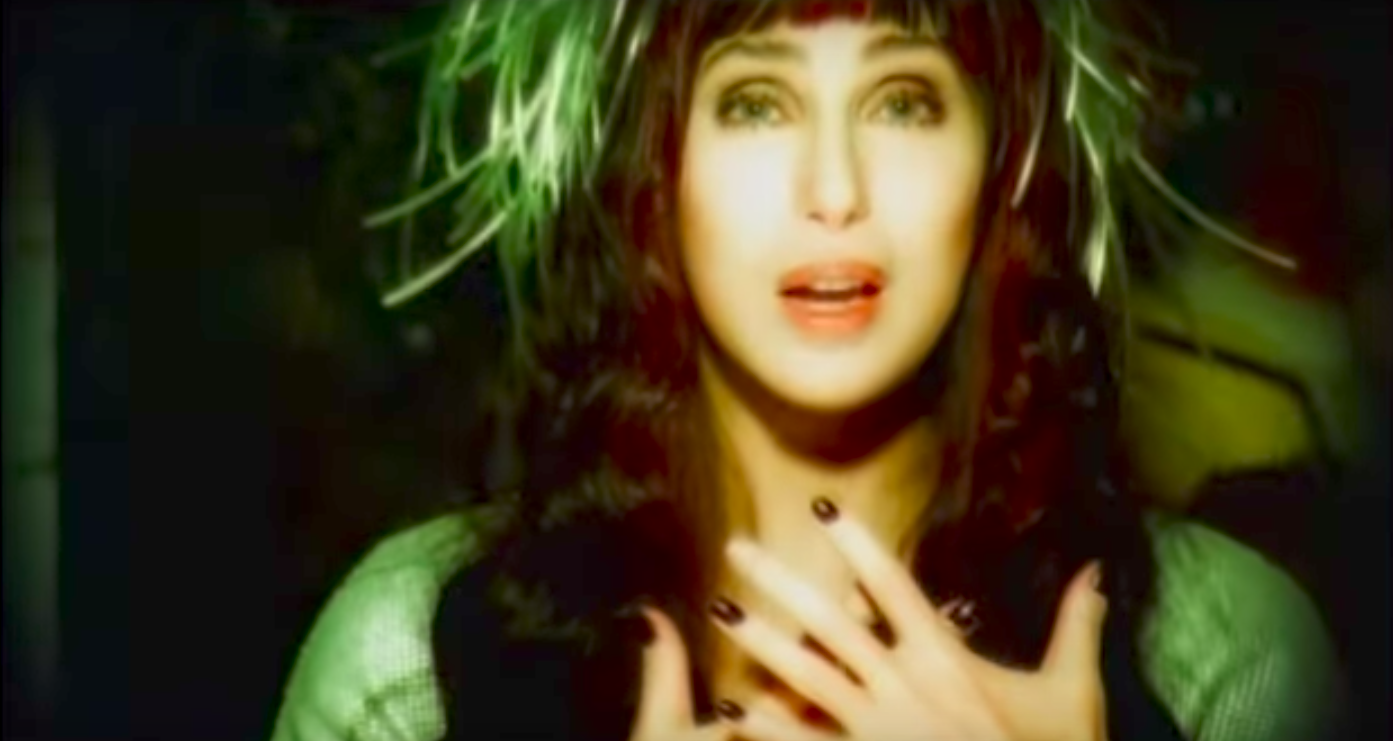 Cher started using Twitter when she was promoting her 2010 role in the movie Burlesque, the plot of which is largely a campy excuse for the real-life spectacle of Cher's pairing with Christina Aguilera; as the movie's poster put it: "It Takes a Legend to Make a Star." Some of her first tweets were about her co-star ("Bout me & Xtina ! Didn't know her b4, but she worked her ass off ! She has my respect & a great deal of my love !") appraisals of the movie ("It's not Shakespeare ! It's predictable , but it's beautiful & FUN") and randomly recommending jean brands.

While the movie never exactly took off, Cher's Twitter presence did. She immediately seemed to understand the medium's rhythm, tweeting multiple times a day and sharing her thoughts on everything from the spectacle of her everyday life (like her Christmas decorations), to memories of her career (like lying in bed with Elizabeth Taylor), the vagaries of aging, and giving self-help advice to followers (what would she tell someone with self-esteem issues? "Take a number & Stand in Line"). From the beginning she tackled politics, talking about everything from the evils of the NRA to Trump's racism, years before he ran.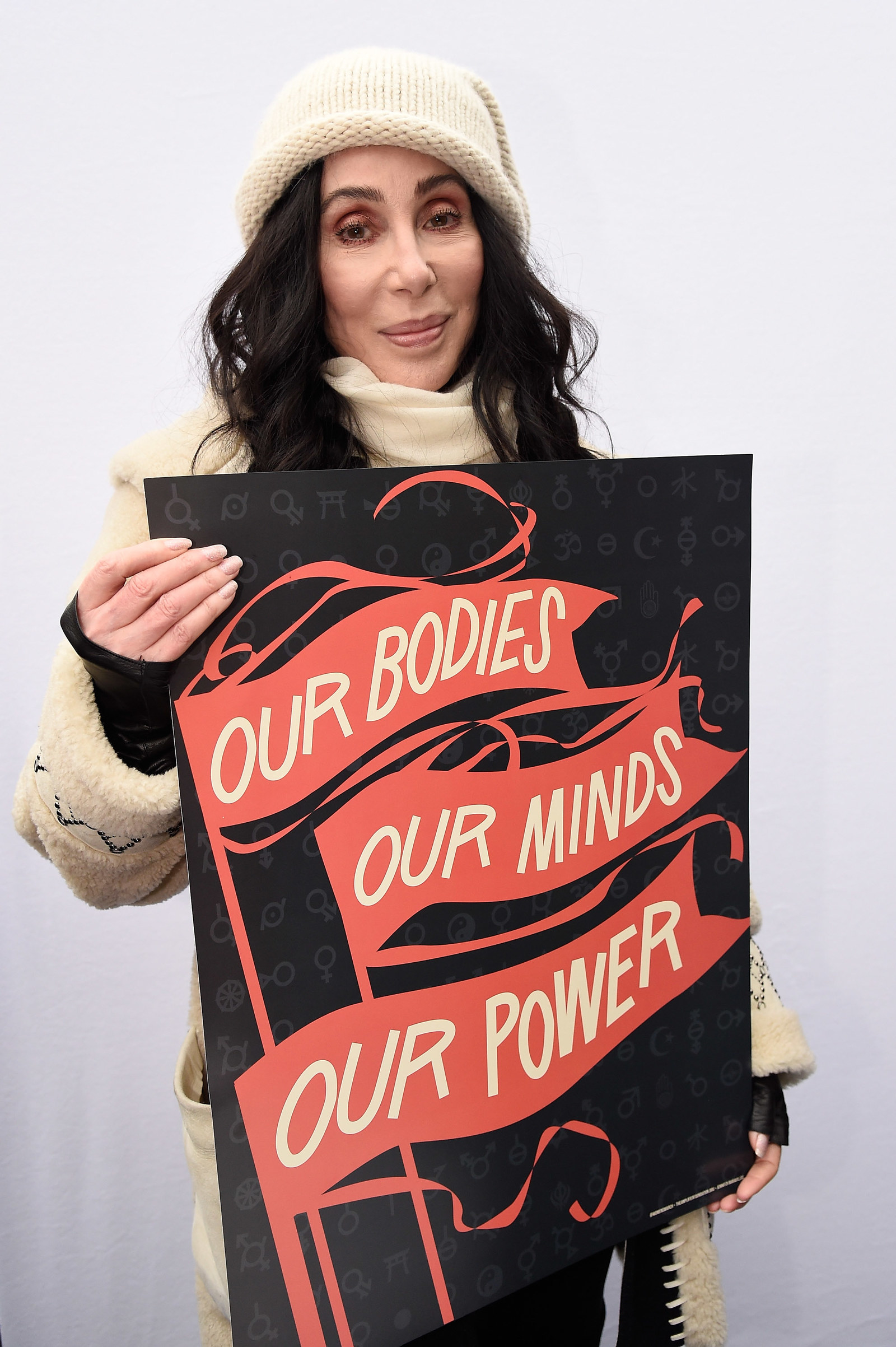 In fact, publicly political Cher didn't come out of nowhere; she's been around for decades. Cher first endorsed the failed Democratic candidate Michael Dukakis in 1988 and Ross Perot in 1992, calling into CNN to voice her admiration of him. She also called into C-SPAN and CNN throughout the 2000s. As politics (and the endless dissection of it, with or without any particular expertise) became the biggest and loudest cultural conversation in America, Cher was already at the center of it. And Twitter seems to be yet another medium she was always meant for; she uses it, as Jenna Wortham writes, "in its purest and most organic form."
Cher's comedic approach — for instance, using a toilet emoji to refer to Trump — is a refreshing tonic in trying times. And as she shifts her eye across politics, art, and life, she continually elicits responses, goes viral, and generates massive engagement; almost all her tweets get thousands of likes and retweets. Her feed might seem like minor rants in an ephemeral medium, just her "natural" expression, but there's 50 years of the labor of making Cher — of inventing, editing, and curating herself — that underlies each tap of her keyboard.
When Cher presented Lady Gaga with an MTV Video Music Award in 2010, she went on Twitter to praise the details of Gaga's meat dress, exclaiming "modern art elicits discussion, introspection & conflict ! Everyone's talking about it! BINGO !" Cher could just as easily have been talking about herself. Through the continual performance art of her Cherness, through her meticulous cultivation of difference, through her ability to make herself visible across borders of genres and taste, she continues to generate cultural electricity, now in meme-making form. Keep your eyes open (bitches), because there's always a new Cher on the way. ●