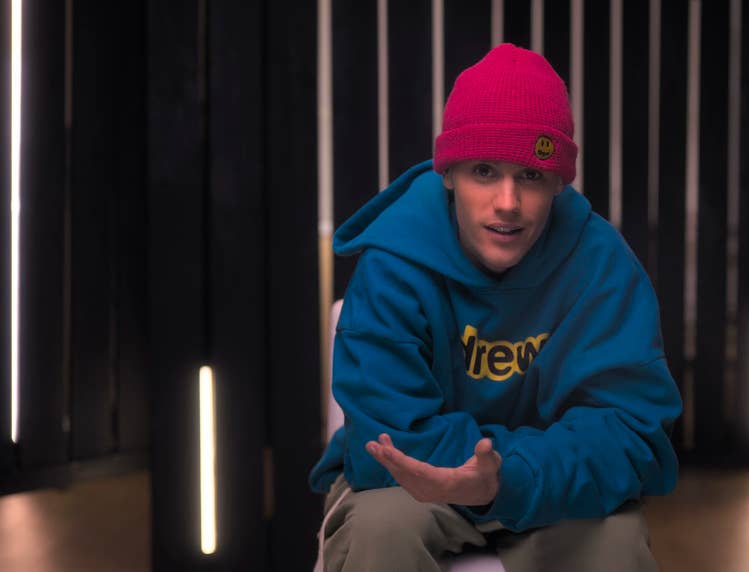 "I'm Justin. I'm from Stratford, Ontario, Canada. I'm an artist. I make music," says Justin Bieber in the opening scenes of his new 10-part YouTube documentary series, Justin Bieber: Seasons.
It's a reintroduction of sorts for the global pop star, who has been famous for so long that it's shocking to remember that he's still only 25 years old. With his last massively successful solo album — 2015's Purpose — the then–21-year-old was already reclaiming his narrative and finding new meaning after some messy years.
But then he shocked fans by abruptly canceling the Purpose world tour in the summer of 2017. Since then, he's worked out his daddy issues in public, unveiled a new dirtbag look of Hawaiian floral shirts and a hipster mustache, found salvation in Hillsong Church, and married a fellow churchgoer then known as Hailey Baldwin. (She doesn't like the mustache, and who can blame her?)
Seasons is an attempt to present himself to the public — again — after this last break. But in contrast to, say, his introspective Instagram, this docuseries and his new music don't reveal nearly as much about his current mindset as fans — let alone the wider public — might like.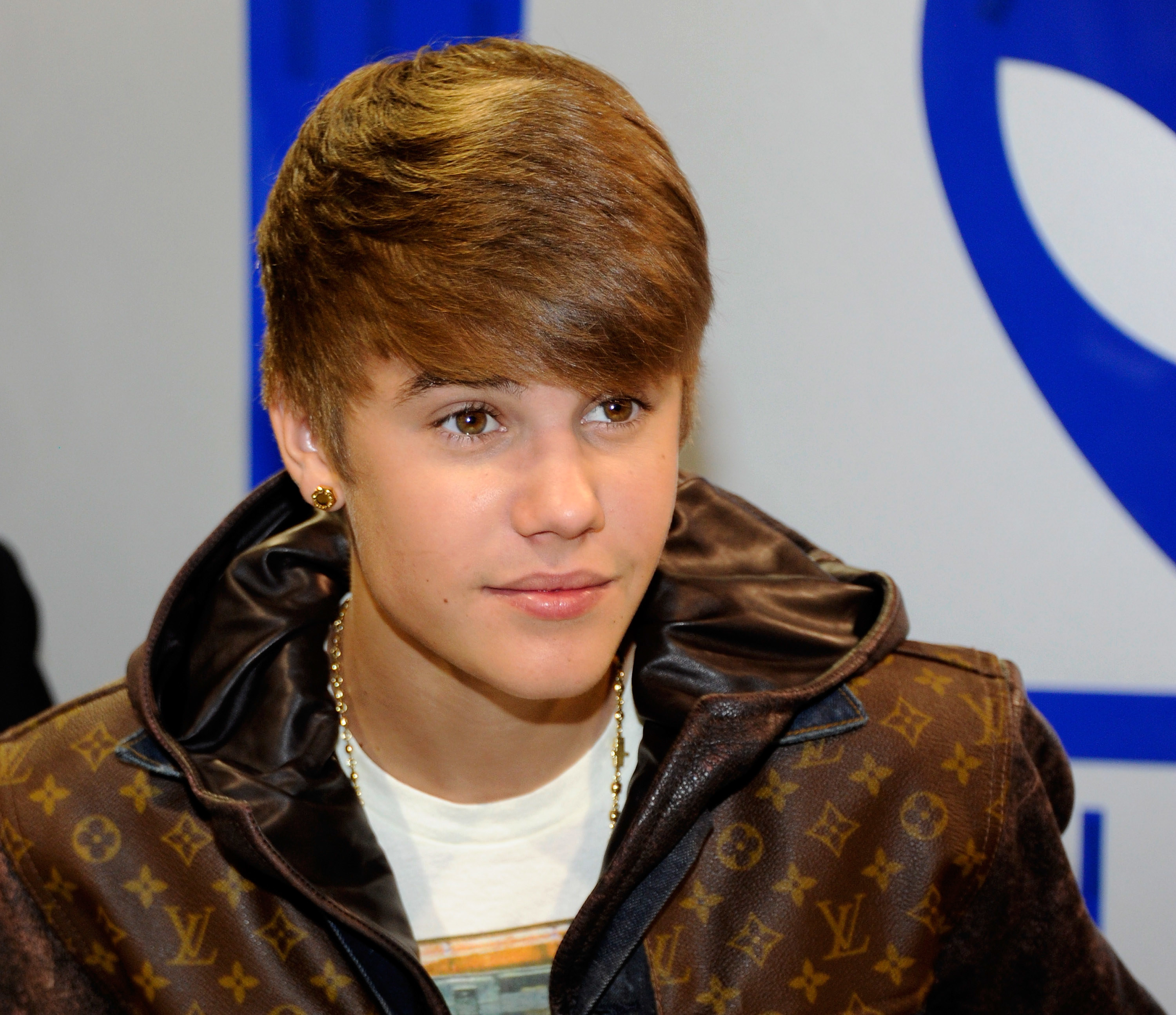 Plucked from YouTube as a 13-year-old, mentored by manager Scooter Braun and Usher, Bieber quickly became a global tween sensation. Beliebers fell in love with the floppy hair and the bubblegum soul of hits like "Baby." "He's just like every other kid who had a dream and it, like, came true," says one Belieber in the opening of Bieber's previous documentary, 2011's Never Say Never. That box office hit packaged and cemented the ethos of relatability that drew fans to him.
Since then, the Canadian star underwent the predictable growing pains that often affect the teens of the pop machine. There was a DUI arrest, family drama, drug use, leaked n-word videos, and breakups and makeups with fellow pop princess Selena Gomez (a relationship nicknamed Jelena by stans).
But Bieber was lucky to have grown up as a pop star in the age of Instagram, because unlike other stars spit out by the industry — especially the kind of women dismissed as trainwrecks — he's always been able to control his narrative through social media. Yes, there were alarming scandals and controversies, but he always spoke out about them on Twitter or Instagram, assuaging fans' concerns and presenting his side of his story. And his musical success was unaffected; 2015's Purpose was a record-breaking success.
During promo for that album, Bieber spoke about needing to reconnect with fans after his years of acting out. "I was just, like, isolating myself and making myself seem like I was unrelatable," he said about that time. "I just want people to know that I'm at a point where I'm, like, over that."
Last year, he wrote a long Instagram post about the pressures on child stars, the dopamine rush of the stage, and turning to drugs at 19. "I became resentful, disrespectful to women, and angry," he wrote. "I became distant to everyone who loved me, and I was hiding behind, a shell of a person that I had become."
Yet none of this is addressed in any direct or meaningful way in the documentary. Seasons, which consists of 10 20-minute episodes, four of which were made available for critics, is an attempt to reintroduce us to a relatable, supposedly less calculated Bieber, as he records his forthcoming (still untitled) album. "I think for me things have always been so polished and so, like, perfect," he says in a confessional moment, suggesting he wants to let us in more.
But the documentary is the kind of production where breaking the fourth wall to say "Can we do that again?" counts as relatable charm, in place of insight into his life off-screen. The documentary opens with Bieber's surprise announcement that he was canceling his Purpose tour in the summer of 2017, but there is little explanation of the causes. Some of the same faces from the Never Say Never doc are trotted out again, including managers Braun and Allison Kaye and friend and creative director Ryan Good, and they're now joined by Hailey Bieber herself. The entourage's insight into Bieber is couched in the kind of generalities that one would hope such a docuseries would flesh out.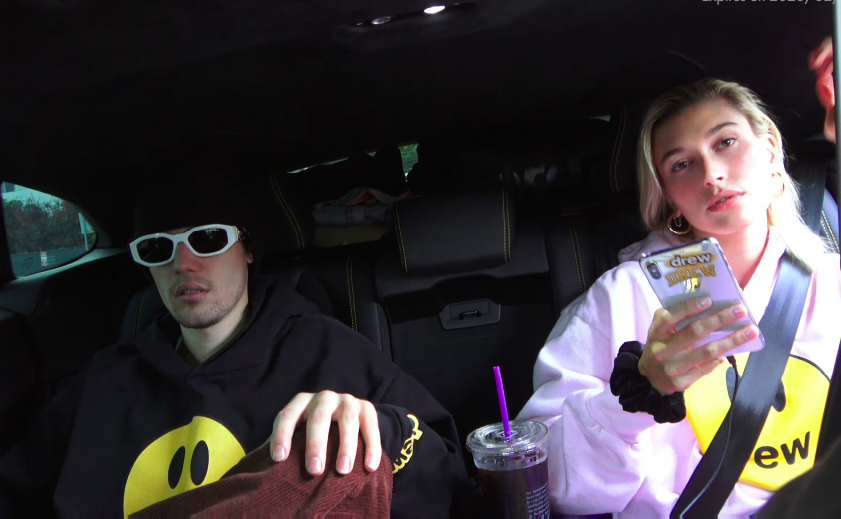 Hailey Bieber speaks broadly of how he came out of "some really dark times"; Braun says he just wanted to feel "normal." Bieber says, in the diplomatically general terms of a Disney star, "I think that being human is challenging for everybody. We all have our individual pains and fears and anxieties, worries."
There are the kind of staged scenes familiar from reality television, like Bieber returning to the street in Stratford, Ontario, where he first sang for passersby to make a name for himself. It's re-creating a scene from Never Say Never, except this time he returns with Hailey Bieber, who's in the car behind him. "She makes everything better," he tells us. He turns around to say to her, "You make everything better, babe."
The entourage sings the praises of Hailey Bieber — someone calls her a "unicorn" — and there is footage from when she and Bieber first met as kids on the set of a morning show. Bieber liked that she wasn't too impressed; she's become a pillar for him since. They both tell the cameras that they still make each other nervous. These are all the kind of "revelations" that have become the new normal in the era of celeb-on-celeb interviews.
Paradoxically, the most interesting insight in the documentary is not about his life but about his musical process. We get a better understanding of the collaborative nature of his stardom; for instance, how one song emerges from beats curated by producer Josh Gudwin, and how his longtime relationship with producer Jason Boyd (known as Poo Bear) works.
The producer helps him with everything from ad libs to phrasing — showing him how to sing one line pronouncing "gonna" as "gone." (At one point, Ryan Good describes himself as Bieber's "swag coach," but Boyd seems to actually earn that title, whatever it means.)
We get less-interesting snippets of Bieber's current single, "Yummy." The song leaves behind the melody-centric pop of earlier Bieber for trap and features calculated vernacular ("get litty") and a new level of sexual candor ("Rolling eyes back in my head, make my toes curl, yeah, yeah") presumably about his new wife.
In the music video, Bieber wears earrings and a pearl necklace, embracing the kind of androgyny that's also been popularized by Harry Styles. There is no discussion of what the change of sonic direction means, beyond vague ideas that Bieber is now more in control of his albums.
Bieber's last album smartly updated his sound and persona with EDM and tropical house–tinged pop. The album broke records set by the Beatles and Drake by charting 17 songs. It also scored a trio of No. 1 singles, some inspired by the Gomez relationship — like "What Do You Mean?" and "Sorry" — that became some of the biggest hits of his career.
Though Bieber once proudly embraced the pop label, he seems to want a different kind of musical authenticity, even contesting on Twitter one publication's designation of the forthcoming album as "pop." He says it's R&B, invoking the moniker R&Bieber that he also mentions in the doc.
But "Yummy" struggled to hit No. 1 — the song debuted at No. 2, beat out by rapper Roddy Ricch, despite what was perceived as Bieber's attempt to game the charts. It quickly tumbled out of the top 5, hinting at the way his industry playbook is being challenged by less formulaic streaming-era stardoms. In some ways, even Post Malone has taken up part of the Bieber lane on radio and streaming. But it's easier for white pop stars to go from trap to pop — as Post Malone recently did — than to go from pop to trap.
Forthcoming episodes of Seasons are supposed to feature unseen footage from his wedding and Bieber's discussion of dealing with mono and Lyme disease. As in Lady Gaga's documentary Five Foot Two, it seems celebrities talking about their health helps them sidestep other kinds of equally difficult candor and vulnerability, including about their journeys as artists. Instead, there is footage of the controversial half-wild cat he bought his wife.
"People are drawn to him because he has a story to tell," says Hailey Bieber at one point. But so far, he's not using Seasons — or his music — to tell much of it. ●