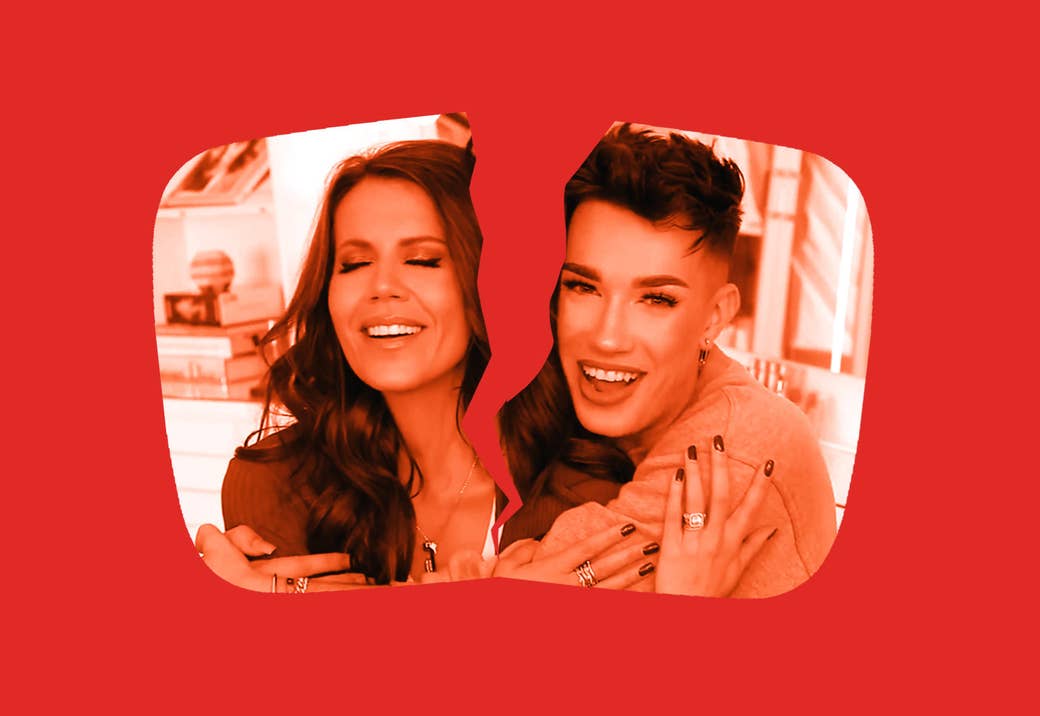 Friendship breakups and feuds are the fuel that keeps reality television afloat. Viewers take sides, reality stars become the hero or villain of the moment, and everyone feels a little dirty about it as the ratings climb.
A similarly entertaining — and debased — moral economy rules the world of YouTube beauty vlogs. And this week, the dramatic friendship breakup between YouTube stars James Charles and Tati Westbrook has reverberated across the internet, far beyond the beauty influencer community.
If you're not familiar with either figure, the feud is a little hard to follow. But according to Westbrook, a 37-year-old beauty vlogger who had previously taken Charles, 19, under her wing, it boils down to this: "Fame, power, and a fat bank account will change almost everyone," she said in a 43-minute video outlining Charles's wrongdoing against her, uploaded to YouTube on May 10. The video is titled "BYE SISTER ...," a shady allusion to Charles's signature salute to fans on his own channel ("Hi, sisters"). That video, which went massively viral and has now accrued more than 40 million views, and has led a large percentage of the internet to declare Charles "canceled," was all prompted — in peak 2019 form — by a conflict over gummy vitamins and brand sponsorships.
But there is a more serious aspect underlying Westbrook's video, in which she frames herself as a brave truth-teller, speaking truth to power about James Charles. The most inflammatory accusations against her former friend and mentee are #MeToo-flavored: She alleges that Charles uses his fame and influence to "trick" and "manipulate" straight men into thinking they're gay. "You are using your fame, your power, your money, to play with people's emotions," she says. "You're threatening to ruin them. You're threatening to embarrass them, and you're doing that to have them behave sexually in your favor, even if they're straight."
By accusing Charles of trying to "turn" straight men, she's branded herself as a moral crusader — rather than a businesswoman who's upset that a once less powerful younger (queer) upstart undercut her by making his own business deals. Charles's YouTube subscriber count has plummeted over the past few days, as Westbrook's rises — while various allies, enemies, and frenemies continue to wade into the mess. But there's no moral high ground in sight.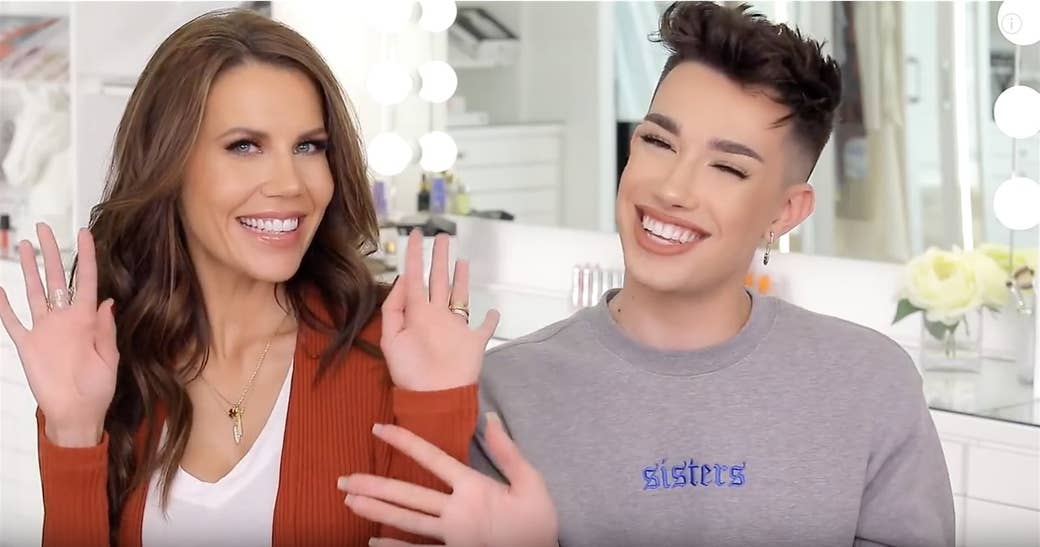 This scandal is one of the rare YouTube dramas to explode into mainstream media, and has become the most memeable takedown since Kim Kardashian Snapchatted her receipts about Taylor Swift. Charles and Westbrook have made headlines from CNN to Entertainment Tonight, in stories that have mostly focused on the feud's commercial fallout for James Charles. Out of the two, he is the more mainstream famous personality. He was named the first male gender-nonconforming CoverGirl ambassador; before the feud, at his peak, he had 16 million YouTube subscribers, and nearly 15 million Instagram followers. He's made headlines for the exorbitant prices he charges for fan meet-and-greets, his transphobic comments about trans men, and his cringe celebration of his own role in increasing "influencer representation" at the Met Gala.
Westbrook, in contrast, had 5 million YouTube subscribers and a little under 3 million Instagram followers before her recent burst of fame. As a beauty vlogger and internet persona, she is the kind of woman who unironically calls herself @glamlifeguru, who watches her language for the sake of "mommies," and shares her opulent beauty room with her followers.
In an industry that is increasingly "diverse," Westbrook doesn't provide the most headline-grabbing perspective. She is described as an "OG" vlogger and might be influential in the insular world of beauty YouTubers, but she is not the kind of influencer mentioned in accounts of the way the industry is moving forward and reshaping fashion. So, strategically, Westbrook often collaborates with queer personalities on her channel, regardless of their problematic histories, including Jeffree Star and Shane Dawson.
Per Westbrook's own account in her video, she first met Charles when he messaged her years ago about wanting to become a makeup artist and Instagrammer. As his brand exploded online, she says she helped him monetize his YouTube videos, while her husband (who works in the entertainment industry) helped him negotiate a million-dollar contract for his deal with Morphe cosmetics. Since then, he'd become not only a mentee but a friend; Westbrook even invited him to do her wedding makeup. Charles's star power only grew; Kylie Jenner appeared on his channel.
By accusing Charles of trying to "turn" straight men, Westbrook has branded herself as a moral crusader.
Westbrook points out that she stood by Charles even when he weathered controversies, like when a racist tweet first threatened to get him canceled. It is telling about Westbrook's sense of the limits of cancel culture that this particular offense didn't merit a video or a sit-down with Charles. In fact, when Westbrook herself got called out by fans who were upset about her collaboration with Star (who also has a history of racist tweets), she simply complained about the fans' language and getting bullied — without addressing the underlying issue of racism in beauty vlogging.
Though Westbrook emphasizes that she supported Charles without expecting anything in return, she is also clear that her breakup video was inspired by what she saw as Charles's lack of loyalty to his mentor and friend: He shilled for SugarBearHair gummies, a product in direct competition with Westbrook's Halo brand. Feeling betrayed, Westbrook posted her first teary (and strategically barefaced) Instagram video, in which she laments the way her naive trust has been shattered. "Welcome to show business," says the 37-year old.
Charles then posted his own Instagram story, writing, "I want to publicly apologize to my close friend Tati. She has been like a mother to me since my first days in this industry and has given me more love, support, resources, and advice than I could ever ask for." But Westbrook felt Charles's attempt at reconciliation wasn't enough.
In her subsequent breakup video, Westbrook framed her actions not just as a business or gossip issue but as an intervention into Charles's supposedly abusive behavior. She accused him of "baiting" straight-identified men, which dovetails with Charles's history of publicly admiring them. "Attractive straight boys will be the death of me," he once tweeted — which has since come back to haunt him, since it's making the rounds again — and last year he apologized to the singer Shawn Mendes for leaving thirsty messages on Mendes's Instagram.
Most recently, in the aftermath of the same Coachella weekend when Charles posted the sponsored vitamin gummy stories that so infuriated Westbrook, Charles publicly feuded with the Instagram model Gage Gomez. According to Charles, Gomez had told him he was bicurious before the festival; they discussed the possibility of Gomez coming to Coachella to explore their feelings, which he then did. But Charles felt used when Gomez wasn't romantically interested in him, and took to social media, punitively using his platform to call Gomez a con man for leading him on just to get a free Coachella trip. Gomez, who is a year older than Charles, then filmed a YouTube video to explain his side. (He wasn't bi-baiting Charles, he argued, but was genuinely curious and wanted to figure out if he liked him; he also says he felt pressured into kissing James.)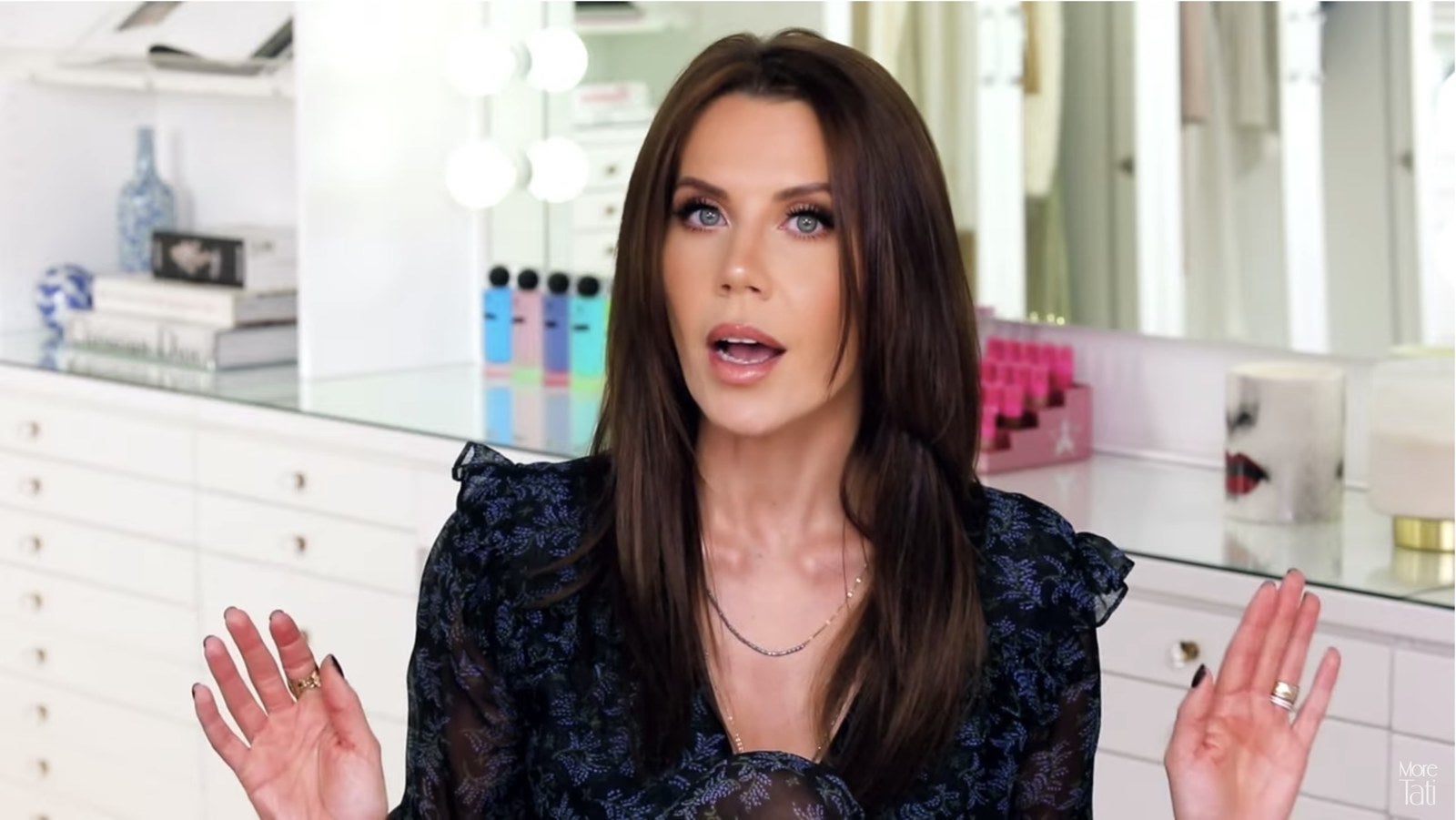 In her breakup video, Westbrook alluded to the Gomez debacle as being part of a pattern, and also referenced the "situation that happened in Seattle on my birthday, which literally made me want to vomit." This supposedly appalling misdeed, as she described it, involved Charles trying to "trick a straight man into thinking he's gay yet again, and somehow you're the victim."
"Cracking someone's sexuality is not an escape room; this is shit that will follow them the rest of their life," she says — painting Charles as a gay predator preying on younger boys who are still "finding" themselves, activating an old-school straight panic about gay men "converting" boys.
But the Seattle waiter himself, who is 19 just like Charles, has since spoken out as well. In his own video, published after Westbrook's allegations, the waiter, Sam Cooke, says that he had DM'ed Charles after Westbrook's birthday, told him he was bicurious, and wanted to experiment. (In the video, he calls Charles a bad kisser who uses too much tongue, prompting jokes about his changing story.)
In his now much-parodied, bare-faced apology video, Charles apologized to Westbrook, and attempted to address the accusations of baiting straight guys. "Boys have been a topic that I've talked a lot about in my social media journey," he said. "I've been involved in a lot of very unique and strange situations that have left people confused and upset and I've learned the hard way about ways that I can interact with boys that I'm interested in, and also ones that I shouldn't be talking to. This is a conversation that I know a lot of people are uncomfortable with, and it's something that I should have been far more careful with bringing into the public eye. Especially with the last situation that just happened, I've had to learn it the hard way."
He added that Westbrook herself had warned him about his behavior with straight and bicurious guys, as "one of the people to sit me down and tell me how it looked from the outside and let me know, 'Hey, talking to these boys might get you in trouble one day.' And she was right."
In the aftermath of Westbrook's video, celebrities ranging from Iggy Azalea to the Kardashian clan have all unfollowed him. Still, so far his deal with Morphe cosmetics remains in place, and his tour will continue. (His merch store has been mysteriously taken down.)
Others, however, have cautioned about Westbrook's use of #MeToo language, and pointed out the veiled homophobia of Westbrook's takedown video. The question of whether Charles has a problem with consent, or the men Charles has been involved with felt uncomfortable with the situation is its own issue, separate from whether he was "confusing" them about their sexuality.
But one thing remains clear. In taking down Charles, Westbrook, who has a history of punching down, has become more relevant than ever. "I feel like I need to remind you that we can hold truth & inspire change without grabbing onto hate," Westbrook said in a recent tweet, acting as if she were above the fray. Who will be the villain tomorrow? ●