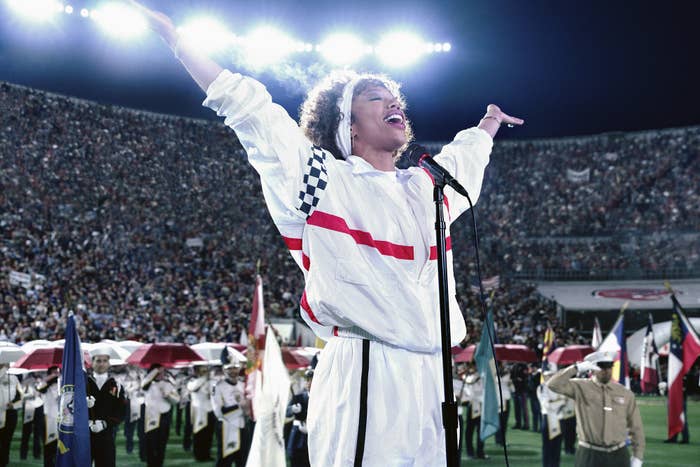 "My whole life, she ain't Black enough, she ain't white enough," Whitney Houston (Naomi Ackie) tells an interviewer in the new biopic I Wanna Dance With Somebody. "Well, how about she's not obedient enough? How about she ain't fearful enough?"
It's a defiant moment that conveys Whitney's agency, which has been lost as her myth has grown. Since her death in 2012, there have been two full-length documentaries, an Angela Bassett–directed Lifetime biopic (with Yaya DaCosta as Houston), and endless memoirs by everyone from her mother, Cissy Houston, to her former girlfriend Robyn Crawford.
This Houston estate–approved biopic, directed by Kasi Lemmons and written by Anthony McCarten of the Queen biopic Bohemian Rhapsody, was a difficult undertaking. Whitney's massive mainstream celebrity — three of her albums sold over 10 million copies — was in some ways at odds with the complexity of her life. And this film had to thread the needle: to be family-friendly enough to appeal to the mass audiences who loved her without shying away from the trauma that led to her death.
Lemmons, whose 1997 landmark work Eve's Bayou was a rare '90s film about Black women written and directed by a Black woman, subtly inhabits Whitney's perspective, giving her agency over her artistry and personal life. But she doesn't shy away from the structural forces — like family expectations and respectability politics — that pushed against her or the queer elements of her story. I Wanna Dance is a rare biopic that balances the demands of a jukebox musical while also honoring its protagonist's struggles.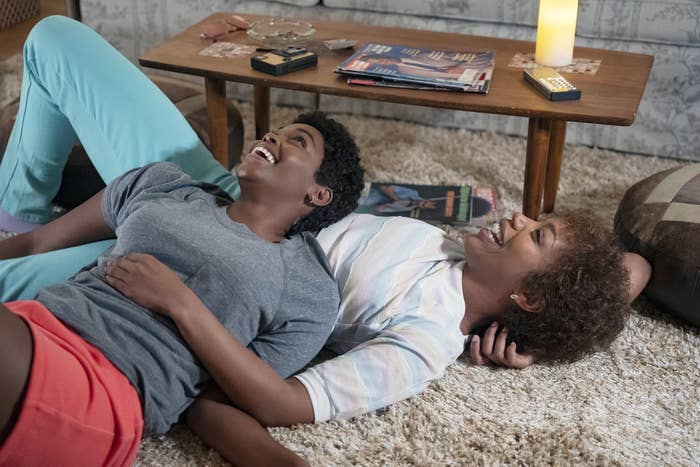 Whitney Houston wasn't really a publicly introspective woman. That's part of her mystique, and part of the difficulty and the impetus for so many Whitney projects.
But I Wanna Dance creates a coherent portrait of what we know. It starts with a 1994 American Music Awards performance, before flashing back to 1983, Whitney's years in New Jersey singing in a choir directed by her mom, Cissy (Tamara Tunie).
English actor Naomi Ackie has a riveting screen presence. Ackie doesn't look like the singer the way DaCosta's Whitney did, but she creates her own striking version of her — her halting, staccato style of speech, the precise way she moved her lips when she sang, her elegantly measured yet somehow casual and carefree charisma.
The biopic captures the true emotional weight of Houston's fatigue and of her family's betrayal.
We watch her meet Robyn Crawford (Nafessa Williams) and see their friendship blossom into sexual intimacy and true partnership. Their relationship becomes a buffer from societal and family expectations, as Whitney shoots to fame under the guidance of her mom and Clive Davis (Stanley Tucci), and eventually her dad (Clarke Peters).
"How do I look?" Whitney asks Robyn during the making of 1985's "How Will I Know" video with her big bow. "Ridiculous," Robyn says. "That's what they want, America's princess," Whitney says. "Watch me give it to them."
Her father pressures her and Robyn to grow out their hair and date men. Whitney tries to push back but always seems to end up struggling under his power. Their relationship ends.
Still, we see her demonstrate agency in her career. Houston wasn't a songwriter, but she was a collaborative shaper of her own music, and Lemmons does a great job showing that. In scenes with Whitney and Clive Davis, the film lets us hear the bland, forgettable voices on the original demos for hits like "How Will I Know" or "I Wanna Dance With Somebody," conveying how Whitney turned them into powerhouse vocal spectaculars. She also sped up or slowed down the tempo of songs to capture their meaning, including her iconic 1991 rendition of the national anthem.
The film covers her tumultuous marriage to Bobby Brown (Ashton Sanders) and her increasing drug use, but it doesn't pinpoint Houston's decline to any one thing.
"I don't know how much longer I can do this," she tells Bobby after having a miscarriage on the set of 1992's The Bodyguard. "Being everything to everybody." At another meeting, she says: "Of course I'm exhausted. All Black women are exhausted."
The biopic captures the true emotional weight of Houston's fatigue and of her family's betrayal. Her father allegedly mishandled her company funds and in 2002 sued her for more money. In one particularly strong scene, Whitney visits her father in the hospital, and he grabs onto her as he tells her to get a lawyer. She's heartbroken and spirals further into drug use.
During a meeting with Clive Davis, he suggests she go to rehab. She looks out the window and sees her daughter Bobbi Kristina playing in the backyard with a man. Clive says it's his partner. She's surprised he's bisexual. "I gave up a lot," she tells Davis. We're meant to assume she means, at least in part, her relationship with Robyn.
There's a lot of ground to cover, and the film's momentum falters a bit toward the middle and end. But it still gets at how, before her accidental death by drowning in 2012, she was haunted by the specter of her early vocals and her own aging.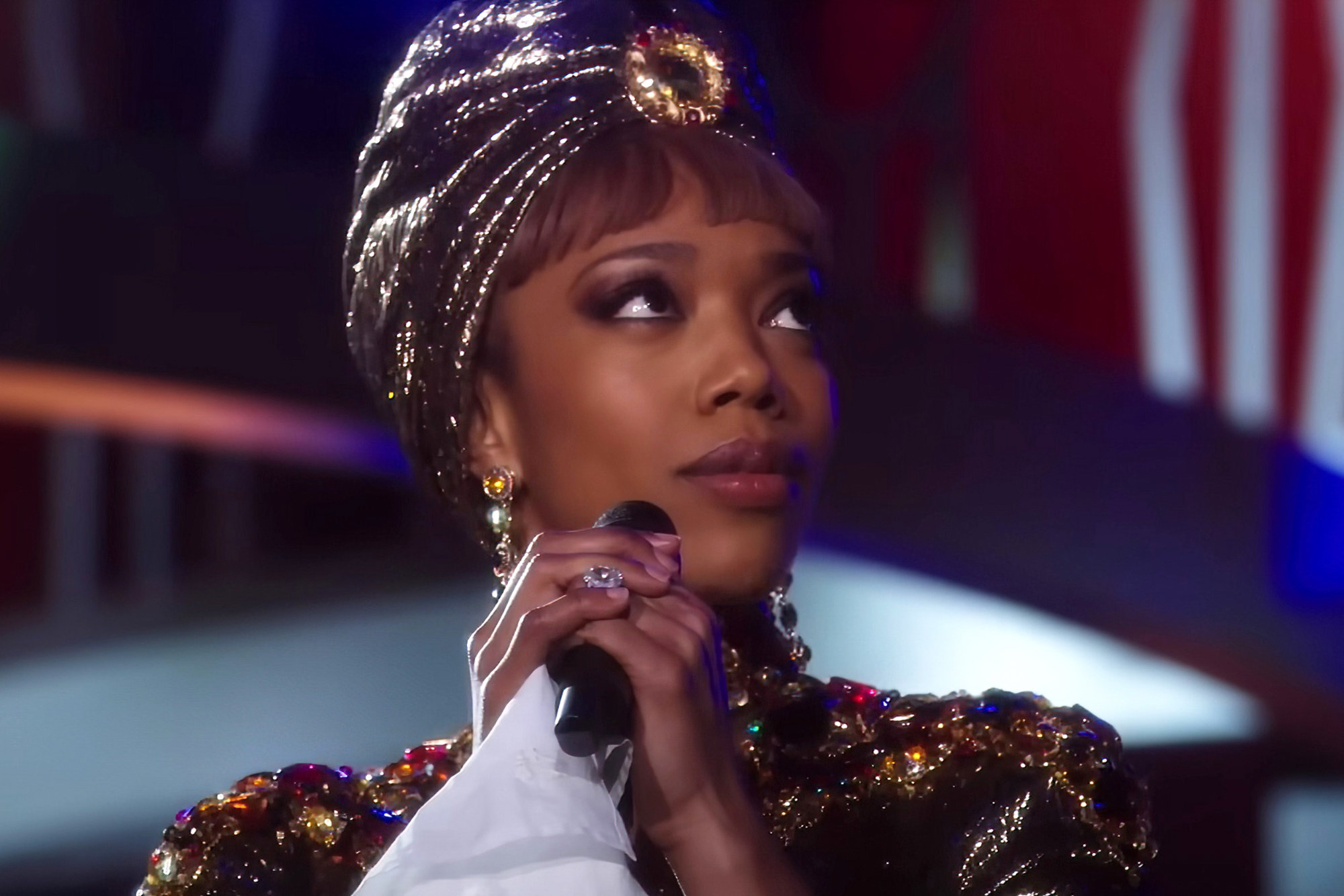 We don't see Whitney's death onscreen, but she died at 48. At the time, it felt very much like Whitney never really had a public catharsis. Beyoncé fired her dad and wrote Lemonade; Britney Spears was released from her conservatorship and is confronting us with her pain over the way her family and the media treated her.
But Whitney, by contrast, never got that moment of reckoning. Even in her last big Oprah interview, Whitney seemed like someone who was still in the middle of a search for meaning, not a person who had fully processed her life and what had brought her to a crisis point. That made it hard to tell her story, and it meant there would always be more to say.
The movie ends once again highlighting Whitney's artistic choices. Invited to sing at the American Music Awards, she created a medley of the Gershwin musical number "I Loves You, Porgy," once sung by Nina Simone, followed by the Jennifer Holliday classic "And I Am Telling You I'm Not Going," and then a rendition of "I Have Nothing." Before she sings, she explains how the medley is about love, including the audience's love for her. But I Wanna Dance bittersweetly shows that sometimes love isn't enough. ●