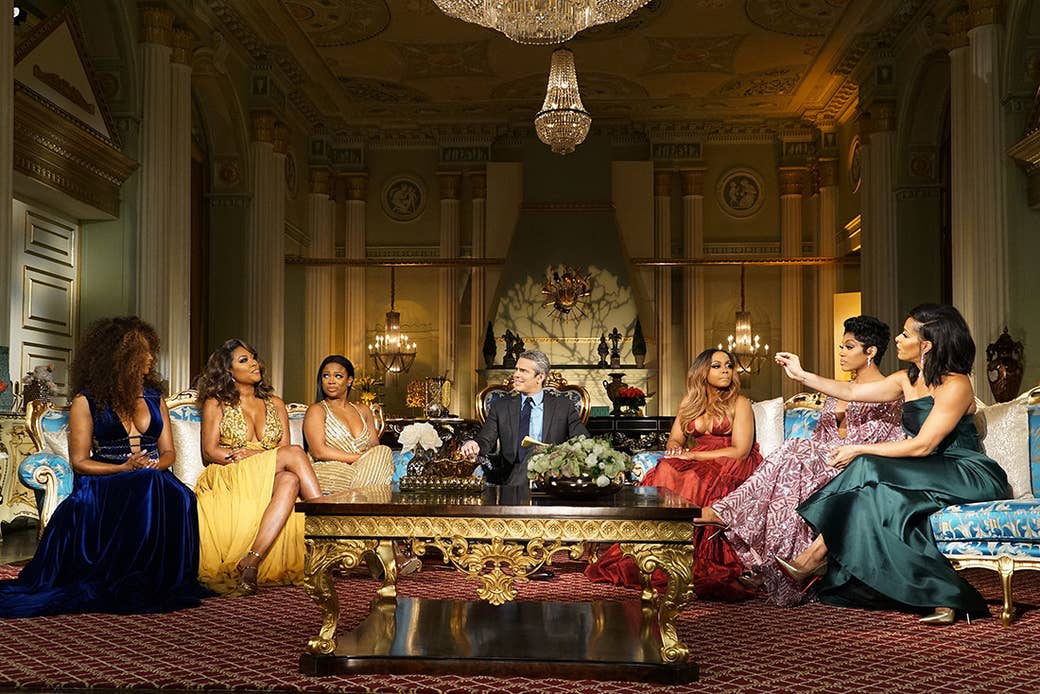 Since its debut — with The Real Housewives of Orange County in 2006 — Bravo's Real Housewives franchise has become the kind of cultural phenomenon that is familiar even to those who don't watch any of its many iterations. The shows' theater of absurdity — mixing kitsch and melodrama with catfights and self-branding — now has a global reach, from Potomac to Bangkok. It's gone from an avant-garde form of television to the lingua franca of cable, as myriad competitors with their own versions of the feuding-women framework have appeared, including Basketball Wives, Love & Hip-Hop, Mob Wives, and R&B Divas. It has even turned into fodder for entire news websites, successful podcasts, and multiseason parody series — like the Real Husbands of Hollywood and The Hotwives of Orlando — that have developed their own followings.
As its influence expanded, the franchise has come to represent a kind of Mean Girls sensibility; to say that something is "like Housewives" means to reduce that thing — including major political issues — into supposedly frivolous feminine terms and calculated camp outrageousness. Even Housewives executive producer Andy Cohen noted that last year's Trump-dominated presidential debates had turned into a Real Housewives reunion, implying that they had devolved into petty accusations and a reality TV spectacle. It's telling that Cohen invoked the reunion, specifically — in which the castmates sit down in a talk-show setting after the final episode to revisit the season's major storylines — to draw the comparison. In some ways, that aspect of the format has become most representative of the franchise's sensationalism as well as its self-referentiality.
But the Housewives franchise wasn't always defined by catfights and reunions. As it became, collectively, a major ratings success over the course of the last decade, the focus of each incarnation of the show shifted from telling stories about the cast members' family dynamics and separate lives to center, instead, on the conflicts they have with one another. And the effect of the show itself on the cast's lives and relationships started becoming a more central — and more evident — aspect of the drama.
By tracing the evolution and expansion of the program over time, a clearer picture emerges of how it developed into its captivating combination of fakeness and authenticity, calculation and improvisation, self-promotion and (self-)imposed vulnerability. It also explains how Housewives' very success — as the franchise's conventions became evident to both viewers and castmates — threatens that delicately choreographed balancing act.
The Real Housewives franchise is often presented as the immaculate conception of Andy Cohen, the Bravo producer turned talk-show host; his childhood love of soap operas and actor Susan Lucci influenced his sensibility, and this is frequently presented as leading directly to the program's creation. But the show as we now know it — a mélange of lifestyles of upper (middle)-class porn, soap opera drama, and reality television theatrics — emerged as the result of an ongoing collaboration between the Bravo network, producers, and the women themselves.
An outside producer, Scott Dunlop, initially pitched the show to Bravo in 2005 as a behind-the-scenes look at the upper-middle-class self-importance of his own neighborhood in Orange County. He was a branding expert and entrepreneur, not a professional reality television producer, and his version, titled Behind the Gates — described by a Bravo executive as Curb Your Enthusiasm–esque — wasn't framed from the women's perspective.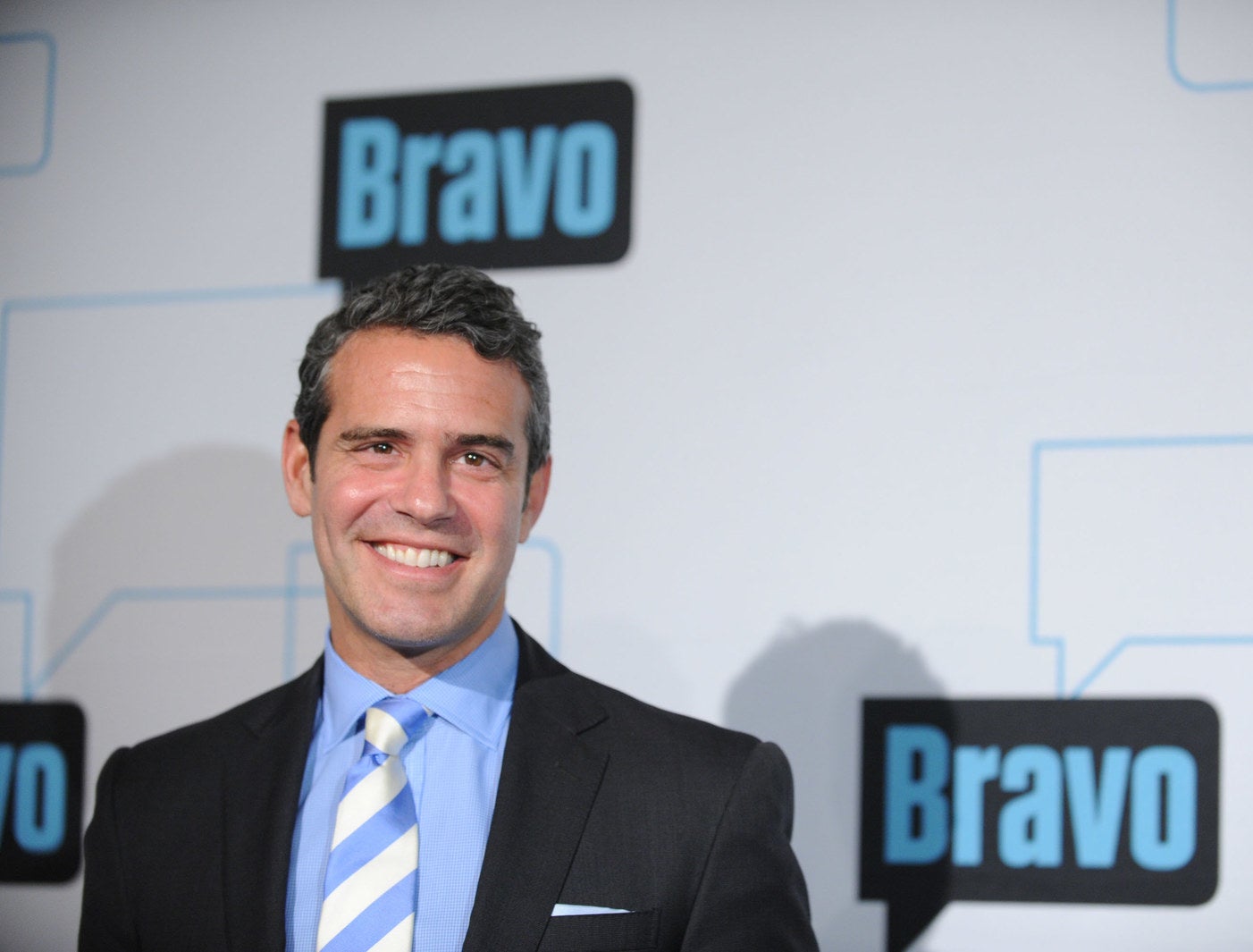 Instead, it was about general class absurdity, not feminine spectacle, and the women's husbands, as Dunlop recalled, played a more prominent role. It mostly focused on the family of Jeana Keough, a former Playboy Playmate who was now an Orange County realtor married to a pitcher for the Oakland A's, and her interactions with her neighbor, insurance salesperson Vicki Gunvalson. But the pitch didn't totally work for Cohen, who was then part of the network's programming team. "The women weren't going deeply into their emotions or being honest about what was happening with their friends," he wrote in his memoir Most Talkative. With input from the network — and Cohen — the series started moving closer to its current iteration as a reality version of the SoCal soap opera Knots Landing. Other families were added and a Bravo executive came up with the kitschy "Real Housewives" title as an allusion to ABC's then-popular scripted dramedy Desperate Housewives.
Still, that first season of Orange County, which aired in 2006, is a far cry from the now-standard Housewives format. The opening credits featured men's and women's voices talking about living "behind the gates" while "7 million families live in gated communities" flashed onscreen, suggesting that viewers were about to watch an edifying documentary. In the show's introductory vignettes, the women look like casual moms in jeans and blouses. They're introduced through random phrases that they uttered throughout the season, which, unlike the current catchphrases, weren't necessarily about the women themselves, but rather attempted to convey something about the community's values ("I don't wanna get old"; "He's pretty much keeping me"; "85% of the women have had breast implants").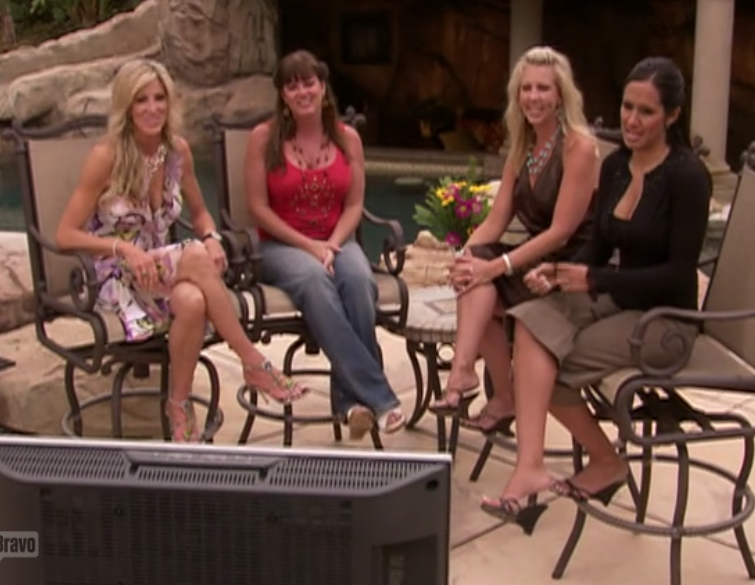 Most important, the storylines focused on showcasing the individual wives and their family dynamics, not emphasizing the interactions or fights among the cast. In the first season, for instance, Gunvalson attempts to balance her insurance business and her controlling instincts as a mother and wife to second husband Donn. Keough appears trapped in a loveless marriage. The show was full of scenes that captured the relationship between these white suburban mothers and their sons, who came off as infantilized and overly powerful. Most of the drama, in the beginning, was intra-family, not inter-Housewife.
And the reunions, originally titled Real Housewives Confess: A Watch What Happens Special, weren't the spectacle of cross-talking and counteraccusations that have become a trademark of the show. They were a low-key affair — initially without a host — in which the women came together to reflect on funny or embarrassing moments from the season. This emphasis on suburban women's relationships with their husbands and children was soon sidelined in favor of the feud-centric reality television drama and campy glamour that would come to define the show.
That initial season of Orange County had an average of 646,000 viewers, which fell well below the numbers of the network's other reality shows such as Project Runway. But its demographic skewed younger, and, seeking to exploit that potential, the network brought in veteran reality producer Doug Ross (Fear Factor, Big Brother, and Bravo's own Boy Meets Boy) to take over the second season of Orange County.
Initially, the show's main aesthetic changed only slightly: The "Housewives Confess" segment moved to a talk-show setting, with Andy Cohen onscreen as the human face of a Bravo producer, quizzing the women about the season. "Who here will cop to plastic surgery?" Cohen asked sheepishly. "Do you think you're spoiled?" he asked the sons and daughters of the cast, who were trotted out for an entire segment of the reunion to talk about their storylines.
But the "Housewives children" would never be heavily featured again — except in service of their parents' storylines — and a reunion would never again be free of discord. By Season 4 — which aired in 2008 — a new cast member, Gretchen Rossi, a 30-year-old with pageant-queen style engaged to an older man dying of leukemia, joined the cast, and her unimpressed fellow Housewives Gunvalson and Tamra Barney (now Tamra Judge) questioned the authenticity of their relationship.
"We don't believe that Gretchen is dating this guy. We think he's paying her to take care of him," Barney says during one confessional. During a party at Barney's house, she gets caught telling Gunvalson that they're going to get Rossi "naked wasted," presumably to embarrass her.
This "dinner party from hell" — as Cohen called it— and Rossi's relationship became fodder for the reunion special at the end of the season. Cohen adroitly shifts from shady showman to earnest sentimentalist as he teases out the accusations against Rossi — including information about an ex-boyfriend not revealed on the show itself — while also confronting them with hilariously moralistic exhortations and asking questions that viewers emailed to Bravo.
"Some of our viewers called you BFFs — and some of them called you mean girls!" Cohen intones.
When Rossi claims Barney set her up, Barney snaps back, "You're such a fucking victim."
"Jesus Christ, Tamra," Keough mutters, seemingly shocked by both the cursing and the ugly turn the reunion had taken. But that shock symbolized how anachronistic she was to the new format. Unsurprisingly, Keough, whose major storyline was her relationship with her children and her separation from her husband, was on her way out that season — the first casualty of becoming "the boring one." And by then the franchise — which had sprouted versions in New York, Atlanta, New Jersey, and Beverly Hills — was evolving into something different.
The Gretchen Rossi storyline symbolized the beginning of a new culture of "callout" feuds, prompted in part by the parties and events designed to promote interactions between the Housewives. The shows' story arcs became games of telephone about what each woman had said about the other, and that information was recontextualized and further stoked through confessionals and forced meetups, with all of the (mis)information culminating in an explosion at the reunion.
That culture would also characterize the other franchise iterations that debuted from 2008 to 2010: New York, Atlanta, New Jersey, and Beverly Hills. Some of the most iconic moments of these new versions came from the reunions and "dinners from hell." It was at the Atlanta reunion where NeNe Leakes loudly admonished Kim Zolciak to "Close your legs to married men!" while lunging at her across the couch. And it was at a dinner from hell where Teresa Giudice, from Real Housewives of New Jersey, performed the infamous table-raising scene in which she screams at castmate Danielle Staub: "Oh, you're stripping! Prostitution whore! You were fucking engaged 19 times, you fucking stupid bitch!"
These changes worked: While the first season of Orange County didn't even reach 1 million viewers, the first New Jersey season average was 2.55 million viewers. With Atlanta, Bravo first cracked the 2 million viewer mark among adults 18–49. As the show entered an era of consolidation — demonstrating its success across all the cities by 2008 — a different caliber of celebrities started signing up, like Kandi Burruss, a former member of girl group Xscape and writer of TLC hits like "No Scrubs," who joined Atlanta for the second season. Kim and Kyle Richards, former child stars — and Paris Hilton's aunts — joined Kelsey Grammer's then-wife, Camille, for the 2010 debut of Beverly Hills.
Grammer threw what became one of the franchise's most memorable dinners, featuring an electric cigarette–smoking psychic (the inspiration for the show Medium) going "rogue" during her reading for castmate Kyle Richards, while Faye Resnick of O.J. Simpson fame (who Grammer infamously labeled "morally corrupt") defended Richards. Unsurprisingly, Beverly Hills started out with nearly 2 million viewers.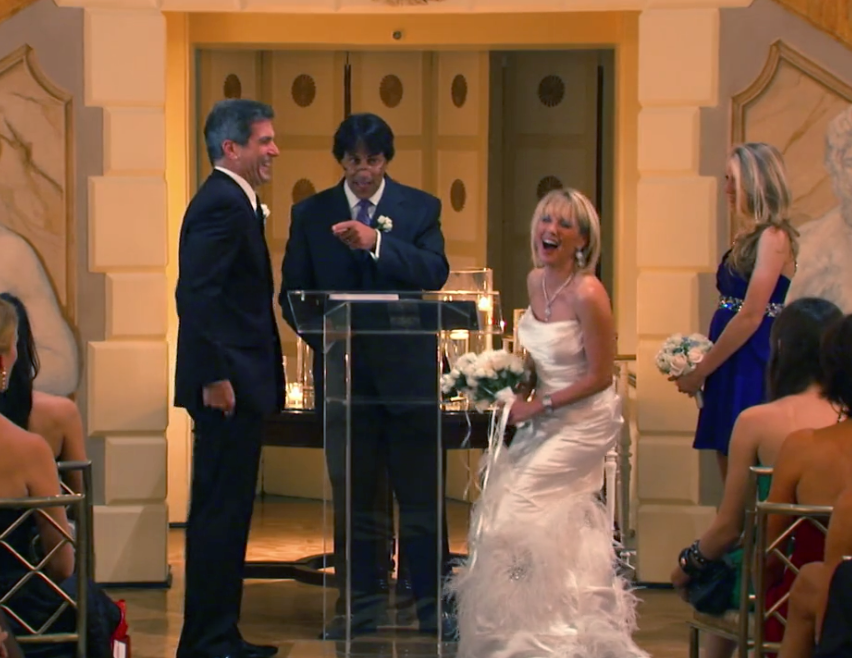 But it wasn't just the fights that captivated viewers. With Beverly Hills and New York especially, the show entered the realm of socialites who sponsored charities, threw $60,000 birthday parties for their children, and meticulously planned dog funerals. That these kinds of events became the scene of the fights added to the show's allure. An era of increasing glamour was inaugurated as the women appeared in their introductory vignettes fully made up, wearing elegant gowns, and spouting off flamboyant yet aspirational catchphrases. And as the castmates started to understand their roles as producers of storylines and self-branders, they became savvier about throwing on-brand parties, like Real Housewives of New York castmate Ramona Singer's vow renewal party at the end of Season 3, designed to match her True Renewal skin care line.
This intertwining of commerce, identity, and performance is at the heart of the shows' appeal. Skeptics of the franchise imagine that Housewives viewers believe they are watching the women's real lives unfold in front of their eyes, but it would be more accurate to say that the pleasure or interest is actually in watching the women deal with the conventions of reality television. The behind-the-scenes machinations propping up these conventions were themselves being exposed in unsanctioned blogs and gossip sites like Radar Online throughout the season. (Eventually Bravo contractually obligated the women to keep blogs as well.) Viewers became active participants in figuring out some of the dramatic mysteries before the reunion even aired.
But it was two previously unknown castmates from Real Housewives of New York who first made these production issues most evident on the show itself: Jill Zarin and Bethenny Frankel.
Zarin and Frankel's real-life friendship breakup, which exploded in the third-season New York reunion in 2010, created a new meta storyline, in the half-intentional way that always makes for the best reality television.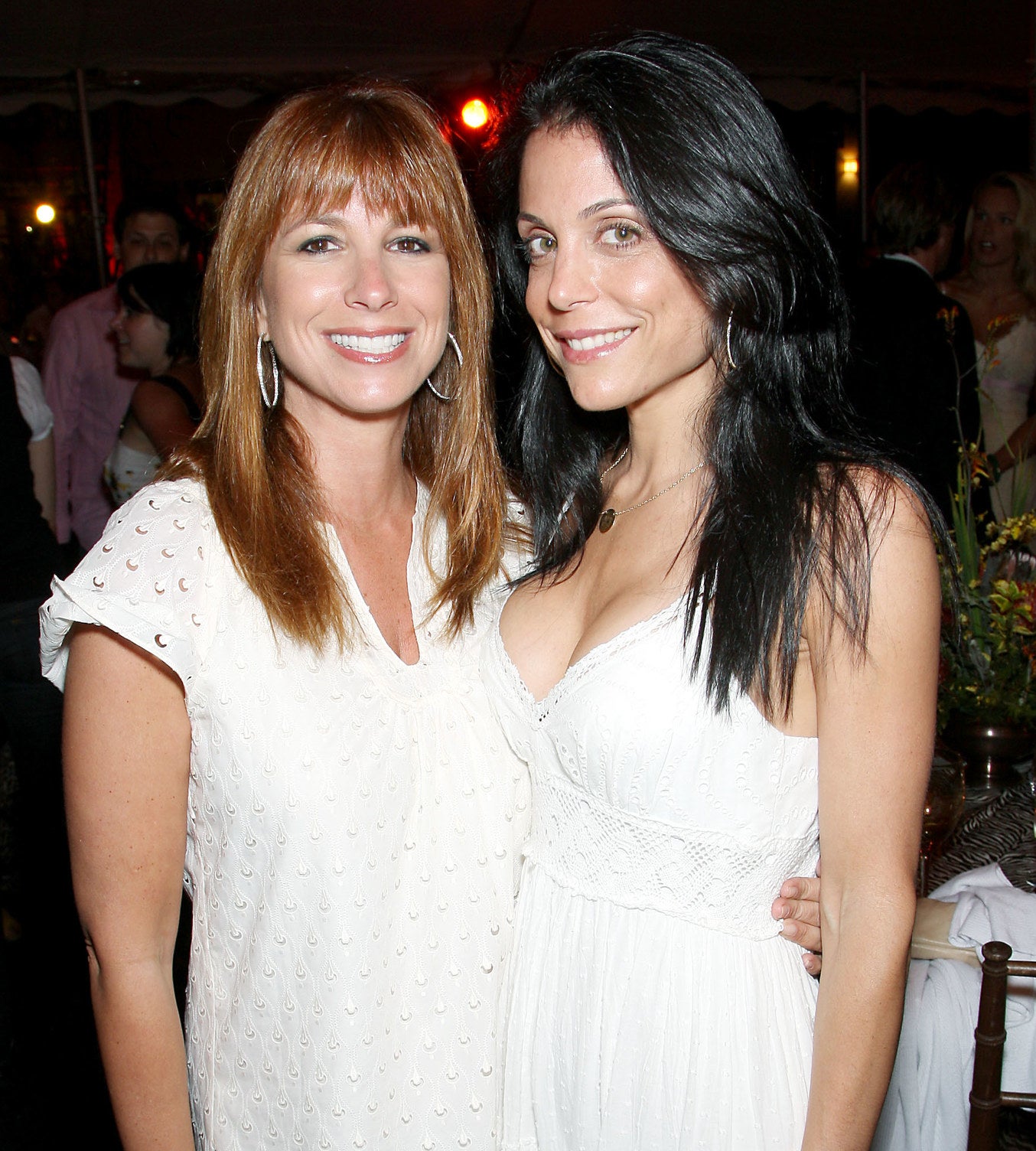 By the third season of New York, Zarin and Frankel had a real falling-out based on Frankel's growing fame after her diet book — promoted on the show — became a New York Times best-seller and Bravo offered her a spinoff program about her marriage. Zarin felt that Frankel no longer had time for her, and she decided to reveal her resentment on the show, ambushing Frankel in Season 3's premiere, with an accusation that Frankel had ignored her husband's cancer. The breakup prompted the other cast members to pick sides, and the storyline took over the rest of the season, including most of the reunion, which became the first three-parter of the franchise.
The brilliance of Housewives editing is that it makes the reunion appear as the moment of maximum catharsis, clarity, and authenticity — the moment when the curtain goes up and everything finally gets addressed. But the reunion is carefully timed: It's filmed after the castmates have had enough time to see the episodes and watch how the other women have talked about them throughout the course of the season. Ultimately, it's just a strategic recontextualization of arguments that never fully resolve; it sets up the anticipation of drama for the coming season.
The program's production takes pains to make sure the fourth wall is never broken, never acknowledging that a reality television show is being filmed; the women, for example, can't mention that they're filming during their interactions or confessionals, and any production problems are explained as purely personal issues between the women.
But the third New York reunion turned into a back-and-forth of accusations from Frankel and Zarin about the production of the show. While other installments of the franchise had mentioned storylines, editing had only been acknowledged in order to defend the show's basic presentation of truth. By contesting Jill Zarin's framing of their relationship, Frankel acknowledged the series as a show on the reunion stage.
"You know, I love you," Zarin tells Frankel desperately at one point at the beginning of the reunion, "and if we were ever really friends I hope that there's a future for us."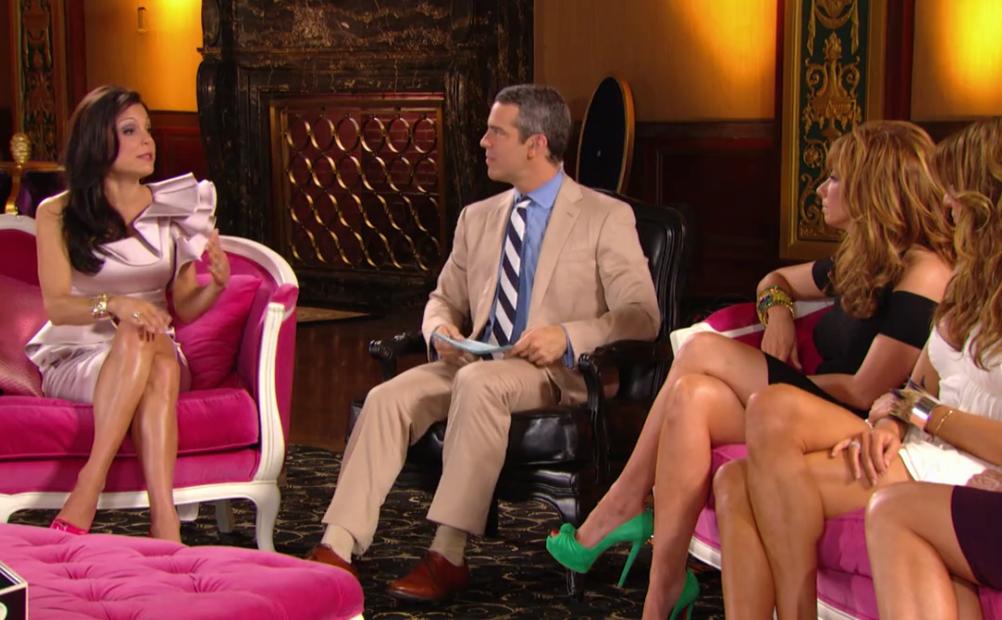 Frankel then launches into one of the most revelatory speeches in the history of Housewives reunions, capturing — and exposing — all the contradictions of artifice and emotion, fakeness and authenticity, friendship and self-branding that makes the franchise so captivating:
"You, me, everybody: We've talked to producers, we've talked to friends, we all have so many things in our heads about what we're going to say today and what's going to happen. I'm just gonna lay it to you straight like I would tell a best friend, or God, or whoever I would tell," Frankel says.
She then goes on to reframe Zarin forever in a rare monologue — seemingly one of the longest unedited ones in reunion history: "This show and this fame thing took you over: the glam, the hair and makeup. You used to be a nice girl from Long Island that was motherly and nurturing only … Things would happen for me — whether it was the Today show or the Kentucky Derby — the minute I would say something, before I even got to explain it, you'd be like 'Why not me? Why can't we do it?' … You would go on some like rampage…"
In other words, the success of the show itself — and Frankel's increasing popularity — started creating a wedge between them. And Frankel believed that Zarin, as a result, had decided to frame her as the season's mean girl to imperil her wedding spinoff show. "The cameras went up and it was 'Let me slay this girl,'" she continues. "You told people not to film with me — sabotage Bethenny's show."
Cohen asked for clarification.
"Hold on," he asks, "you were really in a fight?"
"Right," explains Zarin. "Before the season started."
Frankel's producer-approved exposure of the way the show itself affected the relationships on it gave her one of the most unvarnished, "real" moments of any Housewives installment. If most of the other Housewives resorted to the cheap, gendered moralism of slut-shaming, Frankel appealed to a different kind of moralism: of authenticity, loyalty, and friendship. And by turning that melodrama into a battle about superficiality versus realness, Frankel's persona as a tell-it-like-it-is straight shooter became more affirmed than ever.
She went on to get her own spinoffs — Bethenny Getting Married?, Bethenny Ever After — and her own talk show, and to create her own successful business and brand, in Skinnygirl. Zarin, on the other hand, went on to appear in the television movie Night of the Wild, about suburban housewives who get eaten by dogs. Their blowout remains the most game-changing friendship breakup in the history of Housewives, and Zarin's image never recovered. She was fired after the following season, and Zarin's onscreen reputation was frozen forever as a real-life soap opera villain.
But Frankel's "realness," which the program enabled, also made viewers savvier about the show's behind-the-scenes goings-on. It was impossible to unsee or unhear everything that was revealed, and the network's strategies — which were already being exposed on blogs and gossip sites — suddenly became clearer.
It is now more evident than ever that Housewives is a kind of Survivor set in the wilds of domesticity and charity events, as the women struggle to stay on brand while creating enough drama to remain on the show for another season. Arguably, the show's massive success has created the elements for its own potential downfall. Because the franchise has become so popular and so ubiquitous, it's becoming harder to find women — or, for that matter, viewers — who haven't already figured out the show's conventions.
"Realism" in the Housewives often means that the audience is able to see the cast members in a different light than how they're portraying themselves. But as both viewers and castmates become more knowledgeable about how a "bad" or especially revealing edit is created, it becomes harder for the franchise to be surprising. Bringing on new castmates who don't already understand how the show works — particularly how producers and editors will frame them in ways — is one solution. But these new hires often have a "real" first season, and a savvier — or, for viewers, "fake" or boring — follow-up. Camille Grammer's un-self-conscious attempt to take down Kyle Richards during the first season of Beverly Hills created a lot of "realism," but the show never really reached those heights again, as Grammer — who described that first-season backlash as "brutal" — turned into what a castmate described on Howard Stern as "second-season Camille": demure, proper, and the voice of reason.
But the problem the show faces is not just with finding compelling — and naïve — new cast members. Established series regulars, like Lisa Vanderpump and Kyle Richards on Beverly Hills and NeNe Leakes before she left Atlanta, appear to have reached such levels of entrenchment on their respective shows — and to have so much clout with Bravo — that they are able to keep their brands intact and not expose themselves to any of the vulnerability or drama that generates good storylines.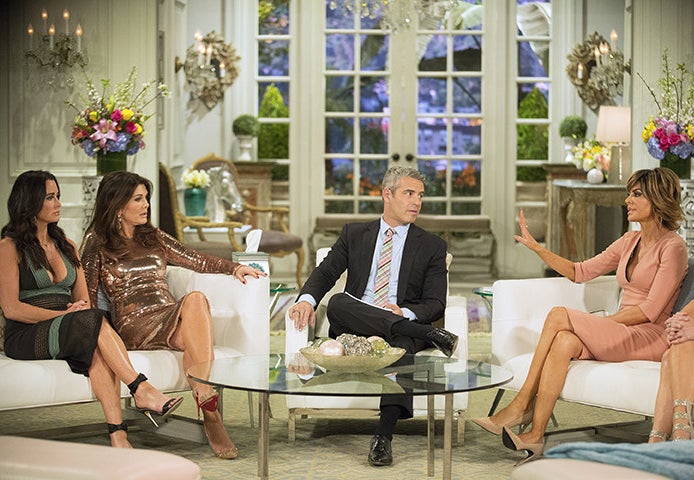 A new era of "stunt" casting has become a different kind of solution for drawing viewers, as the franchise has resorted to hiring scripted TV television stars (like Facts of Life and Living Single star Kim Fields on Atlanta), soap opera stars (like Eileen Davidson and Lisa Rinna on Beverly Hills), and even — in the grand tradition of soap operas — reviving and bringing back old cast members (like Frankel's return to New York after five years). While some castmates accused the show's newer members of acting and not being authentic, the pleasure of watching these women really has nothing to do with their acting talent (or lack thereof). It is about seeing how they — often cluelessly — negotiate the show's conventions.
Upon Frankel's much-touted return to New York, she openly refused to go through the motions of some of the show's basic requirements. For example, she declined to meet new cast member Kristen Taekman after Taekman was upset that she wasn't invited to Frankel's birthday party. This is typically the type of issue that must get hashed out, because not being at events and missing out on the drama means a castmate can get fired, even midseason. Frankel yawned when another Housewife brought it up, explaining she didn't even know Taekman, mocking the show's conventions and its most obviously manufactured drama — on the show itself. If even Frankel was bored, then the audience was neutral, as her return didn't particularly impact ratings either way.
And just like Frankel, fans of the show are now completely familiar with its mechanics. Indeed, Housewives viewers are so savvy about the show's aesthetic that Kyle Richards admitted that her Season 7 tagline, "I'm an expert in luxury — and I can always spot a fake," was actually fan-generated.

In an attempt to maintain relevance, the ever-evolving reunion has also become more self-referential: The "behind the scenes" of the reunion have actually become part of the show. It started with the last Real Housewives of Miami reunion in 2013, and with the infamous hair-dragging moment between Kenya Moore and Porsha Williams on Atlanta. The women are now shown arriving to the reunion, as well as during breaks as they strategize or calm down with their makeup artists. Further demonstrating the importance of maximizing the impact of the reunion, the current season of Real Housewives of Atlanta — the franchise's highest-rated, which peaked at 4 million viewers — is ending its ninth season with a historic four-part, monthlong reunion. But despite all these ploys — from stunt casting to mega-reunions — ratings have been generally declining from their peak. The cultural juggernaut is starting to show signs that it might become a victim of its own success.

In a recent interview, Andy Cohen was asked about the possibility of a Real Housewives: All Stars spinoff; he noted that ratings are too strong to consider that, but added good-naturedly, "So when they really start petering out, we'll just throw eight of them on an island." The joke — suggesting an all-out embrace of reality television that would drop the façade of charity events for the metaphor of the jungle of Survivor — hints at the real anxieties and creative struggles that have emerged as the producers seek to subtly balance the competing demands of the castmates with potential viewer fatigue around clichéd storylines.

But despite all the imitators, parodies, and recent attempts at maintaining relevance, the Housewives franchise continues to create the occasional surprise. There are still moments when class and gender, artifice and emotion all coalesce into the layered and outlandish aesthetic the show pioneered. This can take the form of a big explosion — such as New York's Aviva Drescher sending her prosthetic leg flying across Le Cirque as a statement about authenticity — or a small, seconds-long reaction shot — like the one focusing on Lisa Rinna's tears after Kim Richards returned a gifted stuffed bunny she deemed insincere.
These storylines and moments get dismissed as frivolous vignettes — indeed, the show is often critiqued as a "bad" representation of women — but other shows featuring unflattering portraits of men in serialized soap opera plots (like The Sopranos, Mad Men, and Breaking Bad) are routinely labeled "quality television." Yet Housewives' sincere respect for "lower," "feminine" stories has reshaped the televisual landscape forever, redrawing lines that have traditionally divided low and high culture, soap opera, and reality television.
And ensconced in the cable landscape it helped create, perhaps the franchise will end not with a reality TV bang, but in the same unassuming way it began: in a slow fade dictated less by any top-down directives or its creators' wishes, and more by way of a gradual, bottom-up dismantling driven by the collective whim of ratings — the least sentimental reality of all. ●
Want more of the best in cultural criticism, literary arts, and personal essays? Sign up for the BuzzFeed Reader newsletter!