Even before news broke that the British boy band and global pop music behemoth One Direction would disband, people were speculating about who might become the "Justin Timberlake" of the group — that is, which of the five performers, all of whom are now working on solo music, would successfully transcend from group member into standalone star. Zayn Malik was the first to jump ship, in 2016, and he re-emerged with a sexed-up, EDM-tinged persona — a peer to Justin Bieber — and the hit single "Pillowtalk," which quickly shot to No. 1 in both the US and the UK, setting the stage for his debut album Mind of Mine to do the same. But his former bandmate Harry Styles, whose self-titled album debuts May 12, is constructing a very different image and sound for himself: a retro rock authenticity, not unlike Lady Gaga in her last album outing, Joanne — a white earnestness that sidesteps the macho swagger of urban cool.
Though Styles started out as the long-haired heartthrob of One Direction — notorious for dating women older than him, the object of virginity fan fiction, and the alleged subject of Taylor Swift songs — his Bowie-esque lead single, "Sign of the Times," is very different from Malik's directly pop exploitation of his sexuality as a source of cool. Rather, the bombastic piano rock ballad is an indirect allusion to the contemporary political zeitgeist. He urges, through melancholy, yearning vocals, "Just stop your crying, it's a sign of the times." The use of falsetto, the piano, the emphasis on melody, all make it sound like '70s rock, but in a post-'80s ballad mode. This retro style also defines the song he recently performed on SNL, "Ever Since New York," which has an Eagles-esque, Californian '70s soft-rock feel. In a transatlantic pop mishmash of British and American rock traditions, Styles is attempting to fuse long-haired Jackson Browne sensitivity with hot pink rock visuals.
Which time, exactly, is Harry Styles' new album a sign of?
This attempt to perform rock authenticity in an era of poptimistic democracy and hip-hop realness has made it difficult to get a hit single. "Sign of the Times" hit No. 1 in the UK but is flopping in the US, selling half the number of copies of Malik's Pillowtalk and peaking at No. 4 (which might seem like a hit, except it was backed by a massive promotional push and is quickly tumbling out of the top 30). His world tour, however, recently sold out — suggesting that despite his radio difficulties, there is still a large fanbase for his work.
But the reception of Styles' new music so far, at least in the US, hints at the fading luster of rock gestures in an age when EDM and hip-hop — and more conventionally masculine styles — tend to define the men of pop. These trends move in cycles, and Styles' earnestness and retro rock aesthetic takes on added meaning when considered in terms of the recent history of how gender and race have worked for (or against) male pop stars in America, and in the larger context of 2017. Can white rock earnestness really resonate in a moment of both increasing diversity in pop music and deep cultural disillusionment? Which time, exactly, is Harry Styles' new album a sign of?
There is no proven formula for successfully transitioning into pop star manhood. Whether an artist is leaving behind the constraints of child stardom (à la Justin Bieber) or moving beyond boy band mechanics (à la Justin Timberlake), crafting a musical identity with enough broad appeal to captivate a pop audience while keeping enough edge to achieve some degree of rock or soul credibility is a delicate alchemy. Very few performers are able to achieve that balance; it requires an ability to interpret the musical and cultural zeitgeist and to own it through a theater of race and gender that is both unique and easily consumable.
The urtext for the cultural narrative of an artist transcending his child star or boy band past is Michael Jackson, who emerged from the Jackson 5 into a solo stardom in the 1970s and '80s that transcended record sales or even music and seems almost impossible for a male-identified performer to achieve today. Jackson's ability to skate across disco, rock, funk, and R&B redefined the center of pop, and his juxtaposition of Fred Astaire agility with provocative crotch-grabbing was just one of many elements that made him a unique and contradictory performer. Even Jackson's whispery and giggly offstage persona — an integral part of his art — helped turn everything about him, from his racial and gender identity to his exotic pets and parental abilities, into grounds for speculation.

Jackson was a mystery, one at the very center of national fantasy in the same way that his contemporary Madonna once was, and that is matched only by Beyoncé today. Perhaps most important, Jackson — even more so than his contemporary Prince — was unabashedly pop. He gladly took on the moniker "King of Pop" (not soul, or rock) and achieved unparalleled commercial success. Jackson still haunts the pop scene, from Bruno Mars' white fedora and twinkly neo-funk to the Weeknd's high-pitched vocals, and the male pop stars who have come in Jackson's wake have all had to navigate (whether deliberately or not) his legacy. But most of those influenced by his aesthetic have not matched his massive pop celebrity.
Justin Timberlake, for example, transcended his NSYNC days by updating the Jackson aesthetic for the hip-hop age, in a way that Jackson himself wasn't able to do. In his first hit solo single, "Like I Love You," Timberlake brought out choreographed Jackson-esque moves, set amid the funky and jumpy R&B of the 2000s. He wore gloves and a fedora. But in place of Jackson's theatrical and glittery outfits, Timberlake opted for baggy leather pants and jeans, in the less gender-bending hip-hop mode. (It was left to Beyoncé to honor Jackson's fusion of power and glamour in her sparkly militaristic outfit during the Super Bowl "Formation" appearance.)
The very fact that "becoming the Justin Timberlake" of a group still circulates as a narrative is a reminder that, unlike Jackson, Timberlake represents the drama or process of attempting solo stardom, rather than blockbuster stardom in and of itself. And that may have something to do, at least in part, with the way Timberlake has never escaped a kind of gender banality. By sticking with a very straight, in some ways corny aesthetic, he has never tapped into the glamour of a more androgynous style and has never fully left his boy band past behind. This was not an issue, for instance, for Timberlake's female pop star contemporary (and onetime girlfriend) Britney Spears. Not incidentally, one of Timberlake's career-making singles and videos, "Cry Me a River," was widely speculated to be about Spears; straight-edged male pop stars tend to use or turn to more famous female counterparts to make themselves interesting or create the level of depth that leads to tabloid speculation.
It's been historically hard (post-Jackson) to be both a man and a pop star at the center of national fantasy. Arguably it is that other Justin — Bieber — who more successfully shed his bubblegum soul beginnings. Partly guided by Usher, a major student of Jackson's, Bieber is now an established, adult EDM pop star — and one, unlike Timberlake, with a distinctly androgynous tinge. From the infamous "Lesbians Who Look Like Justin Bieber" Tumblr, to his shoulder cleavage, to his onstage stripping and skirt-wearing, to a drag-parodied Calvin Klein underwear ad, Bieber has a complicated sexual persona: twinkish and masculine, androgynously pouty-lipped but resolutely heterosexual.
And — like Jackson — Bieber unabashedly embraces pop. "I think pop music isn't necessarily cheesy, it's just how you make popular music," he said in a radio interview. "You take what's popular in the world right now and you flip it and make it your own. I think that's something awesome that Michael Jackson did." In fact, he's so synonymous with pop stardom that his career at least partly inspired the feature-length mockumentary Popstar: Never Stop Never Stopping, with the title parodying the self-help idiom of his own myth-making documentary. Bieber's melding of pop music and pop spectacle gave his last album, 2015's Purpose, the biggest debut week by a male artist since Eminem, beating even Drake. He was surpassed in the UK, however, by another group: One Direction. And it's not surprising that, in the aftermath of the band's disbanding, it is 1D's two most famous members who appear poised to become his new pop competitors.
In some ways, Harry Styles and Zayn Malik are an intriguingly opposed pair, seeking different kinds of credibility: urban cool for Malik, and an authentic rock earnestness for Styles. (Niall Horan is also working on a solo album and has a new single out, but has largely fallen out of the solo race narrative.) Malik was the only person of color in the band (his father is of Pakistani descent) and later complained that his R&B vocal flourishes were discouraged in the group. Arguably, the framing of him as the "mysterious," "shy" one from the group — the one who refused to dance because it embarrassed him — fits all too well with established Orientalist tropes about enigmatic Easterners.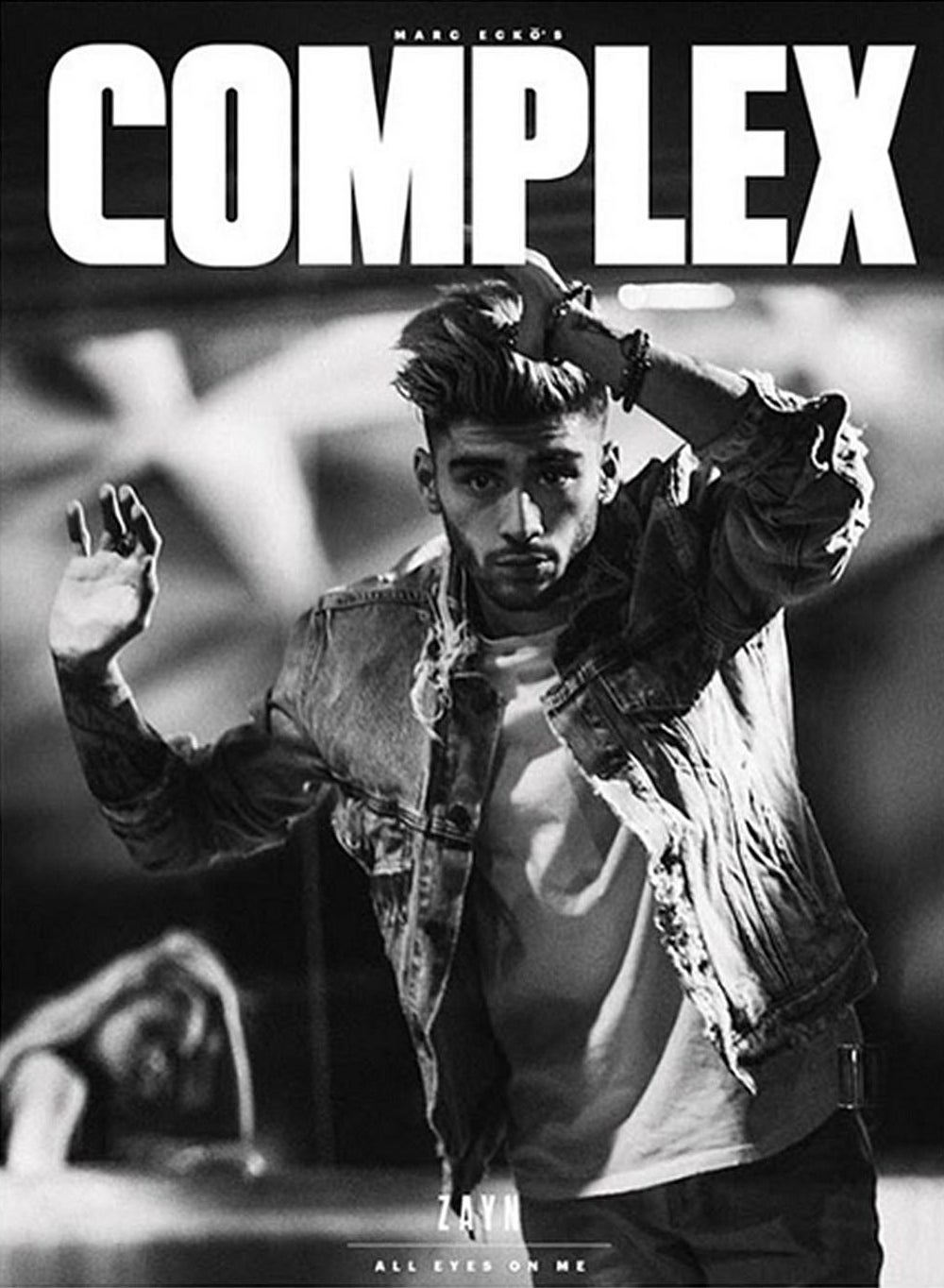 Malik gave his first post-break up interviews to Fader and Complex, magazines that help bestow edgy, R&B credibility. In the photographs for those features, he poses shirtless, on a motorcycle, and holding a high-tech archery bow, macho theater that in some ways emphasizes his slight build. As part of his self-assertion, he distanced himself from One Direction's pop sound, describing it as "generic as fuck" in a comment to Fader that made news. "Would you listen to One Direction, sat at a party with your girl?" he said in the interview. "I wouldn't. To me, that's not an insult, that's me as a 22-year-old man. … I want to make music that I think is cool shit." This statement — which tethers the coolness of R&B aesthetics to his maturing heterosexual manhood — is in many ways the current magna carta of pop masculinity.
In his first single, "Pillowtalk" — which knocked Justin Bieber out of the top spot on Billboard for a week — he fuses the fluidity of alternative R&B and the noisy lushness of EDM, as he sings of "bodies together," "fucking and fighting," and a space that's "paradise and it's a war zone." In the vein of Michael Jackson and George Michael, who turned to the appeal of supermodels to stoke heterosexual fantasies, the video for "Pillowtalk" features the spectacle of supermodel Gigi Hadid (whom Malik was dating) crying bloody tears.

The song shot to No. 1 in the US and UK and helped Malik's album do the same; it became the first album debut by a British male artist to open at No. 1, and the first to reach the top spot since George Michael's Faith in 1987. Noisey argued that although he tried to position himself as an authentic R&B auteur by turning to Frank Ocean producer Malay, Malik ultimately flopped in album sales. (He has also refused to tour.) But he is demonstrating a Rihanna-like knack as a singles artist, using the alternative R&B and EDM mixtures that have become mainstream in the wake of the Weeknd, who is Jacksonian in aesthetic but not in pop stardom. This talent for pop positioning became even more evident with his hit collaboration with Taylor Swift, "I Don't Wanna Live Forever," which amply features his trademark falsetto. It's not yet clear if Malik will be able to maintain a standalone pop persona — and get another number one single — without leaning on a female superstar like Swift to bolster his celebrity presence.
In contrast to Malik's apparent embrace of R&B authenticity, Harry Styles' relationship to rock's norms of gender and sexuality is complicated. He chose Rolling Stone for his first major interview — itself a nostalgic gesture toward a time when the magazine could authenticate white hipster rock credibility. And yet while Cameron Crowe, a central figure of that white male rock mythos, conducted the interview, it made news in part because Styles — unlike Malik — defended One Direction fans and teenage girl fandom (they were serious about the Beatles, he notes) against the specter of a "30-year-old hipster" tastemaker.
Styles mentions admiring Prince — arguably the rockier Michael Jackson — in terms of his ability to manufacture mystery, but there is none of Prince's flamboyance or funky sexuality in Styles' music or iconography. In the Rolling Stone cover story, Cameron Crowe notes that a former Rolling Stones producer put together Styles' band, and yet the Rolling Stones' style — the images on their album covers, for example — is all about a flashy, tongue-out, bulging-crotch kind of sexuality. There's a way in which any gender play or self-objectification of theirs seems to scream "I'm man enough to be girly." Styles' style isn't phallic or bro-y: he seems to be more about an ephebic — nearly angelic — earnestness.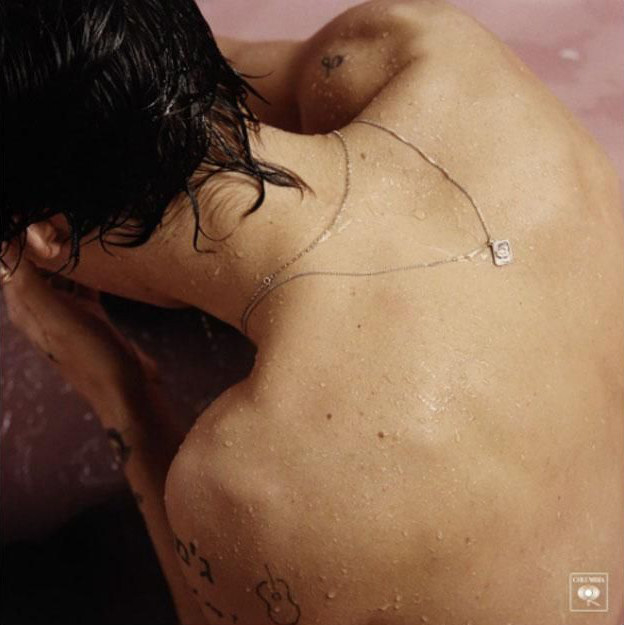 You can see this in the cover art for his new album: no face, just the delicateness of his naked back and shoulders, in a pose usually associated with the male gaze on women. On the Rolling Stone cover, his hair is artfully disheveled, and, most significantly, his eyes are slightly closed while his mouth is slightly open, suggesting the openness or vulnerability of a moment of letting go or giving up control. His chin juts out, but not in a defiant "fuck you" way, rather at a provocative angle that seems as if he's offering himself up. (Dlisted noted that he looks like a stoned '70s hustler.) Whether he is stepping out of a black limo (almost in a parody of the rocker-in-the-limo scenario) in a black paisley suit with a bright fuchsia pussy bow shirt, or staring at the camera in an ethereal, almost Edwardian, white lace collar — the dandy tradition of the English teddy boy — his mouth is slightly open in that exact same pose, which captures his very unthreatening eroticism.

The fascination with Styles' gender performance has in some ways obscured the complex displacement of his racial politics, or of what it means to choose white rocker sensitivity over rap flamboyance. "I don't think people want to hear me talk about going to bars, and how great everything is. The champagne popping … who wants to hear about it?" he explained to Crowe, in an allusion that hinted — in a more subtle, less self-congratulatory way — at the kind of racially charged critique of hip-hop that recently created a backlash against Miley Cyrus. He earnestly declares his desire to convey intimacy through a singer-songwriter model of introspection: "I don't want to hear my favorite artists talk about all the amazing shit they get to do. I want to hear, 'How did you feel when you were alone in that hotel room, because you chose to be alone?'"
He stands very much alone in the recently released music video for "Sign of the Times." Bundled up in a black coat, looking almost like the Little Prince, he flies across a grand backdrop of mountains, trees, and ocean. There are no supermodels to bolster his macho credibility; it is just Styles as the sensitive and feeling young white man at the center of all this romantic imagery. But the romantic, 19th-century sensibility the video references was originally a reaction to the rationalism of the Enlightenment; Styles' nostalgic turn to the enchantment of natural wonder is complicated by it being produced in a global era that already appears to have repudiated rationalism for more dangerous forms of racial and nationalist prejudice. Some reviewers have praised his new song's melancholy tone, but what is it yearning for?

Styles suggested to Crowe that "Sign of the Times" should be understood as a dying mother's statement of hopefulness to her child. Offering a white maternal caress to the world-weary seems like a strange, even tone-deaf project in 2017 — almost a neo-Jacksonian "Heal the World" pop moment, translated into rock idioms. At least in Jackson's era, it was possible for a British import like David Bowie to find success by re-drawing lines between rock and pop through his gender-bending. But the current transatlantic radio wave of singer Ed Sheeran has been propelled by a safely bland everyman persona quite different than Styles' layered aesthetic. Whether Styles' career takes off in the US or goes the way of Robbie Williams, a king of Britpop and a relative flop stateside during the reign of Eminem, will depend on what kind of fantasy his fans are in the mood for, or what new audiences he can captivate.

In the 1987 Prince song "Sign o' the Times," which Styles is referencing, Prince alludes to the tragedy of rockets falling out of the sky to slyly critique the folly of humans wanting to fly. Amid the unique, stripped-down aesthetic of naked funk, there was a rejection of idealism, a reminder of the way that dreams can become nightmares. But Styles' nostalgic rock — and musical white flight — turns nightmares into dreams. His song crescendos and climaxes with strings, as Styles repeatedly and desperately sings, "We've got to get away," performing a kind of anxious escapism. Perhaps he knows those contradictions — letting us off the hook with a hook of desperation — are exactly the kind of fantasies that pop dreams are made of. ●