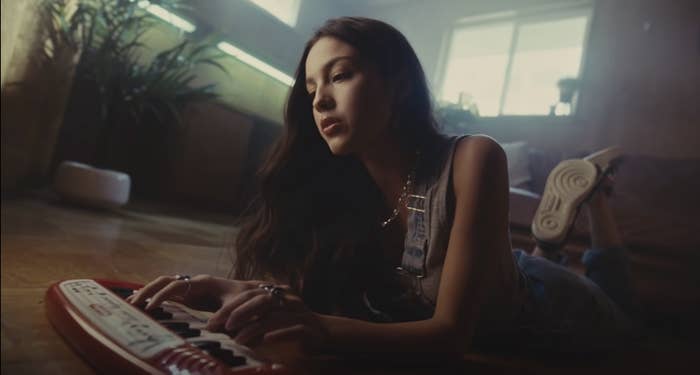 Nothing illustrates The Way We Live Now — at least in the music world — more than the drama unfolding behind 17-year-old Disney star Olivia Rodrigo's massive hit single "Drivers License."

The spare, plaintive ballad, written by the High School Musical: The Musical: The Series actor (yes, the franchising is a mouthful) has been the No. 1 song in the country for three weeks. It evocatively renders teen feelings, using the promise of adolescent automotive independence as the backdrop for a breakup story. "You said forever / Now I drive alone past your street," Rodrigo sings in the chorus.
Of course, romantic melodrama has powered pop music for a long time. But part of what propelled this particular hit song's rise was the social media hubbub around the speculation that it wasn't about a fictional relationship, but Rodrigo's supposed former boyfriend, High School Musical: The Musical: The Series costar Joshua Bassett.
Rodrigo rather obviously references an ex who wrote a song about her (it's all very meta) and a "blonde girl" who made her insecure about the relationship. Bassett has been linked to Sabrina Carpenter, a blonde Disney star turned singer.
The entire drama became TikTok detective fodder, as fans sleuthed through their social media feeds and their entire Disney back catalog looking for hints about who was referring to whom. And since "Drivers License" was released on Jan. 8, both Bassett and Carpenter have come out with alleged response singles (or at least framed as such through fan speculation): Bassett's "Lie Lie Lie" and Carpenter's "Skin," which more explicitly includes lyrics responding to Rodrigo's song.
This week, with "Drivers License" still topping the charts, "Skin" became Carpenter's first US pop hit (and first UK top 40 hit). That these wholesome onetime Disney stars are launching (successful) solo efforts through such messy drama speaks to the way social media has helped turn pop music into a form of reality television. None of this is exactly new: It's post–Taylor Swift messiness now playing out on TikTok. But the success of Rodrigo's song, and the way it garnered attention, still speaks to the very particular ways that women pop stars' perspectives are valued — for better or worse.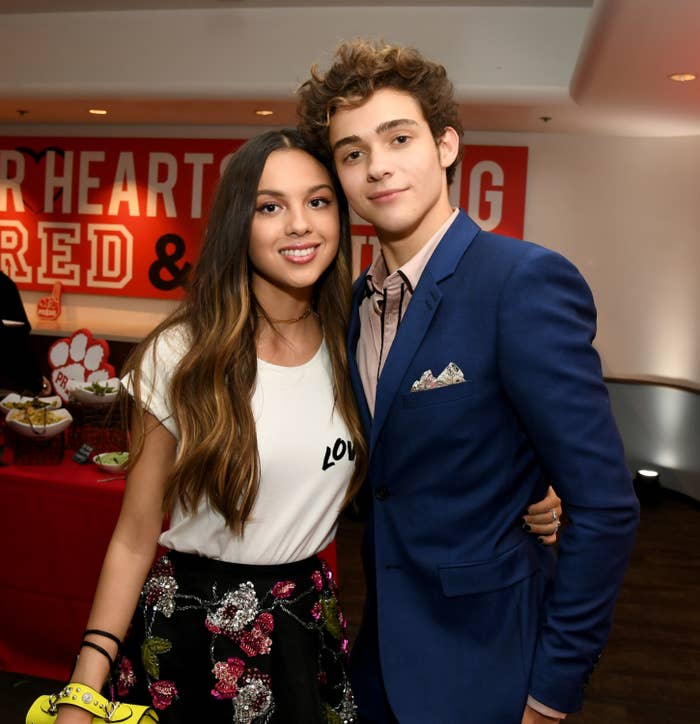 Fans had followed and speculated about Rodrigo and Bassett's apparent relationship as it unfolded in front of their eyes through the promotional cycle for High School Musical. (They even cowrote a song on the soundtrack together.)
So it makes sense that their supposed split was also part of the show. Rodrigo teased fans with both "Drivers License" and what followers read as hints of a breakup in an Instagram post of July of last year, stoking public curiosity.
The song, released Jan. 8, allowed her to set the narrative about a breakup in which she got her heart broken. Since debuting at No. 1 in the US on Billboard, it has smashed streaming records and continued to top the charts all over the globe. (Even a song that Rodrigo wrote and released last year, a love ballad, "All I Want," that debuted and peaked at No. 90, also largely in part thanks to TikTok love, has now reentered the charts.)
It's post–Taylor Swift messiness now playing out on TikTok.
It's impossible to consider Rodrigo's success without understanding a pop culture landscape — of social media gossip and curated relationship revelations — that Taylor Swift helped define. Rodrigo is, admittedly, a huge fan; her Spotify bio describes her as "a songwriter, an actor, and a huge Swiftie," and she even invoked Swift's CMA Awards speech to react to her own song shooting to No. 1. Swift, in turn, jokingly called Rodrigo her "baby," and she is definitely her pop diva progeny.
Swift, of course, was instrumental in turning confessional songwriting into social media drama, like a musical Kardashian throughout the aughts. Before Taylor — or the advent of social media — women pop stars might have been confessional, but it wasn't a major part of their personas, nor was it something that powered their album promotional cycles. Mariah Carey, for instance, recently made headlines for finally revealing in her memoir that some songs on her 1997 Butterfly album were about then-boyfriend Derek Jeter. But at the time, she didn't wrap the album's marketing into teasing that, and the songs were deep cuts, not promotional singles.
In 2002, Justin Timberlake released "Cry Me a River," basically a self-pitying account of Britney Spears cheating on him. It created so much controversy that Spears wrote "Everytime" as a response ballad, which she included in a 2003 album. But it wasn't really until the single and video came out in 2004 that she overtly connected it to Timberlake through a video look-alike. The entire song and moment stood out at the time mostly as an exception to Spears' usual avoidance of autobiography.
Swift, in contrast, turned her feuds and relationship squabbles into ongoing drama in her very particular (and memorable) messy white girl mode. Unlike Spears, Swift made hip-hop-inflected talk about haters and feuds part of her pop persona. As she puts it in one of her clapback songs, 2010's "Better Than Revenge" — reportedly inspired by a breakup with Joe Jonas — she always got the last word on her relationships. (Usually on the covers of magazines.)
But while Swift has retreated from that kind of drama, other pop stars have taken up that mantle. Ariana Grande, for instance, spiced up her image by calling out ex-boyfriends in her 2018 breakup song, "Thank U, Next," which became — not at all incidentally — her first No. 1 hit after a number of high-charting songs that barely missed the top spot. (Like "Drivers License," it debuted at No. 1.)
Writing about personal relationships now seems to signal a woman pop star's growing up, a power move whereby women artists define themselves and take back control of their narrative. (This, of course, only works for stars who already have a massive platform and whose relationship drama fits into the cis-hetero norms that power celebrity gossip.) Swift and Grande didn't create the system in which real-life, public heartbreak leads to heightened attention; they just don't shy away from using it in their music. And neither does Rodrigo.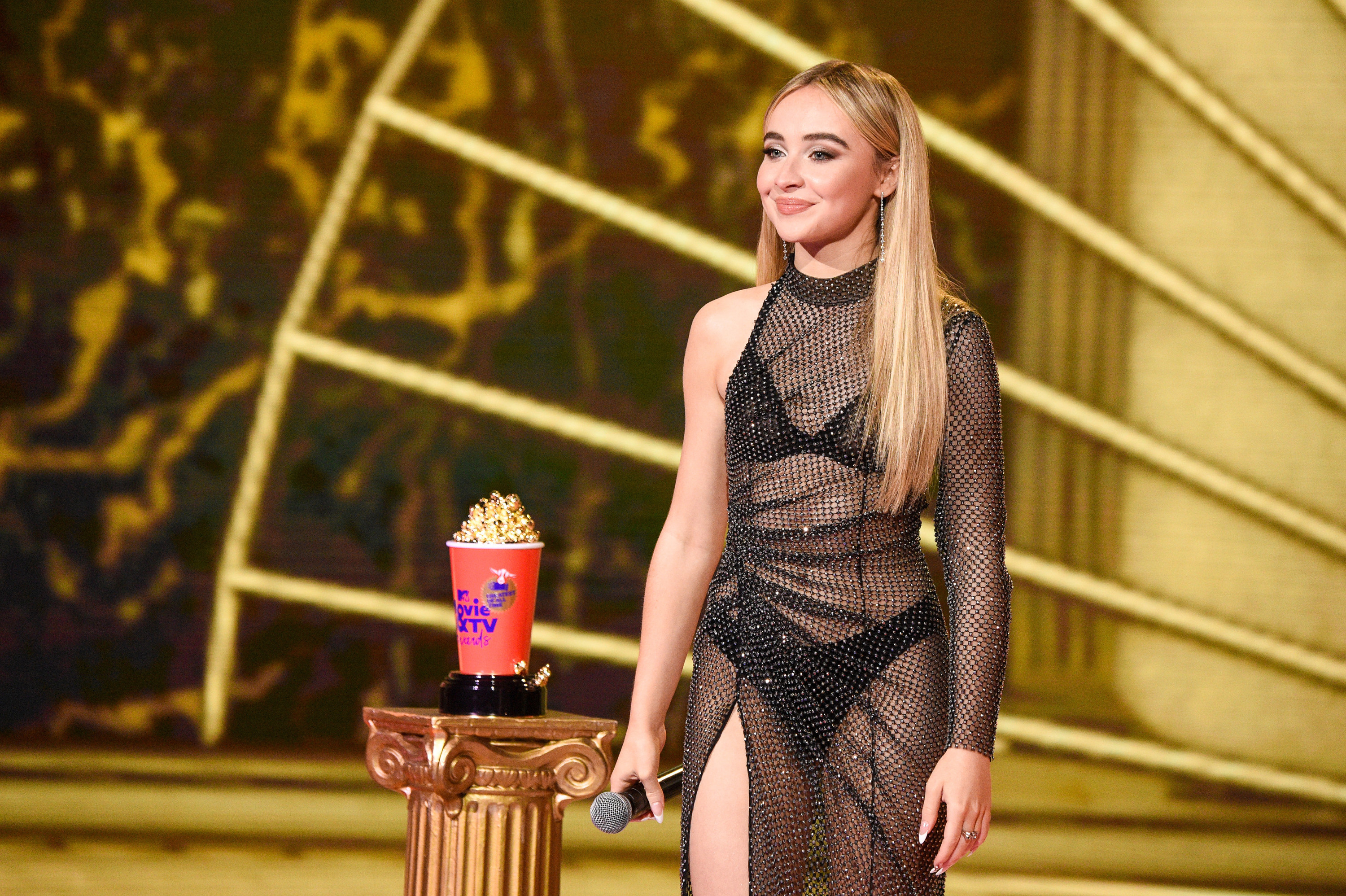 While Rodrigo has dominated the charts, Bassett and Carpenter have — comparatively — struggled to exploit the publicity cycle. Bassett's response single, "Lie Lie Lie," released Jan. 14, sounds like a bubblegum mashup of Shawn Mendes and Maroon 5. The lyrics talk about someone who's lying about the singer, whose ass he'll kiss goodbye. (The video features a dead carousel horse in the opening, and he briefly gives the camera the finger.) He claims it's about a former friend. (Since then, he's released another ballad, "Only a Matter of Time," that feels more Swiftian in its moral imagination, mixing militaristic imagery with the spiritual through its references to twisting knives, crimes, and karma.)
But his kiss-offs haven't really taken off in the same way as the women's feuding perspectives. Carpenter, who has already released four commercially underwhelming albums, dropped her response song "Skin," Jan. 22, as her debut single for a forthcoming album from Island Records.
Carpenter's lyrics more explicitly reference the drama. "Maybe 'blonde' was the only rhymed," she sings in her wistful (and quite excellent) ballad, about someone trying (but failing) to get under her skin. That Carpenter's persona has to be defined in terms of a romantic feud seems like a strange way to get her foot in the door, but fans are listening, and the song became her first Billboard hit.
It's hard out there for musicians nowadays, but the way that women pop stars and songwriters in particular are elevated through these hetero celebrity scandals boxes them into narratives that become hard to escape. Even Swift later realized that putting everything out there for her fans in the early days of social media created exhausting expectations, and she started setting more boundaries between her private and public self.
It remains to be seen how these next-gen stars define themselves beyond the drama. For now, TikTok has been reeling with tea recaps and reenactments of "Drivers License" and its offshoots, and the protagonists continue to feed into the fallout. "You've been telling your side," sings Carpenter, "so I'll be telling mine." ●