You've probably heard Camila Cabello's ubiquitous hit, "Havana," even if you can't match her voice to her name or face. The song, which combines a hypnotizing piano line and Cuban-inflected horns with a feature verse by rapper Young Thug, is now finally at the top of the Hot 100 after weeks as runner up. It is also the longest-running female-led No. 1 pop song since Taylor Swift's 2012 "I Knew You Were Trouble," and the most sustained chart topper in the UK since Adele. Now Cabello's self-titled first album, Camila, has debuted at No. 1 on the US album chart, after breaking records for opening at the top of iTunes in over 90 countries. This makes her the first debut artist since Beyoncé and Britney Spears to simultaneously dominate the singles and albums charts.
Even discounting the usual record company hype, Cabello is having a great year. Barack Obama famously included "Havana" on his best of 2017 playlist. Elton John recently declared Cabello the artist to watch in 2018. Cabello's sudden ubiquity, which has sparked widespread interest outside the passionate (and mostly young) fan base that has followed her from her years in the girl group Fifth Harmony, is especially interesting given the currently ambiguous state of pop stardom.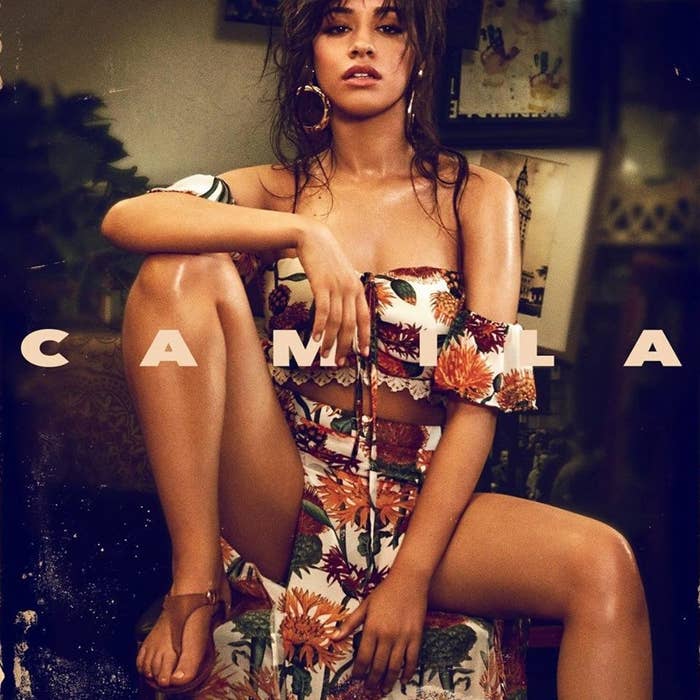 As 2017 wrapped up, there was an ongoing conversation about the bleak landscape of mainstream pop and female pop stars specifically, as everyone from Lady Gaga to Katy Perry flopped on the radio, and the suddenly divisive Taylor Swift had to play to her base. Even Beyoncé got her only recent pop hits by collaborating with J Balvin and Ed Sheeran, the latter duet producing her first No. 1 single since 2009's "Single Ladies."
The Cuban-born, 20-year-old Cabello seems to be bucking that trend. She's the child of Cuban and Mexican parents who emigrated to Miami, and it's worth paying attention to the role her Latina identity — and the growing presence of Latinx pop in the musical mainstream — has played in her rapidly rising profile. In past decades, pop artists who make their Latinx identity visible and audible to US listeners have often been pigeonholed into narrow personas reliant on stereotypical tropical tropes about passion and rhythm, dressed up in vibrant colors. As Cabello shape-shifted from the unremarkable EDM pop sound of her early solo career to "Havana," it looked like she might simply be the latest singer to follow that reductive trajectory.
But in the hit single's mixture of Cuban nostalgia and hip-hop, in its tongue-in-cheek music video, and in the wider range of pop styles represented in Camila, there's something more complicated — and less familiar — happening. Cabello has created her big pop moment by both playing to and departing from expectations, as she performs her musical identity on her own contemporary terms.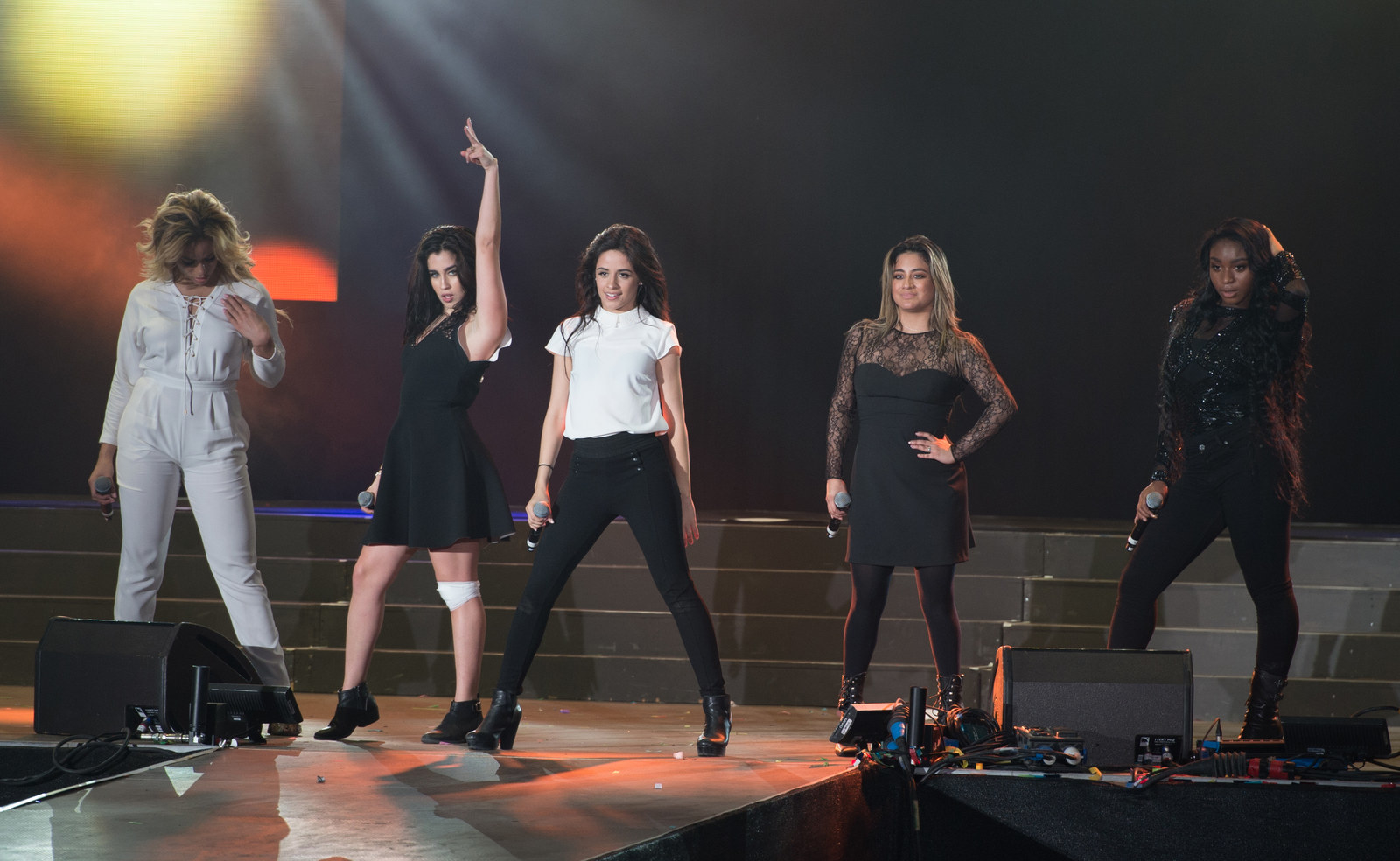 Cabello's entire career has seemed profoundly of the moment. She was first launched as a 15-year-old in Fifth Harmony, a multicultural neo–Destiny's Child girl group created on the The X Factor in 2012. (Cabello's mother drove her from Miami to North Carolina to audition for the show as her quinceañera present). Literally assembled on air by Simon Cowell, the group came in third on the program, and became well known for feisty girl-power hits like "Worth It" (2015) and "Work From Home" (2016).
But girl groups are no longer what they once were. And despite Fifth Harmony's massive social media fan base — the self-anointed Harmonizers — the group never really achieved the degree of radio play, sales, or cultural resonance of the other famous Cowell-created band, One Direction. They were bigger than Danity Kane or Little Mix, but never as big as Destiny's Child. So though Cabello's departure from the group — in December 2016 — generated endless fan commentary, it didn't quite captivate casual pop listeners the way Zayn Malik's departure from One Direction had, or inspire the mainstream cultural speculation of Beyoncé's seemingly preordained solo launch.
Cabello's group mates slyly noted her decision to announce her departure to them via her "representatives," and shaded her at the VMAs. Cabello — who was front and center on Fifth Harmony's album covers — responded by providing the usual narrative about leaving the group; she felt creatively stifled and needed to find her own voice. "I was just curious and I wanted to learn and I saw all these people around me making music, writing songs and being so free," she recently told the New York Times. "I just wanted to do that and it did not work."
But Cabello's solo voice — both metaphorical and literal — initially sounded and looked quite different from the artist on display in her debut album. Prior to her departure from the group, Cabello demonstrated a knack for top 40 versatility, collaborating on duets with artists ranging from the wholesomely dimpled pop rocker Shawn Mendes ("I Know What You Did Last Summer," a top 20 hit in 2015), to rapper Machine Gun Kelly on the ubiquitous hit "Bad Things," which peaked at #4 on the Hot 100 in February 2017. That single was catchy largely because of the way Cabello carried the chorus with her breathy, ethereally pretty vocals. But she could also have been any of the relatively anonymous "featured" voices — like Halsey or Alessia Cara — that now dot the hip-hop and EDM landscape.
This was, notably, before the past year saw a larger Latinx pop boom led by artists like Luis Fonsi and J Balvin. And perhaps the early, unremarkable incarnation of Cabello as a solo artist was a result of her training in Fifth Harmony. During her stint in the group, they performed on duets with Latinx pop stars like Maluma and Pitbull, and even put out Spanish-language versions of their albums. But Cabello's ethnic identity — like the other group members' — was intended to be incidental to her musical one. As L.A. Reid said in a Billboard interview: "I think that's a beautiful thing that they are five young women from different ethnic backgrounds, but I don't know if that matters to me. What I care about is their voices and their songs are incredible. I don't see music that way. Pop culture's ethnicity is popularity, you know."
Thus, the single selected for her first stab at solo stardom and released in May 2017, "Crying in the Club," featured slurring, darker vocals with a moody EDM backdrop, in the vein of "Bad Things." "Crying" racked up over 100 million views on YouTube, but flopped on the radio. And as is now customary when an initial lead single flops, the record company followed it up by putting out two more test singles, "Havana" and "OMG," described as new "summer singles." It was the immediate success of "Havana" that suddenly gave Cabello a narrative — "From Cuba With Pop: Camila Cabello's Rise," as Rolling Stone put it — and a unique angle around which to build a new pop persona.

"Havana" is a brilliantly zeitgeisty artifact of our post-Latinx boom moment. Frank Dukes, a producer famous for creating his own library of samples, presented the base of "Havana" to Cabello, who had jotted her birthplace's name as part of her notes for the album. Cabello has credited Dukes — who has worked with Drake, Eminem, and Rihanna — as "a big part of taking a classic part of Latin culture and combining it with something new and modern." Spin magazine notes that "Dukes's sample simulacra are filled with nostalgia for a nonspecific place and era in pop history," and "Havana" is indeed evocative in a way that harkens back to a different moment that is neither Despacito-style reggaeton or the hip-shaking dance pop of Ricky Martin or Shakira.
"Havana" summons a laid-back, Buena Vista Social Club vibe, but combines it with contemporary hip-hop flavor. This is most evident in Young Thug's rap interlude, but also in Cabello's vocals as she sings about a boy who took her from Havana back to East Atlanta. Her style shifts from sultry club performer in the opening to post-Beyoncé swagger through the verses to a more '90-style melismatic scale-climbing at the end. The song's theme follows the nostalgic Latinx pop tradition of something like Cuban-born Gloria Estefan's "Mi Tierra," but the allusion to East Atlanta, a hip-hop culture hub, places the song in a very different contemporary diasporic dialogue.
The song's distinctly contemporary flair is also brought out in the music video, which features a post–Ugly Betty and Jane the Virgin comedic sensibility about Latinidad. The video opens with a campy telenovela spoof, and then Cabello plays a fully made-up performer and dancer singing "Havana" at a nightclub — in a movie, watched by the nerdy teen version of herself. Unlike other Latina pop divas like Jennifer Lopez or Shakira, whose booty-shaking has always been presented as straightforwardly sexual, Cabello — who grew up and launched her career in the context of the meme-centric culture of the aughts — prefers to wink at all of it. The "Havana" video ends with the movie-watching teen Cabello trying out the club singer's sexy dance moves on the street, and it reads like a comic send-up of the US obsession with Latinx women's curves.
Though Cabello was asked to unironically perform that butt-centrism in Fifth Harmony's videos, she later spoke about her discomfort with the group's sexualization. Her comedic approach in the "Havana" video is more in line with her social media persona, or what Billboard described as her "hilariously self-deprecating Snapchat antics." In fact, during her time in the group, Cabello's style stood out because of a demure — and slightly gender-bending — predilection for collared shirts and bows. But since her Latinx pop makeover, she's opted more often for a colorfully glamorous, hyperfeminine style that more clearly fits into the tropical conventions that usually get Latinx artists noticed in the US.
The floral print of the dress and hoop earrings on the Camila album cover — itself shot in Miami's Little Havana — are a very different look than her buttoned-up Fifth Harmony persona or her straightforwardly glam "Crying in the Club" look. On Ellen, she turned the stage into a Cuban nightclub and performed "Havana" in a ruffled cha cha skirt. On The Tonight Show, her performance emphasized the song's opening trumpets, and she wore a bright red jumpsuit against a yellow background, aligning her style with the primary-color vibrancy associated with Latinx music.
This is following an established script, to some extent — and it's worked. In his effusive praise of Cabello, Elton John highlighted her voice, looks, and attitude, and described her music in these tropicalizing terms: "There's a vibrancy in there, it makes me feel good, it makes me want to get up and dance." Clearly, Cabello has benefitted from the power of playing into an audience's expectations. Fifth Harmony was so fan-oriented that they even changed their name and their debut album cover based on audience feedback. Cabello's own album was initially (and dramatically) titled The Hurting, the Healing, the Loving, before taking the simpler self-titled route. That simplicity works now, on a marketing level, because the new sonic and visual emphasis on Cabello's Latina identity and personal narrative has helped listeners and the media fill in a previously blank slate.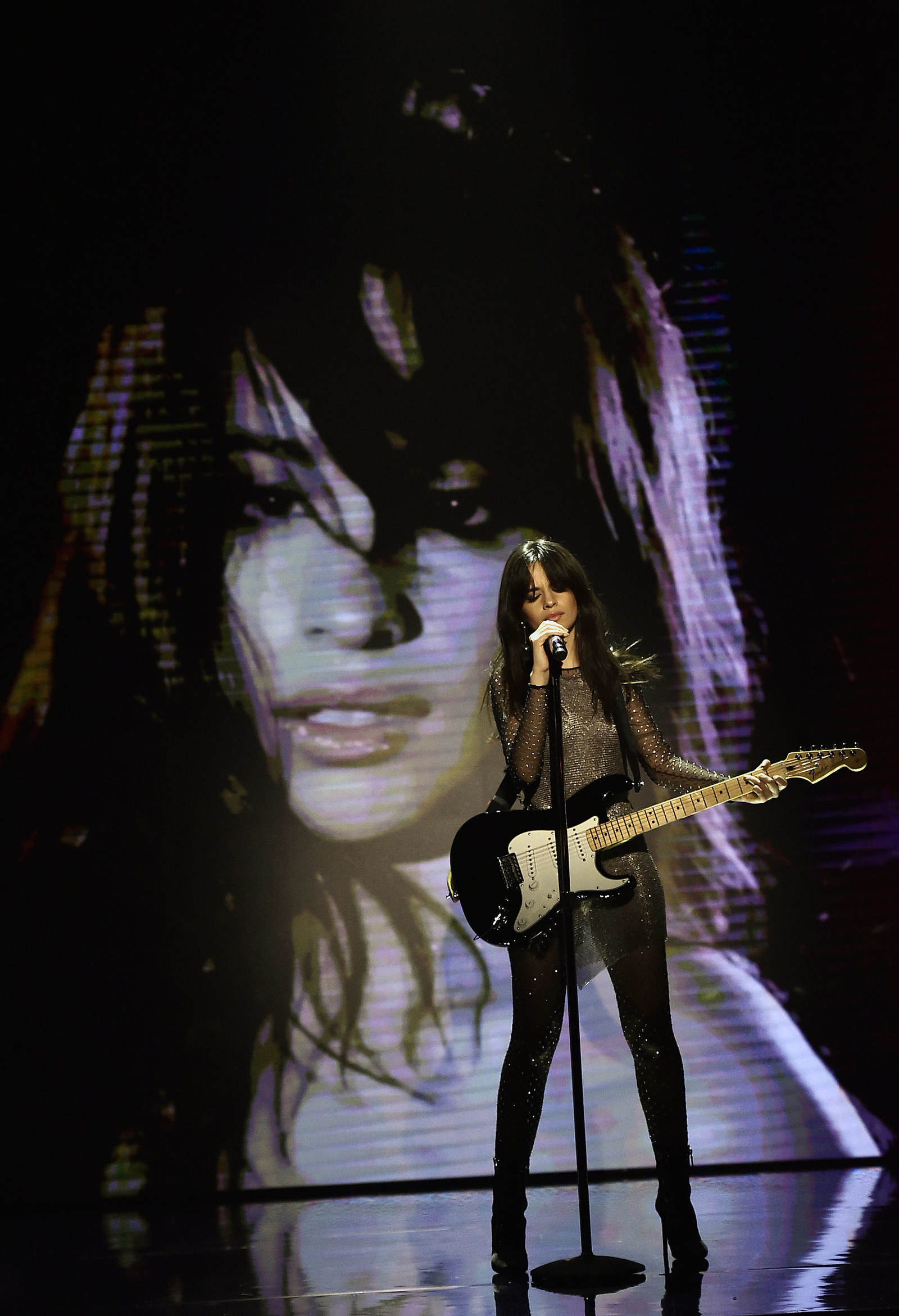 But Cabello and the team behind her seem to understand how to leverage that narrative without being controlled by it. Her new single, "Never Be The Same," isn't identifiably "Latinx" pop, but rather another EDM ballad playing on the versatility of her vocals. She has performed it by sedately playing an electric guitar — reminding us that she is a musician and cowriter of her songs — and also as a charmingly dramatic performance art piece backed by video on The Tonight Show. The single is already at No. 21 and rising fast on the pop chart. That Cabello chose that song to follow up "Havana," rather than the upbeat and subtly reggaeton-influenced banger "She Loves Control," or the rhythmic "Inside Out," suggests that she feels confident enough to play against the lighthearted Latina party diva role some reviewers seem eager to slot her into. But this might also simply be a sign that these kinds of oppositions and distinctions aren't as significant as they once were, as Latinx pop has become more and more central to mainstream American pop.
And that centrality has helped Cabello seemingly leapfrog over the biggest post–Taylor Swift pop stars. Neither Demi Lovato — who is currently betting on the Latinx pop boom in her duet with Luis Fonsi, "Echame la Culpa," — nor Selena Gomez, who has never leaned into her Latina background, have ever scored a conversation-starting No. 1 Hot 100 hit on the scale of "Havana." Though it remains to be seen what path Cabello takes, or how pop listeners respond to it in the long-term, her recent moves suggest she's using her big moment to both make use of and expand established expectations. She is simultaneously a product and a producer of a moment in which Latinx identity and pop seem to be mixing in new — and old — ways. ●
CORRECTION
The music video for "Worth It" was misidentified in a previous version of this piece.