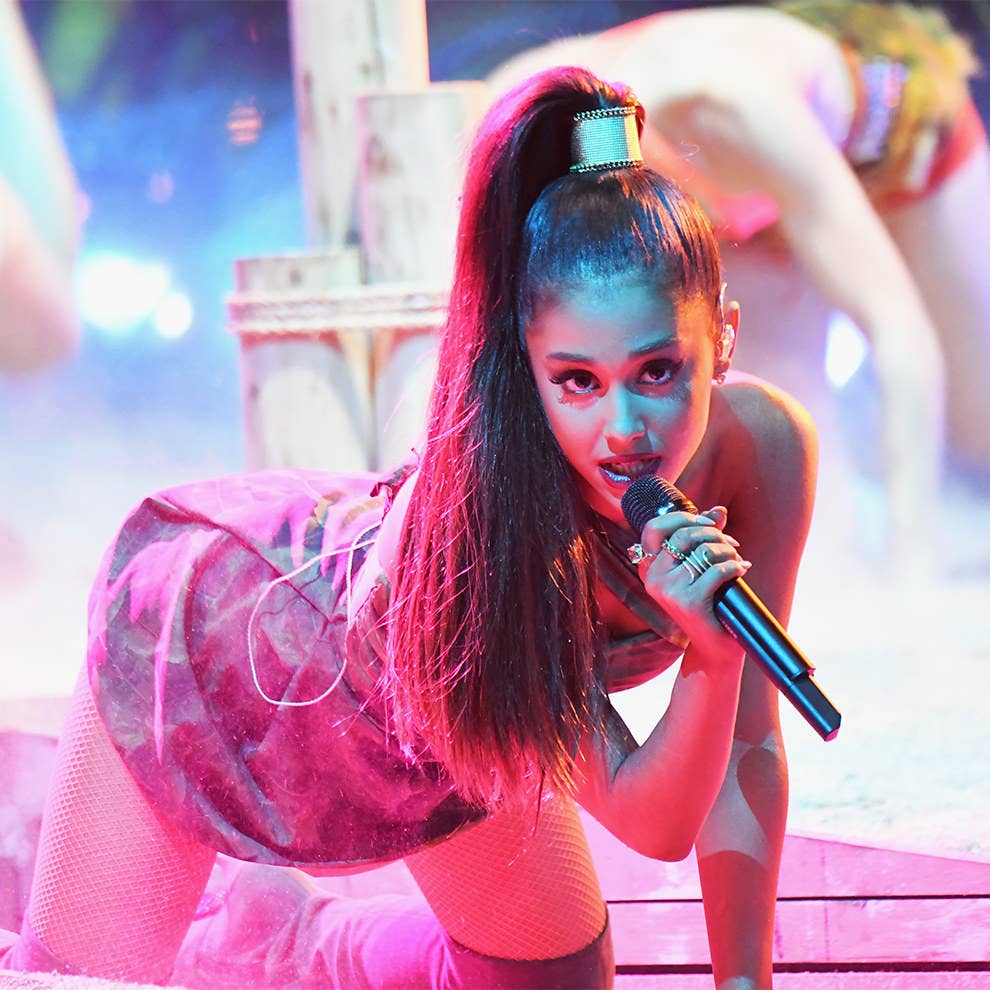 "And I can be all the things you told me not to be," Ariana Grande declares with uncharacteristic defiance in rapid-fire spoken-word style on her latest single, "God Is a Woman." The song had an immediate impact and its accompanying Twitter-ready video is like a splashy representation of all the multitudes the "new" Grande contains. It features a wide range of memeable girl-power poses and vignettes: Grande's nude body is drenched in a pool of Georgia O'Keeffe–style paint patterns, she appears perched atop a globe dominating the world, and she uses a monster gavel to shatter a glass ceiling.
Arguably her most ambitious stab at cultural commentary, the song and video lit up social media as people decoded the many high and low references, and debated religious herstory in thinkpieces, prompting the kind of reaction more common after a Beyoncé or Taylor Swift release. But the reception confirms that the 25-year old is successfully transitioning into her new "message" era, inaugurated by her first post-Manchester-tragedy single "No Tears Left to Cry," which is still topping the charts after its release earlier this summer. While that song may have pivoted away from her usual subjects of love (and sex) and shown a different, more "serious" pop self-help side, it still managed to showcase Grande's big voice and retain the catchy melodies and accessible style that make her unique.
Her high-ponytailed appearance on the pop scene five years ago didn't immediately turn her into a meme-spawning cultural powerhouse like some of her contemporaries on the charts. She was instead relegated to, some argued, pop's B-list. Despite her overall radio ubiquity, none of her songs really became big conversation-starters or broke through to No. 1 on the Hot 100 chart. And yet, at a moment when stars whose personas once powerfully ruled the zeitgeist — like Lady Gaga, Katy Perry, and Taylor Swift — are struggling to maintain relevance as the balancing act between pop, politics, and the personal becomes harder to perform, Grande has come out on top. Her less radical shape-shifting helped her find a sweet spot in a landscape littered with pop stars whose own attempts to stay relevant have come off as gimmicky, awkwardly political, or too petty.
Just as she once used Doughnutgate to grow out of the teen persona defined by her iconic cat ears into a slightly naughtier, leather bunny mask–wearing "dangerous woman," she is using our current cultural moment to, as she calls it, "elevate" her music. It works because she's always been adept at finding her own lane, making trends and the zeitgeist fit her, rather than the other way around. And now she seems to have more cultural momentum than ever before, reminding us that, as Nicki Minaj memorably put it in their hit "Side to Side," young Ariana is poised to run pop.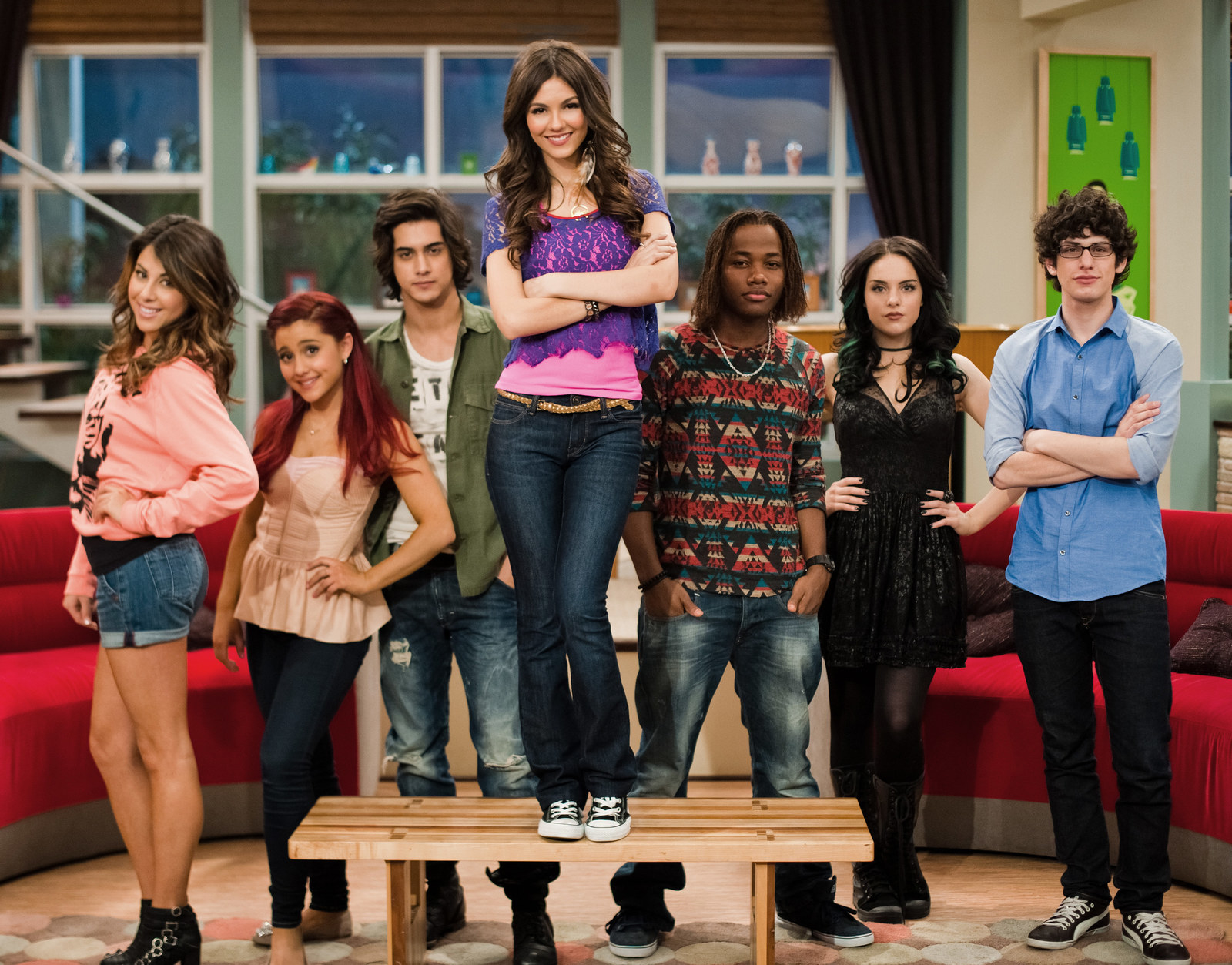 Ariana Grande first orchestrated her move from Nickelodeon tween queen to pop star by playing on the nostalgia of the R&B vocalist-first tradition of Whitney Houston and Mariah Carey, whom she has spectacularly covered, from her YouTube beginnings to her concerts, from the White House to LGBT pride shows. Given her success, it's hard to remember now that this style of pop stardom was out of fashion when she was looking for a record deal earlier in the decade, and she was initially passed on by record labels, despite possessing both a stratospheric vocal range and an enthusiastic tween following, acquired from her stint playing the free-spirited art school student Cat Valentine on Nickelodeon's Victorious and Sam & Cat.
The Carey-style big-voiced pop star was hard to find during an era dominated by EDM, a genre that seemed to make DJs and producers (like Calvin Harris or David Guetta) bigger stars than the singers they featured, and in the aftermath of hip-hop's takeover, when, as Rihanna producer Chuck Harmony told Rolling Stone recently, "R&B has become so track-heavy that it leaves very little room for a big voice."
Rather than submitting fully to either trend, or making her style irrelevant by being too old-fashioned, Grande found a way to make her own space and, like Bruno Mars, exploited the first wave of pop culture's '90s nostalgia. Her first album, Yours Truly, appeared in the summer of 2013 and was mostly produced by Babyface, who was a major definer of the kind of '90s R&B Grande gravitates toward. But he was still an offbeat choice for an aspiring teen queen's album at the time, and from the moment the first hit, "The Way," appeared on radio, critics noted Grande's similarity to Carey.
The album made teen pop out of the kind of R&B and rap collaborations that Carey popularized later in her career, but packaged it with Carey's early America's sweetheart vibe. The first song's shimmery and sunny energy is brought out in the music video, where Grande jumps around in her now-iconic knee-high boots, kicking colorful balloons while Mac Miller performs his rap verses in a retro normcore sweater, highlighting the song's nostalgic sheen. The video for the album's second hit, "Baby I," is stuffed with even more '90s references.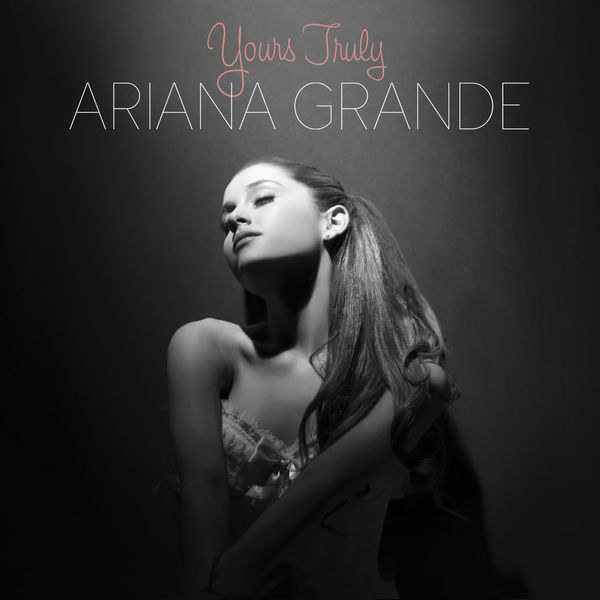 While Grande made '90s retro cool, that style also made it difficult for her to speak to the cultural zeitgeist in a more relevant way. She — tentatively — broke out of that mold with the hipper collaborations for her follow-up album, My Everything, especially the lead hit "Problem," featuring Iggy Azalea during her brief heyday. The rhythmically uttered chorus — which included whispers from then-boyfriend Big Sean — gave it a contemporary flair that helped make it a song of the summer in 2014, when it peaked at No. 2 on the Hot 100. Grande was nervous about the song's more modern sound, but she still found a way to make her vocal stylings the song's centerpiece, and indulged in her old-school influences with the retro horns for the song's intro and a '60s mod fashion style for the music video. Similarly, her collaboration with Zedd for "Break Free" gave her her first EDM hit, which doubled as an anthemic statement for her career (one that her devoted gay fanbase took up as a coming-out anthem). But despite the nod to dance music trends, the video was still inspired by the '60s, in this case the space fantasia of camp classic Barbarella.
Grande's old-fashioned vocalist-first ethos and retro style didn't generate a big bang of cultural relevance. Instead, her star largely rose through accumulating smaller pop hits, and because, thanks in part to her earnest Mariah Carey and Whitney Houston covers, she seemed like the theater kid she once was and played on television, sincerely invested in music and the pleasure of singing. At that point, the most interesting thing about her was still the vowel-swallowing enunciation (or lack thereof) that she employed on a number of her songs. It was hard for some to take her wholesome, cute image — sometimes dismissed as annoying — seriously. And even Grande was almost apologetic about what she called her "girly girl" style.
Around that time, there was a popular meme of Rihanna reacting to Grande's performance of "Problem" at the kiddie iHeartRadio Music Awards. She bopped along to the song and then suddenly broke into delighted — some thought shady — giggles, seemingly in reaction to Grande's "womanly" hip-thrusting dance breakdown moment. ("Lil' mama, keep doing what you're doing because it's working," Rihanna supposedly told her afterward.) But then came one of the most random episodes in the pantheon of pop princess transgressions: "Doughnutgate."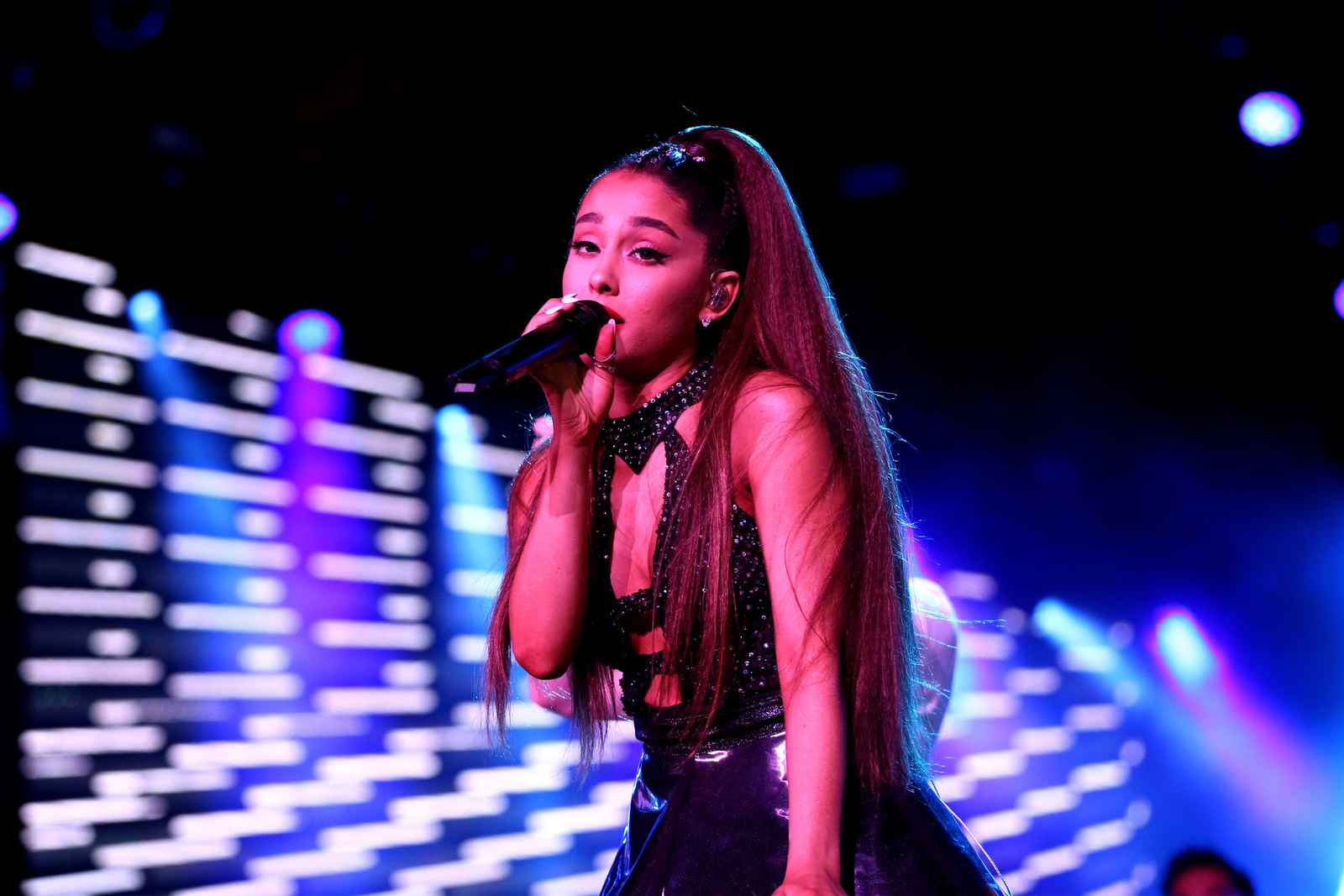 In the summer of 2015, leaked TMZ footage depicted Grande standing in line at a doughnut store in California, licking doughnuts laid out for customers while she waits in line and makes out with her dancer and reported boyfriend. But it wasn't the licking as much as what she says that turned Doughnutgate into a more serious PR crisis: "What the fuck is that? I hate Americans. I hate America," Grande exclaims when a new tray of sweets is brought out, in what she later argued was a critique of unhealthy food consumption and childhood obesity. Grande transgressed the biggest no-no of American pop that even Madonna feared — unpatriotism. Susan Sarandon was a lone vocal famous defender, but Grande lost a White House gig over the comments and was forced to apologize twice.
That fall she started her now-famous musical impressions on Jimmy Fallon's talk show — playing everyone from Celine Dion to Christina Aguilera, once again coming off like a musical theater dork who just loves performing, even as the precision of her imitations highlighted her talent. (Just one of the videos from that Fallon appearance has over 117 million views on YouTube.) The following year she deftly used humor to own her PR crisis — and launch her third, more "adult" album, Dangerous Woman — on Saturday Night Live. "I'm at a place where I'm ready to be caught in a real, adult scandal," she joked to the audience. SNL cast member and now-boyfriend Pete Davidson offered to smoke pot with her as a response but, instead, she quickly jumped into a Streisand-esque show tune, "What Will My Scandal Be," making her throwback vocal virtuosity the main attraction, and playing everyone from Shakira to Rihanna in another impressions skit. Her ability to poke fun at herself helped her transcend the (misogynist) backlash that had framed her as one of the most disliked celebrities in the country.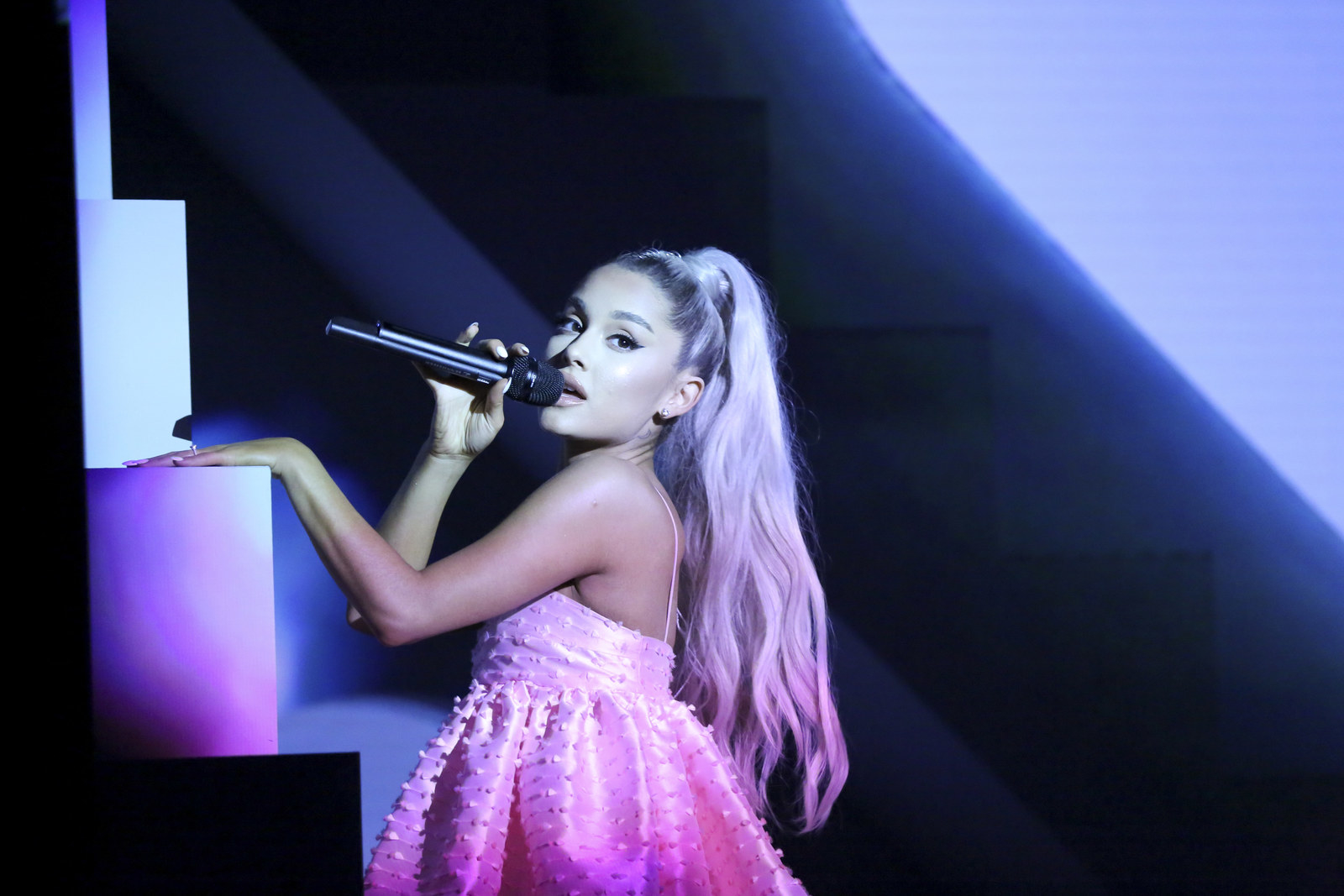 "I don't really feel like doing anything annoying or shocking to convey my maturity," she said the year before Doughnutgate. And in fact, the album's titular ballad — which seemed to leave behind the teenage-girl diary titles like Yours Truly and My Everything — subtly signaled a new sophistication for Grande, one that was brought out in more sensual terms in the video, where she offers pouty looks, wearing lingerie on a bed. This sexiness was evoked in a different way in the Nicki Minaj collaboration "Side to Side," a reggae-flavored bop about getting torn up from sex, the video for which displaced the potential lewdness of sexual athletics through neon-colored images of spin instructor Americana. But once again Grande would be forced to retool her style, in confronting the suicide bombing that resulted in 22 dead at her concert in Manchester, England.
Even before the Manchester tragedy, Grande had been seeking to "elevate" her music. She collaborated with Pharrell to try to create a less melody-driven, straightforward sound, and it resulted in songs like the second album teaser, "The Light Is Coming." But she smartly released "No Tears Left to Cry" as the lead single this summer, and the song and video helped her nod to the tragedy's aftermath, which obviously affected her personally, without overtaking her pop persona.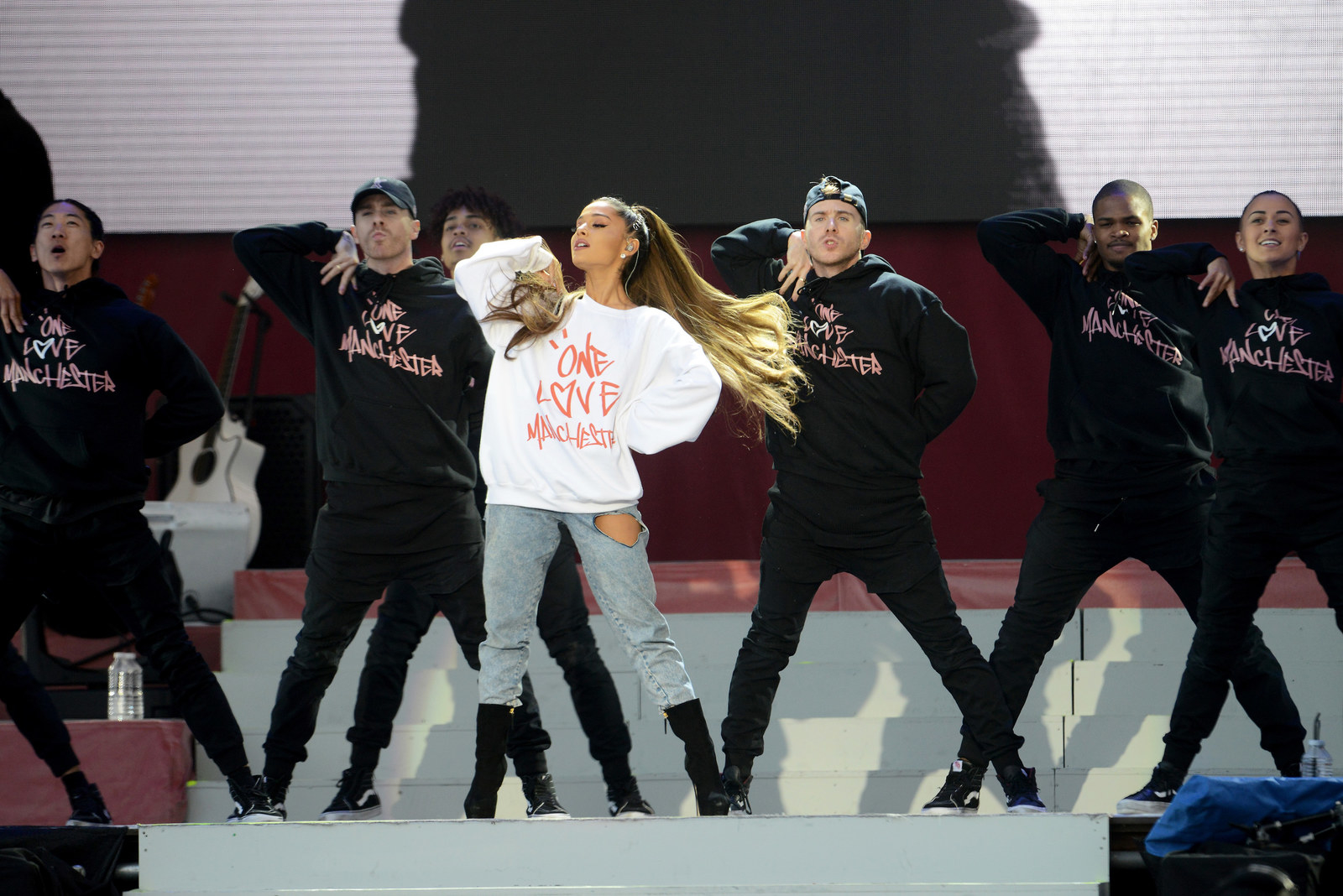 Part house nostalgia, part Max Martin pop, the song begins with the kind of keyboards that are usually invoked to signify gospel or spiritual depth, suggesting a slow ballad, perhaps an allusion to her grief over the concert tragedy. But that sonic gesture opens the way for her new style of not-quite-rapping spoken word, as she declares, "I'm loving / I'm living / I'm picking it up." (As she told Time, "The intro is slow, and then it picks up. And it's about picking things up.") In the music video — a kind of Mary Poppins in Metropolis mashup — she appears upside down, an allusion to the logic of forthcoming album Sweetener, her own quasi-Lemonade, an attempt to turn things back up by making something sweet out of a tragic moment.
"God Is a Woman," her follow-up single, is also her new feminist empowerment anthem. The song is, on one level, about sex, as she sings to a boy about how he will love how she "moves" and "touches" him, carefully selected words that could refer to spiritual or erotic communion. In the video's final scene, a reimagining of Michelangelo's "The Creation of Adam," Grande, surrounded by a racially diverse cadre of angels, makes herself God, reaching out to a brown-skinned Eve in an interesting de-centering of masculinity that makes God a white woman.
But, in some ways, that representation of this spirituality hints at some of the limits of being a woke white pop star who, by definition, has to be the main show. The Madonna-as-God voiceover cameo, using a line made famous by Samuel L. Jackson in Pulp Fiction, works as seemingly unintentional commentary on the ways Madonna has used black masculinity throughout her career. And it hints at the way Grande's girl-power pop feminism is also mostly about toppling gendered hierarchies without necessarily questioning racial ones, beyond proposing a kind of multicultural utopia. Still, the overwhelmingly positive reception so far suggests that Grande knows her audience.
In another scene of the video, Grande walks across a tightrope, with a mountainous landscape in the background. She holds on to some colorful balloons, not unlike the ones she joyously kicked around in the video for her first hit. While it's hard not to read the vignette as symbolic of Grande's ability to carefully navigate the treacherous pop landscape, it's clear that so far her balancing act is yielding heavenly results. ●