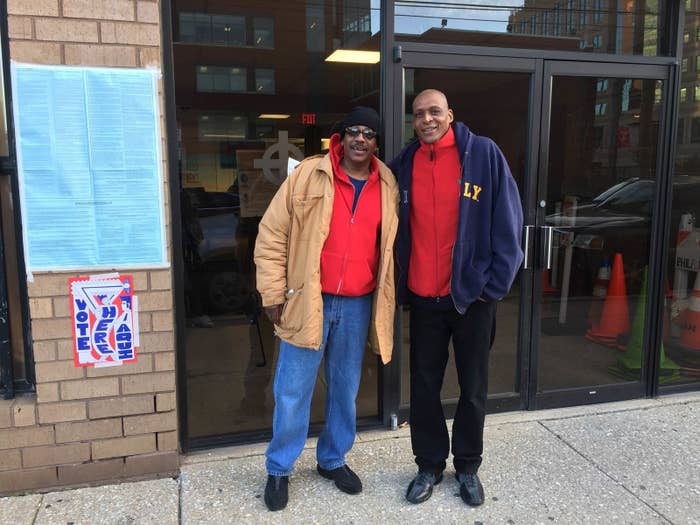 The early voters gave Timothy Avery hope. Within a half hour of the polls opening on Election Day, around 25 of them had already cast their ballots at North Philadelphia's Zion Baptist Church, where Avery served as a poll worker. The count was nearly double what he remembered from this time in 2012.
He'd manned the polling site in the last two presidential elections. And as he watched wave after wave of voters flow into the booth on that Tuesday morning three weeks ago, he said, "Gonna be a record turnout."
Dozens of other black and Latino residents of North Philadelphia who spoke to BuzzFeed News during election week had expected a high turnout, fueled by a fear of Donald Trump, whom many of them called racist. Poll workers at 10 North Philadelphia precincts told BuzzFeed News that their morning vote counts exceeded the numbers in 2012. By the early afternoon, Election Commissioner Al Schmidt had said, "Seems like heavy turnout." And the next day, Mayor Jim Kenney said in a statement that the city had "turned out at the polls more so than any time in recent history."
But in the end this wasn't true. Once the votes were all counted, Philadelphia's turnout was slightly lower than it was in 2012, especially among Democrats. Clinton received 20,000 fewer votes in the city than Obama had in 2012, her winning margin in the city was 35,000 votes fewer than Obama's four years ago, and she ended up losing Pennsylvania to Donald Trump by around 60,000 votes. Democratic presidential candidates had won Pennsylvania in each of the previous six elections.
A BuzzFeed News analysis of voting data found that turnout decreased the most in the neighborhoods with the largest proportion of black residents. Turnout decreased by more than 10% from 2012 in 12 wards in the city — all of them majority black, all of them in North and West Philadelphia, all of them heavily Democrat. The wards with the two biggest drops in turnout — the 16th and 28th — are more than 90% black.
But turnout wasn't down across the entire city. It increased by more than 10% in six wards — which have populations that are each less than a quarter black. Most of the neighborhoods that saw turnout surges were in South and Northeast Philly wards that also saw saw surges in their number of registered Republican voters compared with 2012. Trump won around 10,000 more votes here than Mitt Romney did.
Most residents said the explanation for this dip was as simple as not having Barack Obama on the ballot.
"The best turnout without Obama on the ballot that I've seen," said Phyllis Watson, a longtime poll worker in North Philadelphia.
Several others cited a lack of enthusiasm for Clinton. Indeed, most North Philly voters who spoke to BuzzFeed News on Election Day expressed that their primary motivation was keeping Trump out of the White House.
While Hillary Clinton could not match Obama's vote totals in the previous two elections, she far surpassed the totals of John Kerry in 2004, by around 20,000 votes, and Al Gore in 2000, by around 100,000.
Yet even if Clinton matched Obama's 2012 vote count in Philadelphia, she still would have lost the state thanks to Trump's support in the rest of Pennsylvania.
"To be honest, I'm not too surprised," said Kelly Nelson, a 30-year-old from North Philly. "They gave us eight years of a black president. The next 20, we done. All those white people gon' make sure we don't get nothing."
About 100 miles west of Philadelphia, at a Trump rally in Hershey four days before Election Day, supporters of the Republican candidate had said that they were confident about his chances because his support was so clear in much of the state.
"Everywhere I drive, I see Trump signs all over," said Debra Kimsal, a Trump supporter from Mt. Carmel. "Every person I talk to is for Trump."
Many had driven two or three hours to the Giant Center arena. Over those hours, Delaware County resident Richard Pendergrast said he had seen dozens of signs for Trump and not a single one for Clinton.
Turnout among Trump's mostly white supporters outside the big cities afforded him the 60,000-vote margin. The story was similar in other Rust Belt states with large numbers of white working-class voters, like Michigan and Wisconsin, which, along with Pennsylvania, carried Trump to electoral college victory even though Clinton won over 2 million more total votes. Green Party presidential candidate Jill Stein has raised funds to force a recount in those states, however voter data does not suggest any indication of fraud.
More surprising to Philadelphia residents was the number of Trump voters within their own city.
Fourteen miles northeast of downtown, past the low-income and working-class black neighborhoods on either side of Broad Street, lies the sprawling 66th Ward, which had the city's largest increase in Republican voters since the last presidential election. Compared with four years ago, the ward had 1,577 fewer Democratic voters and 2,013 more Republican voters — a swing of almost 4,500 votes.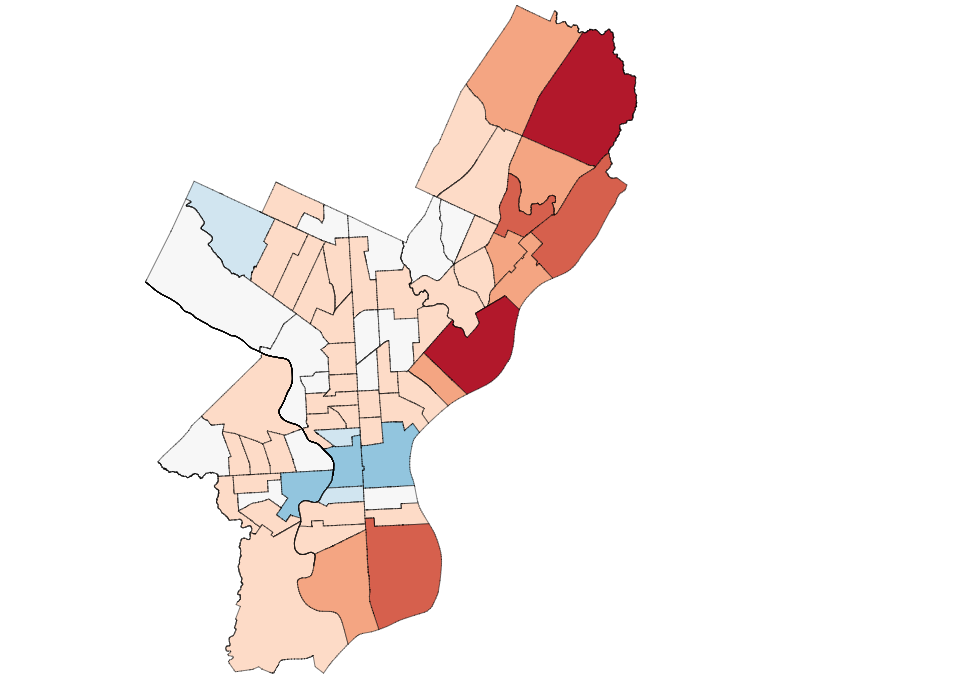 The 66th Ward is a white, working-class neighborhood with echoes of deep Irish heritage, just south of the suburbs. Narrow row homes are traded here for modest yards, subway stations for dispersed buses or the commuter rail system.
At the crowded Taggart House pub, a dusty watering hole just off Frankford Avenue, the bar was packed during Thanksgiving week with middle-aged, working-class white men, many of them electricians, stonecutters, and other manual laborers. A handful sported ward-issued union jackets.
They talked hard, and drank harder, and almost spat out their drinks when informed they were sitting in a precinct that saw a huge surge in support for Trump.
"This is all union territory!" one said incredulously.
None of the rowdy crowd were particularly thrilled with Clinton, they said, but could never in good conscience have voted for Trump. He was anti-union. Full stop.
After some prodding, one union worker offered that the neighborhood was also home to a lot of Philadelphia cops. Maybe, he said, that's where all the Trump votes came from.
While other states can blame depressed turnout on new laws aimed at reducing alleged voter fraud, Pennsylvania does not require voters to show ID before stepping into the booth. And officials in Philadelphia explained that the city's voting system, with its more than 1,600 polling sites, was designed to make it convenient for residents to vote on Election Day.
"Philadelphia really values keeping polling places as close as possible to a voter's home," said Schmidt, the election commissioner. "The idea is that a voter shouldn't have to walk more than a couple of blocks to a polling station."
All in all, approximately 5,000 fewer Philadelphians voted this year than in 2012.
"I was surprised Clinton didn't win," said Barnes Cousins, 50, of North Philadelphia. "I guess people just weren't coming out for her like they did for Obama."
Shortly before sunset on Election Day, voters leaving a polling site at the Raymond Rosen Manor Community Center in North Philly encouraged passersby to vote.
"Have you voted yet?" a middle-aged woman asked people as she walked down the sidewalk. "Have you voted yet?"
"Have you voted yet?" she shouted to a young man in a red hoodie across the street.
"You gon' be mad," the young man said with a smirk. "Y'all don't want me to vote 'cause if I vote I'ma vote for Trump."
The woman paused before responding, "Well, you should still vote anyway."
But the young man shook his head and kept on walking.