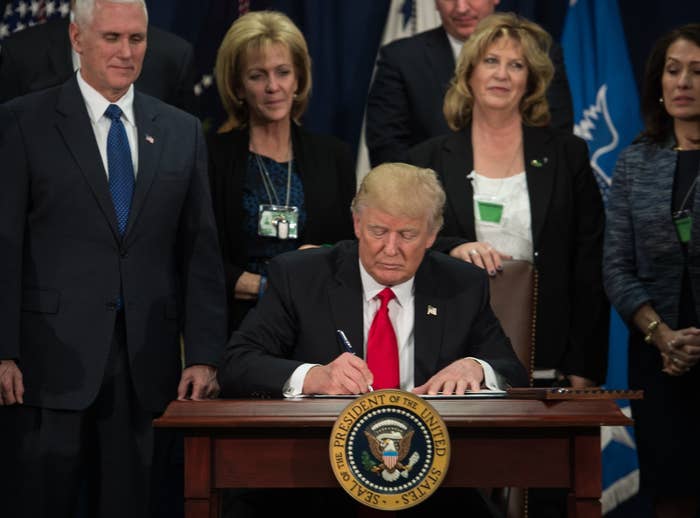 President Donald Trump on Wednesday signed two executive orders aimed at expanding the role of local law enforcement agencies in immigration enforcement and withholding funding from cities and states that fail to fully cooperate with federal officials.
"It is the policy of the executive branch to empower state and local law enforcement agencies across the country to perform the functions of an immigration officer in the interior of the United States to the maximum extent permitted by law," Trump stated in one of the executive orders. "I hereby direct agencies to employ all lawful means to ensure the faithful execution of the immigration laws of the United States against all removable aliens."
The executive orders are a sharp departure from the desire of many police chiefs to keep their duties separate from that of immigration officers — a separation they deem necessary to maintain the trust of local residents. Though White House press secretary Sean Spicer claimed on Wednesday that the administration would deport only those "who have also otherwise violated our laws" and that they would be sent out of the country after they "spend time in prison," the executive order stated that undocumented immigrants who have been only charged with a crime, and not convicted, were among the highest priorities "for removal."
"If people are afraid to talk to us, now our relationship with the community breaks down, and without information, without communication, we cannot get the job done," New Haven police chief Anthony Campbell told BuzzFeed News in December. "We can only police a community as much as our community allows us to police it."
For months, legal experts have challenged the constitutionality of Trump's threat to defund sanctuary cities, arguing that the proposed policy would violate US Supreme Court precedents that limit the constraints the federal government can place on state funding.
"We know the 10th Amendment would prohibit the federal government from commandeering state or local resources to achieve a federal purpose," said Kamal Essaheb, director of policy and advocacy at the National Immigration Law Center. "At the end of the day it's going to be up to the courts who are going to be looking at individual challenges."
When asked at his daily briefing which specific funding the administration planned to cut, Spicer acknowledged the steps the administration needed to take before it could pull the funds.
"What this executive order does is it directs the secretary to look at funding streams that are going to these cities of federal monies and figure out how we can defund those streams," Spicer said. "So part of this is a directive to the secretary to look at those funding streams and then figure out how they can be cut off."
One likely hurdle involves the definition of what makes a "sanctuary city." The law on which the executive orders are based, Title 8, Section 1373 of United States Code, is vaguely written and open to interpretation. The law essentially bars police departments and other government entities from withholding information about a person's immigration status from federal officials. A 2016 report by the Department of Justice Office of the Inspector General, however, stated that sanctuary policies in at least some cities did not necessarily violate federal law.
If the federal government cut funding based its reading of Section 1373, "cities would have standing to sue," ACLU lawyer Jonathan Blazer said.
"Trust between police and the people they serve is absolutely essential to effective law enforcement."
Officials in Los Angeles and Las Vegas, for instance, have rejected the allegation that their policies violate federal law.
Los Angeles Mayor Eric Garcetti said that while the city cooperates with immigration authorities, they don't ask officers to enforce federal immigration laws.
"That is for everyone's good, because trust between police and the people they serve is absolutely essential to effective law enforcement," Garcetti said in a statement. "Immigration status shouldn't interfere with the cooperation and partnership we need to keep our neighborhoods safe."
Trump's announcement, though not surprising, confirmed the worries of police officers in sanctuary cities, which for years have relied on federal funding for law enforcement essentials — from hiring to training to equipment purchases. A recent review by the DOJ's Office of the Inspector General calculated that the 10 biggest jurisdictions with sanctuary policies received $1.7 billion in federal law enforcement funding over the last decade.
"It's disturbing and concerning to us, but we haven't lost any funding as of yet, and we're hoping that whatever impact that has is gonna be minimal, if any," said Officer David Hartman, a spokesperson for the New Haven Police Department. If the federal funding were cut "there'd be damage all over the place, damages unilaterally across all city agencies. We're not looking forward to it."
To reach his goal of deporting millions of undocumented immigrants, Trump would likely need the help of local law enforcement agencies across the country.
"If Trump is trying to do this without seeking more money from Congress and without creating his own federal deportation force, then he's gotta rely upon the voluntary enlistments of local jurisdictions in order to do that," said the ACLU's Blazer.
Melissa Keaney, staff attorney with the National Immigration Law Center, said the administration's new policy is likely rooted in a section of the Immigration and Nationality Act that allows DHS to deputize local police to do the work of immigration agents. Thirty-two law enforcement agencies in 16 states have adopted such agreements.
In some departments, this led to a practice of applying immigration law while on patrol, which was "problematic in terms of racial profiling," Keaney said.
Keaney said the most egregious example was former Arizona Sheriff Joe Arpaio in Maricopa County, who ordered deputies to check the immigration status of people they encountered while on patrol. A federal court ruled that the Maricopa County Sheriff's Office profiled and illegally detained Latinos during traffic stops.
Additionally, Keaney said, turning local police into ICE agents would take some time because of the amount of resources it takes to establish such a program and training. The federal government could try to establish programs with little supervision, but that would open them up to lawsuits.
As part of this effort to gain cooperation from local agencies, the Trump administration announced that it would resurrect the Secure Communities program, which the Department of Homeland Security had ended in 2014 following a series of lawsuits challenging the constitutionality of the practice. The program's return reflects the dramatic change in how the federal government expects local officials to enforce immigration laws.
The program, which used a national fingerprint database system, allowed federal immigration officials to detain undocumented immigrants arrested in local jurisdictions, leading to deportations of people who were not convicted of any crime. Secure Communities was canceled in the face of mounting criticism, protests from advocacy groups, and federal court rulings stating that it violated detainees' civil rights.