Philadelphia Police Officer Ian Lichterman has a tattoo on his left forearm of an eagle that looks a lot like the emblem adopted by the Nazi party during Adolf Hitler's rise to power — the only difference being that there's no swastika inside the wreath hanging from the bird's talons. Just above the wings sits the word "Fatherland."
The tattoo was little known to the public until September 2016, a few weeks after Lichterman wore a shortsleeve uniform shirt while working crowd-control duty during protests outside the Democratic National Convention. Philadelphia resident Evan Matthews snapped a photo and posted it on Facebook, and it went viral, leading the police department to open an investigation into whether Lichterman, who'd joined the force in 2000, should face any discipline.
"I am deeply offended by the tattoo and I think it is completely inappropriate for any law enforcement officer to have such a tattoo given its impact on those they are sworn to protect and serve," Mayor Jim Kenney declared in a January press release, noting in a separate statement that police departments "need to be building trust, not offering messages or displaying images that destroy trust."
Before the investigation was complete, Donald Trump was elected president. In the year since, a wave of hate speech and racist violence has terrorized those who are not white, and emboldened white supremacists have emerged from the shadows, protesting the removal of Confederate monuments while chanting slogans — "Blood and Soil!"... "You will not replace us!"... "Jews will not replace us!" — associated with Nazism.
It has become clear, if it wasn't before, that white supremacist ideology has permeated the halls of American authority — from the White House, where anti-immigrant nativists Steve Bannon, Stephen Miller, and Sebastian Gorka were hired as advisers to Trump; to the prison system, where three Florida correctional officers, found to be Ku Klux Klan members, were convicted of plotting to kill a black inmate; to the church, where a Catholic priest and part-time history teacher in Virginia was forced to resign after a parishioner discovered that he'd orchestrated at least six cross burnings during his time in the KKK; to the military, where a former Marine Corps recruiter and staff sergeant, who retired in January, became leader of the white supremacist group Vanguard America; to the fire station, where a firefighter in Ohio wrote in a Facebook comment that he'd rather save a dog than a black person because "one dog is more important than a million niggers."
"My tattoos are of my German-American heritage. You and your colleagues in the news media have done nothing but attempted to ruin my career."
Police departments, the most visible presence and most direct enforcers of government power over its citizens, have not been immune. And to many Philadelphia residents, including at least a few of the department's own officers, the investigation into Lichterman highlighted the question facing law enforcement agencies at a time when hateful dogma is challenging the bounds of free speech: What beliefs disqualify a person from working as a cop?
Lichterman says the attention on him has been unfair. "I have no swastika or Third Reich related tattoos. PERIOD," he wrote in an email declining an interview request for this story.
"My tattoos are of my German-American heritage," Lichterman said in the email. "You and your colleagues in the news media have done nothing but attempted to ruin my career, attacked my character, attacked my family, questioned my service to the citizens of Philadelphia, and that of my service to the United States of America as a United States Marine."
He referred questions to his lawyer, Timothy Strange, but Strange did not respond to repeated interview requests. Lichterman did not respond to a follow-up email with specific questions about the tattoo, about whether he subscribed to any aspects of white supremacist ideology, and about whether he was a member of any white supremacist organizations.
He did not have to answer for himself because his department already had: Earlier this year, internal affairs investigators cleared Lichterman. He remains on the job.
To most of the Philadelphia residents I spoke to, the police department's actions — or inaction — reaffirmed the mistrust that has been building for generations. It's the same mistrust that simmers in black and brown communities across the country and that fueled recent protests in St. Louis after a white former cop, Jason Stockley, who fatally shot a black man, Anthony Lamar Smith, in 2011 was acquitted of murder. Stockley, who resigned from the force in 2013, said he fired in self-defense; prosecutors accused him of planting a gun on Smith.
"This officer had his body art prior to the enactment of this directive so it was difficult to take action."
In Philadelphia, the department's official position is that the Lichterman controversy was a matter of tattoo exhibition and nothing more. "It was determined that he didn't commit any violations," said Captain Sekou Kinebrew, a department spokesman. "Officers do have First Amendment protections like anyone else. In terms of your brains or your thoughts or your ideology, is that something we want to police? As long as you're not violating public trust, it's very difficult to police."
In the weeks following the decision, police officials instituted a new policy banning tattoos that are "offensive, extremist, indecent, racist or sexist while on duty."
"This officer had his body art prior to the enactment of this directive so it was difficult to take action," Kinebrew said, acknowledging that Lichterman's eagle may have qualified as an infraction if the order had previously been in place. On September 15, three weeks after I began inquiring about the tattoo and at least seven months after the investigation ended, the department for the first time ordered Lichterman to cover it up while on duty, Kinebrew said.
But this was about more than a tattoo. A year after the investigation was sparked, the department hasn't addressed other evidence of the officer's links to white supremacists. And by ignoring that, several of his colleagues in uniform said, their department leaders reaffirmed the suspicion, long held by both black residents and some black cops, that they had no interest in confronting the strain of white supremacy coursing through America.
"The racism in this department is real," said a commanding officer with more than a decade in Philadelphia's police force, who requested that his rank not be disclosed, when asked about how the department handled the complaints. "I'm seeing this department go backwards."
Sometimes it's easy for a police department to call out an officer's racist behavior. Sometimes it's too obvious to ignore.
Over the last three years, at least 24 officers — in California, Florida, Missouri, Georgia, and Alabama – have been fired or forced to resign after they were caught exchanging racist texts, emails, or Facebook messages. Another officer, in South Carolina, was fired after he scrawled a racist slur on a black person's house last year. In September, a police department in Gainesville, Florida, opened an investigation into an officer who'd made anti-Semitic comments on Facebook. In August, a police chief in Colbert, Oklahoma, resigned after local reporters discovered that he was listed as an administrator on websites selling neo-Nazi merchandise. Since 2009, at least four officers, in Louisiana and Florida, were kicked out of their departments when local officials discovered evidence that they were members of the Ku Klux Klan. One of those officers, from Lake Arthur, Louisiana, initially claimed he had been working undercover at a Klan gathering in 2014, then changed his answer to "standing at a rally against illegal immigration," then eventually admitted that he had indeed been a member of the group's Loyal White Knights chapter.
Federal authorities have been concerned about white supremacists infiltrating police departments since at least 2006, when an internal FBI memo stated that investigations into right-wing extremist groups "often" found members who had "active links to law enforcement officers." The memo, which leaked in late 2016, discussed the possibility of a strategic effort by racist hate groups to embed "ghost skins," a term used to describe "those who avoid overt displays of their beliefs to blend into society and covertly advance white supremacist causes." But just as troubling, and perhaps just as hard to catch, is the threat of prospective officers "sympathetic to white supremacist causes" pursuing law enforcement careers for more a straightforward reason: The job simply appeals to them.
"Police departments don't want to acknowledge that they have members in these groups, but the fact is that sometimes their policies and practices sort of provide a place for those individuals who favor those white supremacist beliefs," said Ron Hampton, a retired officer from Washington, DC, who now works on the National Police Accountability Project. "It's not at all unusual."
As times have changed and social taboos have shifted, so have the tokens of American racism. Klan robes and swastikas have been replaced by more obscure references, such as "14/88," various Nordic and Celtic symbols, Pepe the Frog, and less obvious Nazi party insignias. The rhetoric has adjusted accordingly, adopting language that focuses on white victimhood and ancestral pride. Racists have almost always denied that they are racist, and today many of them hide behind labels that deem them "alt-right" or "nationalist."
It's likely impossible to ever know how many cops are members of white supremacist organizations or subscribe to that ideology.
In recent months, as the Trump presidency brought a fresh spotlight to the current generation of white supremacists, many of these new dog-whistles have entered public consciousness. According to seven active and retired officers, though, police departments have been slow — if not unwilling — to purge white supremacists from their ranks, hesitant to challenge the plausible deniability maintained by those who don't don a Klan robe or get caught using the n-word.
"They can't fire you for what's in your head if you don't ever tell them what's in your head," said Hampton. "Even if other officers have a problem with it, it ends up being one officer's word against another. Members of law enforcement have been in these groups for a long time, but it's sort of gone underground."
Because of this, Hampton and several active officers said, it's likely impossible to ever know how many cops are members of white supremacist organizations or subscribe to that ideology.
One Baltimore police officer recalled a recent colleague with a small neck tattoo of two lightning bolts, a not-so-veiled reference to the Nazi SS unit. "Everyone knew what he was about," the officer said. When his bosses learned that he was a member of a motorcycle group accused of promoting white supremacist beliefs, they moved him to units where his interaction with the public would be limited — tracking down illegal guns and working wiretaps, the officer said, noting that the colleague stayed with the department until retirement.
Evidence can sometimes be even more ambiguous, not so much proof of ideology but mere reason for suspicion. Lorne Ahrens, who was among the five Dallas officers killed by an anti-police extremist in 2016, had a small tattoo on his finger of an Iron Cross, an arm tattoo of a Crusader's Shield, and a Facebook page cover photo of Thor's Hammer — all iconography associated, though not exclusively, with white supremacist groups. (Lawyers representing Ahrens' family didn't respond to an email inquiring about the symbols.)
Departments have significant incentive to identify racist cops. In 2015, prosecutors in San Francisco dropped at least 13 cases — and opened a review into around 3,000 more — tied to 14 officers who had exchanged racist texts. In Washington, DC, this summer, a judge dismissed at least one case involving an officer who was photographed wearing a shirt bearing a pre-Christian cross adopted by some racist organizations.
While many police departments are quick to assign criminal liability to young black men who wear certain colors, hang out with certain people, or have any other suspected ties to street gangs, they have given far more leeway to cops with proven ties to racist groups. In 2013, two Anniston, Alabama, officers attended the national conference of the League of the South, which the Southern Poverty Law Center (SPLC) describes as "a neo-Confederate group that advocates for a second Southern secession and a society dominated by 'European Americans.'" One of the officers gave a speech declaring that "kith and kin comes before illegal national mandates."
When the SPLC, which acquired video footage of the event, informed Anniston city officials, they claimed that their hands were tied by constitutional freedoms. "We could not terminate an employee solely on his or her membership in a legal, lawfully formed, civic club or organization," then-city manager Brian Johnson said. "I do not believe that someone could be terminated solely based on their private sector membership in a properly formed legal organization — as hateful as the KKK might be."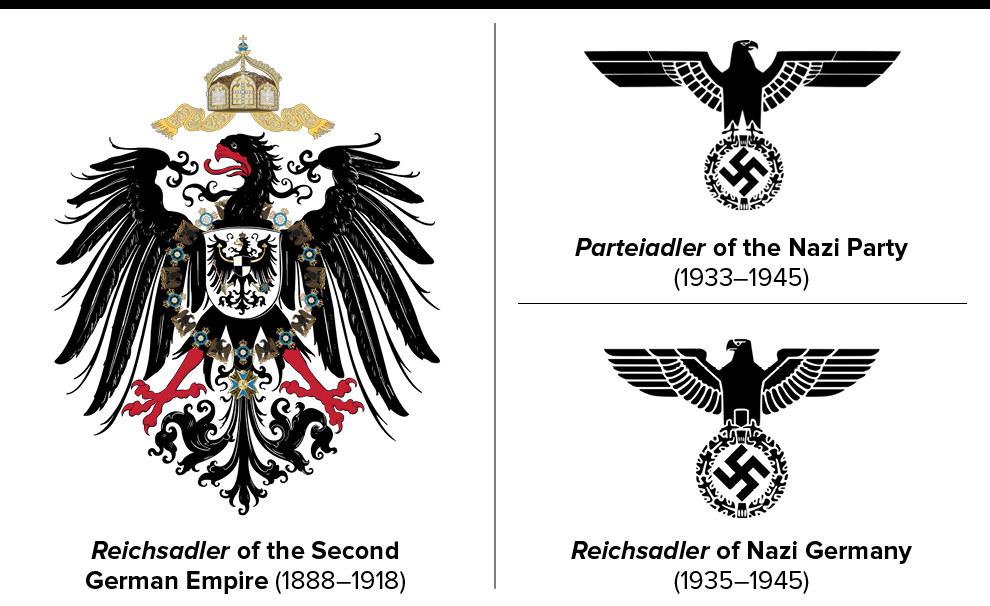 "I recommend you study the history of Germany prior to the second world war," Lichterman wrote in his email. "These tattoos that I have on my arm date back to the times of Germania, the Roman Empire, and that of Christianity."

Indeed, the black eagle has been a Germanic symbol for centuries, appearing on regional coats of arms as far back as 500 CE and standing as a national emblem since the mid-1800s. From the symbol's inception and through centuries of variation, the eagle was taller than it was wide, with a rounded head and messy, splayed feathers, as if the bird were drying itself off after a bath. The version on Lichterman's arm — wider than it is tall, with a flat head and sleek wings — didn't appear in popular German culture until the Nazi party adopted it as its emblem in the early 1930s.
Lichterman is correct in saying that his tattoo isn't precisely the same as the symbol used by the Third Reich. In 1935, Hitler slightly altered the Nazi party eagle to create a new national emblem for Nazi Germany: While the Nazi party eagle has its head turned to the right, the eagle that represented the Third Reich has its head turned to the left. Every official national symbol since the end of World War II has featured the old, splayed-feather model, cementing the sleek eagle's historical link to Germany's Nazi years.
As the controversy unfolded, a Philadelphia anti-fascist group published information from Lichterman's social media accounts that they believed proved further Nazi ties, including photos of him dressed as a Nazi soldier during a World War II reenactment and of the Iron Cross tattoo on his elbow. It wasn't the first time the local antifa network had heard of Lichterman, said "Warren Red," a researcher for One People's Project, an organization loosely affiliated with antifa, who declined to give his real name. In 2010, when One People's Project hacked into a series of white supremacist websites, Lichterman's name, home address, and email were listed in the database of UK-based skinhead group Blood & Honour. The list, which I've reviewed, has addresses from all over the world, including at least 60 from the US, of people who either signed up or were signed up for membership. One of those listed, Bart Alsbrook, matches the name of the Colbert, Oklahoma, police chief who resigned in August. In a statement to the Tulsa World, Alsbrook denied supporting racist ideology and claimed that white supremacists had "hijacked" his name in an effort to make him look bad.
Around the time of the hack, Warren Red, who is based in Philadelphia, looked up the names on the list with Pennsylvania addresses and discovered that one of them, Ian Lichterman, was that of a police officer — the name had appeared in a short news blurb about an award he'd won for his patrol work. The local antifa group published this information in a blog post on its website, but "nothing became of it," Red said — until the tattoo controversy drew local news outlets to antifa's updated post on the officer.
"When you're off-duty and not acting on behalf of the department and your conduct isn't illegal, it does pose a bit of a challenge in whether we can intervene."
Captain Kinebrew, the Philadelphia police spokesman, said that he hadn't heard about Lichterman's possible association with Blood & Honour until I asked him about it in late August. But even if Lichterman was a member, he added, it would have had little to no bearing on the internal investigation, which focused on the tattoo.
"When you're off-duty and not acting on behalf of the department and your conduct isn't illegal, it does pose a bit of a challenge in whether we can intervene and make restrictions on that type of stuff," he said. "If you're asking if we're proactively probing personal lives without cause — no, we're not going to go out of our way to look into how a cop lives."
Doing so, Kinebrew suggested, "really borders on infringement of people's constitutional rights. Would we disqualify any religion?"
Department officials note that Lichterman has not been found to have committed any misconduct over the course of his career. Federal court records show that he has not been a defendant in any civil rights lawsuits. Kinebrew said that, to his knowledge, no evidence exists that he'd ever expressed any racial bias on the job, and because of that "it's not as easy on our end to say just fire him. We have collective bargaining contracts we have to abide by."
And the union has defended Lichterman from the start. Immediately after the tattoo photo emerged, John McNesby, president of Philadelphia's Fraternal Order of Police Lodge 5, told the Philadelphia Inquirer in a text message, "I've seen it. It's an Eagle. Not a big deal…. I see people with panthers on their arm. Doesn't mean they are black panthers. People with crosses on arms doesn't mean they dislike any other religion." At a union event almost exactly a year later, McNesby, who didn't respond to interview requests, declared that he believed it was Black Lives Matter protesters who were the "racist hate groups determined to instigate violence," adding that they were "a pack of rabid animals."
Even the mayor, initially the loudest critic of the tattoo, supports the department's decision, stating in an email that "the policy that was developed in the wake of this evidence is likely the strongest action the city can take without violating the First Amendment."
But while Philadelphia officials, like their counterparts in Anniston and elsewhere, have repeatedly cited free speech protections as the reason Lichterman faced no discipline, legal experts said that this line of argument ignored the wide latitude government has to protect its institutions.
"If you are a public employee and your speech when you are not doing your job is going to affect how you do your job and how your employer functions, your employer may be able to fire you or limit that speech," said Mary Catherine Roper, deputy legal director for the ACLU of Pennsylvania. "It's really going to be a question of whether the public is going to associate that tattoo with his job as a public servant — whether it's going to interfere with his ability to constructively interact with people in minority communities."
A police chief in Roswell, Georgia, used this reasoning last year to fire a sergeant who was flying a Confederate flag outside of her house. The sergeant then sued the department for violating her freedom of speech, a case that is still pending.
Unlike how the Baltimore Police Department handled the officer with the lightning bolt tattoos, Philadelphia police officials didn't change Lichterman's role. He continues to patrol the Second District, a sprawling collection of diverse working-class neighborhoods in the northeastern corner of the city. He's a member of the district's "Five Squad," meaning his assignments vary based on the "specific problems" in the district on any given day. It's a position he earned through his seniority, Kinebrew said, "not a squad they give to people just out of the academy."
A majority of people in the southern half of the Second District are black. If any were going to give Lichterman the benefit of the doubt, Jahi Harrell, a 40-year-old construction worker, would be a likely candidate.

Harrell's foreman has a swastika tattooed on the back of his bald head, but Harrell didn't think the man to be racist. He'd gotten the tattoo when he was young, Harrell said, and while he hadn't gotten it removed, he'd expressed regret for the beliefs he'd had as a younger man.
But, unlike Lichterman, Harrell's foreman wasn't wielding the power of the state — and as far as Harrell knew, Lichterman hadn't expressed any regret.
"You see that tattoo on a cop, you gon' think he's racist. Even if he's really not."
"You see that tattoo on a cop, you gon' think he's racist," Harrell said, as he returned from work one afternoon. "Even if he's really not. You see that, you gon' think he's coming after me because I'm black or Latino or whatever. How can you trust a police department when they allow that?"
More than a dozen black residents in Lichterman's district expressed similar sentiments. Most had heard about the tattoo, and most were shocked that the officer continued to patrol their neighborhood — though some admitted they wouldn't have known the meaning of the eagle symbol had they not seen the stories about Lichterman in the news or on social media.
Yves Delva, a 30-year-old mental health technician, said that he believed the eagle tattoo contradicted the officer's oath to protect and serve the community. "Pops" Amin, a 36-year-old welder who declined to give his real first name, said that by not disciplining the officer, the department had effectively supported his belief system. Sharnell Workman, a 40-year-old cosmetologist, said that this issue gave people in her neighborhood only more reason to fear police.
"I'm worried for those that would come across him," she said. "It would be scary for me."
Workman and others considered the department's handling of the internal investigation disrespectful to the district's residents. It wasn't just that they kept him on the force — some residents were okay with that upon hearing that he has no record of brutality. It was that, the way they saw it, the department failed to acknowledge the community's concerns.
"People don't think that their voices are heard," Workman said. "The police and everybody else in power don't care. This is just another example of that."
Several residents noted that department officials failed to explain how exactly they reached the conclusion that a cop accused of being a Nazi sympathizer held no racial biases. Some pointed out that nobody — not the mayor, not the police chief, not the union boss, not even Lichterman's own lawyer — has actually said the simple words people needed to hear: Officer Ian Lichterman is not a racist, not a Nazi, not a member of any white supremacist group.
When I asked Captain Kinebrew, who is black, if he believed that Lichterman held white supremacist beliefs, he replied that he'd never met the guy. "I might not be the best person to answer that," he said. "I think that would be a question better answered by the officer. It might be touchy for me to go down that road. I want to be careful not to speak for him. It wouldn't be fair for me to answer on a personal level. I don't want to make that presumption about anybody. It could be a heritage thing. I still want to hear the other side of it."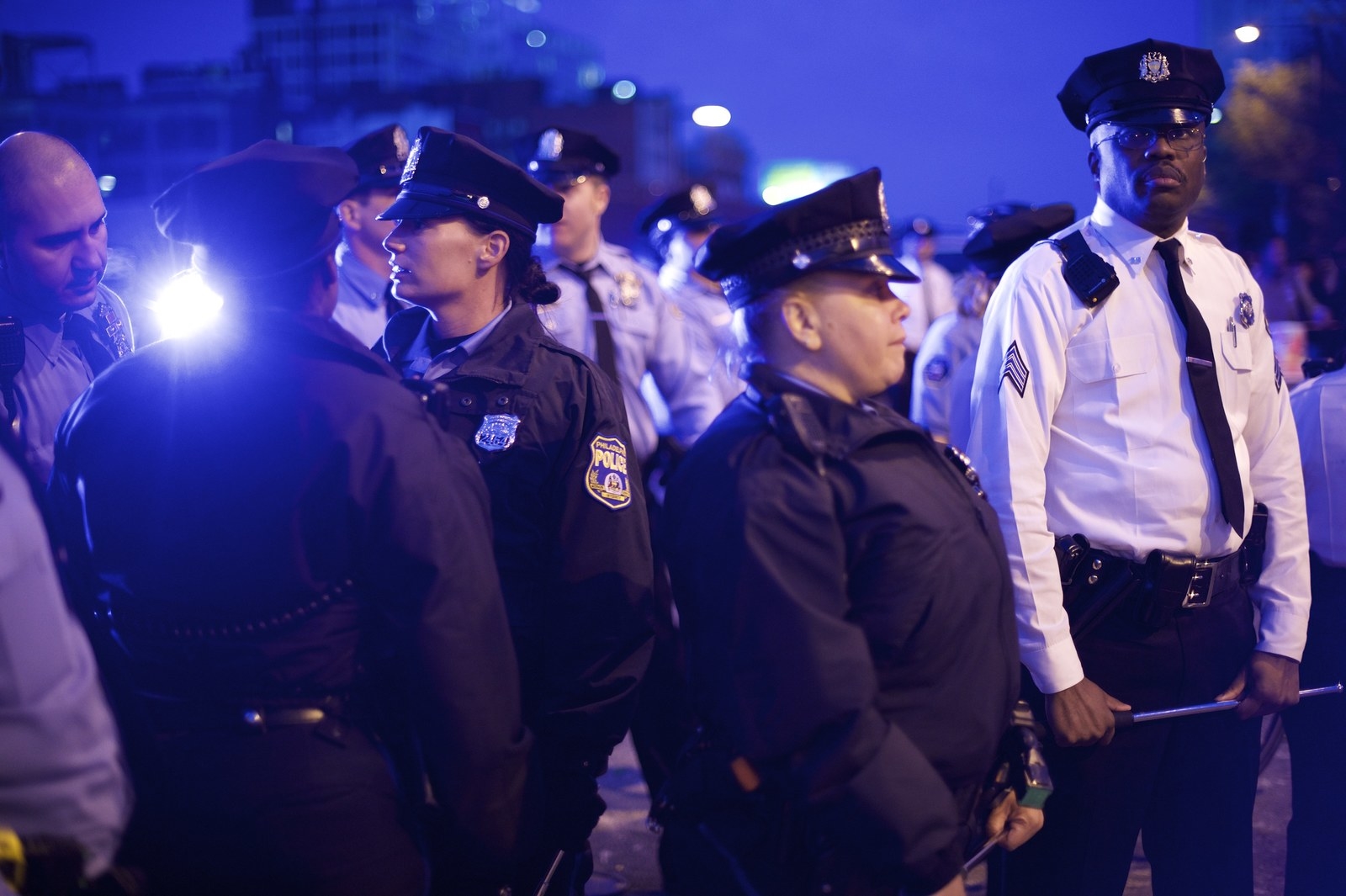 Four Philadelphia officers agreed to speak with me on the record on the condition of anonymity. I met with one of them at a park on the west side of town on a warm September afternoon. A longtime veteran of the force, the lieutenant said that he was willing to discuss the Lichterman investigation because, like other officers, he was unhappy with how it played out.

The lieutenant, who is black, grew up in a family that "hated" cops, he said. A loved one had been killed in mysterious circumstances by an officer who faced no repercussion, and it was this injustice that drove the lieutenant to pursue a career in law enforcement. Over his years in the department, he'd seen much progress in how officers interacted with black residents, he said, especially in recent years.
"It's like every step we take forward, something like this happens and we take more steps back."
"But it's like every step we take forward, something like this happens and we take more steps back," he said. "When you see things like that it makes my job 10 times harder. I can understand why a civilian, especially a minority, might say, 'Why should I trust these guys when they're okay with this?'"
He blamed a "flawed" screening process for allowing Lichterman on the force in the first place but believed it would be unfair "to take away this guy's livelihood at this point" because of the department's own mistakes. A sanction for "conduct unbecoming of an officer" would have been just, he said — or at least public recognition that the department took the issue seriously.
"We owe that to the people," he said. "But nobody said shit."
Like most everybody else in the city, the lieutenant learned about the tattoo in the newspapers and learned about the result of the investigation the same way. He and his colleagues talked about it, he said, and "a lot" of them are just as upset as he is.
"It undermines the rest of us and takes attention away from the good things we do," he said.
Yet nothing about this situation surprised him. If the decision makers didn't seem to recognize the gravity of the allegations against Lichterman, he said it was because of a culture deeply embedded in a department that has historically been "white male top-heavy in every rank" — a culture that persists even under the current black police chief and an increasingly diverse command staff. The lieutenant wagered that if he was found to associate with the New Black Panthers, which has a heavy presence in Philadelphia, there's "no way in hell I wouldn't be disciplined."
Two other black officers agreed. One of them, the commanding officer who asked that his rank not be disclosed, said that the tolerance for racism he'd seen among many of his colleagues led him to "question every day" whether he wanted to stay on the job. "You gotta push through it because the department will certainly retaliate against you if you speak up about it," he said.
"How do you look at a person and tell what their biases are?"
This problem is not unique to Philadelphia. Within the last four years, at least 21 black cops across six states have filed racial discrimination lawsuits against their departments, claiming that they were subject to racist slurs from colleagues, were passed over for promotions, and had their complaints dismissed by bosses. Last year, an officer in Nashville was suspended after he posted a photo of Black Panther leaders Bobby Seale and Huey Newton as his Facebook profile picture.
The lieutenant had seen some of that over his years in the department. He didn't know how to fix it. Before you can remove racists from the police force, you have to identify them, and he wasn't sure that was even possible most of the time.
"How do you look at a person and tell what their biases are?" he pondered.
He couldn't help but think about the times he'd stood alongside his fellow cops during Black Lives Matter protests, face-to-face with riled-up activists. More than once, he remembered, a black protester would look at the black lieutenant and the white officer next to him "and then tell me, 'He thinks you're a nigger too!'"
"It makes you fuckin' wonder," the lieutenant said. "It makes you fuckin' wonder how many of them really do feel that way." ●