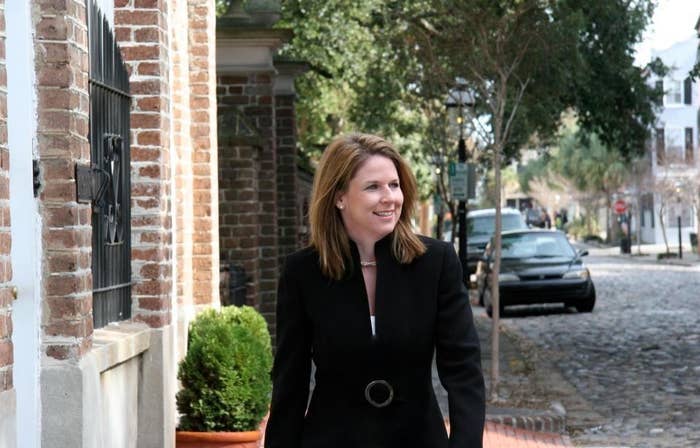 The lead prosecutor on two of the most infamous racially tinged killings in recent memory, Scarlett Wilson, has a lot of work ahead of her.
Less than two weeks after the 9th Circuit Solicitor brought murder charges against a white police officer who shot an unarmed black man, Wilson is now set to prosecute the white man suspected of killing nine black people in a Charleston, South Carolina, church. Wilson announced the state would be bringing murder charges against Dylann Roof on Thursday, with more charges potentially to come.
Following a manhunt that began on Wednesday night, authorities arrested Roof in North Carolina on Thursday afternoon, then extradited him back to South Carolina that evening. Roof, whose Facebook profile features him wearing the flags of two white rule-era African states, allegedly opened fire on a group of parishioners inside the historic Emanuel African Methodist Episcopal Church on Wednesday night, reportedly killing nine people. Charleston Police Chief Greg Mullen told reporters Thursday that "there is absolutely no doubt in my mind this is a hate crime."
The case now falls to Wilson, who is tasked with bringing Roof before a grand jury in pursuit of an indictment. Which means that Wilson, a Republican distrusted by many in the black community of Democrat-heavy Charleston, now oversees two of the most high-profile, race-related prosecutions in America. A Department of Justice official told BuzzFeed News that while the federal government could request to take over prosecution on charges of violating the parishioners' civil rights, it is unlikely to in this case. However, the Department of Justice could also pursue a separate case, possibly on federal hate crimes or civil rights charges.
"The federal government certainly has jurisdiction here under both the FACE Act and the Shephard-Byrd hate crimes law," Samuel Bagenstos, a professor at the University of Michigan Law School, told BuzzFeed News (the FACE Act is a federal law that bars interfering with people exercising their First Amendment rights at a place of worship). "DOJ can work with the state prosecutors or just monitor what they're doing...Whether or not the state prosecutors get a conviction, DOJ can pursue its own case, but I'd guess they won't if the state gets a sufficient sentence."
Wilson did not respond to interview requests for this story by press time.
"Right now this is a watershed moment for her," Pastor Thomas Dixon, head of local community group, The Coalition: People United To Take Back Our Community, told BuzzFeed News. "It'll either make her or break her. She's not in good standing with the black community."
Wilson, a former federal prosecutor, rose from chief deputy solicitor to the 9th Circuit's top prosecutor job in 2007, following the death of the previous solicitor, Ralph Hoisington, then won re-election the following year. She is the first woman to hold that office in the 9th Circuit, which oversees Charleston and Berkeley counties. Wilson gained a reputation as "a very zealous prosecutor," said Tim Kulp, a former prosecutor who now works as a criminal defense attorney in Charleston. "She's very tenacious in the courtroom."
Kulp, who has practiced law in the area since 1980, said that Wilson was more hands-on than most of her predecessors.
"Some solicitors are more taken to assuming the role of manager or executive than trial prosecutor," Kulp told BuzzFeed News. "But in Scarlett's case, I think she considers the courtroom an equal part of her job as the administrative aspects."
But, according to one recent claim, Wilson's success in the courtroom has been at least in part thanks to a "pattern of misconduct."
In 2014, lawyer Desa Ballard filed a complaint against Wilson for allegedly fostering "an office environment with the attitude 'we do what we can get away with.'" The suit accused Wilson's office of withholding evidence from defense attorneys in at least two cases. Wilson denied the accusations. A judge dismissed the complaint.
To Dixon, minority residents seem to take the brunt of Wilson's tenacity.
"She goes in on black folks and on Hispanic folks," Dixon said. "It's like one rule book was made for them, but when it comes to the white population there's a whole different set of rules."
Earlier this year, when video emerged of North Charleston police officer Michel Slager shooting Walter Scott in the back as he ran away, Dixon and other leaders were skeptical of whether Wilson would push hard enough in pursuit of charges.
"Her reputation has always been to back the police department," Elder James Johnson, president of the local National Action Network branch, told BuzzFeed News. "The history led us to believe not to trust her."
Johnson, Dixon, and other activists called for a special prosecutor to handle the case, particularly in light of locals prosecutors' failed efforts to win indictments against officers who killed unarmed black men in Ferguson, Missouri, and Staten Island, New York.
But the grand jury in Charleston did choose to indict Slager on murder charges on June 8.
Johnson called the decision to indict "marvelous."
Less than two weeks later, Wilson's office again finds itself at the center of a racially charged tragedy. Within hours of the shooting, police named Dylann Roof as the suspect and called the murders a hate crime. People who said they went to school with Roof told anecdotes about racist comments he often made.
While Dixon and Johnson remain skeptical about whether Wilson will be able to win a conviction against Officer Slager, they both said that they felt comfortable with the amount of evidence she seemed to have in the case against Roof.
"I'm fine with her on this case," Johnson said. "It's almost a clear-cut, shut-the-book case. But the pressure will be on her."
Winning convictions against Slager and Roof would be a big step toward earning trust among many black residents, Johnson and Dixon agreed. But it might not be much more than that.
"The community would take that into consideration," Dixon said. "But we're a little bit harder to convince than that. We need to see sustained performance."