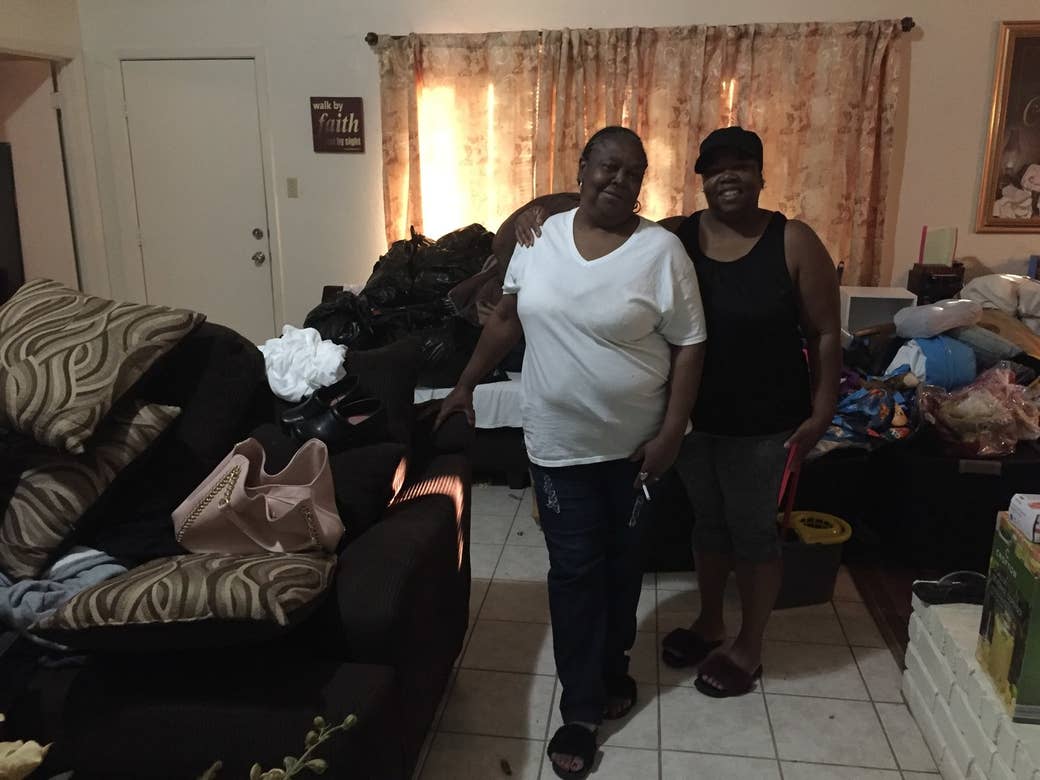 Rosalee Stewart lived in New Orleans when Hurricane Katrina struck 12 years ago, and though she was born and raised in the Lower 9th Ward and left three generations' worth of possessions when she fled, not once did she return home to view the damage.

"I ain't never going back," she said. "Never. I don't wanna go back. It's not my New Orleans no more. It'll never be my New Orleans no more. It'll never be our home no more."
Her home was in Houston now, a one-story three-bedroom brick house inundated with more than two feet of water when Hurricane Harvey brought its unprecedented downpour. Like the estimated 250,000 others who fled New Orleans for Houston in Katrina's wake, she found refuge and stability in this city only to get knocked back into the frustration and uncertainty she thought she'd left behind for good. On Friday, seven days after the rain began and three days after it finally stopped, she rocked back and forth on a plush recliner that was still moist, and wondered where her next home would be. She wasn't staying in this house; she wasn't staying in Houston.
"I ain't waiting for another one," she said, shaking her head, her voice rising, her eyes scanning the living room for any sign of mold. "I've gotta get the hell outta here."
Everyone in her family felt that way — her three thirtysomething daughters moving damp boxes off the drying tiled floor, her two paralyzed sons in their mid-forties lying in their bedroom down the hall, her college-age granddaughter setting up food at the dining table, her son-in-law sitting across from her on a brick ledge at the foot of the fireplace.
Maybe they would go to Dallas, where a few of their relatives lived and hurricanes rarely came, or somewhere in Arkansas, where they had lived for several months during their nomadic journey from New Orleans to Houston.
"It was cold as hell but we ain't gotta worry 'bout that damn water," Rosalee said.
"You can drink coffee and tea all day, warm up, but you can't do nothing 'bout that water," her son-in-law Raymond Odom said.
"I don't wanna see no more water, I know that," Rosalee said. "I don't wanna see no more goddamn water. I don't even wanna drink water."
Now that the rain was gone, most of the streets were clear, and the shock of the devastation was beginning to wear off, they turned to the too-familiar process of rebuilding their lives. They sorted through possessions and decided what to keep and what was ruined by the flood. Rosalee and her youngest daughter, Anna, piled their usable clothes, linens, and appliances on a couch; the unsalvageable items went into garbage bags and cardboard boxes, which formed a mound on the curb. Odom and her oldest daughter, Deljuana, had done the same at their house 20 miles north in Cypress.
The only one in the family who wasn't yet able to move forward was Rosalee's daughter LaTanya. Her apartment complex, just two miles away, was still surrounded by a moat of deep water a week after she fled. She had no idea how badly her first-floor apartment was damaged, nor when the waters would recede enough for her to find out.
That Friday afternoon, she left her mother's house to check if police had opened the road leading to her home. It was still closed. She walked past the police cars blocking the intersection, over a slight hill, and down where the road dipped into what resembled a river, like a boat ramp in the middle of the suburbs. A volunteer offering bottled water to worried residents told her that if she came back the following morning, she might be able to catch a ride home on a boat.
And so on Saturday morning, she returned, anxious, her mind racing through the possibilities of what lay on the other side of the water.
"I just want to see it," she said, her voice low, hesitant. "That's what I want right now — just to see."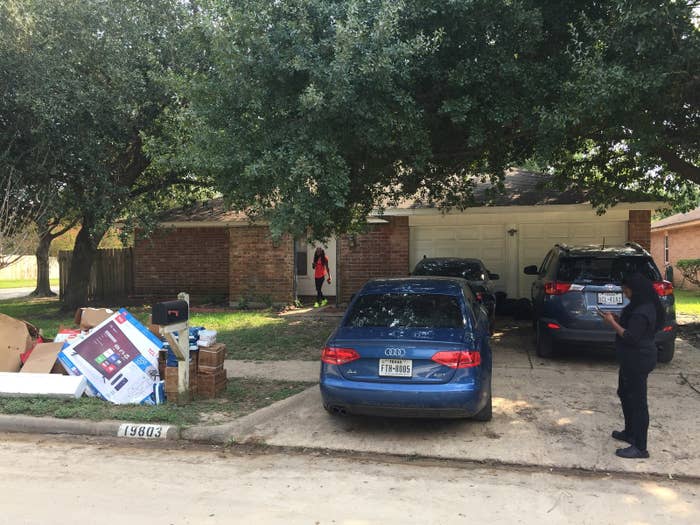 LaTanya had left her apartment for her mother's house a few hours before Harvey hit. If she'd learned any lesson from Katrina, it was to stick close to her family. During the chaotic aftermath of that storm, she boarded a different evacuation bus and ended up in a different shelter in a different city, with a dead phone and no way of knowing where her loved ones were. Several painstaking days passed before she was able to get in touch with them.

"The most important thing for us was to stay together," she said. "That was the only thing on my mind."
On her way out the door, as Harvey's storm clouds approached, she packed a backpack with medication, toiletries, a first aid kit, and her wallet and keys, then put her small dog in a zip-up carrying case. She assumed she'd be back in a couple of days. The family thought the storm wouldn't be so bad because the city hadn't called for evacuations, not even for the elderly and disabled.
Gathered in Rosalee's living room that night watching the news, they were calm and impressed with the steps city officials were taking to prepare for the storm. They watched Mayor Sylvester Turner explain the plan in a news conference and reviewed the list of possible shelters available, which included a high school less than a mile away from the house. To their minds, it was a stark contrast from the lack of communication they'd experienced during Katrina, when then-mayor Ray Nagin seemed more panicked than prepared and nobody in the city seemed to know what to do.
"They just said a hurricane's coming and it's a Category 5 and you can leave or you can stay," Rosalee said. "It felt like every man for himself."
The Stewarts lived in a low-lying area of New Orleans and decided to leave the day before the hurricane hit to make sure LaTanya's older brother Carl, paralyzed from the neck down after he was shot in the head three months earlier, would be in a safe place if the neighborhood was hit hard. Her other older brother, Cedric, helped carry Carl into the truck that ferried them to the evacuation buses. They packed light. At the time, they didn't know they would never again see the house they had grown up in.
Through three nights of Harvey's downpour, they remained unworried. The kitchen was stocked with canned food and bottled water. Cars still easily drove down Rosalee's street. Neighbors who'd lived on the block for decades assured them that the area was safe. Several storms had flooded Houston over the years but the waters never reached their homes. The family had no reason to think this one would be different until Monday, when floodwaters from the relentless rain began to lap at the wheelchair ramp at the front door and seep into the garage.
Anna called 911, explaining that she had two paralyzed brothers. A firefighter arrived, inspected the house, and told the family they were safer staying in place than evacuating. He gave them his personal phone number and said that he lived nearby and could return if things got worse.
The rain kept up and the waters rose even faster. They went to sleep with nerves on edge, and when they awoke on Tuesday, several inches of water blanketed the living room and flowed through the hallways, destroying medical equipment, including Carl's feeding tube system. It was time to leave. Anna again called 911. The dispatcher said they would send rescuers when they could. But by then countless others were making the same call, and emergency responders were overwhelmed with rescue requests and short on boats and high-water vehicles, four Houston police officers told BuzzFeed News. Hours passed. By afternoon, the water was ankle deep and still rising. Anna called the firefighter. He arrived in his personal Jeep, which only had seating for two more people.
Rosalee joined Carl, whose situation was most urgent, in the truck, and departed for the nearest hospital. The water was still rising quickly in the neighborhood and, though nobody mentioned it out loud, it was becoming increasingly clear that by the time the firefighter dropped the two off, the road would likely be too flooded for the Jeep to return.
The scenario they dreaded had become a reality: The family was once again splitting up in the midst of a disaster.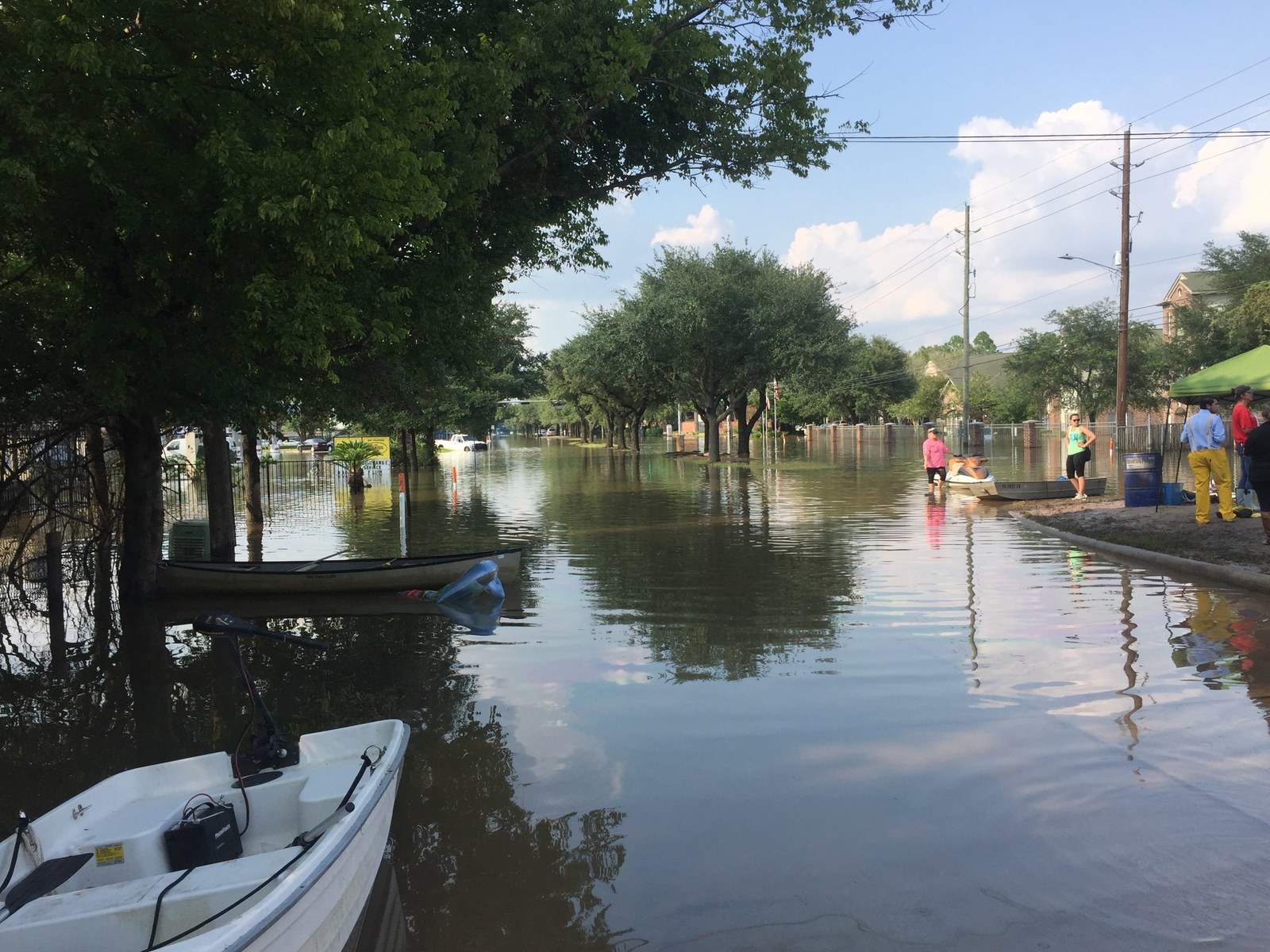 On Saturday morning eight days after the storm hit, with the sky clear and the sun shining, LaTanya waited for a boat. She saw one easing into the water but it was occupied with several people who hadn't arrived to volunteer but rather had their own problems to take care of, bound for their own homes.

"Where do we sign up for a boat?" she asked a woman standing near the edge of the water.
"I heard there are no boats coming today," the woman replied glumly. LaTanya's heart sank.
Several other residents hoping to get to their homes stood beside her, staring at the water, silently taking in the situation. All around them, the city was recovering. Highways were back to being jammed with the usual Houston traffic. Restaurants were open. The Astros were playing in the ballpark downtown that evening. Day laborers were cutting out damaged drywall in wealthy neighborhoods. On so many blocks, curbs were lined with discarded furniture, mattresses, televisions, and rolled-up carpeting, and fans and humidifiers were drying emptied-out homes. Those who'd already assessed the damage to their property were filing claims with insurance agencies and FEMA. The army of volunteers that converged onto Houston days ago had taken its boats and tall-wheeled trucks to the more recently ravaged places southeast of the city.
But LaTanya's street looked just as it did earlier in the week, when more than 70% of the city was covered in floodwater.
The road that led to her apartment, located just below a reservoir, was engulfed for two miles ahead. In recent days, the water level in the neighborhood fluctuated as the city made releases from the swollen reservoir. A drowned white truck at a gas station and the yellow marquis from a Pennzoil up the street were the markers residents used to measure the flood's movement.
From Thursday to Friday, it had risen by about a foot. By Saturday morning, though, it had dropped by nearly two feet.
"It's down to that truck's grill now," LaTanya pointed out.
She looked toward her apartment complex and spotted a man wading through waist-high water, pushing a floating air mattress that carried a few bags of belongings.
Tomorrow the water could be higher. The day after that, who knew? She'd waited long enough. Amid the serene sounds of birds chirping and water splashing, she took a deep breath, looked down at her calf-high rain boots, and stepped into the water.
With the rain still falling and water still rising in their mother's house on Tuesday afternoon, LaTanya and Anna got a small plastic raft from the garage and set it in the pool that had formed in the front yard. As they loaded their brother Cedric on it, together carrying him on his wheelchair, they noticed that his hands were shaking. He had epilepsy and became paralyzed from the waist down after hitting his head on the ground during a seizure a few years ago.

His seizures came in moments of stress. LaTanya tried to calm him. Among relatives she had a reputation for her even keel, a steady hand and mind that served her well in her job as a caretaker for the elderly and disabled. Anna, a strong-willed and charming bartender beloved by regulars at the restaurant where she worked, guided her 3-year-old niece into the raft, corralled her sister's dog into the carrying case, and placed her belongings into a garbage bag, along with bottled water and crackers. Their 22-year-old nephew joined Anna in the water behind the raft, while LaTanya sat at the front making sure their brother and niece were secure.
The high school that was supposed to serve as a shelter had flooded and closed, so Anna pushed her family's raft through the neighborhood as rain fell, looking for two-story houses where they could take shelter. The water was now four feet deep, reaching her chest. She spotted a woman in a second-floor window and shouted to her. "But she acted like she didn't hear me," Anna said. A block later, she called out to a man standing in the doorway of a two-story house who responded that the water was unlikely to rise much higher and there was no need for them to seek shelter.
Perhaps, she thought, the neighbors simply didn't want to take in such a large group of evacuees. But another reason crossed her mind: they were white and her family is black. "I don't want to believe it's because of the color of our skin," she said. "I like to believe in the best in people."
By then, the rain had stopped and the clouds had begun to clear. For the first time in days, the sun shined over Houston. Yet the water remained.
She pushed the raft further down the street, toward what she hoped was higher ground, and eventually reached the home of a couple who took them in and helped carry Cedric up the stairs. Soaking wet, Anna and LaTanya stared out the window at the water that trapped them.
Within an hour of the family's arrival, neighbors on both sides of the house were evacuating on boats. The couple was considering evacuating, too, concerned that they could be stranded indefinitely, not knowing how many rescue boats and trucks were coming their way, or how much higher the water would rise. Cedric had not stopped shaking. He was scared, he told his sisters, and they feared what would happen if he was struck by a seizure. "So much water," he told them, his face frozen in disbelief.
Anna went into the bathroom to cry and compose herself, then went outside to look for help. She waded through the water to another block of empty homes until she saw a beige Humvee rolling toward her. She waved it down and led the National Guardsmen to the house where her family was holed up. The vehicle only had room for Cedric, LaTanya, and their niece. A guardsman pointed the others to a staging area within walking distance, at a strip mall less than half a mile away. The sisters hugged, and Anna and their nephew, along with LaTanya's dog, began to make their way through the water.
"I tried not to think about what might happen to them," LaTanya said. "I was just trying to focus on taking care of my brother."
The Humvee took the trio up the road, to an intersection on higher ground where an airboat was shuttling evacuees. To make it out of the neighborhood, the vessel had to cross over the powerful current of an overflowing levee. The boat's driver, one of many volunteers taking part in the rescue effort, revved the engine to avoid being swallowed by the waves, and the boat caught air, nearly capsizing, as it turned the corner past the levee. But they made it out, and an hour and a bus ride later, LaTanya's group was reunited with Rosalee's at the hospital.
It was dark now, and the family waited to hear from Anna.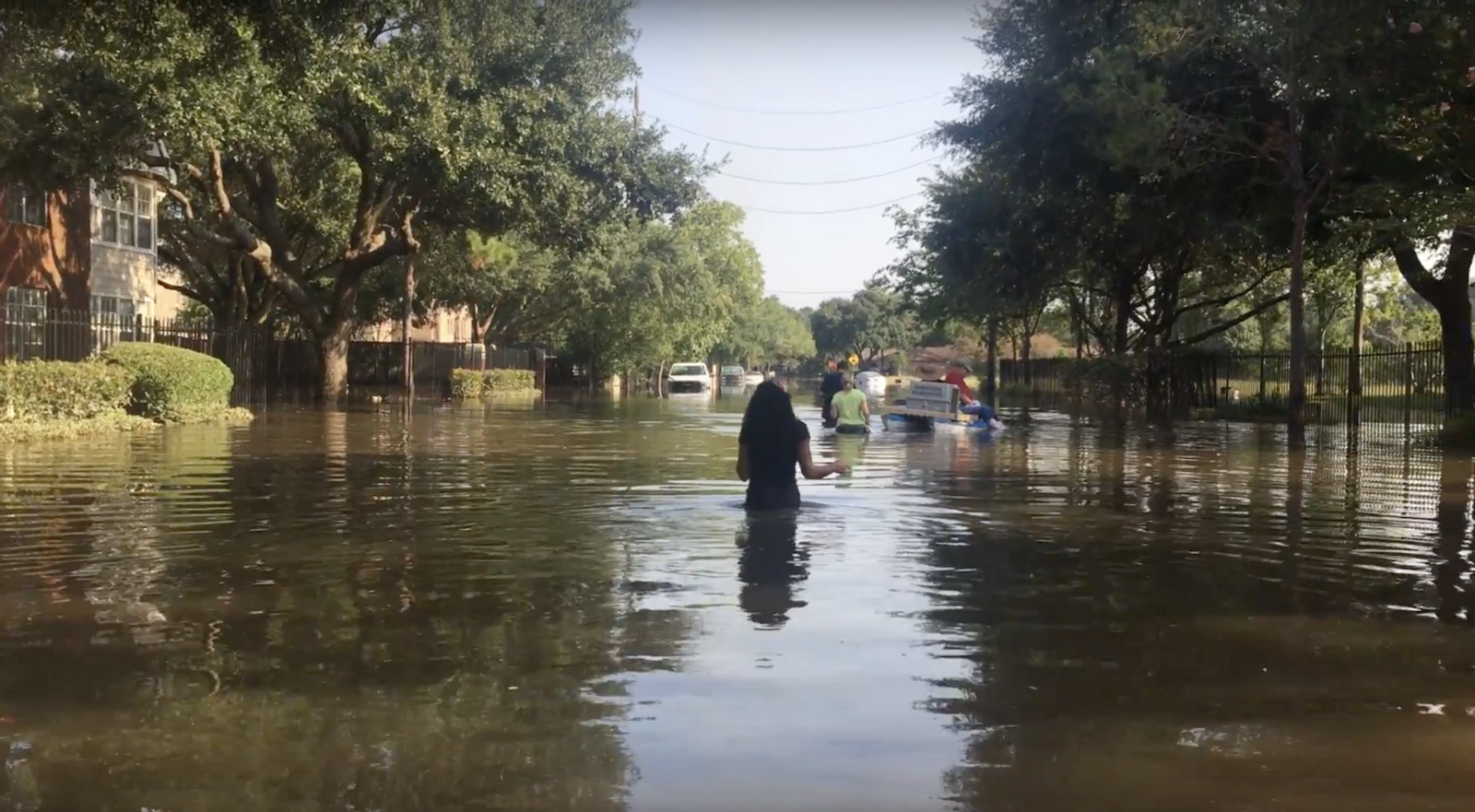 The water was warm, the footing unstable. LaTanya placed her keys and phone in her bra. After walking about 20 yards, she was knee-deep. Several minutes later, the water was up to her stomach. A man returning from up the road warned that the area was too deep for safe foot travel, so LaTanya turned onto a narrow road that looped around to the back of the complex.

The scene, she couldn't help but notice, looked apocalyptic. A plume of smoke rose above the horizon, from a fire that had already consumed two houses and a car in a subdivision a few blocks away. An alarm blared in the distance, lending an ominous tenor to her journey through a place that once felt familiar but no longer did. Dozens of cars parked on either side of her were submerged to their windows. Some had moved their cars onto the curb, hoping the extra few inches of elevation would make a difference, but the water had drowned those too. The remaining vehicles reminded LaTanya of just how many of her neighbors had tried to ride out the storm in their homes. Every few minutes, she passed a sunken car in the middle of the street, and she wondered aloud about the passengers who'd abandoned them.
"I guess they tried to make a break for it," she said.
The sun's reflection was bright on the water's surface, and LaTanya squinted to see the damage ahead, which looked no different from that behind her. Thirty minutes into a walk that normally took three, she reached the back gate. The water was only slightly deep in her parking lot, and her worries heightened. How high had the water been at its peak? Had it reached her windows? Her ceiling?
"I've lost everything once," she said. "I can lose everything again."
The whole complex looked empty. For all she knew, she was the only person in the place at that moment. Her short, choppy strides through the water were the sole sounds breaking the silence. Soon, her home was in sight. Water lingered stubbornly on the raised cement path leading to her front step, lapping at the base of the door like an unwelcome visitor. Leaning against the door frame, she kicked up each leg to let the water pour out of her boots. She stuck her key into the lock, turned, and pushed but the door wouldn't budge. The towel she'd stuck under it before leaving had swollen with water, wedging it stuck. She thrust a shoulder. Then again. And again.
With a bang, the door popped open.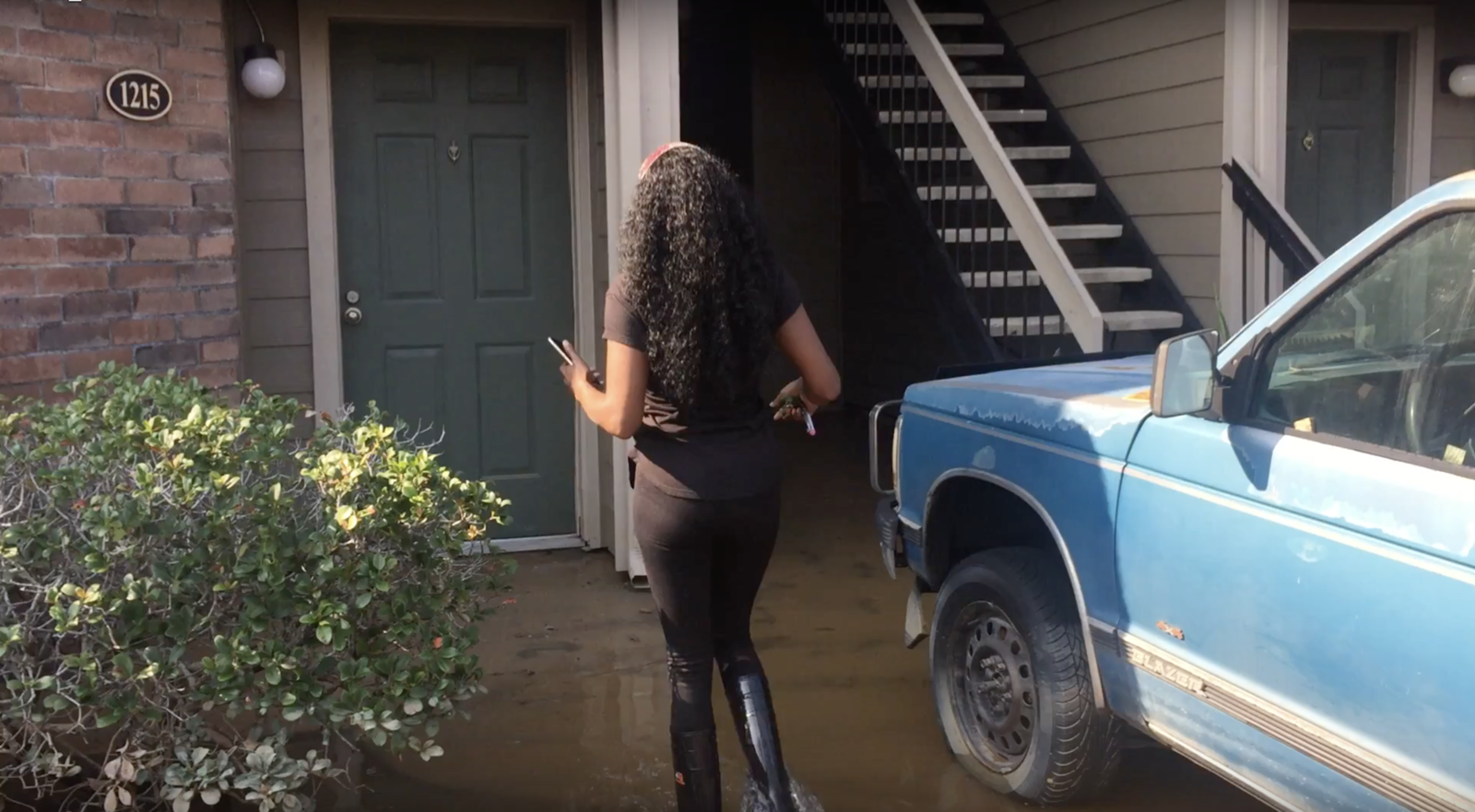 Anna searched for lights in the darkness. Lights meant cars, boats, buses, people, and help. She carried her sister's dog on her shoulder while her nephew held the bag with their essentials on his. She doesn't recall how long they walked, but she remembers the moment they saw something even better than lights: pavement.

They found no staging area at the strip mall, but they did find a family of Korean immigrants who were shuttling people to shelters in a rental truck. Fewer than a dozen people were at the Berry Center when they arrived, shortly before midnight.
"That was one of the scariest nights ever," Anna said. "We didn't know if we would be able to return home. We didn't know how bad it would get."
When Anna awoke around 4 a.m., by her count more than 200 people filled the center. Many of them were still in shock, despair written on their faces as they sat silently on the floor or on cots that lined the main hall. Anna found herself consoling some of them. She'd bounced back from Katrina, she told them, and they would bounce back from this. She looked up and passed along the phone numbers they needed to get their lives back in order.
As more evacuees poured into the shelter, Anna and her nephew boarded a bus to another shelter — a church with more space. They rested till daybreak. In the morning, Anna heard from a volunteer at the shelter that the water was starting to recede in some parts of the city. She called a friend with a car to pick them up and take them home. Less than 24 hours after she'd left her mother's house pushing a raft floating on more than three feet of water, she returned to find the block almost completely drained. LaTanya arrived soon after. The sisters started stripping the carpet and sopping up the floors with a mop.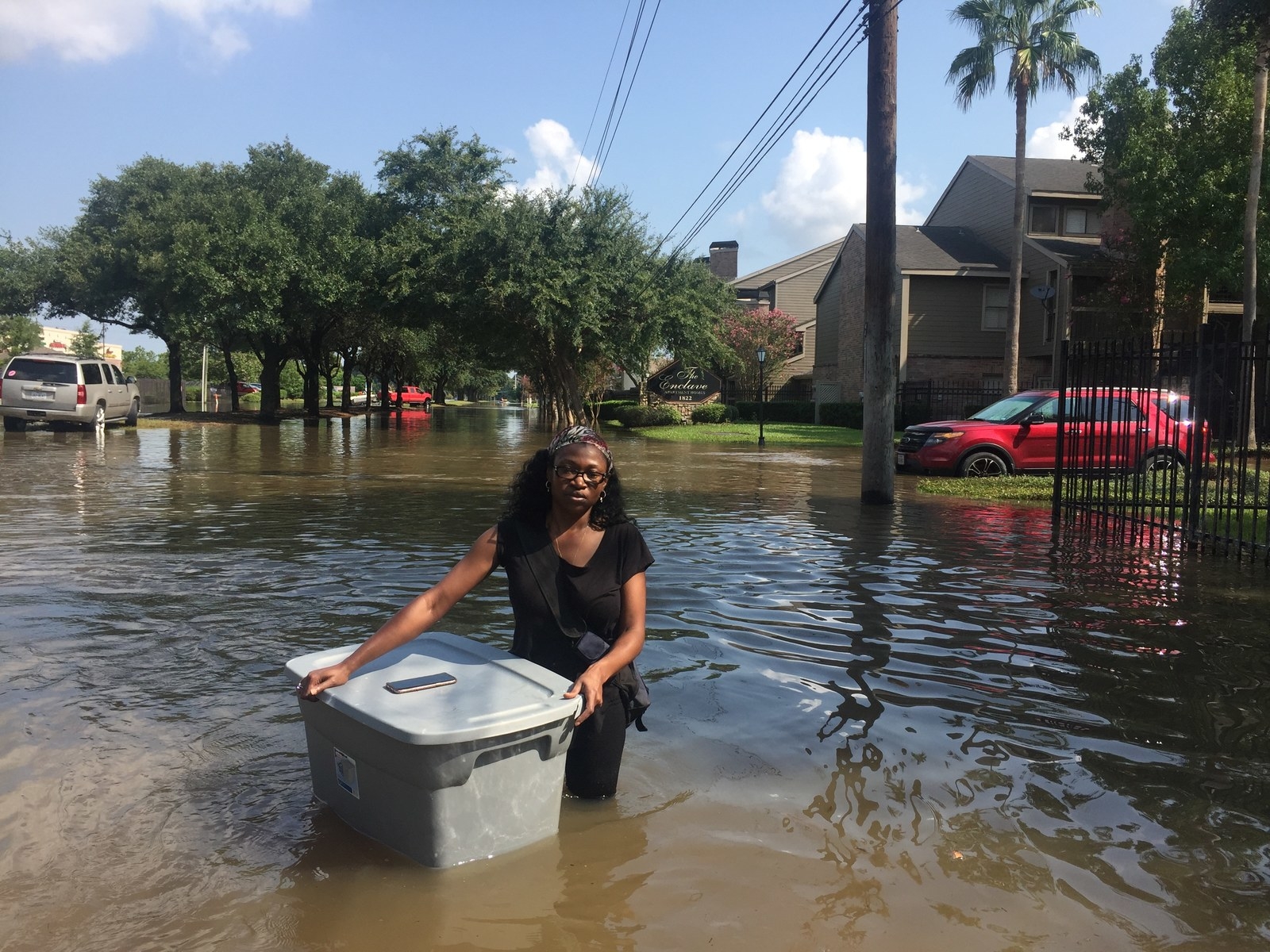 Her keys jingling in the keyhole, her eyes adjusting to the darkness of her living room, LaTanya was stunned by the sight: She had not lost everything. She wandered to the bedroom, the bathroom, the kitchen with wide eyes. The carpet was soggy, the television wires were wet, the couch was damp, her underwear in the bottom drawer and books on a shelf were soaked, but her worldly possessions were largely spared by the most destructive rainstorm in US history.

Marks on the white wall showed that about a foot and a half of water had swamped the apartment, enough to knock over the freezer chest but not enough to wash away the sunglasses on her glass coffee table. She picked up a lighter that had been on the coffee table and flicked it. A fire ignited, and she burst into laughter.
LaTanya anticipated that this would be her last time in her apartment for at least a few weeks, so she emptied two big plastic crates and began filling them with clothes, shoes, a safe filled with documents, and a coffee maker. Her mom only had instant coffee at her place, and she wasn't sure how long she'd be staying there. She wasn't sure about much of anything regarding her future. Her employer hadn't contacted her about when she could go back to work. Her car, which had been parked at her mom's house when the storm hit, wouldn't start. And floodwater was still blockading her home.

But she no longer called this place her home. The material value of the word had lost its meaning to her. She'd lost homes and left homes and learned that four walls and framed photos promised neither comfort nor shelter. "The only home I have is my family," she said. "Wherever we go, we'll go together, and that will be home."
Back bent and arms straining, she dragged the plastic crates, heavy with possessions, out her front door and onto the water, where they bobbed and swayed. She glided them easily, and their wake left ripples of rainbow colors in the water.