Scenes From Washington D.C.'s Justice For All March
Thousands packed Pennsylvania Avenue to memorialize recent victims and call for policy changes.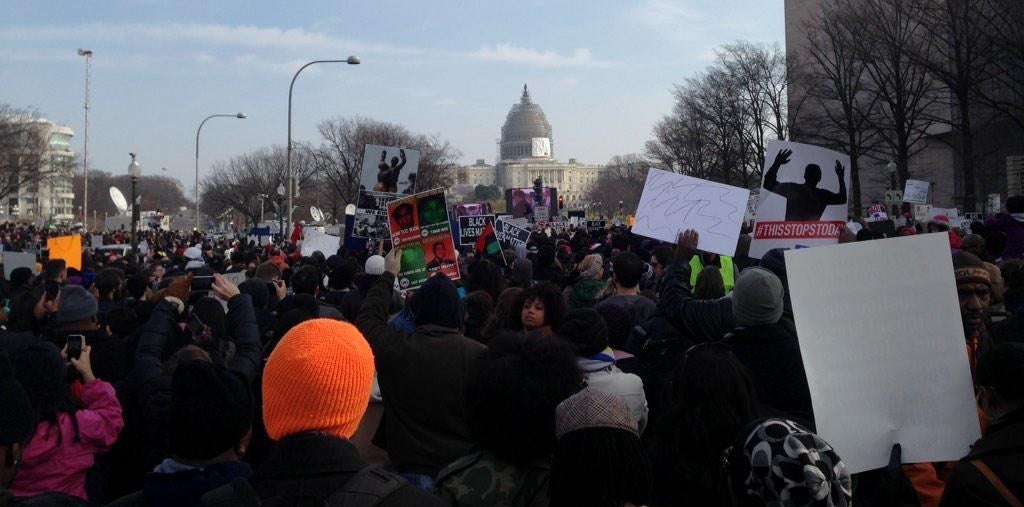 Jay Priest and his two cousins left the Bronx at three in the morning on Saturday for the drive to Washington, D.C. They were there to join thousands of others at Al Sharpton's Justice for All march. "It's getting crazy with all these young people gunned down by police," said Priest. "We're not going to take it any more."
Priest and his cousins were also there to sell T-shirts. The shirts, which read "I can't breathe" on the front and "Hands up, don't shoot" on the back, were $10 each. Priest printed them on his dad's T-shirt press. By 9 a.m., 90 minutes before the event's official gathering time at Freedom Plaza, the young men had already sold three shirts. Around 50 people were already spread across the plaza.
The protests have never really ended. They had continued the previous evening, as 25 or so protesters marched through D.C. The protesters had stopped at the intersection of 7th Street and H Street, at the entrance to Chinatown, to chant. They called for pedestrians to "get off the sidewalk and into the streets," and some did join. Most watched. Michael Coleman, one of the protesters, didn't like that. "I tell you what pissed me off," he said. "I saw three black men watching us protest for them but they failed to get involved because they wasn't interested. I'm trying to motivate people!"
And so when a middle-aged woman stepped off a bus that the protesters had blocked and said, "I have a child, can y'all let us pass?" Coleman countered, "We in the middle of a nightmare!"
"I have no problem with protesting," the women said. "But y'all in the wrong place. Go to the place where it matters. Go to the Capitol building."
And, in fact, that was the plan for Saturday. Saturday, though, it was much bigger. This was a professional affair.
The plaza was packed by the time the speakers took the stage. Thousands, people of all colors, filled the square to the edges and hundreds more stood in the streets. They held signs:
"The arc of the moral universe is long but it bends toward justice"
"Indifference is the currency of brutality"
"SEE my color ACKNOWLEDGE my history RESPECT me as your equal"
The crowd cheered when Randi Weingarten, president of the American Federation of Teachers, declared, "Cops are not the enemy. Bias and racism are."
The crowd cheered louder when Michael Eric Dyson declared, "We are here today to say stop killing our babies with a badge and a gun."
And then Dyson said, "Stop calling Michael Brown a criminal. Was Thomas Jefferson a criminal when he had relations with an underage girl and owned slaves?" The crowd let out that "ooohhh" you hear at a playground basketball game when somebody gets dunked on.
At noon the march down Pennsylvania Avenue began. When it started, Public Enemy's "Fight the Power" bumped from somebody's portable speakers. When it ended, 30 minutes and eight blocks later, in front of the U.S. Capitol building, Marvin Gaye's "What's Going On" blared from the loudspeakers.
More men and women took the microphone, but now the focus was solution, and progress, and looking forward.
"Don't forget us when we go back to Ferguson," said a young man, one of a few dozen people who had made the 14 hour drive from St. Louis County.
Newark mayor Ras Baraka and U.S. Congressmen Al Green, of Houston, rattled off policies. Body cameras on police officers. A national database of police shootings. Special prosecutors for police-involved shootings. Expanded powers for the federal government to hold local police departments accountable.
"The only way you make roaches run is you cut the light on," Sharpton said. "Let it shine. Let it shine. Let it Shine."
And when all the speakers had finished, the families stepped onto the stage. Families representing Michael Brown, Eric Garner, Tamir Rice, John Crawford, Trayvon Martin, Amadou Diallo, and others.
"My husband was a quiet man," said Esaw Garner, "but he's making a lot of noise right now."
The names and faces of the victims were everywhere. On signs, in chants, on clothing and pins. As the marchers filed out, away from the Capitol, back up Pennsylvania Avenue, they passed vendors selling shirts, hoodies, framed posters, 2015 calendars, gloves, lanyards, hand-warmers, key-chains—nearly all bearing "Hands up, don't shoot" or "I can't breathe" or "Black lives matter."
Ron Jones had printed his "I can't breathe" shirts himself. He'd sold them at recent protests in Chicago and Atlanta. He'd sold shirts at the 1995 Million Man March too.
"This is a historic event," Jones said. "People wanna remember this. Because it's easy to forget."