The job opportunity seemed like a blessing. It was June 2015, Stephanie was 24, her mother needed a kidney transplant, and the cop across the table said the work could pay as much as $5,000 a day, she later recalled at trial. He'd introduced himself as John and showed her his San Antonio Police Department badge when she arrived at the Starbucks to meet with him. A friend of hers had passed along the tip.
Stephanie testified that John said he was on a task force that was hiring civilians to work undercover. At the moment, the unit needed a woman to act as his girlfriend. He slid her the application, which was about a dozen pages and included a series of questions asking what the candidate was willing to do during a mission: Fight? Drink? Kill? Hold hands? Kiss? Have sex? He told Stephanie about one instance, during a party at a drug dealer's house, when an undercover cop and a civilian posing as his girlfriend had to have sex to secure privacy in a room he was bugging. "And I told him the only way that I would ever have sex with someone was if my life was in danger," Stephanie testified, using that pseudonym in court.
She filled out the forms, answering yes to drinking and sex but no to killing, and signed a document swearing confidentiality. The second part of the interview was a few days later. The officer arrived at her place to test whether Stephanie could play her role convincingly, even when drunk. Between shots of vodka and sips of a piña colada, Stephanie had to dance in different styles, act out scenarios, and do push-ups blindfolded. Then, she said, when she was too drunk to resist, he raped her.
Only later did Stephanie learn that there was no job, no undercover operation, no drug task force. The whole thing was fake — a scheme orchestrated by then–SAPD officers Emmanuel Galindo, now 32, and Alejandro Chapa, now 31, who were convicted in March 2017 of attempting to coerce eight women into sex and sexually assaulting two.
It was an embarrassing case for the police department, and all the more dispiriting considering that five years earlier, Police Chief William McManus had vowed to overhaul a force tainted by sexual misconduct. At least 17 SAPD male officers had been suspended or fired for sexual misconduct, including harassment and assault, committed between 2007 and 2010, according to a BuzzFeed News review of media reports.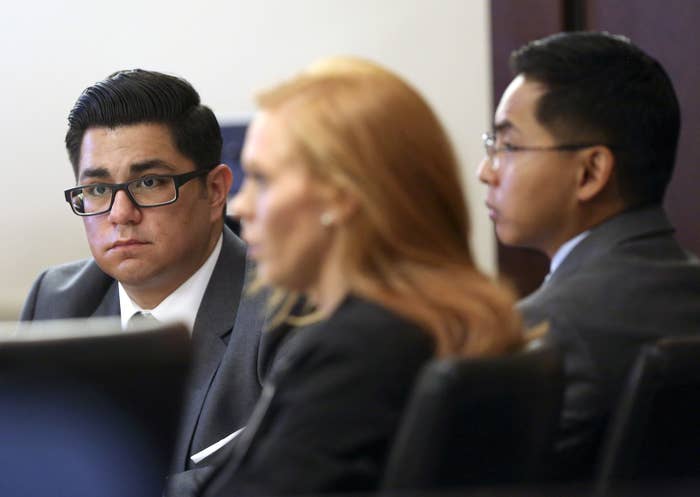 Since then, McManus has built a reputation as a reformer dedicated to alleviating police-community tensions. Civilians were put on the police board that reviews complaints against officers, an outside consulting firm was hired to audit the department, and McManus mandated that SAPD's training program spend more time covering sexual misconduct. By 2014, when a Ferguson, Missouri, officer's shooting of an unarmed 18-year-old black man sparked protests and heightened scrutiny on police everywhere, the SAPD was ahead of the curve, implementing changes that many departments were only starting to consider. The SAPD was among 15 police departments cited by then–attorney general Loretta Lynch in 2016 for efforts "to build and maintain community-police collaboration and trust" through policies that, among other things, emphasized de-escalation over use of force and established new protocols for dealing with people with mental illness.
The department's reinvention didn't touch the male-dominated culture that caused so many of the problems in the first place.
With so much public focus on tactics and tone, though, it was easy to miss that the department's reinvention didn't touch the male-dominated culture that caused so many of the problems in the first place. In fact, at least 21 San Antonio cops, two of them women, were suspended or fired for sexual misconduct committed between 2013 and 2016, according to internal disciplinary records reviewed by BuzzFeed News.
This culture exists in many, if not most, police departments, which have never been eager to accept women into their ranks. For all the changes in policing over the decades — the crackdown on corruption in the '70s, the turn to data-driven strategies and technological advancements in the '90s, the training adjustments to reduce brutality and racial profiling in recent years — a huge gender imbalance persists.
Of the 100 largest police departments in the US, 13 are led by women, 10 of whom were appointed within the last two years, according to a BuzzFeed News examination of command staffs nationwide. The FBI's 2016 survey of around 13,000 agencies found that 12% of law enforcement officers were women, a 2% increase from 1995.
"San Antonio has generally had a pretty good reputation in law enforcement," Penny Harrington, a former Portland, Oregon, police chief told me. "They tend to get some pretty progressive chiefs in there. I suspect you have a department that's really looking to straighten things out. One of the things that can speak to that is how many women are in that department."
"I've never had a female boss. ... Guys can be nasty."
I gave her the most recent numbers, the department's own count from 2016: Of the 29 cops on the command staff, one was a woman; of the 49 lieutenants, two were women; of the 226 sergeants, 12 were women. Of the 15 largest police departments in the country, the SAPD is the only one without a woman ranked at the assistant or deputy chief level. In all, less than 10% of the SAPD's 2,152 officers in 2016 were women, barely more than half the national average for big-city police departments.
"Oh my god, that's terrible," Harrington replied. "Take back everything I just said."
McManus declined an interview request for this story.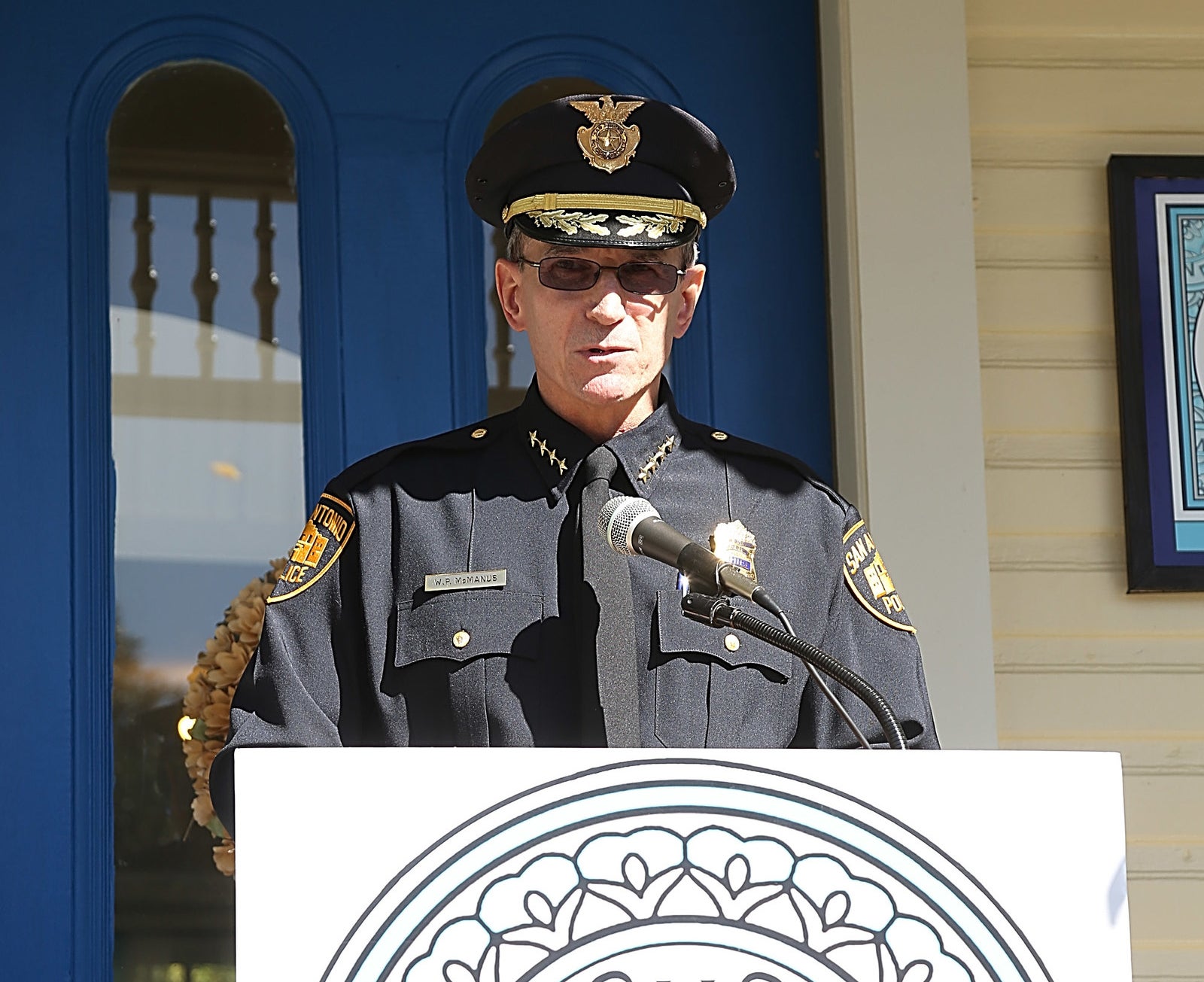 According to three women who have worked as SAPD officers under McManus and who spoke with me on the condition of anonymity, women on the force face demeaning comments, an isolating work environment, and professional blockades that prevent them from rising up the hierarchy, leaving the department stuck in an atmosphere of misogyny that stretches from the command staff to the rank and file.
"I've never had a female boss," said a woman who has been on the force more than five years. "I think it would be helpful. Guys can be nasty. When another woman comes into the department, I would warn them about what you're gonna deal with. The locker room talk, the male talk. Sometimes actual harassment where you're being touched. And if you're a female and you make a complaint about it, you're gonna have a little bit of backlash."
"Men, and really only men, are groomed for key positions that make them likely to get promoted to the upper ranks."
The push to identify and punish men guilty of sexual misconduct has spread across a wide range of industries in the months since the New York Times exposed Harvey Weinstein's pattern of abuse. But the San Antonio Police Department has shown that holding bad actors accountable is not enough to shift a long-standing culture.

"It comes from the leadership," said Ben Sifuentes Jr., an attorney who has represented officers in lawsuits against the SAPD, including several cases of alleged sex discrimination. "Men, and really only men, are groomed for key positions that make them likely to get promoted to the upper ranks."
One female officer, who rose to a supervisory position, said that male superiors, including McManus, often spoke to her and treated her dismissively, undermining her authority in front of her subordinates. She came to the conclusion that the chief is at the center of the department's troubles: "I really, sincerely believe Chief McManus has a problem with women."

A spokesperson for the department, Sgt. Michelle Ramos, denied that the department has had a problem with sexual misconduct and rejected accusations about the internal culture of misogyny.

"I speak with many women in the department and I've never heard of that," she said. "We've made great strides."
When I asked about the lack of women in leadership roles, she replied that "it's hard to pinpoint why."
Over his years in office, McManus has promoted two women to positions high on his command staff. In 2008, he named Deputy Chief Geraldine Garcia, a 25-year veteran of the force, his new assistant chief. Three years later, McManus elevated 23-year veteran Janae Florance from captain to deputy chief. Both Garcia and Florance were replaced by men when they retired in 2016.
"I know many women in the department who don't take the test [for promotion] because it doesn't fit their schedule or the schedule of their children."
The pool of women qualified for those positions was small, Ramos said. Simply, Ramos told me, fewer female officers are willing to prioritize professional advancement at the expense of family time compared to male officers.
"We're the caretakers," Ramos said. "I know many women in the department who don't take the test [for promotion] because it doesn't fit their schedule or the schedule of their children."
But the SAPD makes it difficult for women. Like many departments — including 14 of the nation's 15 biggest — it doesn't have a paid parental leave policy. That means pregnant officers must use vacation time and sick days, or apply for partial disability, if they want to take time off in the late stages of pregnancy or just after their child is born without losing their salary.
At least one woman applied for the spot vacated by Florance. After Capt. Laura Andersen, a 20-year-veteran, was turned down, she sued the department, claiming that chauvinism among male supervisors resulted in women getting lower ratings in evaluations. "The San Antonio Police Department provides male officers with role models, mentors, and support from upper management to promote to the higher ranks, whereas no such support is provided to female officers," stated the lawsuit, which ended in a settlement.
To last long enough in the department to climb the ranks, one female officer told me, "you can't get real offended easy." She said she'd seen at least two women leave the force in recent years in part because they were tired of dealing with the work culture.
She recalled men "just outright being a bully simply because I was a female."
Officers Matthew Luckhurst and Steve Albart defecated into a toilet in the women's bathroom, one after the other without flushing.
In June 2016, after a female officer requested that colleagues keep the women's bathroom clean, Officers Matthew Luckhurst and Steve Albart defecated into a toilet in the women's bathroom, one after the other without flushing, then smeared the seat with a brown substance "the consistency of tapioca," the disciplinary memo states. "Luckhurst then boasted of these actions to fellow officers." McManus issued an indefinite unpaid suspension for both, the first step toward termination, but fired only Luckhurst and reduced Albart's suspension to 30 days.
Albart remains on the force, as does Sgt. Dale Sanders and Officer Arthur Lopez, who were both put on unpaid suspension after complaints about harassing behavior. Sanders, a 28-year veteran, was accused by Detective Eloisa Mondragon, an eight-year veteran, of making a sexist comment about a female colleague. Text messages cited in the suspension memo show that the sergeant retaliated by threatening her career prospects. He was suspended for five days in 2014. Lopez threatened to post nude photos of a female officer he'd been dating and was suspended for three days in 2014. Four months later, he threatened to slash the officer's tires and was suspended for 45 more days.
It's hard to judge one department's internal culture against another's. Disciplinary records are sealed in many departments — a WNYC study found that 23 states have laws that allow authorities to keep those files secret. In Texas, complaints become public only when an officer is punished with at least a loss of pay, meaning incidents involving cops who quit or who receive no more than an official reprimand remain confidential. In one case, revealed in a 2013 Texas Observer investigation, Houston police internal investigators found enough evidence to deem a rape allegation against then-officer Michael Gratz "sustained," yet the incident is absent from public records because he resigned before any punishment was issued. He next took a job as an officer for the North Forest Independent School District, an officer who worked with him there told BuzzFeed News. Gratz's LinkedIn profile says he then spent three years as a sheriff's deputy in nearby Montgomery County.

Like many departments — including Philadelphia, San Diego, Charlotte, Houston, and New York City — the SAPD doesn't keep track of the number of officers accused of sexual misconduct. Sexual harassment complaints are officially categorized under general "harassment" violations and more severe sexual abuse under "conduct and behavior." Departments that have made efforts in recent years to hold their officers accountable for wrongdoing have largely focused on reducing racial profiling and excessive force, leaving sexual misconduct a low priority, absent in annual internal affairs reports and proposals for reform.
"I've been here 18 years and I can see the change, the trust factor."
The SAPD has punished at least 38 officers for sexual misconduct since 2007, including four cases of consensual sex on duty, as well as seven rape allegations that led to criminal charges. Of the three most similarly sized departments, only Honolulu has had a higher number over that stretch: 44, according to a BuzzFeed News review of disciplinary records. In October, after a series of public scandals, Honolulu hired its first female police chief, Susan Ballard, who in a talk to high school students in February said she'd had to overcome an "I hate women" club throughout her years in the department. Ballard's command staff now includes two female assistant chiefs. The other two departments of comparable size have had far fewer cops get in trouble for sexual misconduct since 2007: San Francisco's has had nine officers suspended or terminated; Boston's has had two. SAPD officials and supporters argue that the high frequency at which its officers are disciplined reflects the department's commitment to holding its own accountable.
"They immediately respond to accusations against officers, and their investigations are thorough," said Deana Franks, director of San Antonio's Rape Crisis Center, which works closely with the police department. "They more often believe the person who filed the report. I've been here 18 years and I can see the change, the trust factor."
McManus is popular among city leaders. He'd retired as chief in late 2014 to work for an energy company, only to return to the job less than a year later, before his replacement had even been named.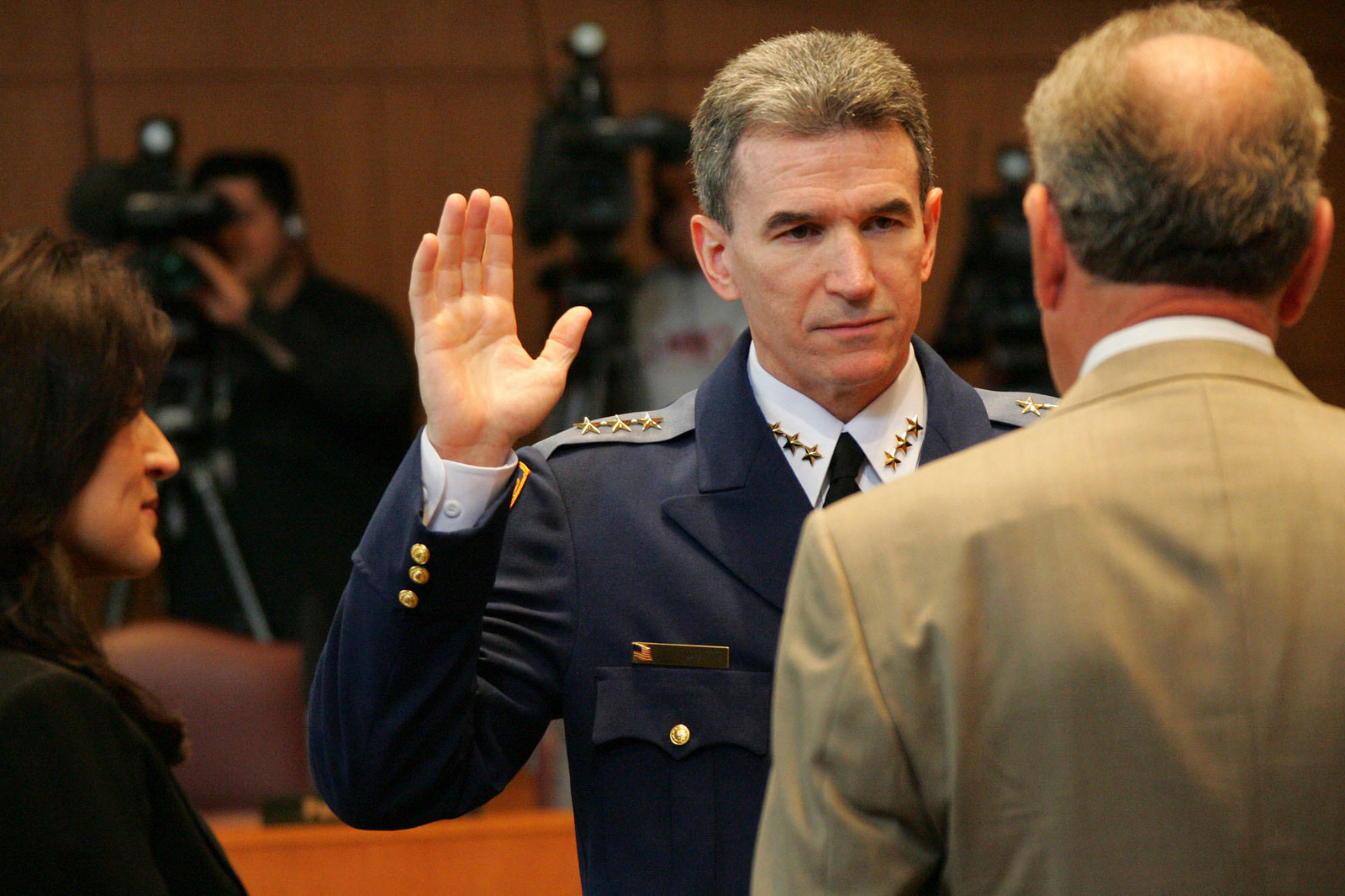 "We have a very proactive police chief," said Bexar County District Attorney Nico LaHood. "The reform was a lot of training. Chief McManus is very in tune with making sure that not only is law enforcement protective but into customer service."
In 2010, as his department was supposedly entering a new and improved era, McManus explained to the San Antonio Current that he'd identified the root of the department's problems: "When someone gets in trouble, when someone commits an act of misconduct, and you think, 'How the heck could that ever happen?'" he told the alt-weekly. "What it turns out to be is supervision." His plan for reform, he said, centered on keeping a closer eye on officers.
The cadets entering the police academy in 2010 would be the first class to train under the department's revised philosophies. Alejandro Chapa was a member of that class. Emmanuel Galindo joined two years later.
They met in 2014 when Galindo was transferred into the substation where Chapa worked. Both were San Antonio natives who were drawn into policing from very different directions. Chapa applied to the SAPD after his college degree failed to secure him a full-time teaching job. Galindo joined the department after two tours in Iraq as a Marine Corps staff sergeant. He testified at his trial that he'd finished at the top of his police academy class, which the SAPD confirmed.

"I was just one of the new guys, and he was one of the few officers that would help out the new guys," Galindo testified.
Both men were married and had two young kids. The SAPD offered stability and a pension. It also brought the power of the badge.
Text messages showed them referring to one "recruit" as "big titties" and lamenting that another was "in a committed relationship."
At trial, both men claimed to believe they really had been working on a confidential operation with the National Security Agency and said they too may have been scammed — even though text messages showed them referring to one "recruit" as "big titties" and lamenting that another was "in a committed relationship."
"We were supposed to assemble a team, and I was supposed to be like the team leader for this," Galindo testified. He claimed he reported to a federal agent named John, whom he'd met while working a part-time security gig at an NSA facility. It was John who contacted him about the job interviewing and recruiting people for an undercover unit, said Galindo. Galindo then recruited Chapa, the men said.
There was no evidence that "John" existed, and Galindo admitted that he never got paid for the hours he put in. "Once we had the total amount of team members in, at that point, that's when everybody would start getting paid," he testified.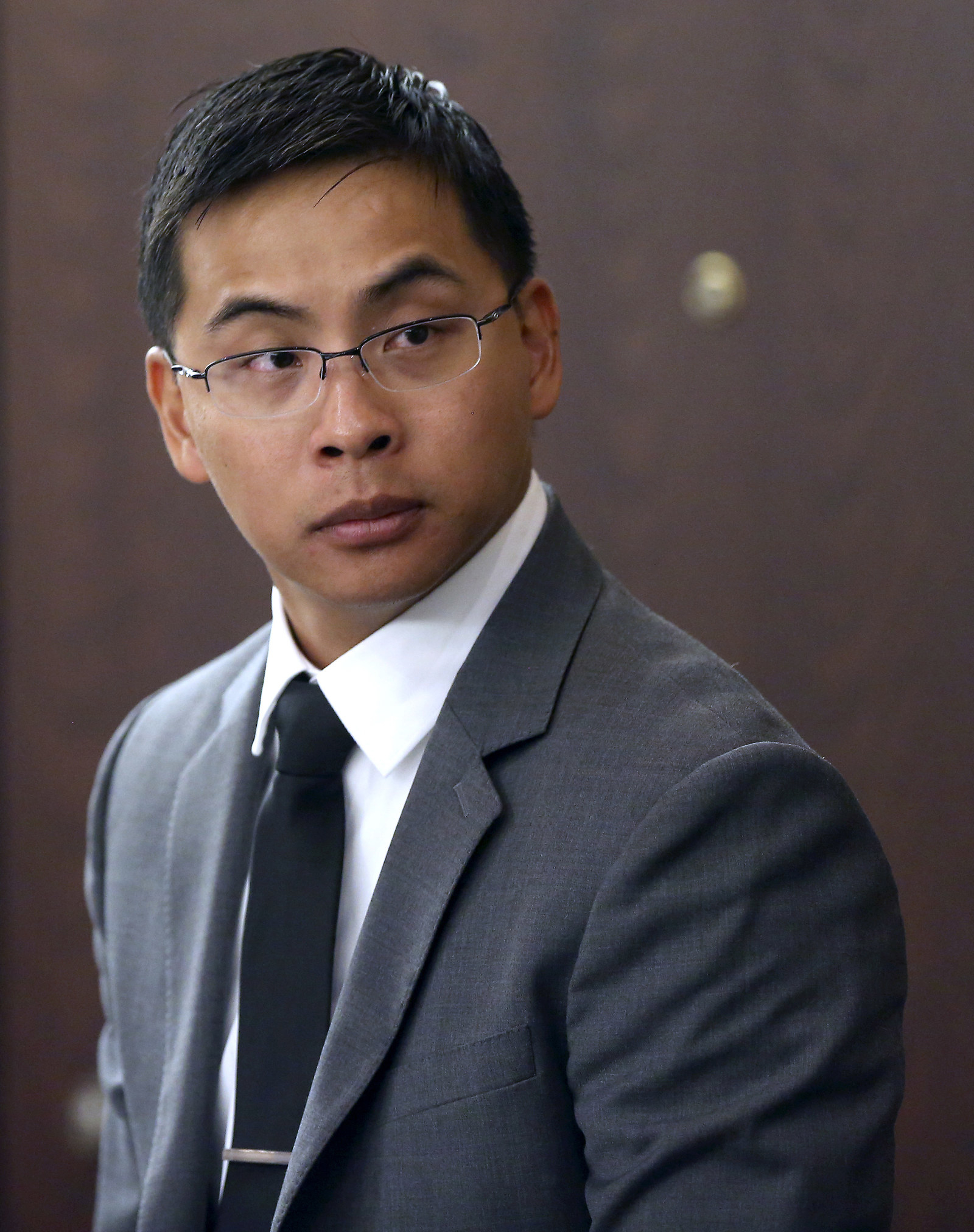 Galindo said he and Chapa attempted to recruit around 10 women. Prosecutors claimed it was closer to 20. Some were women the cops knew, but most learned of the opportunity through intermediaries. Galindo and Chapa told friends to pass along the job tip to women who might be interested, promising a referral fee of at least $500, according to the testimony of Galindo, Chapa, and two of those friends. In the end, nobody was ever paid.
One of their friends, SAPD Officer Aaron Alford, contacted Stephanie. Another woman heard about the job from a young man who had participated in the San Antonio Police Explorers, a training program for young people interested in law enforcement careers; the young man testified that he considered Chapa a mentor.
"It seemed too good to be true, but it was a risk I was willing to take because of the situation I was in."
Four women who worked at the same bar heard about it from their manager. They included Rose, who was 24 in May 2015 when she decided to apply. The bar manager gave her a phone number and instructions: "We had to send a text message with our name, the name of the person who referred us, and say that we were interested," she testified. "It seemed too good to be true, but it was a risk I was willing to take because of the situation I was in."
She was taking care of her 11-year-old sister, Emily, who had just moved in with her.
"My mom was threatening to take her away from me," she said. "She was not a very good person, and at the time, I couldn't afford to get a lawyer to get custody."
The person on the other end of the text message identified himself as Jeff, the operation's supervisor. He walked her through the next steps. First she was to send a clothed, full-body photograph. Then, she was to meet at a Starbucks with an agent. She'd know the agent because he'd be holding a manila envelope, Rose said she was told.
The supposed agent, whom she later identified as Galindo, showed his badge, described the job, and explained that pay was based on an operative's value: How well could they play the role and what were they willing to do on a mission? He handed her the application and she filled it out, signing the confidentiality agreement at the end.
Within days, instructions for the first test were delivered via text, in detailed, official-sounding paragraphs that were later read aloud in court by the prosecutor.
"The test must be completed in a safe location, preferably somewhere clean and private. No guest can be present for the testing," it said.
"You must also have on hand one shot glass and any type of liquor to take a single shot with. You must also have a combination of alcohol to take additional drinks until you meet the qualifications of being under the influence."
"He said if you want to get paid the most for the shortest amount of time, sex would be your best option."
"You will also need to have a method to play music for your dance portion and have music selected. You will need to do a solo dance, slow dance, club dance, and dance of your choice. Exotic or technical dances will be awarded a higher point rating. You will be graded based on your personality profile."
As they conducted the "test" at Rose's apartment, Galindo, who'd given his name as John, mentioned that several women were competing for the spot, she testified. He told her about a woman on his unit for years. "She's probably one of the highest ranking girls they've had, and she's willing to do just about anything," she recalled him saying. "He said if you want to get paid the most for the shortest amount of time, sex would be your best option."
She and Galindo had sex. Within a day, she received a text informing her that she'd done well on the first test, was "going up a level," and would continue on to the next phase, an "overnight scenario," she testified.
Between caring for her sister and working her waitressing shift, Rose had trouble finding time for the exercise, which was scheduled to cover two weekdays. "I don't want to lose this opportunity," she texted the supervisor, explaining the scheduling challenges. "I really need all of this to keep Emily."
She took the days off from work and found someone to watch her sister. Galindo and Chapa, who gave his name as Mike, picked up Rose and another woman, who also testified in the trial. The men assigned the women backstories and aliases. They had dinner, drank, danced, played card games, watched a movie, and spent the night at a hotel, the four of them in character the whole time. Rose again had sex with Galindo.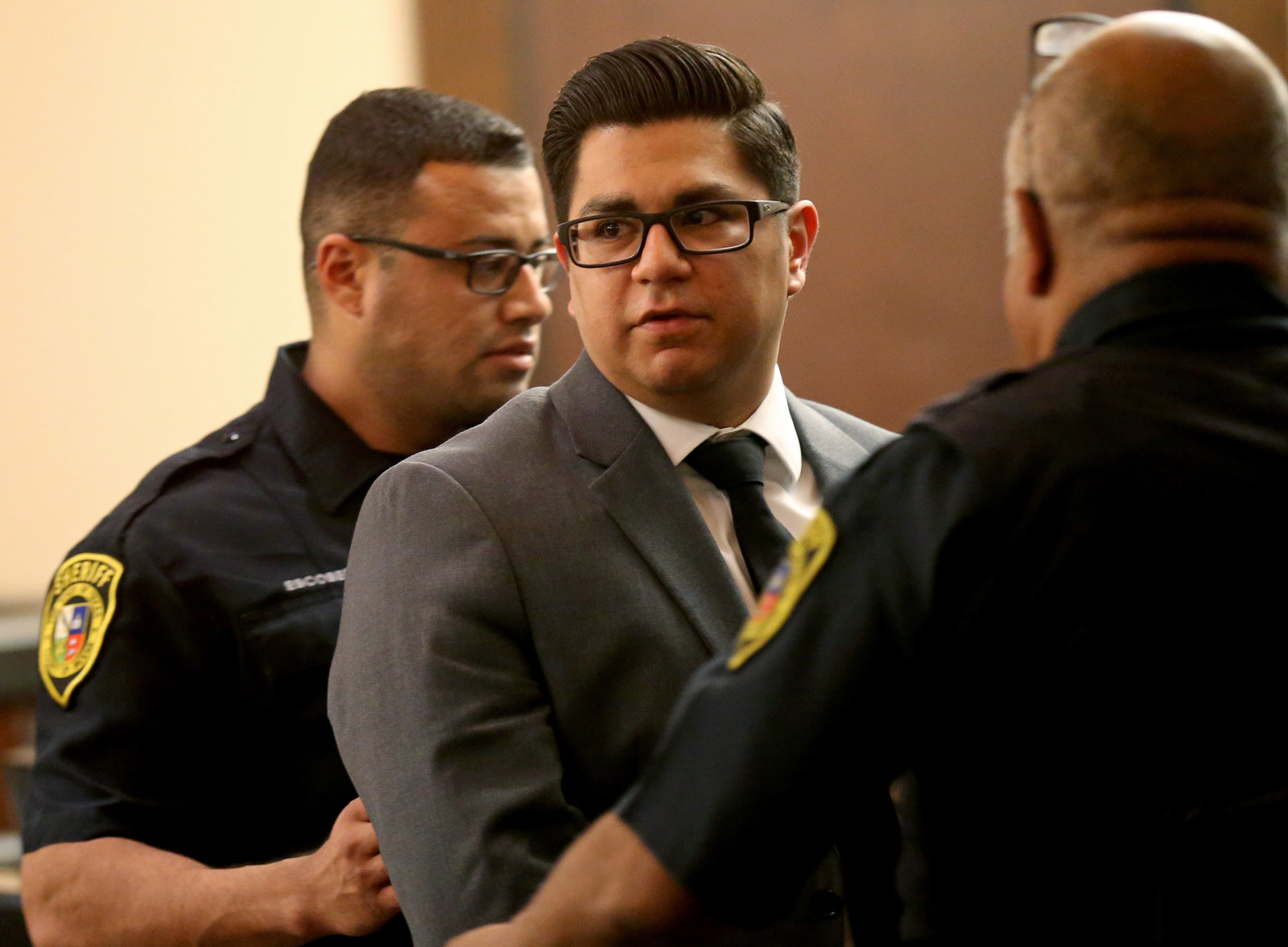 A text from the supervisor reported her results: "John gave you the higher of the two scores. Mike notes you could have been more affectionate to John in public by holding hands, et cetera."
The third phase was a week later, at the same hotel. That night, Rose testified, Galindo told her that in exchange for participating in the program, she could ask for a favor from law enforcement. "He said that my favor could be to ask for help with getting custody of Emily," Rose testified.
Later that night, he told Rose she should have sex with Chapa, and she did.
When she next heard from the supposed job supervisor, she replied, "Complete honesty here, I need to know if I will be required to sleep with anyone else." Rose also asked if subsequent tests could be on weekends. "I really like my job," she texted. "I'm up for a promotion in July."
Meanwhile, the Starbucks meetings continued.
About a week after Rose's third test, Stephanie had her sexual encounter with Galindo. Posing as John, he'd come to her apartment in San Antonio's Live Oak suburb for her initial tryout.
"We have this year assisted three other candidates with heart transplants."
Beforehand, Stephanie had texted the person she thought was the supervisor: "I really want to help my mother on her kidney transplant. This would be a wonderful way to do it."
"If you decide to become a 4S strong," the reply read, referring to the highest job level, "this is something we can definitely assist you with. We have this year assisted three other candidates with heart transplants."
By the time Galindo got on top of her, Stephanie testified, she was drunk and barely able to speak or walk straight, but she remembered repeatedly telling him "no." After Galindo raped her, she testified, he left.
"I remember being alone and naked," Stephanie said.
She went into the bathroom and grabbed a bottle of codeine from the cabinet. "I tried to overdose the whole bottle," she testified. "I couldn't. I was too drunk, and all I could do was throw it up."
She called her best friend, who suggested she call the police. She did, and filed a report with a Live Oak cop who arrived to take a statement, but first she contacted the friend who'd told her about the job: SAPD Officer Aaron Alford. She told him she'd been raped. Alford alerted Chapa, who texted Galindo the next day, June 17.
"Got a call from Aaron," Chapa wrote to Galindo, saying it was something "about the girl at the test freaking out, crying, calling him." Chapa asked, "Do you know anything?" Galindo replied, "Nope."
That same day, Stephanie received a text from the supposed supervisor, asking how the test had gone.
"Over my limit," she said, "but went well."
"Well, your test is done, and you won't have to do it again," came the reply.
Phone and internet records revealed the scale of the scheme: Chapa and Galindo discussing how to find targets, planning a fake arrest, and spreading the word.
Rose also got a text from the alleged supervisor that day, telling her he'd be contacting her from a different number from then on. She testified: "They did text me from a new phone number, and they were trying to set up for another meeting."
But in late June 2015, the texts stopped. Not long after that, Rose got a call from state police. Investigators had traced the supposed supervisor's phone number to a Google Voice account created at Galindo's IP address and found that Stephanie was not the only woman who'd been scammed. Phone and internet records revealed the scale of the scheme: Chapa and Galindo discussing how to find targets, planning a fake arrest to convince the women "this is legit," and spreading word about the made-up job openings.
Galindo, Chapa, and Alford were arrested in September 2015 and fired soon after. Eventually, prosecutors opted not to file charges against Alford, who cooperated with investigators and whom Galindo and Chapa said had nothing to do with the scheme.
A total of nine women testified against Galindo and Chapa, whose joint trial lasted six days. Two of them, Stephanie and Rose, said that they had sex with one or both men. The jury took less than a day to convict both men of sexual assault, compelling prostitution, and abuse of office.
Facing a maximum sentence of 20 years in prison each, Galindo was sentenced to 10 and Chapa to six. Neither responded to interview requests for this story.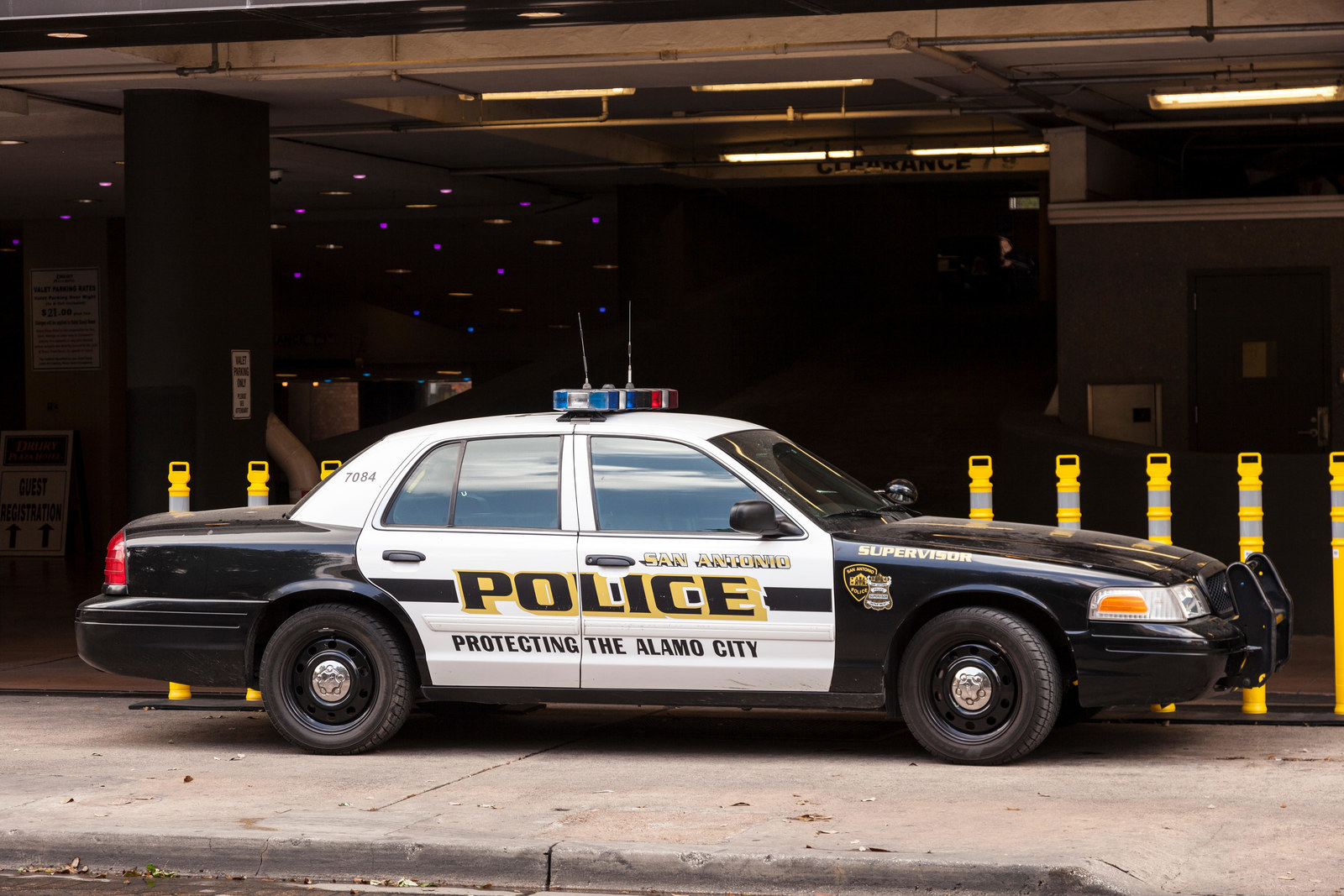 In 2011, the International Association of Chiefs of Police released a policy guide in response to "recurring accusations of sexual offenses" by officers nationwide. In the years since, few departments have applied the recommendations, which include regular audits of officers' traffic stops and response calls. "The problem is real," the guide stated. "Sanctions should be severe enough to reinforce the agency's zero-tolerance position."

But SAPD records show a pattern of leniency toward officers who abuse or harass women, on or off duty.
In 2015, Detective Patrick Kilbane was suspended three days for repeatedly violating a restraining order. A year later, Officer Jody Gonzales got 10 days for sexually harassing a teenage police explorer on a ride-along in his patrol car. Other cases remain hidden because incidents that do not result in suspensions are sealed under Texas law.
"The message police officers receive by not being sufficiently disciplined is they can get away with whatever they want," said Edward Piña, former president of San Antonio's ACLU branch.
"The core of the problem is men who feel entitled to abuse their authority."
While McManus has the final say on disciplinary decisions, he must weigh pressure from the local police union, which often fights to reduce an officer's punishment. At least three times since 2015, McManus took steps to fire an officer for sexual misconduct only to reduce the punishment to a suspension as short as five days after union-backed appeals, according to disciplinary reports.
It's part of a culture that protects cops and fuels bad behavior, said Norm Stamper, a former police chief in Seattle. "Police officers are used to having their way. The core of the problem is men who feel entitled to abuse their authority. And they have the power to intrude into people's lives."
In September 2013, Officer Jackie Neal, 38 at the time, was suspended three days for dating an 18-year-old woman in the police explorer program and then violating a no-contact order by later texting her. When asked in a 2014 lawsuit deposition why the punishment was so light, McManus said, "There was nothing illegal about it, and there are some parents who probably don't care" about the age difference. Two months after returning from suspension, Neal was accused of raping a woman in his patrol car after a traffic stop — the second time since 2007 he'd been accused of on-duty sexual assault, McManus said. Neal pleaded no contest to "improper sexual activity" with someone in custody and was fired, fined $5,000, and sentenced to 14 months in jail.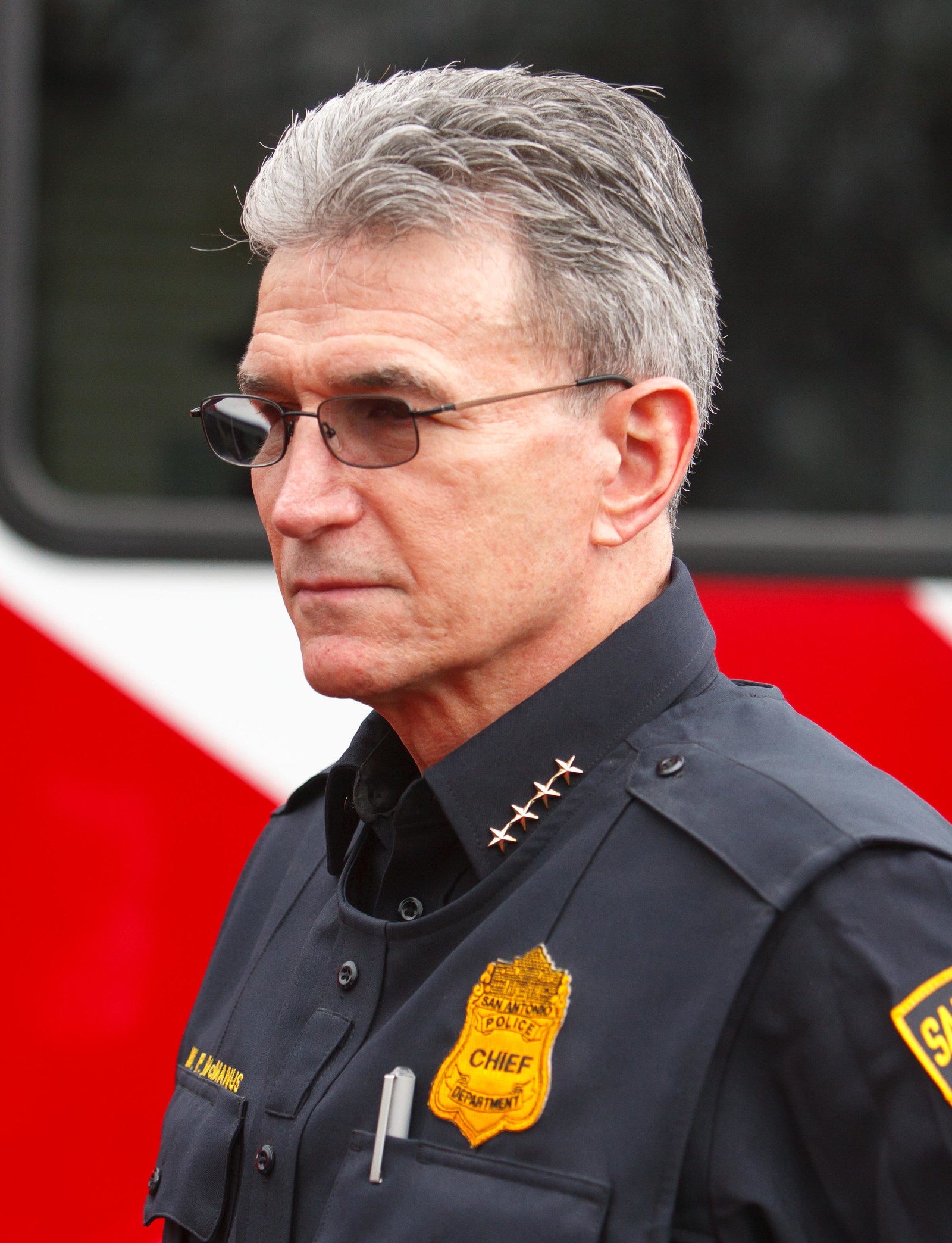 McManus has made some efforts to chip away at the SAPD's gender imbalance. Recruitment billboards in the city bear a photo of a woman in uniform. A fifth of cadets in the most recent police academy class are women. In March, the department hosted a "Women in Policing" recruiting event that drew more than 150 women, Sgt. Michelle Ramos said, adding that the department hoped to continue hiring more female cops. As recently as 1995, she said, less than 5% of SAPD officers were women.

Ramos recalled having two female bosses over her 17 years in the SAPD.
"They were very inspiring mentors," she said. "They were more approachable than, per se, a male."
During her early years on patrol, she reported to Lt. Geraldine Garcia, who would ascend to the command staff a decade later.
"She had two children and I have two children," Ramos said. "It was nice to always turn to her to help me through my career."
Two of the other female officers who spoke to me said that they plan to stay at the SAPD for many years, but both expressed a sense of resignation. The younger one said that her time with the department had made her think that maybe "the job is just geared toward men" because of the controlling personality required to be a cop.
"I guess men in general are just more like that than women," she said.
The older officer said she had conflicting feelings about her experience on the force. She was proud to work for a department so respected within the industry, but frustrated by her employer's failures to hire, promote, and retain women. "Honestly, I feel that they've really been trying, but that's been more recent," she said. "I think it'll shift some. Some." ●