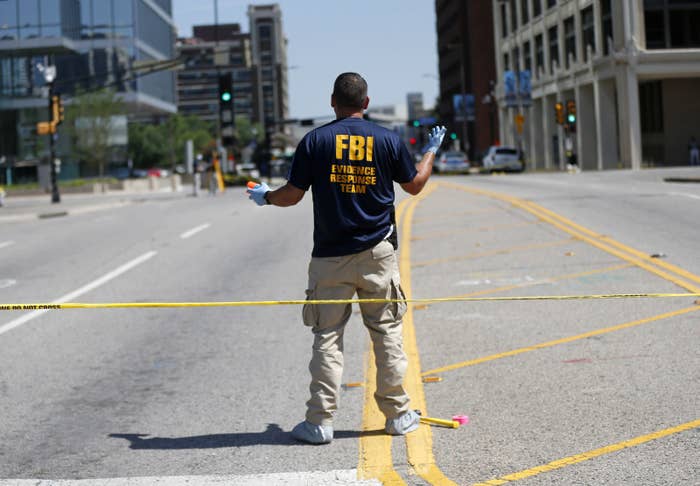 The law enforcement community nationwide is grappling with the ambush shootings of police officers in Tennessee, Georgia, and Missouri — all coming within a 24-hour span of the attack that killed five cops in Dallas on Thursday evening.

Although authorities in only one of the states suggested there was a link, the shootings come at a time of heightened tension among police departments across the U.S. as officers and union leaders express concern that the outrage over recent police killings of black men in Louisiana and Minnesota will spark a wave of violence against those in uniform. Black Lives Matter leaders, meanwhile, have condemned the attacks against police.
At 2:25 a.m. Thursday, less than 24 hours before the shootings in Dallas, a man shot four people, killing one, on a highway in Bristol, Tennessee. Local police identified the suspect as 37-year-old Lakeem Keon Scott, and said that he was armed with a rifle and a pistol.
Scott, authorities said, shot at passing motorists and at responding officers. Jennifer Rooney, a newspaper delivery worker, was killed, and one officer was wounded.
"Preliminarily, the investigation reveals Scott may have targeted individuals and officers after being troubled by recent incidents involving African-Americans and law enforcement officers in other parts of the country," the Tennessee Bureau of Investigation said in a statement.
Several hours after the Dallas attack, at around 8 a.m. Friday, Valdosta Police Officer Randall Hancock was shot multiple times after responding to a call of a break-in at an apartment complex in Georgia. Hancock fired back, wounding the suspect, whom authorities have identified as 22-year-old Stephen Paul Beck.
Four hours later, a St. Louis County police officer was shot while walking back to his car following a traffic stop in Ballwin, Missouri. Authorities told the AP that the suspect fired three shots, one hitting the officer, who was hospitalized in critical but stable condition.
Jeff Roorda, spokesman for the St. Louis Police Officers Association, said the 31-year-old officer was shot in the neck.

The suspect, whose identity was not released, is in custody, local police said.
Following the Dallas attack, many departments across the U.S. responded by ordering officers to patrol in pairs and to call for back-up before responding to any call. The St. Louis Metropolitan Police Department was put lockdown shortly after the Dallas attacks, Roorda said.
Joe Gamaldi, second vice-president of the Houston Police Officers Union, called for officers to keep heavy-vests resistant to rifle fire in their trunks, and Ed Mullins, president of Sergeants Benevolent Association in New York City, wanted an assault rifle and a bullet-proof shield placed in every sergeant's patrol car.
But there are few, if any, specific tactics officers can use to prevent surprise attacks, union officials across the country said.
"In an ambush-style attack, there's not much we can do," Gamaldi said.
Officials on Friday said the Dallas shooter, Micah Johnson, was a loner who wrote manifestos about how to "shoot and move, shoot and move."

In December 2014, weeks after prosecutors failed to indict the officers who killed Michael Brown in Ferguson, Missouri, and Eric Garner in Staten Island, New York, a lone gunman shot and killed NYPD officers Wenjian Liu and Rafael Ramos as they sat in their car. At the time, officers expressed a fear of a wave of copycat attacks, but that never materialized.
CORRECTION
The shooting in Tennessee took place at 2:25 a.m. on Thursday. A previous version of this article erroneously stated that the shooting occurred on Friday.