Mississippi Judge Clashes With Public Defender's Office
A Mississippi Judge is mysteriously re-assigning cases from public defenders to private attorneys. The Public Defenders and a U.S. Congressman say Judge Jeff Weill is violating the constitutional rights of the accused.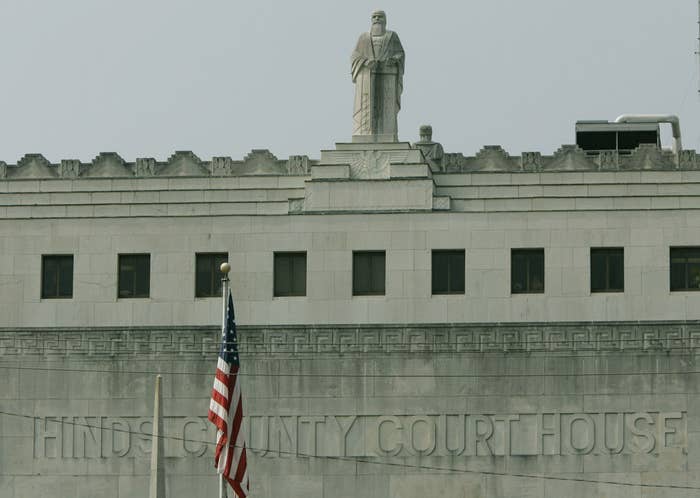 In less than three months, a Mississippi judge has unilaterally reassigned dozens of public defender cases to private attorneys over the objections of legal aid officials, potentially violating defendants' right to choose their own representation.
"The heart of the issue is that the judge is reassigning someone who has developed an attorney-client relationship over the basis of his own personal relationship" with the public defender's office, said Trey Baker, legislative counsel for Congressman Bennie Thompson, whose district includes Hinds County, which stretches west from Jackson, the largest city in the state.
Lawyers around Mississippi said they had never seen a judge do what Circuit Court Judge Jeff Weill did in early 2015. Hinds County Assistant Public Defender Alison Kelly was representing 55 defendants in his courtroom, and, in a torrent of court orders, Weill reassigned all of those defendants to private attorneys.
The dispute between Weill and Kelly has now spilled over into a full-blown fight pitting the office charged with representing the county's poorest defendants against a judge tasked with deciding their cases. And it has left dozens of defendants in Mississippi's biggest county confused over who will be representing them in court.
"We've got a lot of clients sitting in Hinds County who aren't sure who's representing them," said Leslie Lee, lead attorney at the Office of State Public Defender, which represents poor defendants in appeals and capital punishment cases.
Within the first two months of 2015, Weill reassigned all 55 of Kelly's cases to private attorneys. The judge's office had not notified the Hinds County District Attorney's Office. Kelly only learned of the reassignments when she showed up in court and saw that Weill was appointing new attorneys to her clients. In letters and conversations with the county's head public defender, Michele Purvis Harris, Weill accused Kelly of having "impermissibly conferred" with a witness, and of improperly practicing private law while working for the county — both charges the Hinds County Public Defender's Office denied.
Then, on March 16, two more public defenders walked into Judge Weill's court to find their cases reassigned. When Harris and Assistant Public Defender Greg Spore stood to represent their defendants, Weill ordered them to stand down, as he assigned their cases to a private attorney. He did not explain the decision beyond noting in his court order that he had "good cause." When Harris and Spore refused to stand down, he held them in contempt of court and fined them $100 each.
"I've never heard of it done at all in this state," said Lee, the state public defender. "You hear gripes from attorneys all the time between particular judges, but I didn't know it was to this degree. I didn't know it had gotten this bad, until this particular situation."
The dispute first became public on Jan. 15, when Jeff Weill sent a letter to the Hinds County Board of Supervisors warning them about "an upcoming budget expense in the circuit court due to an unfortunate series of issues." Those issues, he explained, centered on Alison Kelly, the Hinds County public defender who first had her cases taken away and reassigned.
Weill and Kelly had never really worked well together. A former prosecutor who also served on the city council, Weill was elected to the bench of Mississippi's 7th Circuit Court District in November 2010, and Kelly handled the cases in his courtroom. But after two years, the county's head public defender, Michele Purvis Harris, moved Kelly into another courtroom.
"They had had tension and conflict," Harris told BuzzFeed News. "I don't think that was just unique to Ms. Kelly. I think that the way that courtroom operates — I would just say that this courtroom is different, in the way it carries out the dealings of the court."
Kelly, who has practiced law since 2003, was "a public defender who was defending her clients zealously," said Baker. Weill, according to one local defense attorney who requested anonymity because he handled cases in the judge's courtroom, had a reputation for being hard on defense attorneys. "He's known for trying to prosecute from the bench," said the attorney. Weill, however, has framed his judicial philosophy a different way: "Violent, habitual offenders are dealt with very sternly and that's appropriate," he told a Jackson newspaper in August 2014. "Young, non-violent first offenders always get a second chance."
The paper noted, "To those behind bars, he's known as the 'Killer Weill.'"
Weill's office did not respond to interview requests for this story.
After seven months, the attorney who had replaced Kelly left for a new job and Kelly was assigned back into Weill's courtroom. Within weeks, Weill began demanding that Harris once again move Kelly out of his courtroom.
"Unfortunately, despite my making you aware of the behavior exhibited by Ms. Kelly on more than one occasion, the problems continue and have significantly worsened," the judge told Harris in a January letter.
That's when Weill accused Kelly of having "impermissibly conferred with a witness" and of practicing private law while working for the county. Harris refused to switch out Kelly, and so Weill took away her cases in his court.
Typically, after a defendant gets arrested, they make an initial appearance in local court, at which point a judge appoints an attorney if they cannot afford their own. Usually the case goes to a public defender. If the office has a conflict of interest with another case, though, the court contracts a private attorney to handle it. If the defendant goes on to get indicted, the case then enters the circuit court. Usually the lawyer who represented the defendant in the lower court holds on to the case. And this is where Weill diverged from the process.
Weill, in his court order, claimed that he had "good cause" to appoint a new attorney to each of Kelly's cases, even though contracting private attorneys for those cases meant the county would have to pay a to-be-determined billing fee.
"I look at it as a fiscal issue," said Lee. "You have a full-time office paying salaries of several full time public defenders, and now you're going to pay private attorneys for that full-time work."
The Hinds County Public Defender's Office filed a motion requesting a hearing to argue that Weill did not have "good cause," but Weill denied the motion. So, in February, the office appealed to the Mississippi Supreme Court to stop Weill from reassigning its cases to private attorneys.
The office argued in its motion that Weill is violating defendants' Sixth Amendment rights by "speaking on behalf" of them, and that the defendant should have a say on whether they get to keep the lawyer who had been representing them for months. But instead, those defendants must start from scratch, with new attorneys who know nothing about their cases.
The appeal was still pending on March 16 when Harris and Hinds County Assistant Public Defender Greg Spore had their cases in Weill's court taken away from them. Up to that point, Harris had believed that Weill's beef was only with Kelly.
Lee, the state public defender, offered to serve as a mediator between the two sides. She left her business card with Weill's court reporter, but she did not hear back from him.
On March 18, Congressman Thompson sent a letter to Attorney General Eric Holder stating that Weill "has systematically undercut the local public defender services" and "is violating the constitutional rights of many individuals who appear in his court." Weill, Thompson claimed, had "a clear bias against the public defender service." This week, the National Association for Public Defense filed a brief in the state's supreme court stating that Weill's transfer of cases was "arbitrary and unjustified" and "violates the principle of continuous representation."
What no one knows, at least at this point, is what Judge Weill is thinking. So far, he isn't talking.