Looted Baltimore Corner Store Witnessed Part Of Gray's Final Journey
The West Baltimore corner store whose security footage may have recorded a key part of Freddie Gray's journey in the police van prior to his death was destroyed in Monday's riots. Locals say it was a neighborhood institution.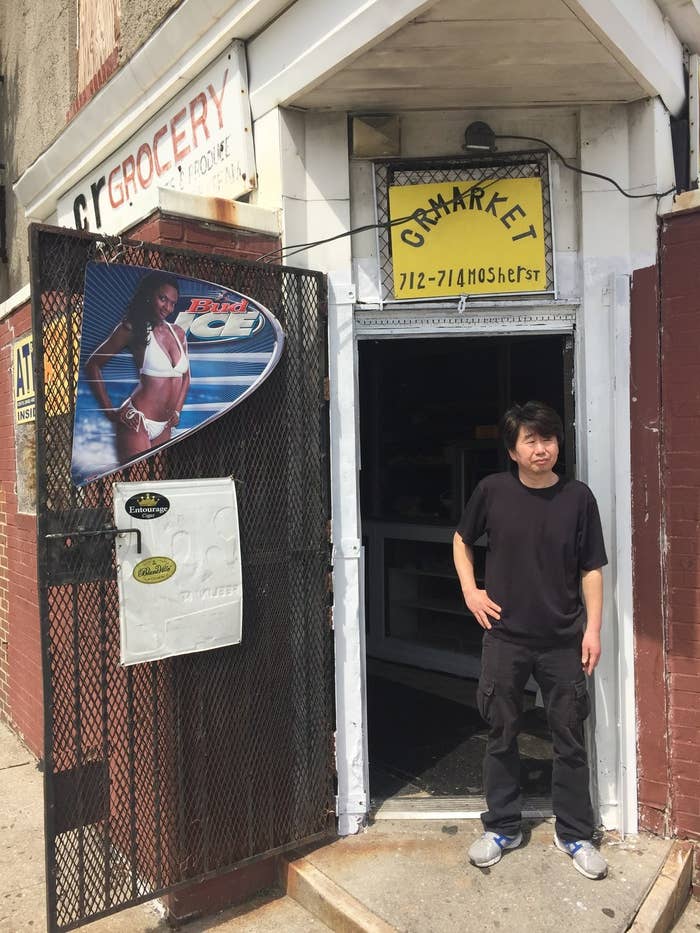 BALTIMORE — The neighborhood's young men watched the looters break into Jay's corner store in West Baltimore around sunset on Monday. There were dozens of them. They busted open a side window and climbed through. Then some of them stood out front passing out the goods they had pilfered: candy, beer, sodas, chips, T-shirts, and more. They cleaned the place out.
Two of the young men, a 25-year-old named Melvin and a 21-year-old who goes by Box, watched from their stoops across the street, on the block they'd grown up on. They didn't recognize any of the people passing in and out of the store. "Not from around here," said Melvin. They assumed these looters must be from outside their Sandtown neighborhood in West Baltimore because, they said, nobody from the neighborhood would have done the corner store dirty like that. Yet there was nothing they could do about it.
"How you gon' stop 50 people?" said Melvin.
Jay's corner store would have been just another of Monday night's anonymous casualties if not for strike of chance: On Thursday, the police department stated that the police van carrying Freddie Gray made an unreported stop in front of the corner store, as captured by the store's security cameras. By that afternoon, reporters converged on the corner of North Fremont Avenue and Mosher Street to find out more about the police van's detour. But to Box, Melvin, and other locals, this store was not just the latest piece of Baltimore at the center of the Freddie Gray story — it was a neighborhood institution, and they worried that the looting had shut the store down for good.
"I was mad," said Melvin. "I'm still mad about it. That store been here for decades."
Dimitri Moore, who lives a couple of blocks away from the corner store, said she called the police five times to report the looting. Not a single officer showed up. After all, it was one of many properties in Baltimore to face looting or vandalism or arson on Monday night, as riots spread across the city following the funeral of Freddie Gray, the 25-year-old who died after suffering a severe spinal cord injury in police custody on April 12.
"It was our corner store," added Moore. "Now that's just one less resource for our community."
The sign out front says "CR Grocery" but nobody calls it anything other than "the store" or "the corner store." It is a small place, even by corner store standards, and the merchandise sits behind the cashier, behind a thick pane of bulletproof glass. It sits across the street from an empty lot and down the block from boarded-up row houses. But this corner store was a bright spot.
The owner's name is Jung Hwang, but everybody calls him Jay. Melvin and Box said everybody loved Jay. He remembered your name. He let you build a credit line. He didn't speak much English, but he made an effort to small talk with customers. When a regular walked in, Hwang greeted him or her with a joke. "What's up ugly ass!" he said to Box once. "How much money you lose at the casino this time?" he told Box another time.
"He know me, he know my mother, he know my brother, he know my son." said Box. "He was real cool."
"He looked out for us," Melvin added.
Hwang, 43, took over the store two years ago. Before that his cousins ran it. Before that, locals said, a black family owned the store. Hwang grew up in South Korea and moved to Baltimore eight years ago. His aunt had moved to West Baltimore in the 1970s, and over the years more and more relatives followed, each one trying to persuade him to join. The store had done well under his watch, Hwang said. He opened his doors at 10 a.m. and closed at 9 p.m., every day but Sundays. Beer, soda, and cigarettes brought in the most profit. Sandwiches, too, which his father made from behind the counter. The locals had treated him well, he said.
"They understand, we got a problem, we gotta talk," Hwang said. "We don't make problem in this neighborhood, just talk. Make peace like that."
Over his two years, Hwang said, he had never been robbed. He had never interacted much with the police. Then one day in mid April — Hwang did not recall the exact date but said it happened a few days after Gray had died — a couple of officers entered his store and asked for the security footage from April 12. It was the first time they had ever made such a request, he said. Nobody had asked for his security tape in February, after police shot a man on the sidewalk out front.
On Thursday, police confirmed that the tape showed that the paddy wagon carrying Gray stopped at that intersection shortly after picking him up. No officer had officially recorded that the van had made a stop there. By the time the van reached the police station, Gray was unconscious. His neck was broken and he died a week later.
The protests erupted over the following days, culminating in riots on Monday night, when more than 100 cars burned across the city and more than 200 people were arrested. Box and Melvin had anticipated that Monday might get out of hand. They'd seen the message passed over and over on Facebook.
But they still were startled when looters hit the corner store. The store had always felt off-limits, they said. Hwang took care of them, and they took care of Hwang.
"I cried for the man," said a neighborhood local who identified herself only as Monica. "He's only been here two years and he was just now starting to see the profits."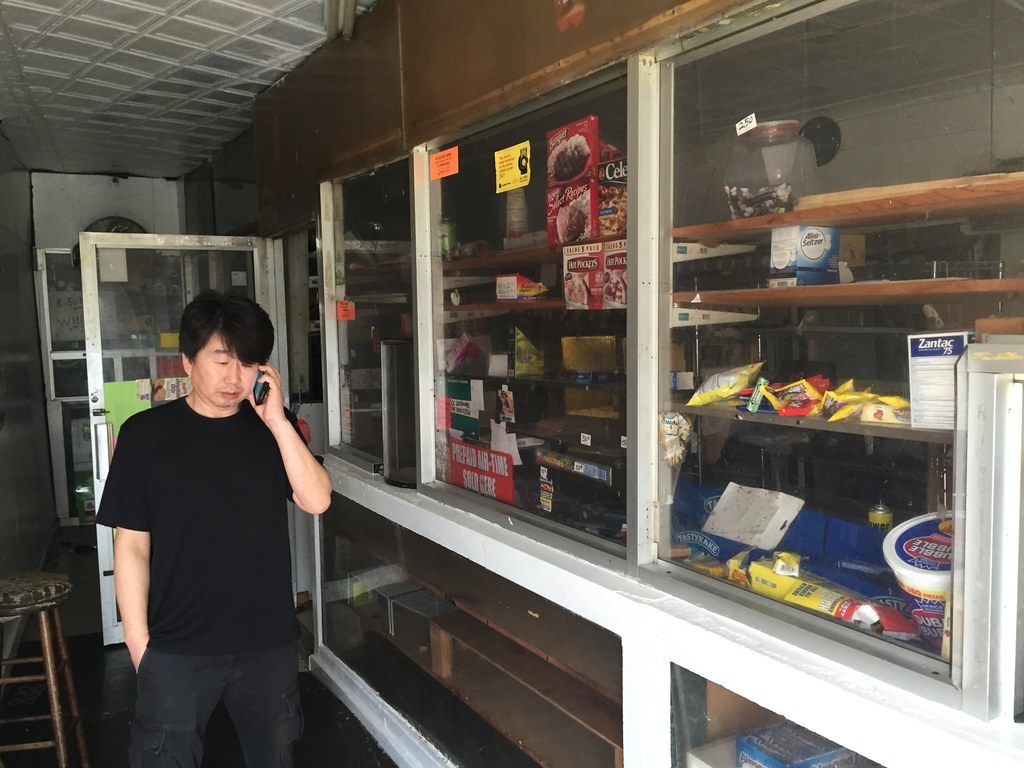 On Tuesday morning, when Box stepped out of his home, he saw Hwang standing outside his store, silently staring at its hollow carcass, empty but for a few beers and a full box of Almond Joys. Even the security camera was stolen.
"I don't bet he'll come back," said Box. "I wouldn't come back. He's the main one for us, for this whole area. Now that he gone, we gotta take some walks."
On Thursday afternoon, Hwang stood at the doorway of the store, smoking a cigarette and observing the reporters shooting video and taking photos of his corner. He said he had contacted his insurance company, but hadn't heard back yet about his claim. He couldn't open up shop again until he had merchandise, of course, and he wasn't sure when he'd be able to afford to restock his shelves.
"Not yet," he said. "I'm broke right now."
A car passed slowly down the street. The woman driving shouted out her window, "That's fucked up what they did to your store, man!"
Hwang gave a slight nod.
Then three teenagers walked by. One of them shook his head.
"Sup Jay," the teenager said. "You coming back, boss?"
"Maybe," Hwang said.
Albert Samaha is Inequality Editor at BuzzFeed News and author of two books, "Concepcion: An Immigrant Family's Fortunes" and "Never Ran, Never Will: Boyhood and Football in a Changing American Inner City." He is based in New York.

Contact Albert Samaha at albert.samaha@buzzfeed.com.

Got a confidential tip? Submit it here.

Joel Anderson is a senior national reporter for BuzzFeed News and is based in San Francisco. His secure PGP fingerprint is 0FC3 6546 0874 8D17 BDA8 B237 E902 EE20 2D74 269

Contact Joel Anderson at joel.anderson@buzzfeed.com.