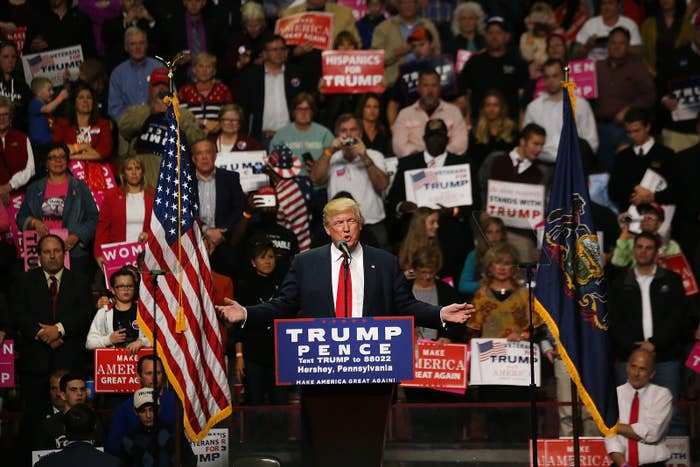 HERSHEY, Pa. — Richard Pendergast has been a supporter of Donald Trump since the day he announced his candidacy.
Over the past few months the 55-year-old utility worker has spent much of his free time volunteering for the campaign, knocking on doors in his native Delaware County, Pennsylvania, and neighboring Chester County. If Trump wins the state, Pendergast said, he will certainly win the election.
Pendergast seemed like just the kind of supporter Trump was speaking to when, in speeches at rallies, the Republican nominee called on volunteers to head to Philadelphia to "watch" polling sites to ensure he would not be cheated out of potential victory through voter fraud or intimidation.
"We have to make sure the people of Philadelphia are protected that the vote counts are 100 percent," Trump said last month in nearby Wilkes-Barre. "Everybody wants that, but I hear these horror shows. I hear these horror shows and we have to make sure that this election is not stolen from us and is not taken away from us. And everybody knows what I'm talking about."
And indeed, Pendergast, a longtime Republican voter who lives a short drive from Philadelphia, believed, despite evidence to the contrary, that in the past two elections there had been "goons standing outside sending away people who aren't for their guy."
But Pendergast had no plans to travel to Philadelphia on Election Day.
"There's gonna be funny business but they've got a team of lawyers on top of that," said Pendergast, as he stood on the floor of the Giant Center awaiting his candidate's speech there Friday night. "I'm confident they're on top of Philly."
"Our numbers ought to override the funny business," interjected his friend, Jerry Grauert. "I'm confident he's gonna win."
Many in the arena shared their mindset. All of the more than 30 Trump supporters here who spoke to BuzzFeed News — most from eastern Pennsylvania, some from New Jersey — said that they had no plans to poll watch in Philadelphia, that they didn't know anybody who did, and that no organizations had reached out to them asking them to volunteer for the task. While most of the supporters said they believed Trump's accusations about voter fraud, they also believed that, as Trump supporter Jake Monn put it, there was "no point in driving two hours for that. Trump's got this."

"I think it's going to be a landslide," said Sheldon Schaeffer. "It's just a media thing saying she's up."

Though Pennsylvania law states that people can only serve as an official poll watcher in the county in which they are registered to vote, Trump's calls for unofficial precinct monitors seemed to be gaining traction.
Trump campaign advisor Roger Stone told Politico that more than 1,000 volunteers would show up at polling sites in swing-state cities with large black and Latino populations, including Philadelphia. The Guardian reported the campaign hired Republican operative Mike Roman, who helped promote a 2008 video showing two members of the New Black Panthers standing outside a polling site in Philadelphia, to oversee its "election protection" effort.
Here in northern Pennsylvania, though, supporters did not seem eager to participate in such efforts.
"I don't know Philly that well so I don't know where I would go," said Tim Sheehan, who has the day off from work on Tuesday and planned to serve as a poll watcher in his local Dauphin County.
Another supporter, Shelly Banks, said, "I won't be doing that. I'll be voting, then going to work."

Retired steelworker Larry Shaak said he had volunteered for the campaign for months and was eager to relax on Election Day, "eyes glued to the TV."
Others echoed Grauert, who explained, simply, "I've got a lot to do."
Boris Poppoff, a retired coal miner and Vietnam vet, had no doubt that there would be instances of voter fraud in Philadelphia and elsewhere, even though every credible study has found that such crimes are too rare to have an impact on a national election.
"We know there's fraud," Poppoff said. "People who go two, three times to vote. The cities are where people on welfare are gonna do what they can to keep the checks coming. People like me who work for a living, we say if you don't work, you don't eat. These people, they can sweep the streets, they can find something to do."
Yet he was not worried about Trump losing the election.
"There's enough anger amongst us working people," Poppoff said. "We've had enough."
Like his fellow supporters at the Hershey rally, Poppoff said that he simply did not see that much support for Hillary Clinton. During his hour-long drive to the rally, he saw many Trump signs, he said, and not a single one for Clinton.
"It surprised me that he's worried about Pennsylvania," said Debra Kimsal. "Because every person I talk to is for Trump."