"I Can Breathe! 'Cause I Don't Steal!"
At the latest demonstration, NYPD supporters gathered on one side of the fence, counter-protesters on the other. It got heated.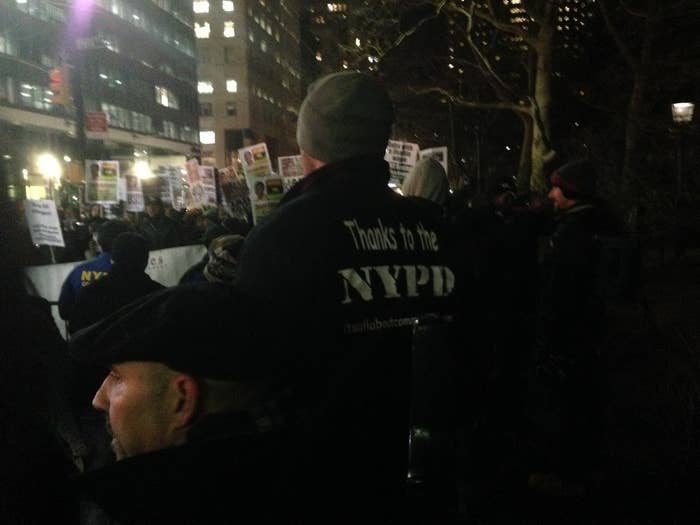 The man in the "I Can Breathe" shirt stood by the fence outside New York's City Hall beside a bag filled with many more of the shirts. Three men walked up to him.
"You selling these?" one of them said.
"If you'll wear it," said the man in the "I Can Breathe" shirt.
"Hell yeah. How much?"
"Well, they're $18 online, but they're free for you."
The three men held the shirts up. On the front, in white font over black, "I Can Breathe," and on the back, "Thanks to the NYPD." The man who was selling them explained to his customers that 10% of the profits were going to the New York City Police Foundation.
"Thank you for wearing them," he said.
"No, thank you. Thank you very much."
The three men had arrived punctually at 5 p.m. Friday at what the flier described as a "Pro-Cop" rally (#ThankYouNYPD).
They stood on the sidewalk in front of City Hall, boxed in by steel police barricades, as their fellow NYPD supporters trickled in.
Just up the sidewalk, past two rows of barricades and a line of officers, around 50 people were shouting phrases like "Black lives matter!" chanting "I can't breathe!" and holding signs, some of which read "Jail Killer Cops."
It was a counter-rally and it was going strong.
As it kicked off, there was just one sign on the pro-cop side and around 20 on the counter-rally side. But what the pro-cop side lacked in signs, it made up for in media members. More than a dozen of them scrambled around, sticking microphones and voice recorders in front of police supporters who were willing to speak. Among those who did, more than one said they were there to defend the "other side to this."
Walter Hillegass, a retired construction worker from Queens, for instance, was there for the officers who turn on the news and think, "Oh great, this is what my city thinks of me? This is what my country thinks of me?"
The cop supporters shared their perspective with their counterparts across the barricades, too, in shouts loud enough to pierce the chanting.
"I can breathe! 'Cause I don't steal!"
"Fuck the criminals!"
"Blue lives matter!"
A "Don't resist arrest!" chant got started. Then a "Jail all criminals!" Then an "NYPD, thank you for protecting me!"
Soon, a few of the counter-protesters made their way into the middle of the pro-cop pack. One young woman held in one hand a sign that read "Watch the Watchers" and in the other hand a camera, which she used to snap photos of the faces she passed.
A crowd gathered around the infiltrators. Debate began within seconds. Within a few more seconds, it devolved into something less.
"Put that shit in my face and I'mma tear it down!" said one man, pointing to the sign.
"Who you gonna call if somebody's robbing or raping you?" shouted a woman. "Who you gonna call? The crackhead? Who you gonna call? Al Sharpton?"
"Get the fuck outta here!" said another man. "Go on the other side!"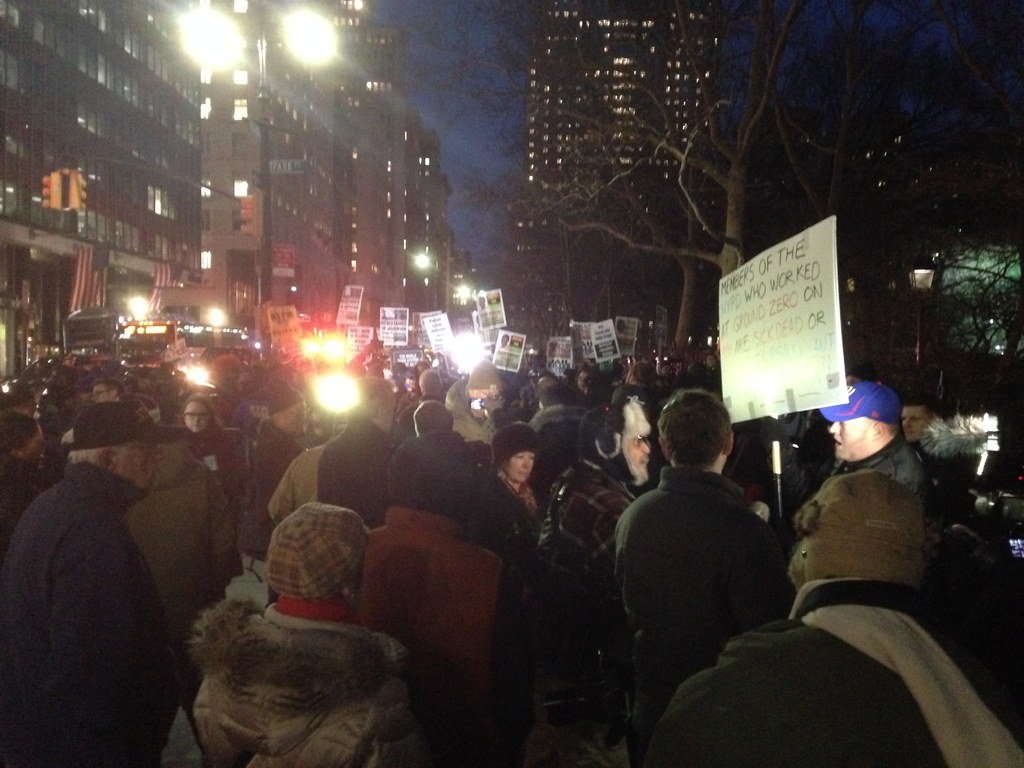 The counter-protesters, meanwhile, alternated between chanting and preaching about police brutality.
And then, somebody grabbed the woman's sign, tore it in half, and threw it into the air.
The young woman turned to a nearby officer who stepped between the sides and called for calm.
"Oh, now you need the cops? All of a sudden!" shouted one woman.
A young man in an "I Can Breathe" shirt picked up the pieces of the torn sign and handed it back to the young woman.
"Here's your sign back."
"Thanks fuck face!" the young woman replied.
Walter Hillegas watched the scene in silence, shaking his head and holding his sign. He wasn't here for altercation, conflict, or debate.
"I let the sign do the talking," he said.
Written on his sign: "Members of the NYPD who worked at Ground Zero on 9/11 are sick, dead, or dying! They really can't breathe! Protest that!"
Hillegas worked at the Ground Zero site for five days after 9/11. He met some of the officers who responded that day. He grew up around people who became cops. His cousin is a cop.
Police officers, he said, don't get the respect they deserve.
Hillegas didn't come to the demonstration for trouble. He came to show support. But he couldn't help it that trouble kept making its way to his side of the barricades.
He noticed a young man in a ballcap leaning against the wrought-iron fence that enclosed City Hall from the sidewalk, silently watching the pro-cop supporters. Hillegas pointed out the young man to another supporter, and observed that the young man had come from the other side.
Hillegas turned to the young man and said, "Just listen to this, lemme throw a little bit of knowledge at you—"
"I'm not listening to this," the young man responded before walking away.
"See, that's just what I thought!" Hillegas said to the supporters around him.
"He's too ignorant for the knowledge!" one supporter added.
But then the young man returned, this time loudly.
"Hide behind your white privilege, everyone!" he said.
"Go fuck yourself!" a man in a leather jacket shouted back.
The young man began shouting about the NYPD harassing him because he's black, and about how the mostly white cop supporters wouldn't know anything about that because police have always only been there to protect them.
"You're not black!" said the man in the leather jacket. "You're Spanish!"
"I am black!"
"You're not black! You're Puerto Rican! Or Dominican!"
"I'm half-black, half-Puerto Rican! My ancestors came here in chains! There's slavery in my blood!"
"What's your arrest record look like?"
It was at that point that an officer tapped the young man on the shoulder and asked him to walk away, and he did.
By 5:45 p.m., the pro-cop side had filled in with a crowd of about 75 people.
Some sang God Bless America. At one point, a group recited the Pledge of Allegiance.
They were outnumbered, and they knew it.
"This is well-rehearsed," Hillegass said — the chants on the other side of the barricades maintaining a non-stop rhythm, the counter-protesters on his side still arguing with cop supporters.
"They're trying to agitate us," he added. "That's what they're trying to do. I experienced this with Occupy Wall Street. Push buttons, push buttons. It's a technical tactic that they use."
Around 6 p.m., a column of marchers stormed up Broadway, and the counter-protesters behind the barricades let out a cheer.
Soon the counter-protesters joined the marchers and drained the demonstration. Only a few dedicated voices remained on either side of the barricades to trade shouts.
Hillegas, for one, said he was glad to see the spectacle wind down. It was cold — Friday night, for God's sake — and he was eager to get home and have dinner with his wife.