How Mississippi Cops Threaten College-Age Kids Into Becoming Informants
A recording of two officers from Oxford, Mississippi's Metro Narcotics unit sheds light on how the unit pressures college-age suspects into becoming informants.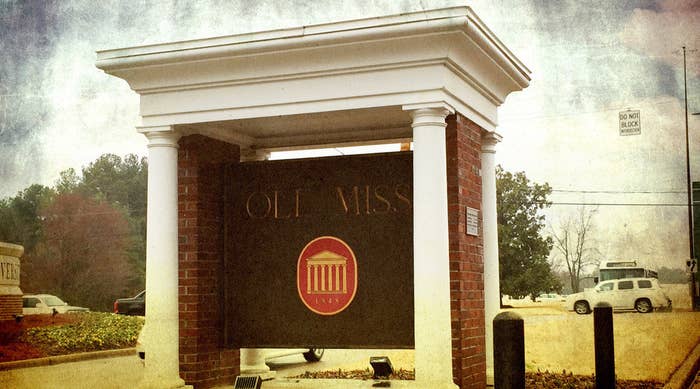 Agents of a narcotics unit based in Oxford, Mississippi, made violent threats against at least one person during a meeting in which they attempted to persuade him or his girlfriend to serve as confidential informants, according to a 2012 audio recording obtained by BuzzFeed News.
The recording of the meeting, which lasted about 20 minutes, offers a glimpse into the methods Lafayette County Metro Narcotics agents use in their efforts to build their network of CIs, including intimidating suspects and exaggerating the potential legal consequences they could face. These methods are consistent with the claims more than a dozen young men and women from Oxford have made to BuzzFeed News over the last several months. Metro Narcotics Captain Keith Davis declined to comment for this story.
As an April BuzzFeed News investigation detailed, Metro Narcotics, which is jointly overseen by the county sheriff's office, the city police department, and the University of Mississippi, targets college-age defendants who face low-level drug charges and pressures them into becoming confidential informants. For the dangerous business of informing on drug transactions, law enforcement officials typically recruit people who have extensive connections to criminal activity.
Yet each year Metro Narcotics enlists an average of 30 informants, most of whom have little connection to the drug scene other than as low-level buyers. Around half of the 240 or so people arrested by Metro Narcotics in 2014 were first-time offenders, and the unit made three times as many arrests for marijuana as for any other drug. To get these young men and women to cooperate, the unit's four agents often threaten them with prison sentences or a life-long drug record.
Those methods are on display in the 2012 audio recording, which was provided to BuzzFeed News by Ken Coghlan, a lawyer for the young woman and young man, on the condition that his clients' names not be published and that BuzzFeed News not publish the audio for fear that his clients' voices could be recognized. The young man and young woman declined, through Coghlan, to be interviewed. BuzzFeed News confirmed their identities independently through public records.
According to Coghlan, the woman was a student at Ole Miss in her early 20s when a classmate asked if he could buy "around 10" adderall pills from her to help him study. She had a prescription for the pills. The classmate turned out to be an informant. Metro Narcotics confronted the woman and arranged for a meeting. Like many Oxford locals, the young man and the young woman anticipated that the agents would try to get one of them to work as an informant in exchange for a dismissal of the case, Coghlan said. Her boyfriend accompanied her and surreptitiously recorded the meeting on his cell phone.
Shortly after the couple entered the room, one of the agents accused the young man of threatening members of the unit in a phone call he made the day before to complain about the unit's treatment of the young woman, which the young man denied (in that phone call, he had not spoken directly with Davis and Knight). As the agents repeatedly asked the young man if he had made threats against them, he replied with "No" and "I don't think so, sir" and "No, sir."
"It was not true, and I think they were just trying to scare my client and her boyfriend so that the kids would do what the narcs told them to do," Coghlan said.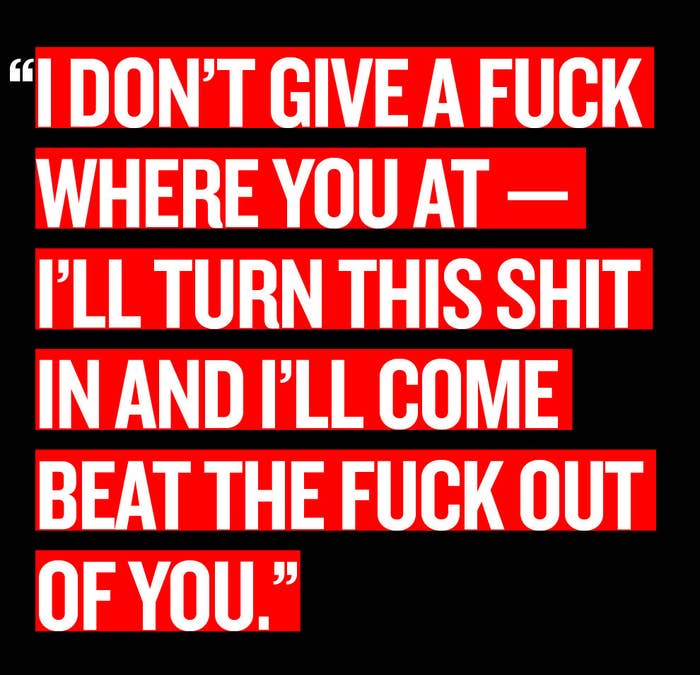 For the first few minutes of the meeting, Metro Narcotics agents made a series of threats against the boyfriend.
"If you ever in your fucking life say something about my family or where I stay again, I'm coming to see your ass," said one agent, identified by Coghlan, as Tommy Knight. "If a piece of grass grows in my fucking yard, I'm coming and find your ass. Do you understand that?"
And a minute or so later: "I don't give a fuck where you at — I'll turn this shit in and I'll come beat the fuck out of you."
A bit later, a man identified by Coghlan as Keith Davis told the boyfriend, "Find me and it will the last fucking place you ever go in your life…. It took all I had not to come see you last night. To hunt you down."
(Davis declined recent interview requests because he said he was unhappy with BuzzFeed News's previous article about Metro Narcotics, in which he was quoted.)
The conversation eventually turned back toward the young woman's situation.
"Far as your girlfriend is concerned, I have bent over backwards to help her," the man identified as Knight said. "We could have took her to jail the first day we met her. But I made the choice, and got approval through him, to let her cooperate. We ain't gotta let nobody that works for us fucking cooperate. That's a privilege."
The young woman was four and a half months pregnant, and the young man brought up the possibility of his working as a CI in her place, even though he had nothing to do with the crime she was accused of committing. The agents agreed to this. In their effort to close the deal, they brought up his coming child multiple times, and how much it would damage that child to have a mother behind bars.
"I don't want nothing happening to your baby by far," the man identified as Knight said. "That's my most concern, is that child."
"'Cause that child is gonna need you both to be there, both to love that child," the man identified as Davis said. "We want the child to be born healthy."
"You got the opportunity to work for her, you can work these charges off for her," the man identified as Knight said.
"That means snitching," the man identified as Davis later added. "We're trying to work with y'all. Against our better judgment we try to work with y'all."
The boyfriend expressed concern about working as an informant. He asked if the agents would tell him who to target, and an agent replied, "You have to do it. We don't pick people out."
"Okay, well it's gonna look really weird because I don't do anything but drink every now and then," the boyfriend said. "And everybody that I know, knows that… . It's gonna look really shady."
The man identified as Davis offered guidance: "You think you could spin it and then say that you're trying to make some extra money or something? That might be an approach to take. I don't know. I don't know the relationships of the people you know and the way you know them."
"Before you start, we'll sit down and find out who you know," said the man identified as Knight. "The thing about it is, we're not telling you to go out and force people to sell you — If you can't do it, you can't do it. We trying to help her and the baby out."
Knight continued: "If you don't know somebody, get to know somebody before you say anything about them. Because, we could have been an ass here and went straight to the jail as soon as you walked in here."
Yet while the agents said they would not select targets, they made clear that it was in the young man's interest to approach people the unit was already seeking to bust.
When the boyfriend asked how many deals he would have to make, the agent identified as Davis said, "10 people, but we know everybody don't know 10 people...Two or three decent ones we've been after and then be done."
He also asked what consequences his girlfriend faced if they didn't take the deal. The man identified as Davis told him she would be charged with sale of a controlled substance, for a schedule two drug.
"It's about a 30 year charge, that's what it means — maximum penalty," the agent said. "But since you're a first time offender, I seriously doubt you will get maximum penalty."
Three defense lawyers contacted by BuzzFeed News said there is almost no chance a first time offender would be given a long sentence in a case like this.
By the end of the meeting, the couple had tentatively agreed to Metro Narcotics' offer. But then they met with Coghlan, who advised them to reject the deal. He said that he got the charges down and the woman took a plea deal for no jail time and two and a half years of probation, with the charge erased from her record after three years.
Albert Samaha is Inequality Editor at BuzzFeed News and author of two books, "Concepcion: An Immigrant Family's Fortunes" and "Never Ran, Never Will: Boyhood and Football in a Changing American Inner City." He is based in New York.

Contact Albert Samaha at albert.samaha@buzzfeed.com.

Got a confidential tip? Submit it here.