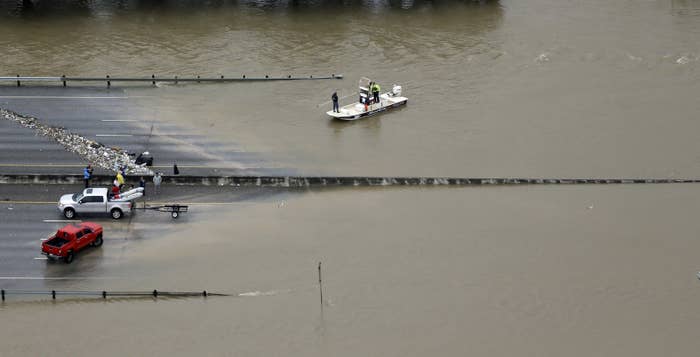 HOUSTON — Despite Houston's history of flooding, the police department lacked the training and equipment to properly respond to the disaster amid record rainfall from Tropical Storm Harvey, several officers told BuzzFeed News.
Most officers had not gone through flood training, had no access to boats, and were unable to respond to an untold number of emergency calls because the department had only a limited fleet of high-water vehicles, they said.
"I can't tell you off the top of my head how many we have, but I can tell you that it wasn't enough," said Joe Gamaldi, vice-president of the Houston Police Officers' Union. "The unexpected challenge we had was that this ended up being one of the most epic storms in history."
The torrential rain that pounded Houston nonstop from Friday through Monday left the city's more than 5,000 officers — all on-duty, most working 16-hour shifts — scrambling to find ways to reach residents stranded in homes surrounded by rising floodwaters. One officer, Sgt. Steve Perez, a 34-year veteran of the force, died after driving his cruiser into a flooded underpass early Sunday morning.
As emergency dispatchers were overrun with calls through the weekend and into Monday, police officials resorted to calling for civilian assistance, asking boat owners to provide officers with water crafts in order to conduct rescues.
Four officers who spoke to BuzzFeed News said that every boat they used for rescues had been brought to them by civilians, including some from out of state. Each of the four officers said they had never trained specifically to handle flood situations.
According to Gamaldi, only a specialized unit of officers undergoes flood training, though he did not know how many were in this group.
The Houston Police Department didn't immediately respond to a request for comment.
Other than those specialized units and a team of officers trained in diving, the bulk of rank-and-file officers found themselves attempting to make difficult rescues in unfamiliar, often dangerous circumstances. At least one boat filled with patrol officers capsized and had to be rescued by another group of officers, Gamaldi said.
In another instance, an officer in a boat saved another law enforcement agent who had been swept away in current so strong that it pulled his boots off.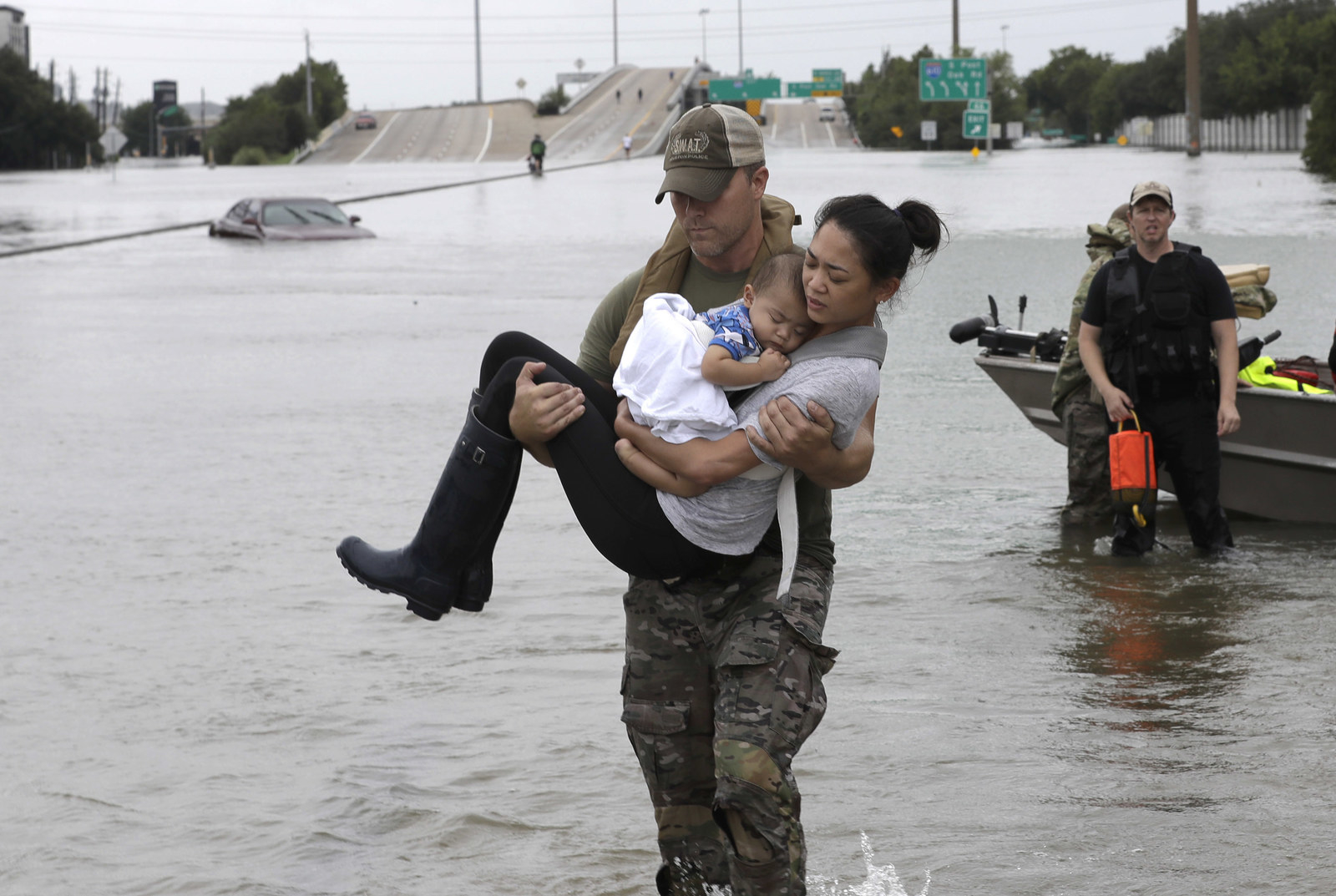 When the storm hit on Friday, the four officers told BuzzFeed News, they weren't exactly sure what to do.
"Just follow directions at that point," one of the officers said. "We weren't expecting it to get as bad as it did."
Some officers said they were caught off guard by the city's lack of available shelters. On Monday night, after officers on a boat rescued Kenneth Hurst, who had been stranded in his partially flooded first-floor apartment for three days, they didn't know where to take him, he told BuzzFeed News.
Once on dry land, they escorted him to a high school that they thought was serving as a shelter, but discovered it was closed. They then tried another location to no avail before taking Hurst to a dimly-lit empty supermarket parking lot. When Hurst refused to stay there, officers dropped him off at West Houston Medical Center, not knowing it was being evacuated.
Hurst eventually ended up at Lakewood Church.
"They didn't have a game plan," he said. "When they found out I had no people I could call, they said there was nothing they could do. They said they had to get back in their boat to find more people."
By Wednesday afternoon, with the rain stopped, the sun shining, and the waters receding, many officers had their first chance to catch their breath in days. Their shifts were down to 12 hours now, the emergency calls less frequent.
Officer Daniel Cerda said he hadn't been home since early Friday. Like other officers, he slept at the police station. He still wasn't sure when he'd next see his family.
It was a tough few days, he admitted, but his experience was nowhere near as tough as what he'd seen.
"We haven't had it as bad as a lot of other people," he said.
If you've been impacted by the storm in Texas or have a tip about rescue, relief, government, or aid efforts, call the BuzzFeed News tipline at (646) 589-8598. Find us on Signal, email, SecureDrop, and more here.