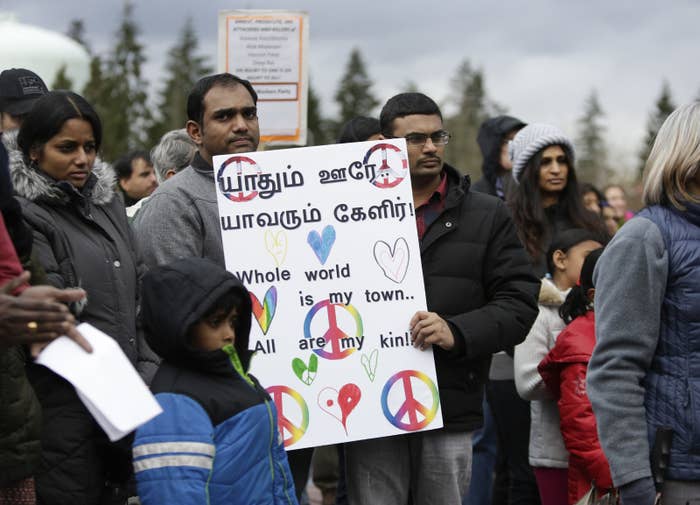 The basic details of the shooting were familiar: An Indian man shot in his front yard, seemingly out of nowhere.
The killing of 43-year-old business owner Harnish Patel on Thursday night in Lancaster, South Carolina, came eight days after two Indian men were shot — one of them fatally — at a bar in Olathe, Kansas, and one day before an Indian man was shot in his driveway in Kent, Washington.
In those two cases, the motives of the shooter seemed immediately apparent, as the victims and witnesses described gun-toting white men shouting at their victims to leave the country.
The Lancaster case, however, remains a mystery. The Lancaster County Sheriff's Office has declined to state whether it has evidence of any motive, whether it has identified any suspects, and whether investigators have located any relevant witnesses or surveillance footage. All the office has disclosed about the investigation is that it has yet to find evidence that Patel's ethnicity was a factor in the crime.
"We don't have any facts that we have uncovered yet that says he was killed for a racial reason," Doug Barfield, an attorney for the Lancaster County Sheriff's Office, told BuzzFeed News. "We don't know that it's not, we don't know that it is."
It's an understandable reticence. As they move forward, at a moment of heightened public interest in potential hate crimes, investigators — and, even more so, the prosecutors they pass the baton to — must navigate the legally complicated and politically fraught waters of determining what makes a crime a hate crime. The label not only adds years to a prison sentence but brings increased attention to a case and drops a particularly vile stigma onto a defendant.
"Hate crimes are different from other crimes because it's not just the individual victim who suffers, it's the whole community that is scared," said Heidi Beirich, director of the Southern Poverty Law Center's Intelligence Project, which studies extremism. "I just don't think there's been enough emphasis on these issues from law enforcement."
To pursue a hate crime conviction, prosecutors must show that the suspect had "specific intent" to commit a crime largely based on bias against the victim's race, religion, gender, sexual orientation, or any type of protected class. The main hurdle for law enforcement is finding evidence that reveals a suspect's motivations, said Alex Bastian, a prosecutor at the San Francisco District Attorney's Office, which is currently pursuing 15 active hate crime cases.
"You have to look at the facts and you have to look at the law," said Bastian. "When you start getting away from that, that's when you start having real problems with prosecutions."
"Hate crimes are different from other crimes because it's not just the individual victim who suffers, it's the whole community that is scared."
Sometimes connecting these dots is simple.
In the Olathe, Kansas, incident, witnesses said that before the shooting, the suspect had harassed the two Indian men, questioned their immigration status, and shouted, "Get out of my country!" A bartender whose 911 call led to the arrest told the dispatch operator that the suspect told her that he had shot "two Iranian people." Adam Purinton, 51, was arrested and charged with murder. Similarly, in the Kent, Washington, case, the victim, who survived, told police that the shooter was a white man who shouted, "Go back to your own country," the Seattle Times reported.
But, often, peering into a person's motivations can be complicated, leaving investigators and prosecutors to untangle a web of thoughts and decisions in the moments leading up to a crime. "At the end of the day we're the last filter before a person is criminally accused of something, and it's important that we take that responsibility very seriously," Bastian said.
In El Sobrante, California, on November 12, Will Sims, a 28-year-old black man who worked as a jazz musician, was beaten, robbed, and shot to death in front of a bar. The Contra Costa County District Attorney's Office, which declined to comment on the record about the case, added hate crime charges to the murder case against the three suspects.
At a preliminary hearing, prosecutors introduced evidence showing that the basis of the hate crime charge was a witness's statement that one of the defendants, Daniel Porter-Kelly, said the N-word at Sims shortly before the attack. The moment was captured on the bar's security cameras, though the loud music at the venue partially drowned out audio of the exchange. A detective who testified at the hearing also said that a witness claimed to have overheard one of the defendants say the N-word while they hit Sims. Prosecutors alleged that one of the other defendants, Ray Simons, shot Sims before the group drove away.
Two prosecutors, who requested anonymity to discuss a case they were not involved in, said that, despite the witness statements, the hate crime charge was not so clear-cut because Sims was also robbed. "That complicates things," said one of the prosecutors. "It means racial bias might not have been the primary motivation."
When the third defendant, Daniel Ortega, arrived at the Martinez Detention Center following his arrest, word of the hate crime allegation had already spread among inmates, Ortega told BuzzFeed News in a phone interview.
"When I first got here, they slid the articles in the paper under my cell door," he said. "It definitely made it more dangerous for me. As soon as I got here, people were saying, 'We was waiting on you. You better be careful.' People who don't know me assume that I'm racist and guilty."
While he proclaimed his innocence in the interview, he was just as adamant in declaring that he was not racist.
"I grew up in a black neighborhood," said Ortega, who is half Mexican and half Portuguese. "Most of my friends are black."
Ortega said that he thought prosecutors had tagged on the hate crime charges for political reasons — the murder had taken place four days after the election, in a region, the Bay Area, that has already begun to take additional steps to address reports of hate crimes. The San Francisco District Attorney's Office, for example, was the first in the nation to establish a "Hate Crime Hotline" for residents to report incidents.
"Coverage shifts from place to place, and in some places it's rarely or never reported to the FBI."
"I think it had to do with Trump," Ortega said. "I feel like it has to do with what's going on."
Other parts of the country have not been as eager to document the frequency of hate crimes. In 2015, the last year FBI data is available, jurisdictions in California reported more than 800 hate crimes, while jurisdictions in South Carolina reported less than 60, in Alabama 10, and in Mississippi zero.
"The data is bad," said Beirich. "Coverage shifts from place to place, and in some places it's rarely or never reported to the FBI. It's something that needs to be improved, especially since we have seen so much hate violence since the election."
But as the number of hate crime reports increases, Beirich added, so does the potential for misinformation.
"We cannot make assumptions if there's not any information, because that leads people to question the incidents that we actually know are occurring," she said.
Such was the case in 2012, when the death of Shaima Alawadi, a 32-year-old immigrant from Iraq living in the San Diego area, was initially reported in the media to have been a hate crime. But, ultimately, her husband was convicted of the murder.
The family of Harnish Patel does not consider their loved one a casualty of the apparent post-election surge in hate crimes. Mahesh Patel, Patel's brother-in-law who is serving as the family spokesperson, said that he believes that the shooting was "most likely not" a hate crime.
"I don't think so," he said. "Because he loved the whole town and the whole town loved him. He was helping a lot of people, thousands of people. He would give them drinks and food for free if they could not afford it."
Patel, who had a seven-year-old son, emigrated from India in 2003, then moved to Lancaster in 2009 after a few years in Charlotte, North Carolina. In July 2016, after years of working for other people, he bought the Speedee Mart convenience store. He was killed in his front yard after returning home from the store.