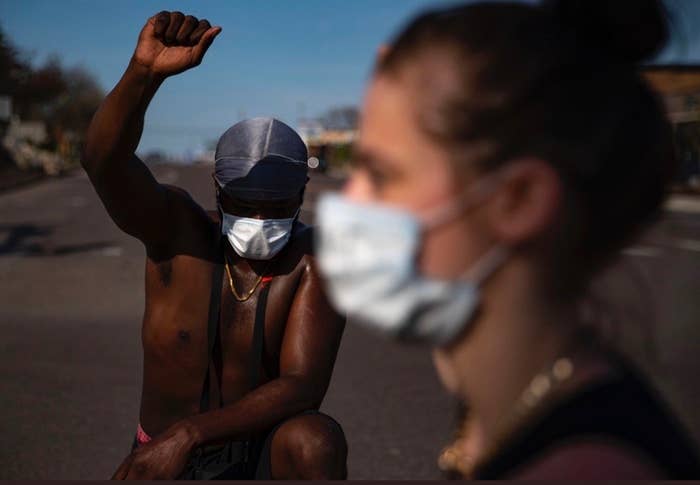 Joe Carter was just 14 years old when Michael Brown was killed by an officer in Ferguson, Missouri, in 2014 and the subsequent protests gave rise to the modern Black Lives Matter movement. He was 15 when Jamar Clark was killed by an officer in his hometown of Minneapolis, and 16 when Philando Castile was killed by an officer in the St. Paul suburb of Falcon Heights.
Each time, Carter, who is black, had felt gut-punched; then after watching the protests on social media, he'd turn optimistic because of "the energy you could feel" — an attempt to fight back against police violence.
But again and again, he said, it felt like no matter how much people talked of reform, "nothing was done." No one was ever charged in Clark's death; the officer in Castile's case was charged but then acquitted.
Around the country, it felt like the same story. Scores of departments trained their officers in de-escalation tactics and outfitted them with body cameras for public accountability. In cities from Philadelphia to San Francisco, voters elected district attorneys who vowed to hold police officers accountable. At least 14 officers involved in high-profile killings — in Albuquerque, New Mexico; North Charleston, South Carolina; Cincinnati; Baltimore; St. Louis; Tulsa, Oklahoma; Milwaukee; and Falcon Heights, Minnesota — were criminally charged. And then they were acquitted or got off on a hung jury, or prosecutors dropped the charges and the case closed without anyone going to prison, even on occasions when the brutality had been caught on video for all the world to see.
"How many times does it have to happen?" Carter said. "How many lives have to be turned into hashtags?"
On Monday, May 25, George Floyd died after being placed in a knee chokehold by Derek Chauvin, a Minneapolis police officer. In the days that followed, Carter and his friend Brayleigh Keliin took to the streets for the first time in their lives — despite the perilous backdrop of a deadly pandemic.
On Tuesday afternoon, the day after Floyd died, Keliin, a 19-year-old caregiver for adults with disabilities, drove two and a half hours from her home in Superior, Wisconsin, to Minneapolis. The next day, Carter, now 20 and an aide at an assisted living facility, joined her at a rally in Duluth, Minnesota. By Thursday, the pair were organizing their own rallies.
They wore cloth masks to protect themselves and encouraged others to do the same. They tried to keep at least a few feet away from fellow protesters. They knew it might not be enough. They were willing to take the risk anyway.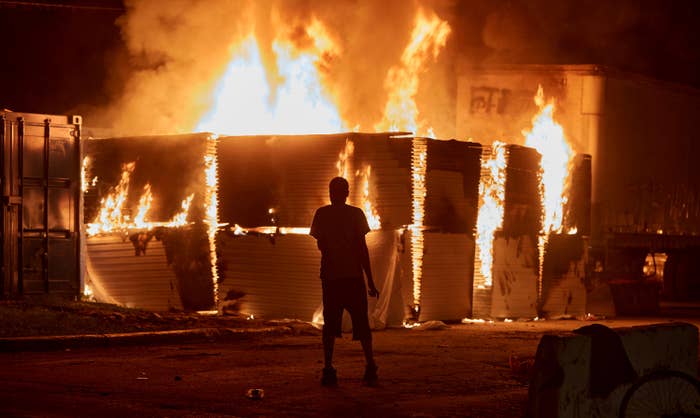 They appreciated the strong response to Floyd's death: Minneapolis Police Department Chief Medaria Arradondo fired the four officers involved in the arrest. Mayor Jacob Frey called for criminal charges. The country's largest police union, the Fraternal Order of Police, released a statement on the "tragic death" that "shocked and horrified our nation" and "has diminished the trust and respect our communities have for the men and women of law enforcement."
On Friday, Hennepin County Attorney Mike Freeman charged Chauvin with third-degree murder.
But none of it felt like enough — not for Carter, nor thousands of others in Minneapolis, nor tens of thousands of others across the country.
"People are just fed up with false promises," said Alexander Bourne, a 30-year-old business consultant from St. Paul who marched from Lake Street to Minneapolis's Third Precinct police station on Thursday. "What you're seeing now is continued anger."
Bourne said he participated in the protests against police violence after Castile's killing four years ago. More people came out this time, he noted, despite the pandemic. "I think the emotions are higher," he said.
Chanting through his white medical mask, Bourne stood on the police station steps with both arms raised, a phone in one hand capturing the scene. He remembers being struck, in that moment, by the feeling that he and the rest of the crowd of thousands were "peacefully calling for revolution." It felt, he said, after weeks of being locked inside, absorbing one horrible piece of news after another, like they were finally doing something.
About an hour after he arrived at the station, however, he heard the first window shatter right behind him.
"That was the tipping point for the police," he recalled.

The line of armored officers closed in with shields. Bourne retreated. His mask didn't do much to protect against the billowing white clouds of tear gas that police unleashed. Back in his apartment in St. Paul, just across the river, he was stunned to see footage of the police station where he had just been, now engulfed in flames.
Bourne said he wasn't bothered about the damage to the precinct: "Taxpayers paid for that building," he said, "and taxpayers will pay to repair it." He worried more about the small business owners who "were already hurting and now they're just literally seeing their business come to an end."
But he said the frustrations that people were giving voice to had accumulated for years and were now clearly bursting forth.
"People are grieving," Bourne said. "Personally, I feel that anyone who is outraged right now deserves to be outraged and anyone who isn't needs to ask themselves why."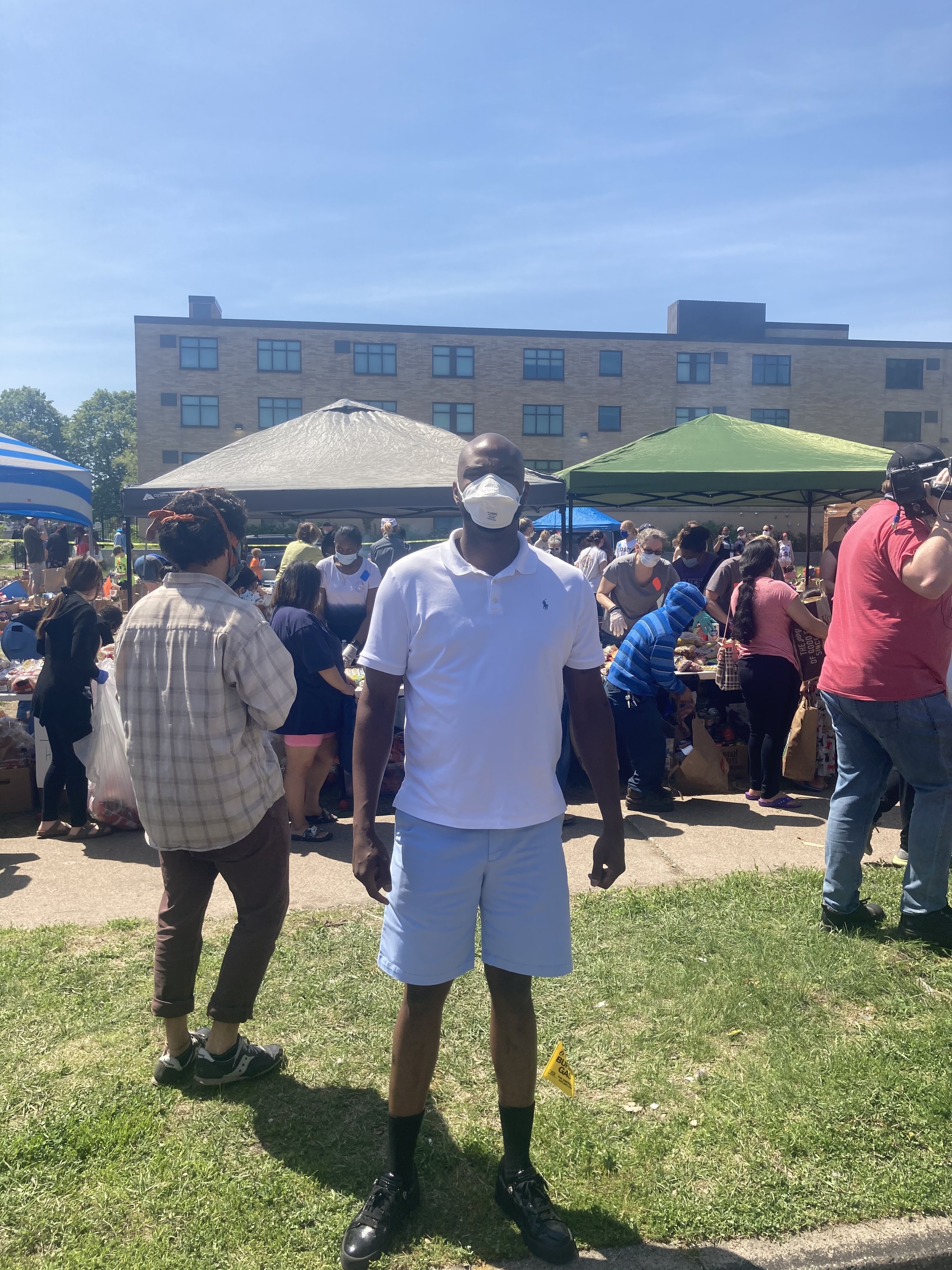 Notably, after the death of Floyd, many powerful people have gone out of their way to express outrage — and unlike in the aftermath of most killings by officers, few have risen to defend what Chauvin did.
Voices far afield of policing weighed in — university presidents, sports team owners, Michael Jordan, shoe companies like Nike and Adidas, and the New York City Ballet, which posted on its Instagram on Saturday: "New York City Ballet Stands With You," following up with a ballet pun that may be lost on some: "#BalletRelevesForBlackLives."
Even President Donald Trump, who has almost always sided with law enforcement, called the incident "very sad and tragic" in his initial statement, though he didn't mention Floyd by name and later called the protesters "thugs" and tweeted, "When the looting starts, the shooting starts."
Among the strongest statements against Chauvin's actions have come from police chiefs. "Reprehensible," said Chicago's David Brown. "Inexcusable," said Denver's Paul Pazen. "Deeply disturbing," said New York City's Dermot Shea.
"Throughout the nation, communities of color are tired of reliving atrocities such as this over and over again," said Philadelphia Police Commissioner Danielle M. Outlaw.
Jim Glennon, a former officer who heads a training program that holds seminars for 20,000 law enforcement agents a year, said he was surprised by how many police officers reached out to him to express horror and disgust after the Floyd video went public.
He said he believes it's less a result of shifting attitudes than the starkness of the video. "Most use of force cases are so much more complicated than people think they are," he said. Not this one. "The guy is handcuffed on his stomach for nine minutes. ... What can he possibly say that justifies that?"
For many in Minneapolis, it felt like a final straw. In the wake of the Ferguson protests in 2014, Minneapolis was one of the first cities to participate in the National Initiative for Building Community Trust and Justice, a federal program that encourages police departments to prioritize community relations over low-level arrests.
But in the years that followed, officers accused of excessive force were rarely sanctioned, and there seemed to be one questionable police shooting after another. Eight people were killed by Minneapolis police in the six years after Ferguson, more than in the six years prior — all but one of those killed were black, Latinx, or Asian.
In 2017 the city appointed its first black police chief, Medaria Arradondo, then a 28-year veteran of the force who, along with four other high-ranking black officers, had sued the department for systemic racial discrimination and a hostile work environment — a case that ended with a $740,000 settlement.
A year into Arradond's tenure as chief, Thurman Blevins, a 28-year-old resident, fled from officers who were responding to a call about someone firing shots. A white officer, Justin Schmidt, fatally shot Blevins, who was black. Body camera footage showed that Blevins appeared to be holding a gun, though he didn't point it at the officers chasing him. As he ran, he pleaded, "Please, don't shoot me. Leave me alone." Protesters again filled the streets. After a monthlong investigation, Schmidt and his partner, Ryan Kelly, were cleared of wrongdoing and kept their jobs.
"It's years and years of the same thing going on," said David Bicking, vice president of Communities United Against Police Brutality, a Minneapolis advocacy group. "We've heard so much nice talk, but the system in place is designed to not discipline officers."
Of the 2,600 complaints filed with the Minneapolis's civilian review board since it was established in 2012, just 12 led to disciplinary action, according to data compiled by the Communities United Against Police Brutality. Over his 19-year career, Derek Chauvin had 17 complaints filed against him. Only one resulted in any disciplinary action. In one case that ended without reprimand, a group of teenagers accused him of pulling a gun on them while they were playing with Nerf guns.
Bicking, who is 69 and white, joined what he said seemed like a thousand others outside the Hennepin County Courthouse on Thursday. He recalled a calm scene, filled with chanting, colorful signs, and respectful nods. A day earlier, his girlfriend, who is 73 and white, was among those outside the Target where some people broke windows and stole items. But even amid the shattered glass, the energy of the crowd was positive, she recalled to him. "No animosity from anyone," he said. "These weren't race riots. These were people who don't feel that real change is coming unless they press for it."
By the weekend, Carter and Keliin were organizing their own protests closer to home in Duluth, just over the bridge from Superior. On Saturday, they led a march to Duluth City Hall from the Clayton Jackson McGhee Memorial, which was named for three black men lynched in the city exactly 100 years ago.
The pair held a sign listing the names of black people killed by police around the country. Duluth police officers, wearing regular uniforms, not riot gear, looked on. Some were, by now, getting to know the protesters. Keliin said she spoke to one sergeant several times at different demonstrations. At one point, he even read aloud the list of names of people killed by police on her sign, drawing cheers from the crowd.
By Saturday evening, as the city hall rally ended and protesters began to disperse, the mood seemed to be relatively light. Carter and Keliin went home. But on Sunday morning, they said they got word that Duluth police had teargassed people who had broken curfew and arrested three of their fellow protesters, including a 14-year-old boy.
A few hours away in Minneapolis on Sunday morning — after the National Guard had been called into that city, Los Angeles, and Chicago — Bourne, the business consultant, switched gears from protesting and joined a group of volunteers providing donated supplies to local residents in St. Paul who have been hit hard by the economic downturn caused by the pandemic.
Stacks of toilet paper, boxes of diapers, tables piled with soap, and paper bags packed with pasta, cereal, and produce blanketed a field near Highway 94. Hundreds of people, cloth masks or bandanas over their faces, stood in a line that snaked more than 100 yards along the sidewalk.
The sky was clear, the temperature an idyllic 70 degrees. Children lolled in strollers or played near their parents. But across the street, a brick convenience store was charred black, its facade tagged with graffiti demanding justice in white spray paint. On the other side of the highway was a Target store that was closed after being looted and vandalized. Other stores were boarded up for protection. It was suddenly harder to find groceries in the area — but people still needed to eat.
"All these things are happening," Bourne said. "I'm drained. Exhausted. Traumatized." ●