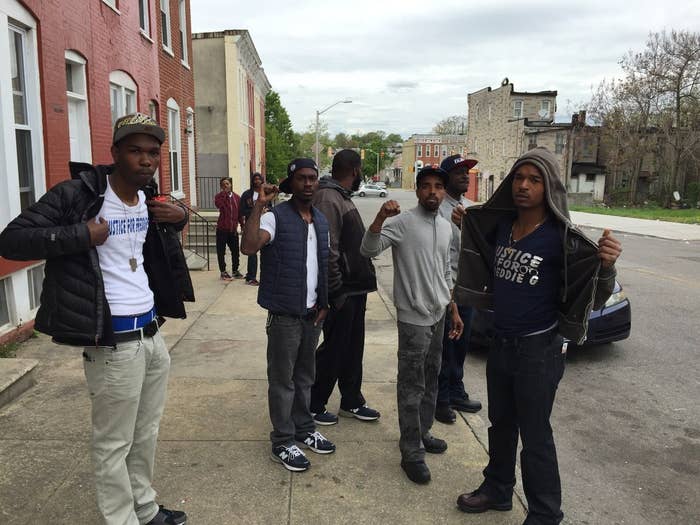 BALTIMORE — Tae was asleep when State's Attorney Marilyn Mosby announced on Friday morning that she was charging six Baltimore police officers for Freddie Gray's death. He woke up to the sound of his mother shouting in the hallway and of honks in the street outside his window.
"I heard everybody going crazy," he said. "People was coming out their cars and all that."
He threw on a blue shirt with "Justice for Freddie G" printed on the front and left his house, which sits a few blocks from where Gray lived in the Sandtown neighborhood of West Baltimore. He ran down the street. By the time he got to his crew's usual hangout spot, beside a corner store next to the Gilmor Homes housing project, his friends were already there. They had also raced outside after hearing the good news. Another of his friends, Carron, a cousin of Gray's, also rocked a "Justice for Freddie G" shirt.
Mosby's announcement turned Freddie Gray's old neighborhood of Sandtown, which had been engulfed in riots that rocked the city of Baltimore just days earlier, into a block party. Gray was apprehended by Baltimore police on April 12, and sustained a fatal spinal injury while in their custody. The incident sparked protests and ultimately the riot on Monday that authorities struggled to contain.
Officials had remained tight-lipped about the investigation for weeks, even as information had leaked to the media, prompting reports that suggested Gray had somehow severed his own spine, and raising fears that the officers would not be charged. Instead, Mosby announced Friday that all six officers would be indicted on charges including second-degree murder, manslaughter, and assault.
The reaction in Sandtown was jubilant. Soul music poured from open doorways. Drivers honked horns. Two women held signs that read, "I am Freddie Gray." Three men shared a celebratory blunt. A woman walking down the street shouted, "Justice is served, bitch!"
"It's joy, yo," said a young man in a blue hat who declined to give his name. "Lot of people got tears of joy right now."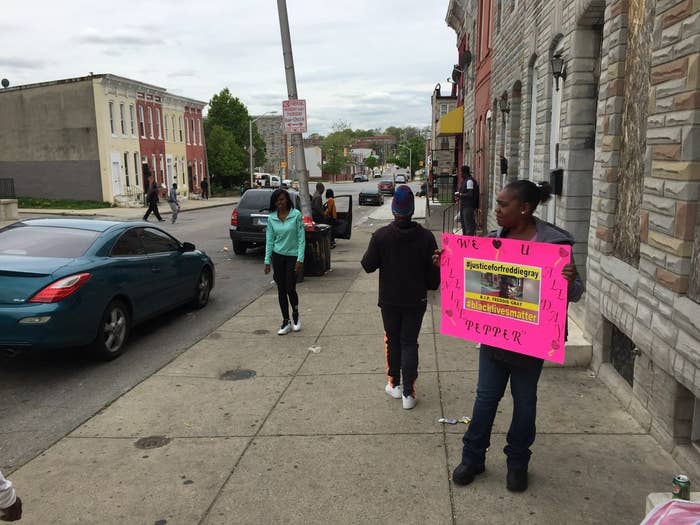 Freddie Gray had lived just around the corner, and his death had hit neighborhood locals especially hard. They had known Gray, grown up with him, seen him around, spent time with him. For the rest of the country, Gray became the latest name in a long line of black boys and men killed by police officers over the past year or so — Michael Brown, Eric Garner, Tamir Rice, Walter Scott, and so on. In almost all of these cases, the officer responsible for the death did not face criminal charges.
Despite that recent history, Sandtown locals said that they really did believe Baltimore would be different, especially after Monday's unrest. On Friday, Mosby proved them right.
"We wasn't surprised," said Carron. "They knew what we was gonna do. We showed we was tired of waiting."
"They was scared of what people would do if that didn't happen," said Tae.
The young men in Sandtown said that Monday's riots had injected a sense of urgency into city leaders. Even then, they hadn't expected just how soon the charges would come.
"We didn't think it was gonna happen so quick," said Tae.
That the charges did come so quickly, though, produced an uncommon scene: On a rough block in this inner-city neighborhood, a group of young black men, some of whom said that they had spent time behind bars, stood in a circle praising the city's chief prosecutor.
"She got a lot of convictions on the street," said Tae. "She play by the rules. She play by the law. She don't do nothing underhanded."
"She did her job, man," said Carron, who missed his high school graduation a few years ago because he was in jail awaiting trial on a robbery charge for which he would be acquitted. "I appreciate that lady."
"She do things right," said Tae. "The ones before her, they just wanna convict black people. Just want the numbers."
Up and down the block, there was hope that the charges, and the attention surrounding Gray's death, would bring changes to how Baltimore police treat people in neighborhoods like Sandtown.
"Their credibility is shot right now," said Danyell Dorsey, who grew up here. "They lied throughout the situation."
"They scared now," said a man who identified himself as Black Dante.
Tae and his crew had the charges memorized, for all six officers. Black Dante argued that the wagon driver should have gotten lesser charges and that the arresting officers should have gotten more. Tony argued that they all should have gotten first-degree murder. Tim added, "I wanna see if they gonna be prosecuted and get the same type of sentences that a black man on the street is gonna get." And the men nodded.
But this was a discussion for another day.
An SUV pulled up to the block and parked across the street from Tae and his friends.
"Yeah, yeah, yeah!" the woman in the driver's seat shouted out the window at the young men. "How y'all doing today? How y'all feel?"
"Yeah!" the young men shouted back.
"What time the party get started?"
"They say it's curfew still."
"Man, fuck curfew!"
"We ain't gon' be back in the house at 10 tonight."