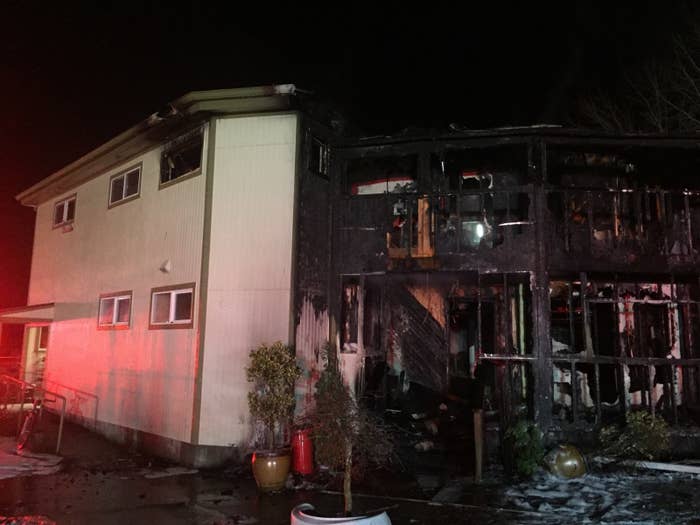 On Jan. 7, the Islamic Center of Lake Travis in Austin, which had been under construction, caught on fire. A week later, on Jan. 14, the Islamic Center of Eastside in Bellevue, Washington, burned.
Two weeks after that, on Jan. 28, several hours after President Donald Trump signed an executive order banning immigrants from seven Muslim-majority countries, a fire destroyed the Islamic Center of Victoria in Texas.
Then, this past Friday, Feb. 24, a small blaze broke out at the front entrance of the Daarus Salaam Mosque near Tampa.
Authorities have ruled that three of the four fires were caused by arson. An official at the Travis County Fire Marshal told BuzzFeed News that the investigation into the cause of the fire at the Islamic Center of Lake Travis remains open.
"We've never seen four mosques burned within seven weeks of each other," said Mark Potok, a senior fellow at the Southern Poverty Law Center, which tracks hate groups around the country. "It's part of a whole series of dramatic attacks on Muslims."
The mosque fires come amid increased fear about hate crimes against minority religious groups. In recent weeks, scores of bomb threats were called into Jewish community centers and schools around the country and graveyards in Jewish cemeteries in three states were vandalized. On Sunday, somebody threw a rock through a window of the Masjid Abu Bakr mosque in Denver. In Redmond, Washington, vandals destroyed the Muslim Association of Puget Sound mosque's entrance sign on two occasions within two months of the election. Two days after the inauguration, a woman shattered the windows of the Davis Islamic Center in California, and left strips of raw bacon on a door handle. In January, a white nationalist fatally shot six people at a mosque in Québec City. Last week, a white man shot two Indian men, one fatally, at a Kansas bar after making racial slurs, questioning their immigration status, and shouting, "Get out of my country."
"The short answer is we haven't seen anything like this in the past," Potok said, referring to the overall surge in reported hate crimes across the country. "This is my 18th year here and I haven't seen anything remotely like this."
To have three mosque fires ruled arson within six weeks is highly unusual, said Corey Saylor, director of the Department to Monitor and Combat Islamophobia at the Council on American-Islamic Relations. "In normal times, I will see one to two mosque incidents of any type per month, and rarely is it arson," he said. "I can tell you for sure I have not seen levels of violence like this since I started tracking this stuff" in 2009.
The fire at the Islamic Center of Lake Travis — which nearly two months later is still under investigation — destroyed the partially constructed frame. Community members began raising funds for the building four years earlier.
"There are a lot more people who are in support of us building this back again than people who oppose us but it takes one crazy guy to do something," Shakeel Rashed, an executive board member of the Islamic Center of Lake Travis, told the Texas Tribune in January.
"Everybody believes we need to be more vigilant. When we start reconstruction we definitely want to plan the security of the place better, have more cameras," Rashed said.
In Bellevue, Washington, six days before the inauguration, surveillance cameras caught a man walking toward the Islamic Center of Eastside while carrying a backpack and a gallon jug shortly before 2:45 a.m., the Seattle Times reported. Less than a minute later, the mosque was on fire. Investigators at the scene found a melted gallon jug and a gas can. Officers arrested Isaac Wayne Wilson, who remained at the scene, smelled of gasoline, and confessed to setting the blaze, according to police. Authorities said there was no evidence it was a hate crime. Six months earlier, Wilson, who has a history of mental illness, had been convicted of misdemeanor assault after an incident at the mosque.
Hours after President Donald Trump signed the controversial executive order banning immigration from seven Muslim-majority countries, someone intentionally set fire to the Islamic Center of Victoria in Texas in the middle of the night, according to investigators, who have yet to identify a suspect. The blaze caused more than $500,000 in damage, and completely destroyed the 16-year-old mosque, shaking the Muslim American community in south Texas. The mosque's president, Dr. Shahid Hashmi, told the Texas Tribune his community would forgive whoever set the fire, but added, "there's no way we can forget. There's no way our children can forget."
The fire at the Daarus Salaam Mosque in Thonotosassa, Florida, on Friday was at least the third time in seven months that a mosque in the Tampa area had been set on fire, following incidents at the Islamic Education Center in July and the Masjid Omar mosque in August.
Firefighters responded to the Feb. 24 fire shortly after 2 a.m. — four hours before congregants planned to gather for the early Friday morning prayer session, the Tampa Bay Times reported. Within hours, authorities announced that arson had caused the fire, though they did not specify what evidence led them to that conclusion. At a press conference, Tampa mayor Bob Buckhorn called the fire "no different than the wave of anti-Semitic attacks on Jewish community centers and synagogues and bomb threats that have been called in all across the country."
"Whoever did this maybe intended to discourage us not to be part of this community," Mazen Bondogji, a member of the mosque's board, said at a press conference. "We are part of this community and we will stay."
The number of reported anti-Muslim hate crimes had already been on the rise before the presidential campaign picked up steam in 2016. According to a report by the Council on American-Islamic relations, there were 78 instances of mosques being targeted — counting arson, vandalism, and other destruction — in 2015. By comparison, 2014 saw just 20 such incidents. A report released last year by Georgetown University's Center for Muslim-Christian Understanding found that in 2015 there were eight instances of arson that targeted mosques, businesses, or homes associated with Muslims.
FBI data shows that the number of reported anti-Muslim hate crimes surged by 67% from 2014 to 2015 (2016 data is not yet available).
But in more recent months, the SPLC reported a rise in reported hate crimes following the election of Trump, who campaigned on promises to significantly reduce the number of Muslim immigrants allowed into the country.
"Donald Trump's campaign and victory has emboldened people on the radical right or people who simply hate certain minority groups to act," Potok said. "They feel that their views have been legitimized by the man who is president of the United States."
Have you been the victim of a hate crime? Tell us about it so we can investigate.