The Purpose Of The Ferguson Grand Jury Was Not To Get An Indictment
It was to take the decision out of St. Louis County Prosecuting Attorney Bob McCulloch's hands.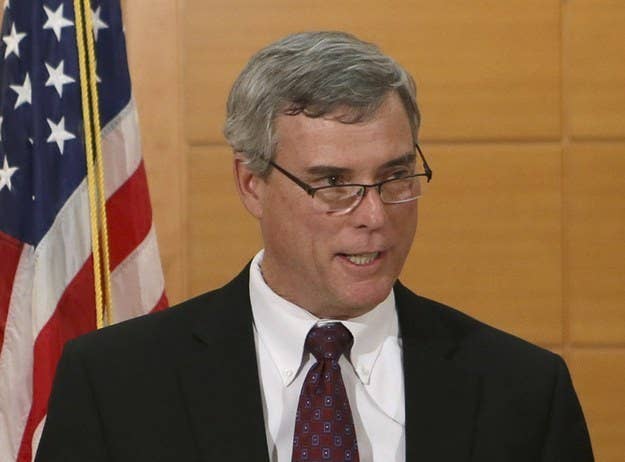 It's easy to assume that the point of a grand jury is to get an indictment — that a good prosecutor, as New York Court of Appeals Judge Sol Wachtler famously joked, can get a grand jury to "indict a ham sandwich." But, in fact, the point of a grand jury is for the prosecutor to get whatever outcome he or she wants.
And St. Louis County Prosecuting Attorney Bob McCulloch did not want an indictment. He also didn't want a non-indictment. Instead, as he explained it to the 12 members of the grand jury, this proceeding was about investigating the case and letting the jurors decide.
"Everything that's been collected, every statement that has ever been made, it will all be here for you," McCulloch said on the first day, Aug. 20. "You need to keep that open mind."
And so, over the next three months, prosecutors did not present a case or shape a narrative. Rather, they gave jurors a jumble of raw evidence: hours of recordings, documents, photographs, and interviews. And prosecutors aggressively questioned some witnesses who came before the jury on inconsistencies in the statements they'd made to authorities. Sometimes they even called their witnesses liars.
Consider Witness 42 (most names were redacted from the transcripts). On day 16, the witness told a story that made it seem that there was probable cause to indict Wilson for killing unarmed teenager Michael Brown. The witness testified that Brown ran away from Wilson as Wilson fired, and that when a bullet struck Brown, Brown put his hands up, turned around, and began walking toward Wilson.
"I didn't deem it to be a hostile situation to where the officer needed to have his gun raised," said the witness. "Mike was coming like, 'stop shooting.' And he's shooting him and kept shooting him. I'm like, he don't pose no threat."
"He was ready to give himself up," the witness later added.
In a routine grand jury proceeding, this testimony would have been deliberately deployed to get Wilson indicted. But this was not a routine grand jury.
That much became clear when Assistant Prosecuting Attorney Kathi Alizadeh torpedoed Witness 42's credibility: "The first time you talked to the FBI, which was a week after this happened, you told them a story that had a bunch of lies, isn't that right?"
Prosecutors have full discretion in grand juries. Typically in criminal cases, they pick which evidence to present and which evidence to withhold, which witnesses to question and which police statements to show. Usually this means revealing only "a sliver of evidence," said Doug Nadjari, a former prosecutor in the Kings County District Attorney's Office in New York. Defense attorneys cannot present evidence. So prosecutors can guide a grand jury toward the result they want.
So it's not just that the outcome of this grand jury — a non-indictment — is "incredibly rare," as FiveThirtyEight put it. What's at least as rare is that the prosecutor relinquished his power to decide and handed it to the grand jury. "You see it sometimes in political or civil situations," said Susan Roach, a former prosecutor in the St. Louis County Prosecuting Attorney's Office. "It's not used too often in criminal proceedings. Nothing that I've handled."
In many instances, McCulloch's prosecutors didn't act as prosecutors at all but questioned witnesses the way a defense attorney would — to the advantage of Darren Wilson.
"You told [FBI agents] that you saw the officer within an arm's length of Michael Brown shoot him in the head and you didn't see that, did you?" Alizadeh said to Witness 42.
"Based on assumption," said the witness.
"But you told them?"
"Yes, I did."
"Are you also basing your testimony today on things that you assumed?" Alizadeh later said.
Another witness, Witness 41, initially told FBI agents that Wilson stood over Brown's fallen body and "emptied his clip." Fifteen minutes into the statement, though, the witness admitted that "my first statement was not completely true," and that they did not see Wilson shoot Brown when Brown was lying on the ground.
"So you admitted on the recording that you lied initially?" the prosecutor said.
Later in the testimony, the prosecutor asked the witness about what medicine they were taking: "Do you know what the name of your medication is that you take for your mental health?"
In another instance, prosecutors called to the stand a witness who did not see the shooting. The witness's boyfriend had seen the shooting and told her about it, and she conveyed it to police as if she had seen it herself.
"When the police came that first time you told them that you saw, but you really didn't, why did you do that?" prosecutor Sheila Whirley asked. And then later: "So it's the absolute truth that you did not see it?"
Prosecutors asked the boyfriend, the actual witness, about this as well: "And is it your belief that she did not see part of the incident?"
Still, prosecutors did not press every witness whose testimony challenged Wilson's. Like Witness 42, Witness 43 testified that Wilson fired multiple rounds as Brown tried to surrender. But Witness 43's statements had no apparent inconsistencies, so prosecutors did not challenge this witness's version.
The point of an investigatory grand jury, said Nadjari, "is to get to the truth." Over Nadjari's 13 years as a prosecutor in Brooklyn, he said he took only a few violent crime cases to an investigatory grand jury, typically when, as in Wilson's case, the suspect claimed self-defense. "Because if somebody's acting in a justified fashion, why should he be charged with a crime?" he said. "An indictment can ruin your life."
Investigatory proceedings offer the perception of cold detachment. As Nadjari put it: "I put my hands up and let the system do what it could." Which is the message McCulloch told jurors on day one and then told the world on Monday night when he declared, "Physical evidence does not change because of public pressure or personal agenda. Physical evidence does not look away as events unfold, nor does it block out or add to memory. Physical evidence remains constant and as such, is the solid foundation upon which cases are built."
Yet investigatory grand juries are not vacuums of just-the-facts objectivity. The prosecutor's power over the proceedings makes that unrealistic. "Prosecutors sometimes can be predisposed to believe the police, and a grand jury can be steered to a certain result," said Nadjari. "Whether it's an investigatory grand jury or a routine grand jury, the process is going to be driven by the ethics of the prosecutor."
Whether or not McCulloch steered the grand jury, he elected to leave the decision in the hands of the jurors — and that choice itself leaves his fingerprints.
Additional reporting from Ellie Hall and Kendall Taggart.