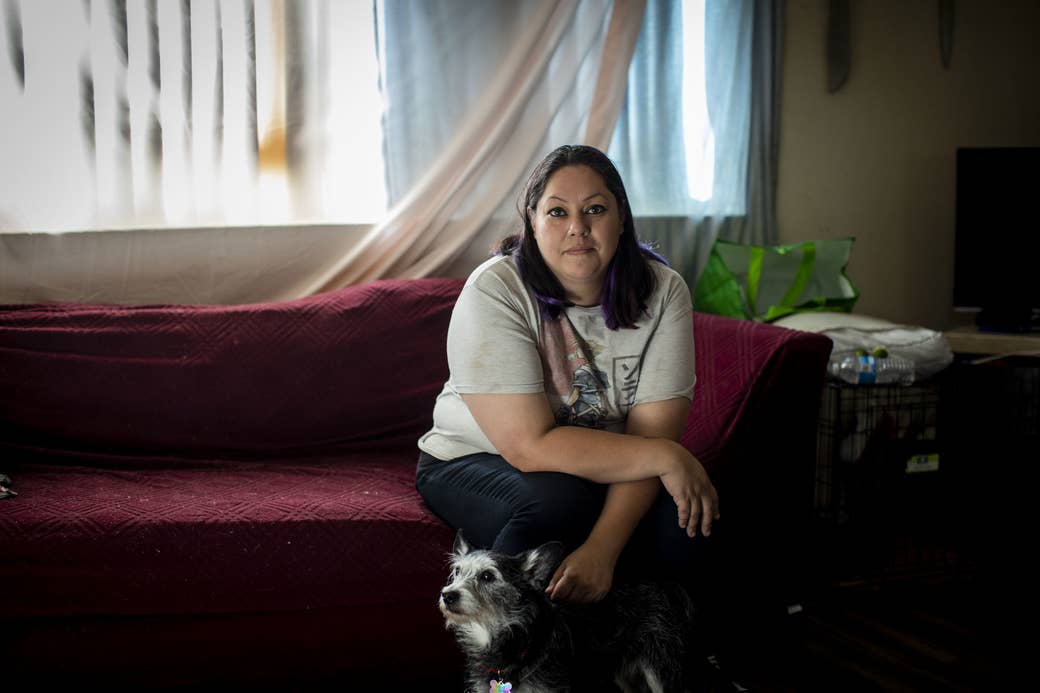 SACRAMENTO — Crystal Orozco, 37, remembers older boys in her high school getting tattoos of the Aztec eagle symbolizing Cesar Chavez's farmworker strikes. Her mother worked at a unionized grocery store, Lucky's, and joined a strike in 1989 that secured her health insurance, vacation time, and regular pay raises even through corporate mergers and economic downturns. In some of Orozco's earliest memories, she recalls standing on the picket line with her mother.
"I saw how it helped her take care of us," Orozco said.
Yet over her 16 years working at fast-food joints, not once did Orozco consider going on strike. It wasn't until June 29, 2021, when she was on her way to clocking in for the night shift at a Jack in the Box in Sacramento County, that the thought crossed her mind: During her afternoon commute along Madison Avenue, she drove past another Jack in the Box and saw workers gathered outside with yellow and red flags and signs demanding their bosses fix the air conditioner.
"Oh my god," she remembered thinking, "our store so needs that."
She told her coworkers about it. A week later, a representative from the Fight for 15 movement, which had organized strikes at fast-food restaurants across the country, showed up at Orozco's Jack in the Box. That October, Orozco and two coworkers held a one-day strike, calling on their managers to compensate them for break time they said they'd worked without pay. In January, Orozco and three others went on strike for five days after a COVID outbreak infected at least six employees, according to a complaint they filed with the Occupational Safety and Health Administration. Orozco, her husband, and three kids all tested positive, she said. One of the striking workers, Maria Bernal, said that the store manager pressured her to continue working despite her symptoms, and Orozco said the same person began assigning her fewer hours after she called in sick after testing positive for COVID.
The movement caught the store's owner, Anil Yadav, off guard. A 57-year-old father of three, Yadav had emigrated from India in 1981 and worked as a Jack in the Box fry cook in the San Francisco Bay Area before eventually becoming one of the biggest franchise owners in the country. His holdings stretch across 15 states and include 75 Denny's, 75 TGI Fridays, 144 Taco Cabanas, and 221 Jack in the Boxes, including the one Orozco had driven by in July.
Yadav declined to address specific complaints from workers. "These aren't matters that we discuss in the media, especially personnel matters," he said. "We value our employees and take all complaints seriously."
He said his stores haven't broken any laws and expressed frustration at workers' decision to strike.
"If anything is not being done right or being violated, just inform the leadership because we will deal with it," he said. "I don't want any of my employees to be treated unfairly because I know what it's like being an employee."

Over his three decades running restaurants, he'd never thought to worry about collective worker action because he'd never witnessed it. Now, he and Orozco stand at the center of a shifting dynamic in an industry built on thin margins and long reliant on a plentiful pool of workers willing to work for minimal pay.
Orozco and her colleagues have been among the scores of fast-food workers going on strike for the first time over the last two years, spurred by the frustration of earning wages too low to cover basic needs even as the pandemic has added new risks to their jobs and the country has deemed their services essential. Workers at a Santa Monica Burger King went on strike after a colleague died from COVID. Fast-food employees from stores across south Florida went on strike to call for paid sick leave and hazard pay. In Raleigh, North Carolina, Rita Blalock went on strike for higher wages at the McDonald's where she'd worked for 11 years. Workers at a San Diego KFC went on strike in February demanding back pay for break time lost. In January, fast-food workers held a rally in front of the capitol building in Sacramento in support of AB 257, a bill that would create a committee to oversee working conditions for fast-food workers.
Two years into the pandemic, company hazard pay raises have ended, and government relief programs, such as stimulus payments and eviction moratoriums, have expired, leaving workers with low wages in an intensifying sense of economic precarity as inflation stretches budgets even thinner. Hourly fast-food workers who go on strike have little protection against retaliation from their employers, who have the power to reduce their hours or terminate them without cause. But as more people have opted to step back from the job market, business owners have a smaller pool to draw from, shifts have been harder to fill, and "hiring" signs fill storefront windows — including at least two other restaurants on a main thoroughfare blocks from Orozco's home in Sacramento. The Bureau of Labor Statistics reported that more people had quit their jobs in November 2021 than any month since it started keeping track in 2000 — and in every month since, at least 6% of "accommodation and food services" workers have left their jobs, more than any other sector. During the January Omicron outbreak and strike at Orozco's Jack in the Box, managers had to work the graveyard shift because no workers were available, three employees said. In recent months, Yadav has shortened the store's hours.
The strikes have put fast-food franchise owners in an unfamiliar position, facing worker resistance without the freedom to cycle in a batch of replacements, setting the stage for a battle over labor conditions with no end in sight.
"These aren't the jobs of the past where you could be a high school or college student putting a couple extra bucks in your pocket; these are people working to keep a roof over their heads," said California state Rep. Chris Holden, a former fast-food franchise owner who authored AB 257. "They're realizing they deserve more, and even if they might fear retaliation, they're fighting for their rights. It just goes to show you how bad it is for some of the workers."
None of the striking workers at Orozco's store have been fired. Two workers declined to join the strike after a manager warned them that their participation could draw the attention of Immigration and Customs Enforcement, according to the complaint Orozco and her colleagues filed.
While the fast-food worker strikes mark a new chapter in the country's labor movements, their impacts have so far been mixed. After the strike at the McDonald's in Raleigh, Blalock said she won a $2 raise. After the July strike at the Madison Avenue Jack in the Box in Sacramento, management fixed the air conditioner. But at Orozco's franchise, nothing has changed.
Yadav said that he has given his employees raises in recent years but that the pandemic has squeezed his margins tighter, with shutdowns setting back revenues and supply chain disruptions raising expenses.
"There's no amount of money to pay higher wages and higher food costs to really be profitable," he said. "All you're doing is passing the costs onto the customer."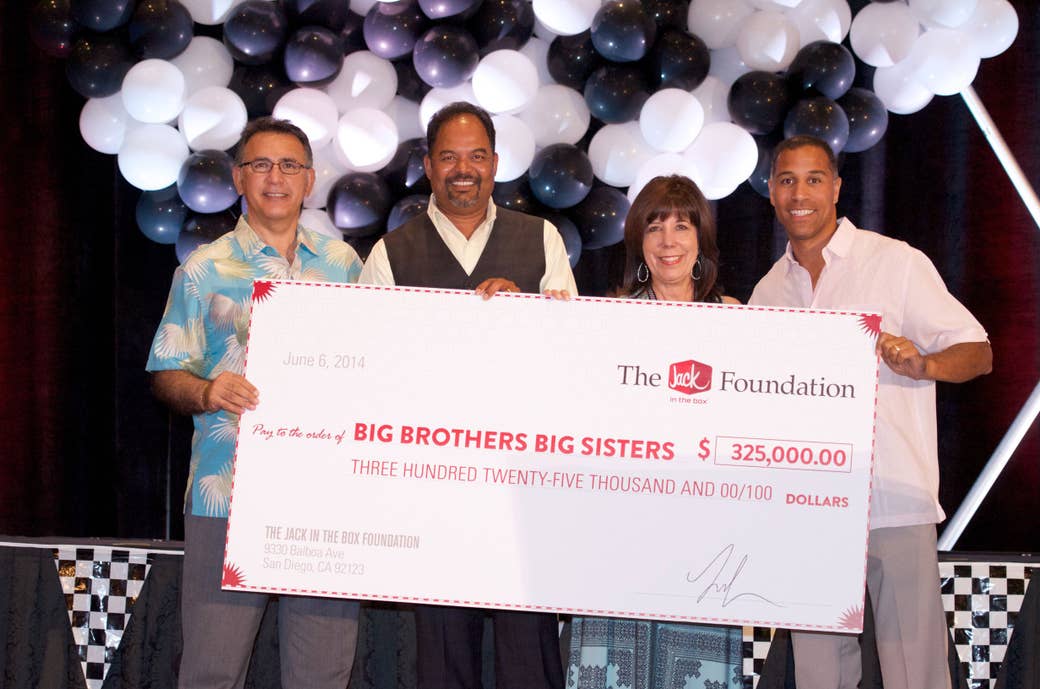 Yadav grew up in an industrial town in Gujarat, in western India, where his father ran a construction business that ran into financial trouble, leaving their family facing "challenges after challenges to make ends meet," he said.
Yadav's father and oldest brother were first to land in the States. Yadav joined them in Redwood City, California, in 1981, when he was 17. On the ride from the airport, down Highway 101 along the Bay, Yadav was "mesmerized by the speed and the number of cars in the road and all the lights that you see on the freeway, the big billboards," he said. "I'm here somewhere in heaven."
They shared a one-bedroom apartment as Yadav completed his final year of high school, "learning how to speak English," he said. He found a job as a fry cook at a nearby Jack in the Box, which ended up offering him a practical education on how to "interact with people and understand the culture a bit more," he said.
To that point, every Jack in the Box since the first one that opened in San Diego in 1951 was owned by a single company. But competitors had already shifted to a different strategy. McDonald's, founded in 1955, had mastered speedy hamburger production at mass scale, then rose to dominance on a model that allowed anyone to buy franchise rights and open up their own restaurant, forging the symbiotic relationship that came to dominate the fast-food industry. Entrepreneurs benefit from a built-in customer base drawn to a recognizable menu promoted through national marketing campaigns, while corporate executives earn royalties without dealing with the day-to-day details. Burger King began franchising in 1959, Taco Bell in 1964, and Wendy's in 1972. By 1979, the year McDonald's introduced the Happy Meal, the US Department of Commerce counted more than 60,000 fast-food outlets linked to 315 corporate chains, annually bringing in around $20 billion in sales and accounting for 20% of the money Americans spent at restaurants.
Jack in the Box, which expanded nationally in the 1960s, was reshaping its identity during the years Yadav was a fry cook, expanding its menus beyond burgers and shifting its advertisements to target an older crowd uninterested in toys and ball pits. Stores stayed open 24 hours and served breakfast all day. The restaurant chain began offering franchise agreements in 1982. Yadav and his coworkers got a memo informing them about the process and "looking for prospective buyers," he recalled. "I figured if I was doing it for the company, I could do it for myself."
He worked part-time, eventually getting a promotion to assistant manager while going to college. Around then, in 1989, he borrowed some money from family, took out a "high six-figure" loan from the bank, and bought a Jack in the Box in South San Francisco. Quickly realizing that managing the store required 70-hour weeks while he was barely breaking even, he dropped out of school, he said. Within two years, he bought another franchise. The hours stayed the same, but the combined profits were enough to pay his bills. Nearly a decade would pass before he bought his third franchise, but his pace increased after that, as he expanded across states and restaurant brands.
In the three decades since Yadav bought his first restaurant, the number of Jack in the Boxes nationwide has more than doubled, most run by franchisees like him. In all, fast-food corporations own fewer than half of the stores bearing their name. For Jack in the Box Inc., which runs only 165 of the brand's 2,200 locations nationwide, that rate is above 90%. Yadav himself owns more restaurants than his corporate partner.
For the rights to use Jack in the Box's name and menu, a franchisee pays an upfront fee as high as $50,000 as well as a royalty fee to the company amounting to 5% of total sales each month. Those costs are a small part of the investment, as the franchising agreement shows: Adding in "building improvements," "inventory expenses," "equipment," and other line items, a franchisee opening a new store today can expect to spend somewhere between $1.6 million and $2.6 million to get up and running.
The math doesn't always add up for business owners. After Holden bought a Subway franchise in Los Angeles in 1992, he quickly discovered that his profit margins weren't enough to live on. He sold the store within two years.
"If you really want to have this as your main course of income, you have to own multiple locations," he said. "It was the hardest job I ever had."
Most franchisees own more than one unit, according to data compiled by FranData, a franchise consulting firm — nearly a quarter own at least 10 locations. Yadav is among the 5% who own at least 100.
Higher volume disperses most critical expenses — food ingredients can be bought through bulk discounts, cleaning supplies shared among sister locations — but not payroll. While the franchise agreement requires that stores stick to the brand's menus, approved vendors, training process, and building design, franchisees are free to set wage rates and other working conditions as they see fit.
Leticia Reyes, a 55-year-old mother of four, said that when she first started working at a Jack in the Box in 2002, it was corporate-owned and her benefits included vacation time and paid sick leave. But when a franchisee bought the store three years later, she said, "they took away everything." The location changed hands twice more before Reyes transferred to another franchisee-owned store, Yadav's on Madison Avenue, where she joined the summer 2021 strikes. Over her 15 years working at Jack in the Box, her hourly pay rate ticked up from $11 to $15, barely keeping pace with inflation.
Though California's minimum wage is twice the federal standard, housing costs stretch budgets thin as living costs have outpaced pay rates in recent decades. Reyes said her family pays $1,750 for their two-bedroom apartment, and to make ends meet, she washes cars at a dealership three days a week.
Orozco applied for the Jack in the Box job for the flexible hours: Working nights allowed her to take her kids to and from school while her husband worked days for a fence building company.
She worked the graveyard shift alongside Maria Bernal, a 43-year-old mother of two whose teenage son also worked at the store. A year into the pandemic, they found that the drive-thru lines on their shift resembled rush-hour crowds, a steady flow of customers streaming through until closing time. Their Jack in the Box was the only restaurant on their normally bustling intersection open past 10 p.m. They dealt with drunk customers banging on the glass, nurses and service workers midway through commutes, and whole families craving an excursion outside their home.
"Before COVID, we were steady, and now we're exaggerated busy," Orozco said. Sales numbers at the end of most nights exceeded $4,000, she said, nearly double what she'd seen before the pandemic.
Some of their colleagues quit, unwilling to risk infection for near-minimum-wage paychecks. Staffing up became a problem at many of Yadav's restaurants, he said, including locations where he "can't even keep the doors open because of the shortage of people."
Bernal and Orozco said they were glad to still have stable work, though the trickle of resignations meant they were often short-handed. The steady stream of cars kept them from taking their breaks some nights, and they occasionally stayed past their clock-out time to finish cleaning the store, they said. Pandemic waves surged and receded, stimulus payments dried up, eviction moratoriums expired, hazard pay policies ended, and the vaccine brought a new version of normalcy, which for Bernal and Orozco meant an ongoing precarity, living paycheck to paycheck with little margin for unforeseen expenses.

Bernal works a second job cleaning houses, clocking in about as many hours a week on her daytime job, around 30, as she does at Jack in the Box, a combination that allows her to "pretty much break even," she said. But when she and her 17-year-old son caught COVID in March 2021, she missed eight days of work, all unpaid, setting her back around $500 for the month. When she returned to work, she signed up for double shifts to try to make up for what she lost.
Meanwhile, her employer was expanding. In July 2021, Yadav bought all 144 Taco Cabanas for $85 million.
As he saw it, more stores meant more revenue streams to cover for the locations in the red. When the pandemic hit, his restaurants without drive-thrus shut down for months, and outbreaks among fast-food workers closed stores for days without warning. While some of his fast-food locations are doing well, the profitable franchises aren't earning enough to make up for the shortfalls at other restaurants, he said, and his collective holdings are "losing money right now."
"Food costs, insurance, taxes — everything, it's through the roof," he said. "This is a penny profit business, there's no room for error, we don't have a high margin, so every penny that comes in is accounted for, and we have to do right to grow the business."
He acknowledged it was a business that didn't always provide a living wage for workers.
"Even if you make $30 an hour, you can't afford a house," he said. "To me, this job was never meant to be for making a career out of it."
Though Orozco valued the purpose of her work and was proud to follow in her mother's steps — "We both put food on the table for people," she said — she used her own experience as a cautionary tale for her three children.
"I tell them, 'Do well in school so you don't end up like me,'" she said. "It's kind of embarrassing to be in fast food."
As a teenager in Castroville, California, she said, she often skipped school. Her grandparents had arrived from Mexico in the late 1960s as farmworking jobs proliferated across Salinas Valley, including in Castroville, the country's artichoke capital. Orozco recalled grade school teachers mentioning Cesar Chavez and the farmworker strikes that reached the town in 1975.
The farming sector still provides a fifth of the town's jobs, but wage rates didn't keep pace with living costs, and by the time Orozco was old enough to remember, Castroville was part of the wide swath of California farming towns sliding into economic peril. By 2019, the poverty rate for households classified as Hispanic was over 40%, more than double the rate for white households, and the city's median income was around $5,000 below the national average.
In the early 2000s, when Orozco was 16, her 17-year-old sister, who was pregnant, got sent to juvenile detention for fighting, she said. After the baby was born, Orozco took care of him while her mother was at work. She returned to high school a year later but was so far behind the rest of her classmates that she decided to drop out.
Over the next few years, she worked at a Taco Bell, a Jack in the Box in Rocklin, then one in Merced, and then the one in Sacramento, where her husband's family lives.
With her income combined with her husband's construction earnings, they could afford to rent a two-bedroom house for $1,400 in north Sacramento. The kids share one room. Her husband's mother, who works at a McDonald's, stays in the other bedroom. Orozco and her husband sleep on a pull-out bed in the living room.
During the pandemic, Orozco started taking GED classes, studying alongside her remotely learning kids. She'd head to work around 3 p.m. for the 30-minute commute along six-lane thoroughfares, passing at least three other Jack in the Box locations until she reached her store in a Sacramento County suburb.
After seeing the strike on Madison Avenue, Orozco and her coworkers discussed the possibility. The demands at the center of the strike resonated with the women — though their air conditioner was not broken, the only one in their store was in the lobby and did little to cool the 100-plus degree heat in the kitchen, Orozco and Bernal said. None of them knew any of the striking workers, nor anyone from the advocacy group organizing them, Fight For 15. Orozco recalled thinking, "I hope they come to our store."
The next week, two of the group's organizers showed up at Orozco's store and spoke with a day-shift worker, who conveyed their message to other workers. They planned a strike for November, calling for back pay for break time they'd worked off-the-clock. In the complaint they later filed, Orozco, Bernal, and two other workers said that a manager "threatened to call immigration" after overhearing discussions about a possible strike.
Three night-shift workers went on strike the next day. Two day-shift workers who had supported the strike decided to back out and continued working, Orozco and Bernal said. But among the protesters were two off-duty day-shift workers who had previously expressed reservations about participating.
They all returned to work the day after that.
Two months later, Orozco said, she tested positive for COVID. At least six workers at the branch "have been working with COVID-like symptoms or home sick with COVID from Dec. 30, 2021, to Jan. 13, 2022," according to the complaint, which was filed on Jan. 14. One manager "said they were going to cut Crystal's hours, after she stayed home sick with COVID," the complaint states, adding that the store and regional managers were "encouraging workers to work sick" and "cover up or not disclose their symptoms to their coworkers."
In her statement for the complaint, Bernal said that she told her manager she felt sick and wanted to go home on the 12th, and then showed her "that my hands were shaking from the chills and I put her hand on my face to feel how I am sick and I told her I went to the pharmacy and the pharmacist told me I probably have COVID." She recalled her manager responding, "Don't worry, everyone has it, you can still work. Just wear a mask and don't tell anyone."
Bernal said that she continued working the rest of the shift, explaining in her statement, "I am scared because it is just me and my son, and I don't know how we would survive if I get retaliated against and lose hours or my job."
Four workers stayed home from work over the next five days, which Orozco and Bernal describe as both a strike and a quarantine. Because of her time off work, Orozco said her paycheck was less than half of the usual $900. Her mother-in-law used $400 from savings to help cover that month's rent. When they returned to work, Orozco and Bernal said the store manager cut their night shift from at least six and a half hours to sometimes as few as four.
In response to the complaints the workers filed, OSHA found violations at three of Yadav's Jack in the Box locations in Sacramento County, though not the one Orozco worked at. The agency cited each of the stores for failing to "establish, implement, and maintain an effective, written COVID-19 Prevention Program." At two of the stores, workers continued to work even after close contact with someone who tested positive, and at one, management didn't contact trace infected employees. Yadav's company was fined a total of $2,985.

When asked about the key to his business success, Yadav cited his treatment of workers.
"I came from the trenches, so I understand the importance of taking care of our people," he said.
Happy employees, he said, are critical to providing a good customer experience: They are more likely to bring positive energy to interactions, to keep the store clean, and to serve as a smiling face representing the institution.
To him, the strikes upended that aim.
"They blocked drive-thrus, closed the restaurant, and really made it a hostile environment," he said. "That hurts the business because no one was able to go in and out. To me it was just inappropriate."
Yadav was hesitant to speak about the strikes because he did not want to be pitted as an antagonist against his workers, he said. "I know what this is gonna come off to look like." He was making a comfortable living in a country where the vast gap between the richest and poorest was "difficult to justify," he said. "I can understand this notion of feelings being hurt because 'Why not me? I'm doing all this work standing here while my boss is sitting at home.'"
He agreed to an interview for this story because, he said, he hoped people would consider his perspective. He had come to this country as a teen, followed the script laid out for him, and done "everything right," he said. He had worked long hours and taken on debts to attain the stability he now had. He lives what he imagines the American Dream is supposed to look like.
"I take the risk of building and investing millions, and a lot of time that location doesn't make it," he said. "When you risk that kind of money, you expect the return and rewards."
Orozco doesn't have any paid vacation time, so she uses her three allotted sick days a year to visit her mother in Marina, on the Monterey Bay coast, a three-hour drive from Sacramento. She plans to finish her GED program this year, then study to become an optometrist. Not long ago, Orozco felt ready to leave the fast-food industry, she said, but the movement she is now a part of "sparked interest for me to stay a little longer."
In March, she left the Jack in the Box for a job at the McDonald's where her mother-in-law works. It's a shorter commute from home and pays $16.75 an hour, a dollar more than she made at Jack in the Box. With her experience in the industry, she said, she hopes for a promotion to shift supervisor, which pays $17.75. She said she intends to keep advocating for higher pay for fast-food workers.
"I'm not planning to be here all my life," she said, "but if my kids decide they want that as a first job, I wanna make sure they're going in better than we have." ●