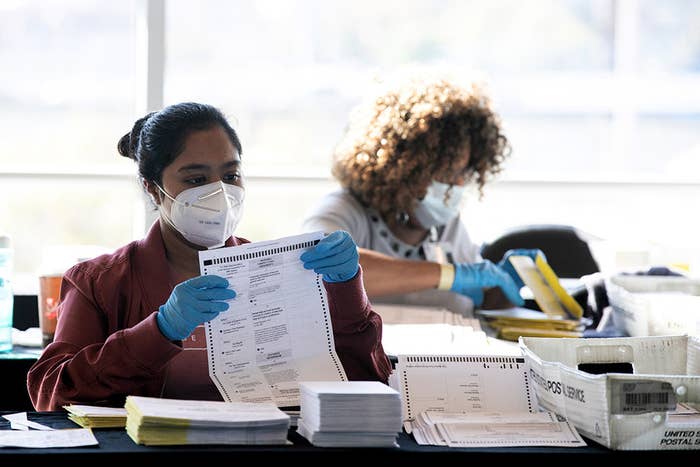 As of early Thursday morning, the race for the White House remained too close to call. The outcome hinged on several closely fought states, including Pennsylvania, Arizona, and Georgia, where election officials said they were still tabulating an unclear number of votes. Final results could take days and may come down to absentee and mail-in ballots that officials are still counting. If recounts are launched — as has already been threatened in Wisconsin — results could take even longer.
Despite the fact that millions of votes had yet to be counted, President Donald Trump declared victory prematurely early Wednesday morning and falsely claimed that some sort of fraudulent ballot tabulation was blocking his return to the White House. In his own early morning address, former vice president Joe Biden predicted he would win when the tallies were complete.
Here is the current state of play.
Pennsylvania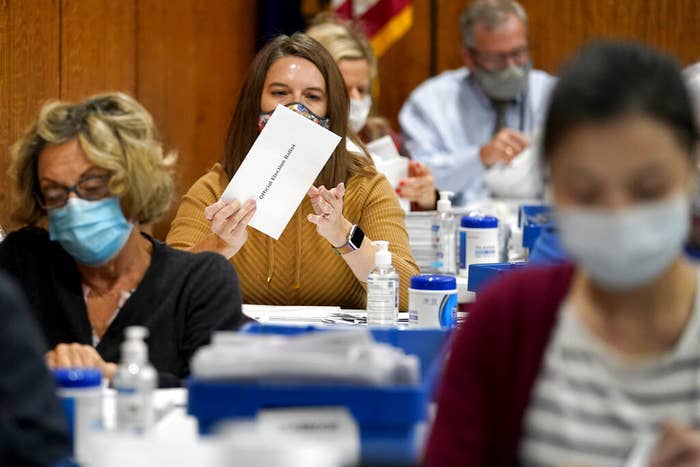 Trump leads in Pennsylvania by about 153,000 votes with nearly 6.3 million votes counted as of early Thursday morning, according to Decision Desk HQ. That's a more than 2-point lead — about 50.6% to 48.2%.
Still, there are many votes left to be counted.
Pennsylvania, which is an important battleground because of its 20 electoral votes, issued nearly 3.1 million mail-in ballots. Hundreds of thousands remain to be tallied.
There are also about 500,000 mail-in ballots that were requested by voters but have not yet been received by the Pennsylvania Department of State. Some of those voters may have chosen to vote in person on Election Day, and others' ballots may still be in the mail. The state has said that any ballot that is postmarked by Election Day and received by Friday at 8 p.m. will be counted, but the deadline is the subject of an ongoing legal battle. Military and overseas voters could also return their ballots up to seven days after the election. That leaves at least 1.1 million ballots still to be counted as of Wednesday afternoon.
So far, the majority of mail-in ballots cast have been in favor of Joe Biden. Still, both campaigns have expressed confidence that they can win the state. Trump won Pennsylvania by less than a single percentage point in 2016. The last polling number before the election showed Biden, who was born in Scranton, up by 6 points.
Both candidates devoted significant time campaigning in the state in the final stretch, with Trump attending four rallies on Saturday alone and Biden visiting his childhood home on Monday.
Trump promised to bring legal challenges in the state, where he speculated that there would be "rampant and unchecked cheating." Two lawsuits were filed by Republicans on Tuesday, one aiming to prevent voters from correcting mistakes on their ballots, according to the Philadelphia Inquirer, and another aiming to block people whose mail-in ballots were disqualified from casting provisional ballots, according to the AP.
There is also the ongoing legal challenge to counting the mail-in ballots received after Election Day. The Supreme Court declined to hear the case before the election saying there was not enough time to address the last-minute challenge, but could still pick up the case.
Pennsylvania Secretary of State Kathy Boockvar said any ballots received between Election Day and the Friday deadline will be sequestered in the event of a legal challenge. She said the process was going smoothly so far and counting was happening as quickly as possible.
"We are exactly where we said we would be," said Boockvar.
Arizona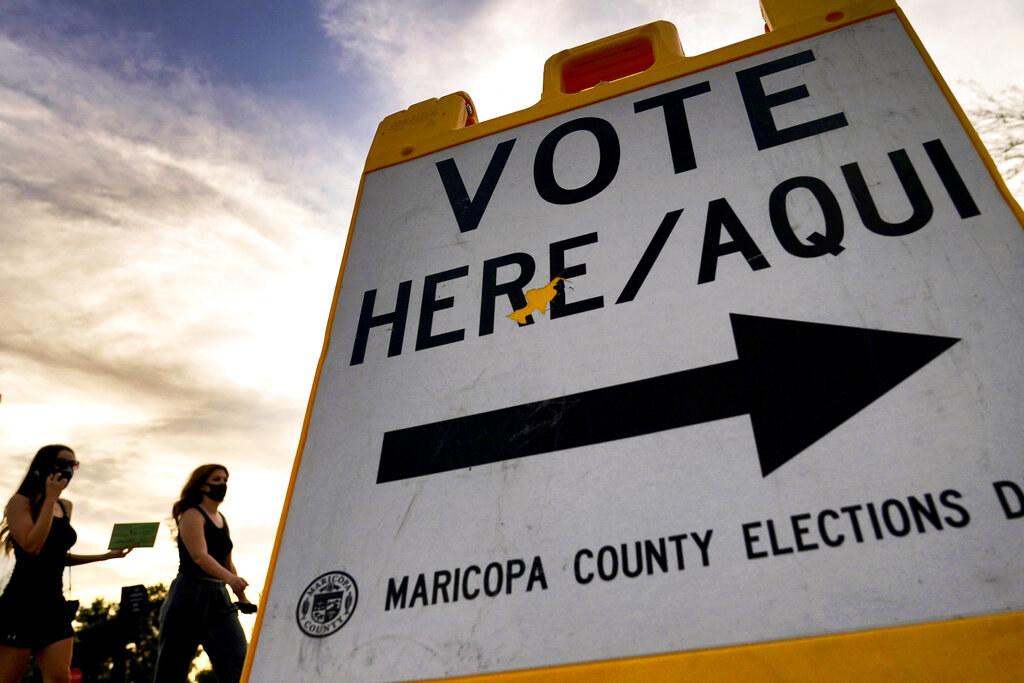 Biden leads Trump 50.49% to 48.14% as of early Thursday morning; some outlets have called the state for Biden, but Decision Desk HQ has not. A win in Arizona would be a major victory for Democrats, who have hoped to win the longtime GOP stronghold for decades.
Candidates cannot request recounts in the state, and the margin to trigger an automatic recount is a razor-thin 0.1% discrepancy between candidates.
About 2.3 million voters in Arizona voted early. As of early Thursday morning Eastern, the Arizona Republic estimated there were several hundred thousand votes left to count.
Nevada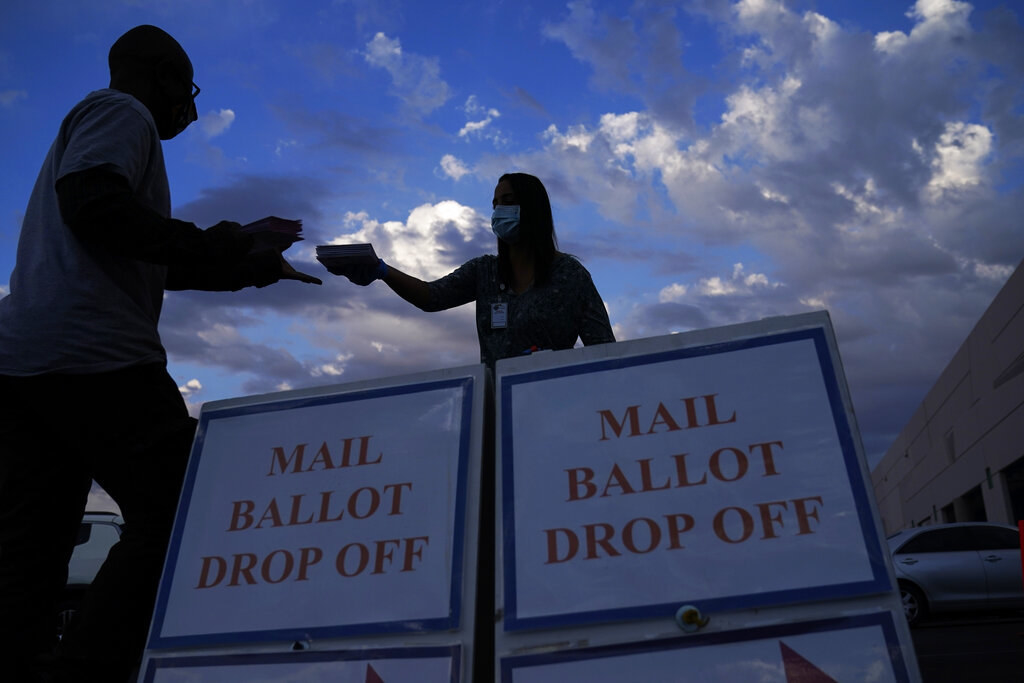 With nearly 2 million ballots tallied in Nevada as of Wednesday morning, Biden had around 7,600 more votes than Trump. The state election committee reported that all in-person early votes, in-person Election Day votes, and mail-in ballots received through Nov. 2 have been counted as of Wednesday morning, but mail-in ballots received on or after Election Day, as well as provisional ballots, have yet to be tallied. The election commission announced that the final results will be in by noon ET on Thursday.
As was true across the country, turnout was higher in Nevada this year than in 2016. That year, Hillary Clinton won the state with around 530,000 votes — a tally already far exceeded by both candidates this year.
Nevada, and its six Electoral College votes, could prove crucial to a Biden victory if he loses another battleground state.
To get a recount in Nevada, a campaign must request it within three business days after the first count is complete. State officials then have 10 business days to carry it out.
BuzzFeed News has journalists around the US bringing you trustworthy stories on the 2020 elections. To help keep this news free, become a member.
Georgia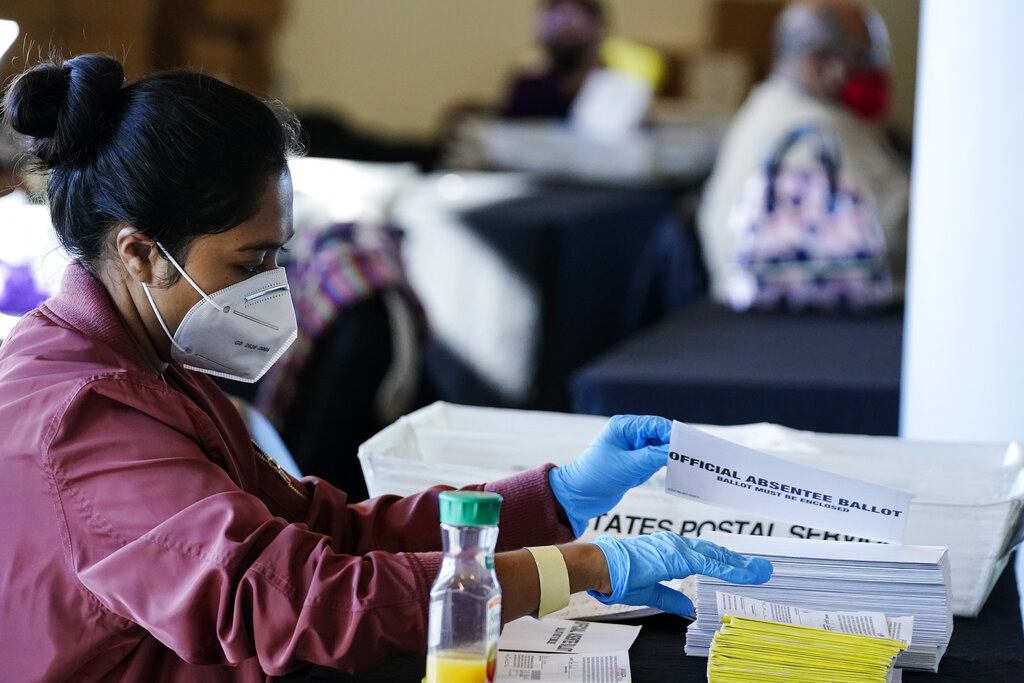 By early Thursday morning, more than 4.8 million votes had been counted in Georgia, more than a million more than the state's total turnout in 2016, when Trump defeated Clinton by around 5%. This time, the race is much closer. Though the president began Thursday with around 23,000 more votes than Biden, thousands of ballots remain uncounted in some of the state's Democratic strongholds in Atlanta and its surrounding suburbs. If they tilt the contest Biden's way, he could become the first Democratic candidate to win Georgia since President Bill Clinton took the state in 1992.
Late Wednesday, Georgia Secretary of State Brad Raffensperger estimated that as of 10:15 p.m. Eastern, the state still had 90,735 ballots to count. More have been tallied since then, but tens of thousands remain.
Fulton County officials said on Tuesday that the counting was delayed for hours because a water pipe broke in the room holding the ballots at State Farm Arena. In Gwinnett, officials said they were slowed by a software glitch that required an additional review of tens of thousands of ballots scanned in voting machines.

If the margin is within 0.5%, the trailing candidate can request a recount within two business days of the full results coming in. The secretary of state, as well as lower-level election officials, can also call for a recount when there is evidence of possible discrepancies in the vote counts. The state has no deadlines for the length of the recount process.
North Carolina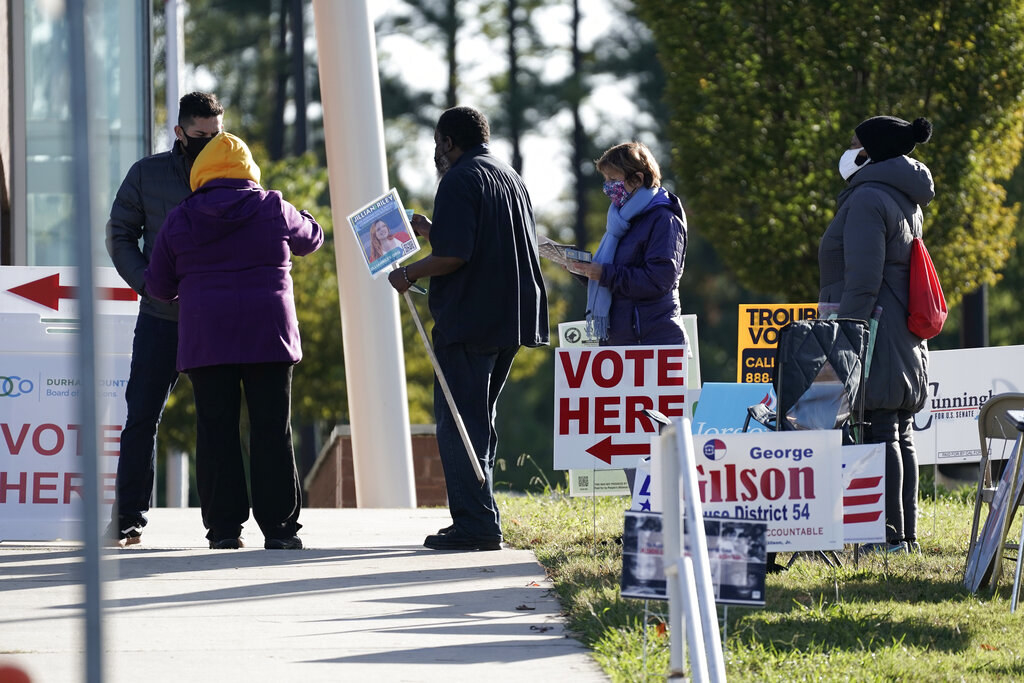 The race in North Carolina is still too close to call. Though Trump falsely declared that his campaign had "clearly won" the state, there are more than 100,000 outstanding absentee ballots that haven't been counted as of Tuesday night.
Trump currently leads Biden by 76,701 votes in the state with a margin of 49.98% to 48.57%.
Officials at the state board of elections said about 977,186 absentee ballots had been cast in the state by Wednesday morning, and there were about 117,000 additional ballots that had been requested by voters but not yet returned. In North Carolina, absentee ballots received by Nov. 12 can still be counted as long as they were postmarked by Election Day — although election officials said they do not expect that all 117,000 of the outstanding ballots will be returned.
The runner-up in the election can request a recount if the winning margin in the race is 10,000 votes or less or 0.5% of the total.
Michigan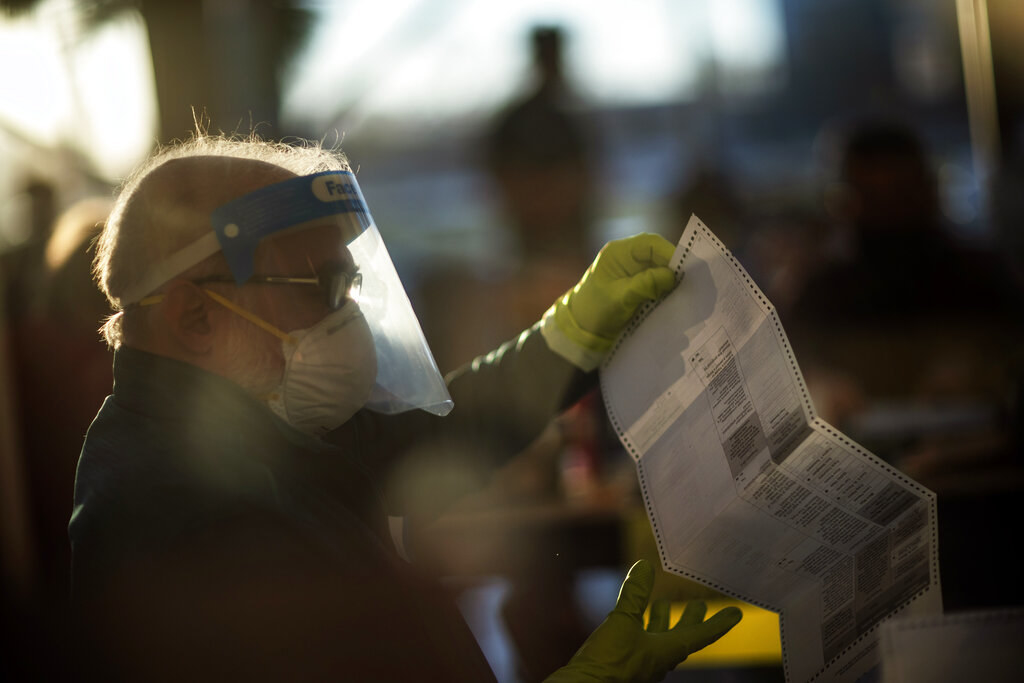 Decision Desk HQ called Michigan for Biden late Wednesday afternoon, putting its 16 electoral votes in the former vice president's column.
Michigan Secretary of State Jocelyn Benson said the state set a new voter turnout record this year.
In a statement Wednesday afternoon, Trump campaign manager Bill Stepien said the campaign had "not been provided with meaningful access to numerous counting locations to observe the opening of ballots and the counting process, as guaranteed by Michigan law" and that they have filed suit in the state to halt vote counting until the campaign has full access.
Candidates can request recounts in the state but are required to demonstrate they have a "reasonable chance of winning" in order for the recount to go forward.
Wisconsin
On Wednesday afternoon, Biden narrowly won Wisconsin, but by a slim margin. Trump's campaign manager said the campaign would request a recount "immediately."

After an early Trump surge on Election Day, Biden took a lead overnight in Wisconsin thanks to tallies from mail-in ballots in Democratic strongholds like Milwaukee — something many election observers predicted, given that Democrats voted by mail at much higher rates more than Republicans and were likely to already run high margins in urban areas. The Supreme Court on Oct. 26 ruled that Wisconsin cannot count any ballots received after Election Day, even if they are postmarked on time, but the ruling no longer looks likely to tip the outcome of the election in the state. ●