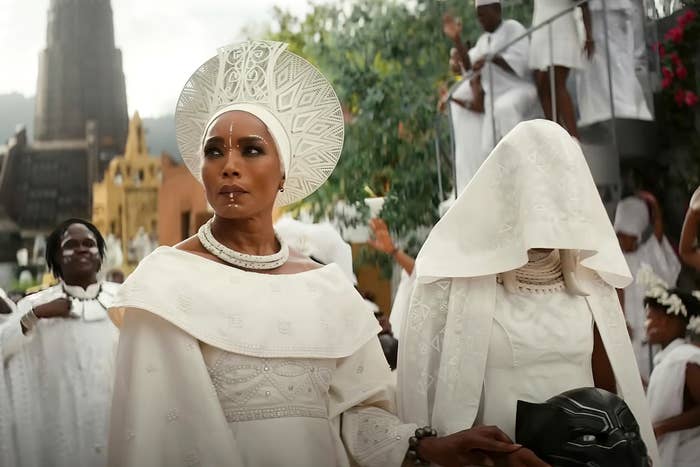 In an early scene in Black Panther: Wakanda Forever, which hits theaters nationwide today, Angela Bassett's Queen Ramonda and Letitia Wright's Princess Shuri sit on a beach discussing their grief over the death of their beloved son, brother, and king, T'Challa.
His death looms large over the movie. For the residents of the fictional Wakanda, the loss of their superhero protector has left them vulnerable to other nations trying to steal their valuable vibranium. For viewers in real-life movie theaters, the death of actor Chadwick Boseman has cast a shadow over a Marvel franchise originally designed to spark escapist joy.
The movie's cold opening, before the title cards, alludes to the moment of T'Challa's offscreen demise, then shows the funeral that follows. The comic book montage that introduces every Marvel movie doesn't feature the usual action-packed illustrations and thunderous music but rather images of Boseman presented in silence.
The movie swiftly delivers some of the fundamental elements that made the first Black Panther so fun.

Would that heavy sense of mourning carry on through the whole two-and-a-half-hour movie? But the women's moving reflections on T'Challa are suddenly interrupted when a man, dressed like a precolonial Mesoamerican warrior with winged feet, shoots up out of the ocean, floats in the sky, and presents Ramona and Shuri with an ultimatum that marks the starting point of the film's core drama. His name is Namor, and he calls on Wakanda to ally with his powerful secret kingdom, Talokan — which lies deep underwater thanks to a magical plant that allowed its founders to escape the disease and violence Spain brought to their shores half a millennium ago. It is also the only other country that has vibranium. Turning down the offer would pit Wakanda against a nation in its mirror image, rich in resources and long hidden from the world to protect against foreign invasion.
With that, the movie swiftly delivers some of the fundamental elements that made the first Black Panther so fun, transporting us to mysterious civilizations with majestic historical lore while injecting high-minded questions into scenes thick with flashy battles and car chases. If the first movie in the franchise grapples with the distance separating Black communities split across two sides of an ocean, the second centers the bond shared among the descendants of formerly colonized people around the globe.
Like Wakanda, Namor's Talokan pursued a policy of intense isolationism until external threats spurred the kingdom into defensive action. When American military forces search for vibranium at the bottom of the ocean, threatening to discover Talokan, Namor leads a raid that wipes them out. The global hunger for vibranium is ravenous. French mercenaries try to steal it from Wakanda in a failed mission that leads to their capture. The lesson is too explicit to miss: Speaking to Shuri and Ramonda, Namor states plainly that the European and American imperialists continue an age-old pillage. Except now those former colonizers face superpowers with more advanced weaponry and technology — and more advanced notice to prepare, or preemptively strike. Namor's aggression runs up against Wakanda's resistance to violence. Played with kinetic stoicism by Tenoch Huerta, Namor tries to persuade Shuri that their alliance could eliminate every trace of imperial plunder in the "surface world," as he calls the civilizations above the water. "Surface people conquered people like us for our resources," he says.
The crossroads between noble peace and righteous war echoes a core question of the first movie. The dilemma doesn't feel repetitive but reflective of the unresolved tensions of unrepented sins. Maybe, the film posits, Killmonger was right to pursue vengeance — to forcefully correct the wrongs of an unfair world.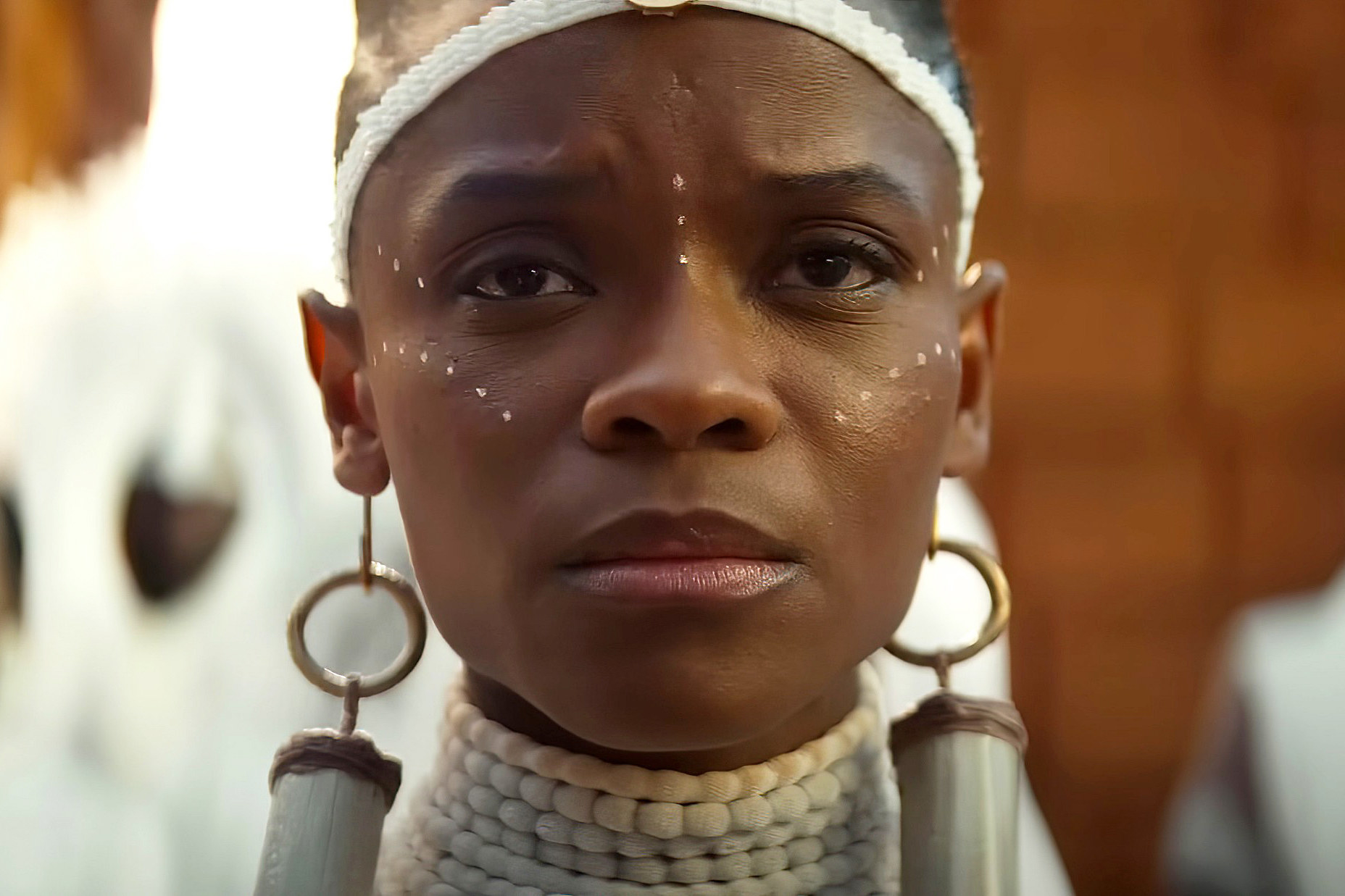 Some of Wakanda Forever's most emotionally resonant moments present Shuri reckoning with those angels and demons on her shoulder as she confronts her grief, which only grows as Wakanda wades into a war with Talokan sparked by mistrust and misunderstanding, bringing more death. The traumas turn Shuri increasingly against her late brother's military restraint even as she mourns him, a compelling dissonance that interrogates what it means to honor a lost loved one. Wright's accumulating fury and restrained sorrow offer a proxy for anyone seeking some sense of closure over the death of the actor who played T'Challa.
The movie thrives in these moments of intimate interiority, but they don't come often enough, crowded out by storylines that serve the needs of the Marvel Cinematic Universe rather than the central narrative playing out among the central characters. A drawn-out plot point about a 19-year-old science prodigy who has developed a machine that can detect vibranium feels shoehorned in to introduce the latest new superhero franchise, Ironheart, at the expense of the film's pace and texture.
The cast's collective talents can only shine through in flashes.

The cast's collective talents can only shine through in flashes. Lupita Nyong'o, who plays a Wakandan spy and T'Challa's former love interest, brings a radiant energy but doesn't appear onscreen until midway through. Michaela Coel, who plays a Wakandan soldier, randomly pops up in rare bits that leave her character flat and glaringly underused. Winston Duke, a tribal chief who utters some of the film's most memorable punch lines, delivers an ice-cold counterpoint to Wright's white-hot rage in a simmering debate over the prospects of war with Talokan, a powerful scene that feels much too short. Danai Gurira plays the Wakandan general Okoye in a sparkling performance that spans the tearful intensity of getting demoted by the queen to the understated hilarity of her blunt efforts to blend into an American college campus, but she gradually fades from the story as it approaches its final act.
As with the first movie, this one is at its weakest when it diverts course to focus on white characters who serve no discernible purpose in advancing the story. We spend too much in suburban Virginia with CIA agent Everett Ross (Martin Freeman) as he banters with his ex-wife Valentina Allegra de Fontaine (Julia Louis-Dreyfus) over US foreign policy, but we don't get to learn more about the visually stunning Talokan, a kingdom we know little about beyond its founding history despite the film's epic length.
No Talokan characters other than Namor are fleshed out, and what appears to be a fantastically complex fictional culture is rendered one-dimensional — almost exclusively serving as a military entity powerful enough to test Wakanda's strength. We learn they speak a Mayan language. We observe them in passing playing a ball game associated with Aztec culture. We witness them riding whales into battle and employing mysterious technologies that at times seem even more advanced than Wakanda's. The movie offers us a delicious morsel of a fascinating new place but never a full bite, and so the story's emotional stakes fall disproportionately on Shuri's shoulders.
The first Black Panther, with its tightly wound plot and artfully choreographed action sequences, set a bar Wakanda Forever didn't come close to matching. But taken on its own terms, as a superhero sequel tasked with serving an unusually wide range of needs, it stands as a different kind of accomplishment.
Director and cowriter Ryan Coogler's most impressive feat is in granting viewers the space to grieve without ever abandoning us there. T'Challa's death is neither overwrought as a plot point nor cast aside as a perfunctory prologue. Rather, it serves as a springboard to a deeper exploration of collective loss.
Shuri recognizes that a cycle of pain and retribution threatens to spark a mutually destructive war between Wakanda and Talokan, two nations unified by the trauma of fleeing imperial conquest. In the movie's climactic moments, as the two most powerful military forces on Earth clash on the open sea, she contemplates how anger can consume a person wracked by grief, perpetuating pain without bringing inner peace. While her brother T'Challa might be gone, Shuri acts in the spirit of his philosophy, a reminder of what it means to keep a legacy alive.●