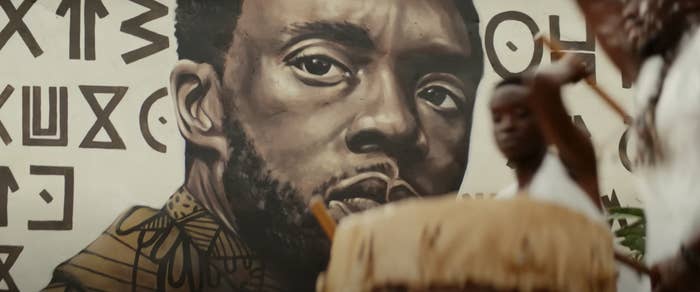 Surely you've seen the trailer for Black Panther: Wakanda Forever by now. The teaser for the Marvel sequel has probably been all over your timeline (if it hasn't, you probably don't follow enough people of color), accumulating 172 million views on its first day up. It opens with the pained faces of Wakanda's women staring out into the ocean, reflecting a loss we need no explanation for, builds momentum as the resounding voice of Angela Bassett's Queen Ramonda projects the resilience we're all trying to conjure through these troubled times, and soars to the finish line with flashes of action assuring us the forces of good will prevail in a fictional universe that must reckon with the death of its protagonist.
This wasn't a trailer drawing us in with hints of plot points and dramatic tension. It felt more like an urgent message, as direct and clear as the words of the chorus in the background: Everything's gonna be alright. Across social media, dozens of people said that the trailer moved them to tears.
"So much turmoil. So much loss. And yet they are clearly STILL focused on blowing us all away," comedian W. Kamau Bell tweeted.
"I am shaking," Abbott Elementary creator and star Quinta Brunson tweeted. "And in awe."
"I've cried at this trailer for a couple days now," Hannah Beachler, the film's production designer, said in a thread. "Grief was actively happening while we made this film."
In an interview with Reuters about the trailer's release on Saturday at San Diego Comic-Con, Lupita Nyong'o, who plays Nakia, a secret agent for Wakanda's intelligence service, in Black Panther, said "sharing this trailer was cathartic," and Letitia Wright, who plays Shuri, princess of Wakanda, said the sadness visible onscreen "was real because we feel so deeply and we are grieving so deeply."
It has been almost exactly two years since Chadwick Boseman, who played T'Challa, the superhero king of the wealthy fictional nation of Wakanda in 2018's Black Panther, died from cancer at 43. Amid the chaos and mass death of summer 2020, many of us probably haven't fully processed the loss. People wrote lovely obituaries and held Black Panther watch parties to celebrate Boseman. But I struggled to give the moment the reflection he deserved. It was a tragedy piled on a growing heap of tragedies, a shocking death of a famous Black man at a time when Black people were dying from COVID at disproportionately high rates, and people were marching in the streets to protest police and vigilante killings of Black people. At the time, Boseman's death struck me as a chilling mark of the racial disparities that defined our country: Not even our most prominent Black superhero could live long enough to partake in the sequel.
No matter how many profiles I read and how much interview footage I watch, my primary relationship to Boseman will always be through the characters he depicted onscreen, his lasting impact on me channeled through that groundbreaking work.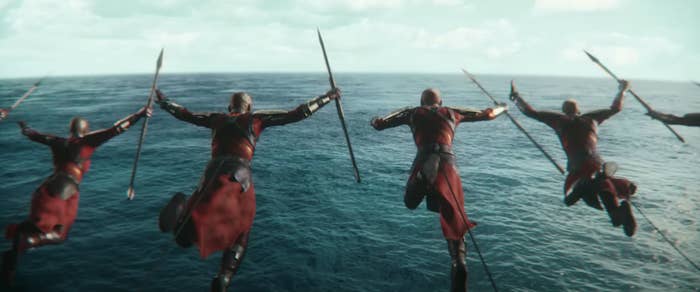 Black Panther, which set a new standard for social consciousness in superhero movies, offered a liberating excitement to everyone starved for a blockbuster film that centered the experiences of Black people without dwelling on trauma. If Kendrick Lamar provided the soundtrack to the dawn of the Black Lives Matter movement and Ta-Nehisi Coates its manifestos, Black Panther offered a balm to the existential dread simmering through formerly colonized people. Its fictional setting of Wakanda offered a world where imperial exploitation hadn't ravaged every pocket of the African continent, where a powerful nation was looking out for the disenfranchised, where a natural, responsibly mined resource called "vibranium" gave the Global South a fair shot to balance the scales. Black Panther gave us exactly the utopian fantasy we needed.
Now, though, it's hard to rewatch without the pain of knowing you're seeing Boseman in one of his final roles. It's no longer an escapist pleasure but a memorial.
Boseman's death struck me as a chilling mark of the racial disparities that defined our country: Not even our most prominent Black superhero could live long enough to partake in the sequel.
Here we are four years later, in need of heroes more than ever. The Earth keeps heating, the plague and the guns keep killing, corporations keep hogging the wealth, and racists and misogynists keep trying to pull our country back to 1789. It's unclear if there's a way out. The least we can hope for is a way forward.
In our real world, that path might not be so clear, but that's why we have fiction to stabilize us. In the trailer for Black Panther: Wakanda Forever, which will be out in November, tearful faces give way to a pregnant belly and baby's birth, a reminder that life goes on, the future unwritten.
"Everything's gonna be alright," the singer Tems softly croons over images of burning buildings and camouflaged soldiers carrying machine guns, woven with clips of Queen Ramonda giving a speech that echoes the frustration of trying to fix a world hell-bent on perpetuating oppression: "Have I not given everything?"
The trailer doesn't tell us who T'Challa's successor will be, or the circumstances of the king's death, or how director Ryan Coogler intends to fit it all into the tightly wound Marvel Cinematic Universe. Bassett told Entertainment Tonight that there had been at least "five incarnations of the script." The initial release date was twice pushed back. What is clear is that the fate of Wakanda lies in the hands of its women, who embody our collective grief and represent experiences all too familiar in our real world, where sons, brothers, and partners become hashtags while the women who mourn them are left to fight for justice.
T'Challa's face appears on a mural 90 seconds in, as the symphonic score rises to a crescendo, and a familiar voice enters the fray. It's Kendrick telling us, forceful and militant, "We gon' be alright." We see Wakanda's soldiers charging with spears to the chorus of this protest anthem, a goosebump-inducing montage that stops on a dime with a long second of black-screen silence. Then the final image, a body in the Black Panther's outfit from the shoulders down so you don't know who's wearing it, hits like a dose of powdered vibranium straight to the dome. "And when I wake up…" Kendrick raps to close it out, as if urging us out from malaise and resignation, because there is a new hero to resurrect our hopes and restore Wakanda to the utopia it once served for us. ●