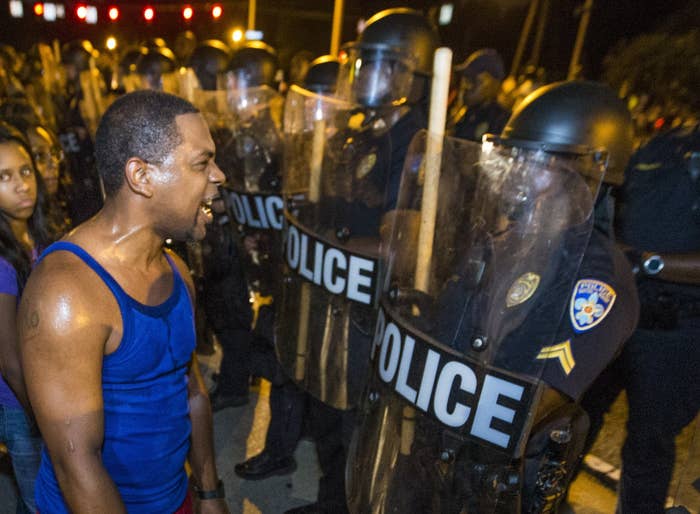 Dewayne White was named chief of the Baton Rouge Police Department in May 2011. The previous chief, who retired, was a popular figure who spent decades in the department. White had spent more than 20 years with the Louisiana State Police before returning to the Baton Rouge force, where he had worked several years earlier in his career.
In an interview with a local radio station a few months after his appointment, White — who is white — explained that one of the big changes he wanted to make as chief was building trust with the city's black community by addressing racial profiling. The lack of trust, he told WJBO, was largely caused by a minority of officers who "stigmatize a group of people."
"It's become so ingrained in their mind that they believe that everybody they come across or most people they come across with that color of skin is probably a criminal," White said. "How do I change that? I change that by trying to win the hearts and the minds of the officers and tell them that we have to be sensitive to the public's needs."
He never got much of a chance to do that. He lost support of the police union, and Mayor Kip Holden, who remains in office, fired him in early 2013, less than two years after he got started.
Three years later, two Baton Rouge police officers shot and killed Alton Sterling, a 37-year-old who was selling CDs in front of a convenience store, sparking days of protests and heightened scrutiny of a department that continues to face allegations of racial profiling.
Sterling's death, on July 5, as well as the fatal police shooting of 32-year-old Philando Castile on July 6 in Minnesota, have once again brought to the forefront the national conversation about police aggression against black people. The attack in Dallas that killed five officers on Thursday night brought renewed attention on that department's successful push to improve community policing tactics, which led to decreases in arrests, excessive force complaints, and police shootings in recent years.
White attempted a similar effort, and his failure reflects the steep hill reform-minded police officials face in their attempts to uproot deeply embedded department culture.
In his WJBO interview, as The Advocate reported in 2011, White said that he had visited churches in black neighborhoods, and when he asked "whether they trust the Police Department, no one raises their hand. That, in itself, is indicative of a problem, and we have got to win the trust of that community."

Though the city's population is majority black, the police force is two-thirds white. As part of White's reform push, he sought to install three deputy chiefs, who would be "vital to begin the accountability process," he told local reporters. He kept in regular contact with the local NAACP president, Kwame Asanté. At a community meeting, The Advocate reported, White said that "he wanted his officers to go door-to-door to meet residents and form relationships with them." He formed a new unit, the Baton Rouge Area Violence Elimination Project, which assigned five officers to the city's highest-crime area to build relationships with residents.
"I was encouraged to see him make public efforts to reach out to the African-American community," said Robert Davis, a local pastor, told The Advocate. "We've had some police chiefs here who have tried. We've had others who appeared they were not making as much of an effort in their outreach."
From the start, White faced resistance from the Baton Rouge Union of Police, whose president, Chris Stewart, said in another WJBO interview, that he "disagreed 100%" with White's statements about racial profiling.
Over the following months, White publicly battled with the union. The Advocate reported that, during a Baton Rouge Rotary Club luncheon, White declared that the union was "putting emphasis on things that have no bearing on the quality of the lives of their constituency." The union's attorney, Charles Dirks, responded by saying that some officers were uncomfortable working under White.
In late 2012, White transferred union president Stewart from an easy administrative position to a community policing job that required more work.
He was fired a few months later. He now works as an investigator for the Louisiana State Police.
In a statement supporting the firing, Stewart, who is white, said that White created "an environment that severely affected departmental morale" and "an openly hostile climate where Chief White alienated himself from the vast majority of officers from all ranks of the Baton Rouge Police Department."
Following his firing, White claimed that Mayor Holden, who is black, had "micromanaged" the department and would not allow him to discipline officers without mayoral approval. White's attorney, Jill Craft, said in a press conference that the mayor had done this to appease the police union.
"It would be fair to say that [the union] bypassed the chain of command and went directly to the mayor," she said, according to the New Orleans Times-Picayune.
Holden wrote a letter to White saying he was getting fired because of "substantial disagreement with the direction of the future of the Baton Rouge Police Department," the Times-Picayune reported. Citing the 2011 radio interview, Holden wrote that White "made inflammatory public statements to the press wherein you inappropriately accused a large segment of the BRPD of racial bias in an apparent effort to curry favor with the press and certain public figures."
Holden declined an interview request for this story. In an statement to BuzzFeed News explaining the mayor's decision, Chief Administrative Officer William Daniel said, "While former Chief White talked publicly about community policing, he never implemented any community policing procedures."
Daniel said that hiring White's replacement, Carl Dabadie, "has strengthened community relations in Baton Rouge."

UPDATE
This story has been updated to include a statement from Mayor Kip Holden's office.