Baton Rouge Mayor Calls Claims Of Police Racial Profiling "Bullshit"
Around 20 residents described to BuzzFeed News a pattern of racial profiling, arbitrary searches, and excessive force, despite the city's claim that it has made community policing a priority.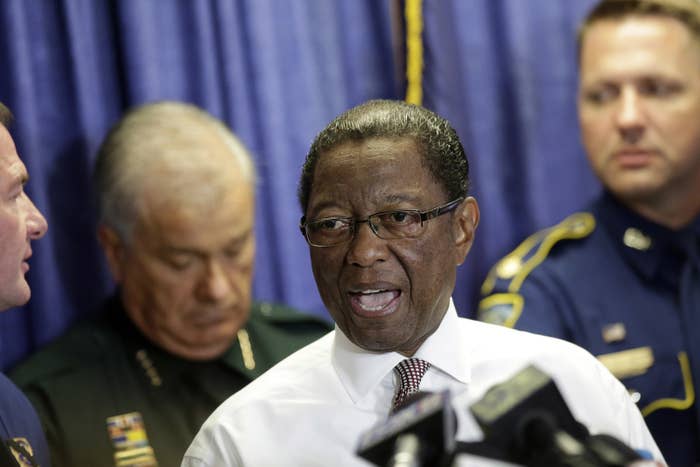 Marquise Craig found shade from the sticky Louisiana heat inside the Triple S Food Mart on the north side of Baton Rouge. Less than two weeks earlier, two police officers killed Alton Sterling a few feet in front of the store. Two murals of Sterling framed a mountain of stuffed animals and notes left in his honor.
The protests there had just begun to die down when, on Sunday morning, Gavin Long shot six Baton Rouge police officers, killing three of them and jarring a country still reeling from the deaths of five police officers in Dallas 10 days earlier.
Craig, 21, was saddened by the deaths. "I don't wish that on nobody to get killed," he said. "Those guys had families, kids." But he also hoped that the national attention that Sterling's death brought to the city would not shift all of its focus away from the problems in the Baton Rouge Police Department.
"In this area, I guess because this is like a drug area, a lot of that harassment be happening," he said. "They come down here with a mindset that everybody selling drugs. Out of a year, I get stopped definitely more than ten times."
It was a common refrain among the residents in the predominantly black neighborhoods on Baton Rouge's north side. Around 20 residents who spoke to BuzzFeed News described a pattern of racial profiling, arbitrary searches, and excessive force — creating a climate contradicting city officials' claims that they have made "community policing" a priority.
"You could be walking down the street and they'll stop you and search you and most of the time it ain't no probable cause," said John Aguillar, who grew up near the store where Sterling was killed. "It's commonplace."
Told of residents' complaints about police treatment, however, Mayor Kip Holden replied, "That's bullshit." Those residents, he told BuzzFeed News, were lying. "I'll pay for the polygraph test," he said. "They're not stopping and frisking people at random. Just do what is expected of you and you won't be stopped and frisked."
As Baton Rouge sits at the epicenter of the current wave of protests over police shootings and the use of excessive force in black communities, city officials have defended the decisions and practices of local law enforcement. At a press conference on Monday, Baton Rouge Chief of Police Carl Dabadie Jr. doubled down on his department's use of riot gear and armored trucks at peaceful protests. "We've been questioned… about our militarization tactics," he said. Citing the police response that ultimately killed Long, he said, "Our militarization tactics, as they are called, saved lives here." (The Baton Rouge Police Department did not respond to interview requests for this story.)
Meanwhile, Holden said that claims about the department's over-aggression in black neighborhoods were "exaggerated." Baton Rouge officers, he said, have been trained to build relationships with locals all over the city.
"We're telling them to stop the car, get out," and introduce themselves to residents, giving their card and telling them they'll be patrolling the neighborhood. "That is in place now."
Of the 20 or so black residents who spoke to BuzzFeed News in and around Sterling's neighborhood, not a single one could remember an officer greeting them simply to introduce themselves. Most said that their only interactions with officers occurred when they were stopped on the street or in their car and searched. Six locals claimed to have been punched or kicked by officers during an arrest. Two locals claimed to have been tased by officers. Many more complained of racial profiling.
Gregory Johnson, a 33-year-old Baton Rouge native, said that some months he gets stopped while driving and on the street four or five times. "It feels like every other day sometimes," he said. Though he's gotten several speeding tickets, "most of the time they just search me and run my name or whatever and let me go."
Myrtis Williams said a police officer pulled her over "for no reason" a week ago. The officer, she said, told her he had pulled her over because it "looked like the kids weren't wearing a seatbelt." But even after he saw that they were, she said, he told her to step out of the car. After some minutes, he let her go without any citation or explanation, she said.
"It felt like they were just pulling all the black people over and letting all the white people go," she said.
Last August, her husband, Will Williams, was in a clothing store when a security guard accused him of stealing something and hiding it in his pants. The guard, he said, waved down two police officers who happened to be passing by. Will Williams said that he told the officers that he didn't steal anything and that he was simply putting his phone away. They questioned him aggressively, he said, so he pulled his pants down to prove he wasn't hiding anything. The officers arrested him. He pleaded guilty to charges of resisting an officer, public intimidation, and obscenity, according to the East Baton Rouge District Attorney's Office. He served 10 months in jail. "My public defender told me I had no choice," he said. "It was my word against the police, I guess. They do anything they want."
Myrtis Williams said she had not had such a negative impression of police officers until she and her husband moved to Baton Rouge from Hammond, Louisiana, three years ago. She had respected cops. Her brother was a cop. But in Baton Rouge, she said, "They just harass black people. I guess they think they can get away with it."
Claims that a police force over-criminalizes a city's black community ring familiar across the country, but especially in Louisiana, the state with the highest incarceration rate in America and home to a criminal justice infrastructure that overwhelmingly relies on fines and fees paid by defendants.
"There's an economic situation going on where they're making money off it and then a racism situation where you're oppressing black people," said Derrick Jones, who grew up in Baton Rouge and said he is in his late 30s.
According to USA Today's 2014 database of arrest statistics, black people are nearly three times as likely as white people to be arrested in Baton Rouge (284 arrests per 1,000 black residents to 105 arrests per 1,000 white residents). Since 1980, the department has been under a federal consent decree to diversify its recruiting. Though the city is majority black, the police force is two-thirds white. An investigation by the local CBS affiliate found that, based on 2013 data, Baton Rouge was one of six majority black cities with a population over 100,000 to have a majority white police force. Of those six cities, Baton Rouge had the largest disparity between the percentage of black people in the population and the percentage of black officers in the department.
In September 2014, an officer was forced to resign after he was found to have sent text messages describing black people as "monkeys" and hoping "someone would pull a Ferguson on them and take them out." In April 2016, Sgt. Todd Bourgoyne was placed on administrative leave after a video emerged showing him punching a 16-year-old black boy at an Earth Day festival.
The department has faced criticism for its failure to build trust with black residents for many years. Some community leaders, though, saw hope for progress in the months after Dewayne White was named police chief in May 2011. In a radio interview that October, White publicly acknowledged that, for some officers in the department, "It's become so ingrained in their mind that they believe that everybody they come across or most people they come across with that color of skin is probably a criminal."
He declared his intentions to reform the department's relationship with the city's black community. In his first few months on the job, he visited black churches, met regularly with the local NAACP president, and formed a new unit that assigned five officers to the city's highest-crime area to forge relationships with residents.
"He did promote a lot of black officers," State Representative Ted James said. "He was very involved in the community."
But the local police union turned against him, and within months, he lost the support of Mayor Kip Holden. Holden fired White in February 2013. In a letter informing White of the termination, Holden said that White "made inflammatory public statements to the press wherein you inappropriately accused a large segment of the BRPD of racial bias in an apparent effort to curry favor with the press and certain public figures."
In a statement to BuzzFeed News last week explaining the mayor's decision, Chief Administrative Officer William Daniel said, "While former Chief White talked publicly about community policing, he never implemented any community policing procedures." Daniel said that hiring White's replacement, Dabadie, "has strengthened community relations in Baton Rouge."
In his interview with BuzzFeed News on Monday, Holden reaffirmed that point.
"We started community policing about three years ago," he said.
UPDATE
This story has been updated to show the exact charges Will Williams pleaded guilty to according to the East Baton Rouge District Attorney's Office.