BALTIMORE – A Baltimore police sergeant informed his Eastern District superiors Friday afternoon that officers "are now being challenged on the street." The sergeant sent the letter following the announcement that State's Attorney Marilyn Mosby was indicting six officers on felony charges associated with the death of Freddie Gray, the 25-year-old who suffered a fatal spinal injury while in Baltimore police custody on April 12.
The letter, provided to BuzzFeed News from an anonymous source, warned of heightening tensions between police and residents on a day when many locals have taken to the streets to celebrate.
Sgt. Lennardo Bailey told the "Eastern Command Staff" [sic'd]:
"I have been to five calls today and three of those five calls for service; I have been challenged to a fight. Some of them I blew off but one of them almost got ugly. I don't want anybody to say that I did not tell them what is going on. This is no intel this is really what's going on the street. This is my formal notification. It is about to get ugly."
BuzzFeed News has also learned that the Baltimore Police Department's chief of patrol sent out a text message to all commanders ordering officers to take added caution: "2 OFFICERS PER CAR.. DOUBLE UP ALL PATROL CARS," the order read.
Letter sent to the Eastern Command Staff: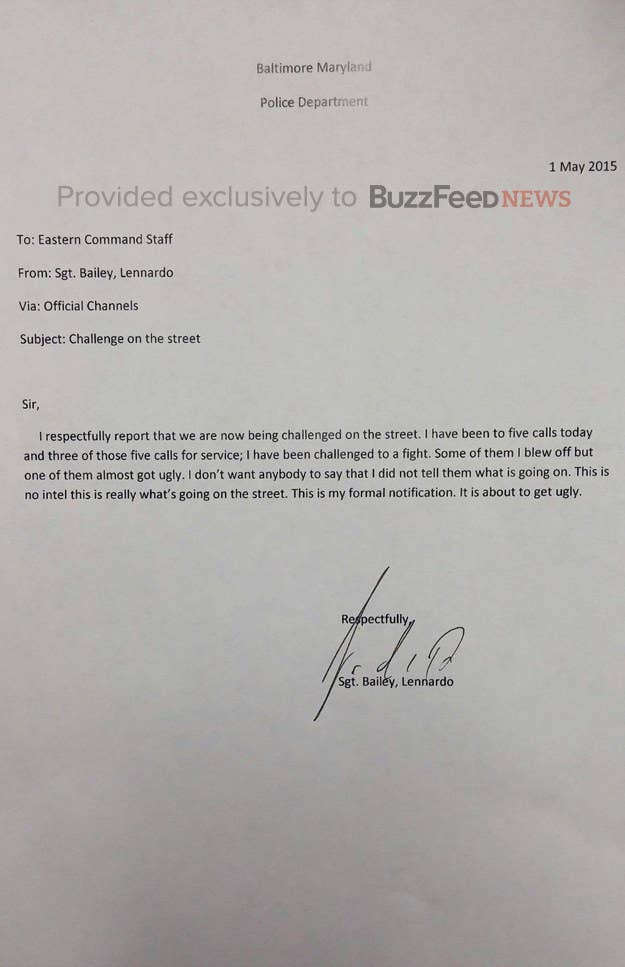 Updated at 4:35 p.m. ET with information about the text message sent to commanders.