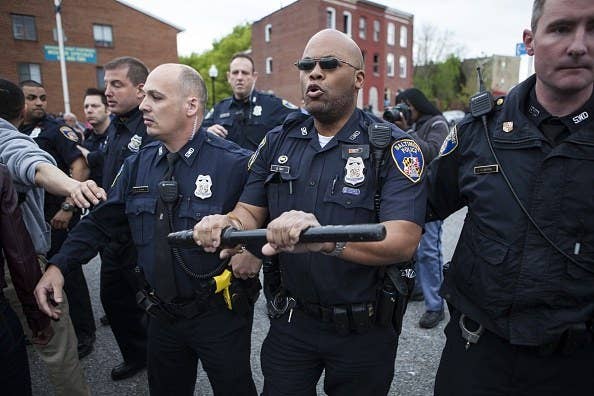 The death of Freddie Gray in Baltimore police custody on April 12 has brought renewed attention to a police practice known as "rough rides," offering the latest evidence that they may not be a relic of past.
One former Baltimore police officer told BuzzFeed News he first learned about "rough rides" from the older veteran officers who drove the police wagons. A rough ride is when officers put a handcuffed suspect in the back of a police wagon without strapping on their seatbelt, then drive around making sudden turns and stops, jostling the suspect. It's also called a "nickel ride" because of the way the suspect bounces around in the back like in an amusement park attraction.
"[A rough ride] wasn't necessarily something that was done on the regular, but it wasn't something that totally surprised me," the former officer said. "If a person runs, there's an expectation for some [officers] that they're going to get beat for it. A 'foot tax' is the term people would use."
Officers arrested Gray after a foot chase, then placed him into a police van. A video capturing a portion of the arrest showed that officers had to drag Gray to the wagon. According to the police account, Gray was breathing and conscious then. At some point in custody, Gray suffered a severe spinal cord injury, and he died a week after the arrest, sparking protests and allegations of police brutality. A lawyer for his family claimed that the fatal injury occurred while Gray was riding in the wagon, and that Gray did not have a seatbelt on. On Thursday, the Baltimore Sun noted that Gray was "not the first to come out of [a] Baltimore police van with serious injuries." And Baltimore was not the first police department to get in trouble over nickel rides.
"The old timers, they would talk about that term and they would say back in the day when somebody would be mouthing off, they would give 'em the rough ride," the former officer said. "They didn't talk about it like they still did it."
Rough rides have drawn scrutiny since at least the early 1980s, when the American Civil Liberties Union sued the city of Chicago for the police department's use of the tactic. The city settled the suit in 1985 and agreed to replace the vans with a safer model that had roller coaster–type lap bars to ensure passengers would be strapped to their seats.
Years later, in 2001, a Philadelphia Inquirer investigation revealed that the rough rides had cost the city $2.3 million in settlements with passengers who had been injured in the back of police wagons. Though the department issued new rules requiring that police put seatbelts on wagon passengers, the practice apparently continued. In 2011, James McKenna won a $490,000 settlement with Philadelphia after he claimed that he had broken his neck during a rough ride. Police had said that McKenna broke his neck banging his head against the bars of his jail cell.
Baltimore, as the Sun noted, has also faced relatively recent allegations of punishing suspects with nickel rides. In 1997, Jeffrey Alston ended up paralyzed after his time in the back of a police wagon. A jury awarded him a $39 million verdict. In 2005, Dondi Johnson, who had been arrested for public urination, broke his neck during a ride in the van, and he died two weeks later from complications related to the injury. Johnson's family won a $7.4 million jury verdict.
Police Commissioner Anthony Batts suspended the six officers involved in Gray's arrest and announced that the department was investigating the incident. On Friday, Baltimore Mayor Stephanie Rawlings-Blake told reporters that she was "determined to get to the bottom of it." This week protesters marched through Baltimore demanding answers to what caused Gray's death and punishment for the officers responsible.
"I've never seen the outrage at this level," said Rev. Jamal-Harrison Bryant, who has been among those protesting police brutality in the city. "I've never seen this kind of outpouring in a public demonstration in Baltimore."