Baltimore Cops: Rank And File Have Lost Confidence In Commissioner
At a union meeting on Tuesday, more than 400 officers raised their hands in support of a potential no-confidence vote against the top police official in the city. The vote came in the aftermath of protesting and riots in Baltimore following the death of a young black man in police custody.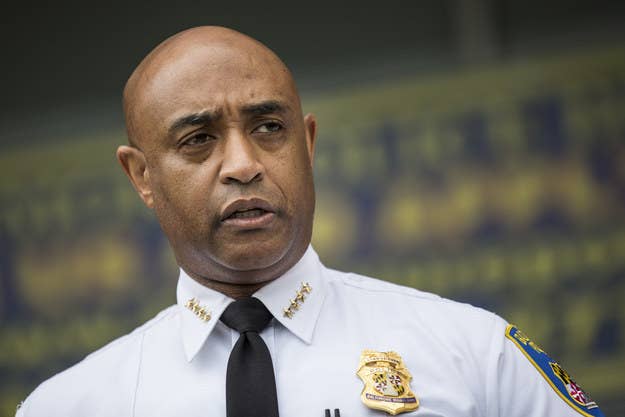 More than 400 Baltimore city police officers gathered at a union meeting on Tuesday raised their hands in support of a potential no-confidence vote against Police Commissioner Anthony Batts, a current officer in attendance and two former officers familiar with what happened told BuzzFeed News.
"When I looked around the room almost every hand I seen was up," said the current officer, who has been in the department for more than a decade and requested anonymity because he was not authorized by the department to speak to the media. "It caught me by surprise. I didn't know that many people were upset."
The cops at the meeting also almost unanimously backed "a change in command" — that all of Batts' high-level commanders be replaced, the officers said.
The votes were not official and were only intended to gauge the sentiments within the department. But the overwhelming opposition to Batts among rank-and-file officers had been building for weeks -- even years, said one current officer -- before reaching a new high-water mark in the weeks following the April 19 death of Freddie Gray, the 25-year-old who suffered a severe spinal cord injury while in police custody. And they came as the department faced rumors of a "slowdown," with a sharp rise in homicides and a sharp decline in arrests in the weeks following the arrests of six officers tied to Gray's death on charges ranging from reckless endangerment to second-degree murder.
"A lot of officers are upset and nervous," said the current officer. "They don't want to get in trouble for doing anything, and they definitely feel that the command does not back them up."
Many Baltimore cops felt that the department had been unprepared when the peaceful protests gave way to rioting, one current officer and two former officers said. During the Baltimore Fraternal Order of Police meeting at the union's North Baltimore hall, officers complained about orders they had received to stand down even as rocks and other projectiles rained down on them, the officer at the meeting said.
"If I'm told to stand there and take bricks to the skull and not do anything about that, if I'm only worthy of being here as a brick catcher, that's not an agency that I wanna be with," said a former officer, who retired a week after the riots and requested anonymity because of his ongoing relationship with current officers.
According to department personnel documents obtained by BuzzFeed News, at least nine officers retired within two weeks of Gray's death and five more resigned. Those numbers are not significantly different from a Baltimore pension report showing that the department averaged around 10 retirements a month from 1987 to 2006. There are currently around 3,200 employees in the Baltimore City Police Department.
One of the officers who retired and one of the officers who resigned told BuzzFeed News that their decisions were a direct consequence of Batts' style of leadership in the aftermath of Gray's death.
"This was just sort of a powder keg," said the officer who retired. "I would probably say about 80% of the people who left over the past few weeks left because of Batts."
One current officer told BuzzFeed News that he expects an exodus of officers in the near future.
"A lot of people are already talking about jumping ship," the officer said. "They really don't feel the support of this agency. It's definitely been a strong consideration for me. I don't know if I wanna go through the continued stress."
One current and two former Baltimore cops told BuzzFeed News that Batts' handling of the riots and their aftermath reaffirmed their long-held suspicion that he was more concerned with his political standing and his relationship with Mayor Stephanie Rawlings-Blake than with the well-being of the officers under his watch.
"He's pretty much lockstep with the mayor and her words about reforming police officers," said the current officer. "A lot of us don't really believe at the end of the day that he has our backs."
The suspicions began early in Batts' tenure, which began in September 2012. He was an outsider to Baltimore, and many officers lost some faith in him when he told the Baltimore Sun that he had seen a man hand another man "red things in balloons" — "a dope deal right in front of me." According to multiple narcotics cops, nobody in Baltimore kept drugs in red balloons — only vials, gelcaps, or plastic baggies. (The department said that Batts was unable to provide comment on the no-confidence vote and the criticism from officers before press time but referred BuzzFeed News to some of Batts' recent public statements.)
An even greater sin, the recently retired officer said, came when Batts replaced the prior commanders with a new staff.
"He got rid of organically grown supervision within the department," he said. "Those guys were shown the door and suddenly we had a bunch of Kool-Aid drinkers."
Over the following years, Batts, who had deemed himself a "reform commissioner," made efforts to improve the department's reputation in the community. Locals had complained of excessive force and of arrests without probable cause. In 2006, the American Civil Liberties Union and NAACP sued the city for civil rights violations, winning an $870,000 settlement. A 2014 Baltimore Sun investigation revealed that the city had paid out $5.7 million to more than 100 plaintiffs in police brutality lawsuits from 2011 through 2014. Batts shifted away from the zero-tolerance policing strategy that led to thousands of questionable low-level arrests over the previous decade, and he claimed to have fired around 50 officers who had committed misconduct.
The weeks following Gray's death cemented some officers' lack of trust in Batts. In addition to the complaints about Batts' handling of the riots, some officers believed Batts did not show enough support support for the six officers who faced criminal charges for Gray's death.
"It all just galvanized our opinions," said the recently retired officer. "Now with this not supporting the officers, the ones indicted, the ones who took bricks to the head, that tells the police department that your leadership will not support you."
Perhaps sensing declining support among his troops, Batts showed up at the Tuesday meeting and spoke for around five minutes, an officer in attendance said.
"I want to come here and tell you guys that I think I let you guys down," he said, according to the Baltimore Sun, which obtained a recording of Batts' speech. "I say that with a humble heart, I say that with honesty, and I say it coming from my heart."
The crowd -- of 400 to 450 cops, one officer estimated -- was much larger than most meetings, more than double the usual attendance, the current officer said. The protests, the charges against six officers tied to Gray's death, Batts' expected speech, and imminent negotiations for a new union contract brought out many more officers.
Batts did not take questions and left after speaking. Minutes later, a lieutenant in the crowd "started the conversation about no confidence," the officer in attendance said. "At least a half dozen people vocally got up. They were asking for a vote of no confidence to be made of him."
When a union leader asked the officers in attendance who would vote no confidence if such a vote took place, "almost everybody raised their hands," said the officer.
Union president Gene Ryan told those at the meeting that the union had opened an investigation into how Batts handled the riots, and that the union would not hold an official no-confidence vote until the investigation was complete, the officer said. (The Baltimore Fraternal Order of Police referred all questions to a public relations firm it hired, which did not respond to interview requests.)
Either way, some officers wonder how much time Batts has left as commissioner.
"He'll be gone by December," one former officer predicted.