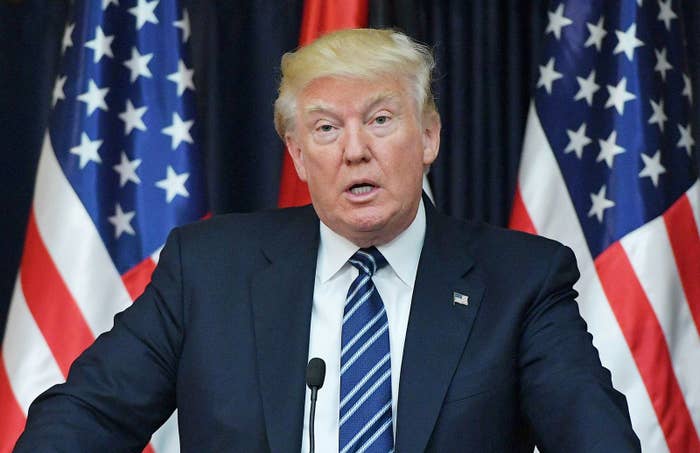 LONDON — Leaders of the world's leading economies who are set to meet in Italy for the annual Group of Seven summit later this week are concerned that President Donald Trump may not stand by the multilateral framework that underpins global trade, diplomats from G7 nations told BuzzFeed News.

Negotiators from the United States involved in drafting the G7 leaders' statement have so far rejected any reference to a "multilateral trading system" and the World Trade Organization, pushing instead for the recognition of a plurality of "trade systems" such as bilateral and regional arrangements, according to the diplomats who have seen a draft of the statement.
The diplomats, all of whom spoke on condition of anonymity because they were not allowed to discuss the draft of the statement, described the US stance as "significant and potentially alarming" because it indicates Trump is questioning the core principles behind multilateral rules-based trade — a move that would represent a departure from a long-held US position.
The World Trade Organization, a pact between 164 countries, acts as the backstop of the global trade system: It ensures there is an agreed set of trading terms and rules, and provides a forum to settle any disputes. By putting arrangements such as bilateral agreements on the same level as the WTO, officials say the global system would risk losing its rules-based foundations.
The US is also expected to refuse references to resisting protectionism in all its forms, raising fears that Trump could push ahead with some of the threats he has made in the past, including his pledge to impose a border tax on imports. (Germany has said it would take legal action through the WTO if he does.)
The statement is still a draft, and the various positions and exact wording may change when the seven leaders meet on Friday.
Despite the concerns, all the diplomats who spoke to BuzzFeed News said important progress has been made in the weeks leading up to the summit.
"Words carry meaning, but actions are more important. It is premature to talk about a worst-case scenario," one EU official said, emphasizing that Trump's rhetoric hasn't always translated into action, and while the stance taken by the US shouldn't be underestimated, it doesn't automatically mean the country will walk away from the global trade order.
"We need to show that working together is better than unilateral approaches when it comes to common trade challenges such as dealing with China," the diplomat said. "We have differences with the Americans, but also common problems."
Still, talks leading up to the G7 summit in the Sicilian town of Taormina have been fraught with frustration. Two diplomats BuzzFeed News spoke to said US negotiators insisted on checking even the smallest of details with the White House, on occasion reopening issues that had been settled during working groups or at a ministerial level, including ones that had been previously agreed by members of Trump's cabinet.
One diplomat said European negotiators were particularly confounded by US negotiators' questioning of principles referencing historic agreements or bedrocks of international relations — especially any commitments made during the Obama administration — as if they were new ideas up for negotiation.
The White House did not respond to a request for comment.
Some European diplomats said they are hopeful Trump could still shift his views. "Not even US negotiators can predict Trump's behavior. He could decide his position on the spot," one diplomat said.
This week's G7 comes after a number of aggressive trade decisions by the Trump administration, including pulling the US out of the Trans-Pacific Partnership, vowing to renegotiate the North American Free Trade Agreement (NAFTA) with Canada and Mexico, and signing executive orders to review US trade deficits and the case for imposing import duties.
Throughout his campaign, Trump reiterated that the current order is stacked against the US, and doesn't protect America's interests from practices Trump deems to be unfair. He has claimed he wants a trade system that is fair and reciprocal.
But European diplomats say that the US administration has been unable to articulate what this means in tangible terms as well as in terms of shared rules. Officials, and critics, have warned against a vision that translates into unilateral action and attempts to unlink the US from the multilateral trading system and an international set of rules.
"For Trump, it seems that trade isn't a win-win," one senior European official said. "Every deal has a winner and a loser."