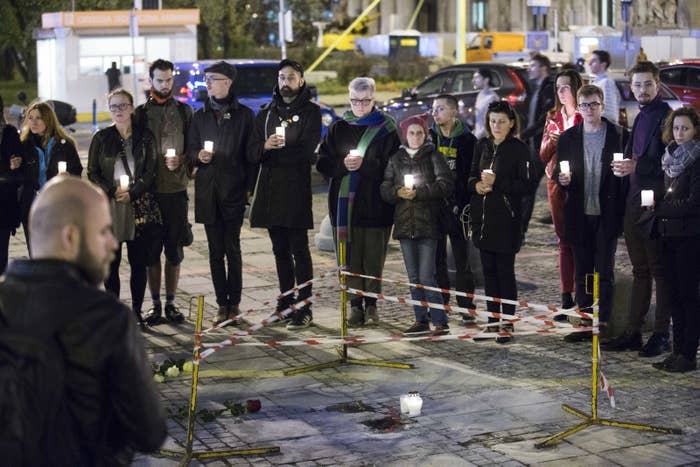 A man who set himself on fire in Warsaw to protest against the Polish government died from his injuries on Sunday, 10 days after "failing to regain consciousness," according to the AFP.
The death of the 54-year-old, who has been identified as Piotr S, comes amid sustained criticism by European leaders over a string of policies under the current government led by the right-wing Law and Justice party (PiS).
Before setting himself alight in the centre of Warsaw on October 19, Piotr S distributed leaflets accusing the right-wing government of breaking the rules of democracy, damaging Poland's reputation, destroying the country's judicial system, and limiting civil rights by discriminating against minorities, immigrants, women, Muslims, and the LGBT community.
"I appeal to all Poles who decide who governs in Poland to oppose what the current power is doing and this is why I protest," the leaflet read.

It concluded: "I love freedom above all. That's why I decided to do this self-inflammation and I hope my death will shake the conscience of many people."
Human rights groups have accused the PiS government of an "authoritarian slide."

Earlier this year, the European Commission launched an infringement procedure against Poland, expressing grave concerns over judicial reforms that experts say undermine the rule of law, the independence of the judiciary, and the separation of powers.

Separately, the European Union has ordered the Polish government to halt large-scale logging in an ancient forest along its border with Belarus.
The Polish government has also refused to take any refugees, arguing that Muslim migrants could be a problem for its homogenous society. The PiS leader has in the past warned that migrants carry "all sorts of parasites".
Since taking office two years ago, the government has been restricting women's rights, limiting contraception and domestic violence protection — and has pushed to ban abortion, prompting tens of thousands of people to take to the streets in protest.
According to the conclusions of a Human Rights Watch report published earlier this month, the government has undermined media freedoms, limited the right to free assembly, and given security services greater powers of surveillance, weakening rights and due process.

The Polish government has repeatedly denied the charges.
Following reports about Piotr S's death on Monday, many people, including opposition leaders and prominent journalists, posted their views online. Donald Tusk, the president of the European Council and former Polish prime minister, was among them.

Beata Kempa, the head of the Chancellery of the Prime Minister, said the situation was "very sad," but went on to call the reaction of some journalists "undignified", according to Polish media.

"It is a very sad situation as human life is priceless," she said. "After reading the manifesto left by the deceased I felt as if I heard it from the opposition benches in the Parliament."
Despite the growing criticism from abroad, PiS retains a strong lead in the polls.