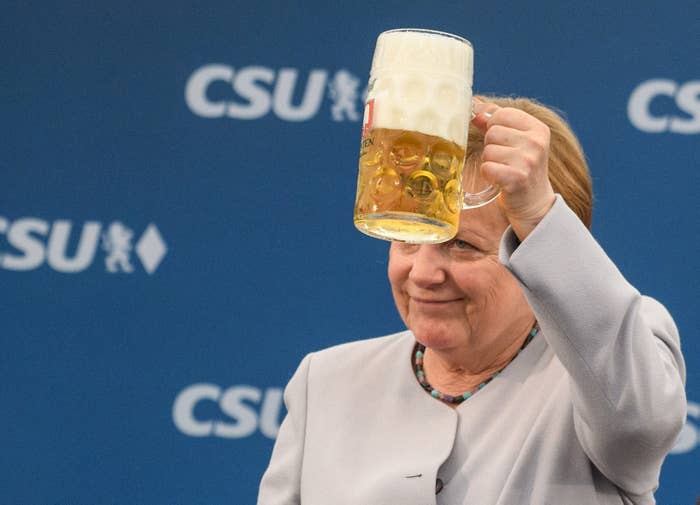 Remarks by German chancellor Angela Merkel to a crowd of 2,500 people in a beer tent in southern Germany on Sunday instantly received attention around the world, leading to a string of contrasting, and often puzzling, interpretations.

Here's what the German chancellor, said according to German broadcaster Deutsche Welle:

"The times in which we can fully count on others are somewhat over, as I have experienced in the past few days. And this is why I can only say: We Europeans must really take our destiny into our own hands. Of course in friendship with the United States, in friendship with Great Britain, with good neighborly relations wherever possible, also with Russia and other countries — but we have to know that we have to fight for our future and our fate ourselves as Europeans."
But what did Merkel actually mean?

Some have gone so far as to say that Merkel's comments were "era-defining," that she was turning her back on transatlantic ties that have shaped international relations since the end of the second world war.

To suggest that Merkel is anything other than a convinced transatlanticist — that Europe and America's foreign policy is bound together by shared history and values no matter who sits in the White House — is to completely misunderstand the experiences and beliefs that have formed her life and politics. (Merkel's biography by German journalist Stefan Kornelius is a recommended read.)

Much is made of Merkel's near obsession with detail and political calculation. But her views are just as grounded in steadfast principles — such as saving the euro, keeping Greece in the common currency, and dealing with a humanitarian crisis — and the chancellor rarely if ever loses sight of the bigger picture.
Merkel's remarks do not point to cutting ties with US and UK, but to the need — in the wake of Brexit and Trump's election — for a reformed, stronger, and more integrated EU. She is setting the groundwork for the work to come. Merkel wasn't talking to Trump, she was speaking to German voters, and to Europe.
Merkel is someone who says it like it is. She spoke as a convinced transatlanticist, but as one that sees no point in pretending that there are no controversies with the Trump administration. The chancellor doesn't believe that Europe should turn its back on the US or Britain. At the same time she feels the EU has to reshape its role in the world to take responsibility for the challenges it faces, especially after Brexit, and with a US administration that is not always on the same wavelength on important issues.
Her remarks are also not new — and are a statement of the obvious. Britain is leaving the EU, and the contrast in how Germany's chancellor and America's president view the world is evident. Merkel believes in multilateralism and cooperation: For her, deals are win-win arrangements. In Trump's world, every deal has a winner and a loser.
At a meeting of EU leaders in Malta held at the beginning of the year, Merkel urged Europe to take its destiny into its own hands as the best response to Trump.
Merkel has been just as clear about Brexit. An official close to the chancellor's inner circle told BuzzFeed News earlier this year: "The UK is not leaving Europe, but Britain will not be in the EU, and the EU is the priority."
The underlying point that many people fail to grasp is that Germany's interests and the EU are perfectly aligned. The cohesion and success of the EU is Germany's national and economic interest.
Events of recent days — last week's NATO Summit in Brussels and the G-7 Summit in Italy — will have only reinforced the chancellor's existing views because they exposed important differences on significant issues: defense, climate change, trade, and refugees and migration.
While the US is in the process of reviewing its policies on climate change — Trump signaled he may pull out of the Paris Agreement — the other six governments reaffirmed their commitment to the accord. Leaving the summit, Merkel described the climate talks as "very unsatisfactory," and said the agreement was so important that there shouldn't be compromises. Should Trump decide to pull the US out of the Paris accords, the damage to US–EU relations would be considerable.
What's more, the UK's stance to prioritise countries' sovereign right to controlling borders and limiting migration levels is likely to have added to Berlin's disappointment — a number of European officials have long perceived Britain has taken a backseat role during the ongoing refugee and migration crises.

For Merkel, the challenge posed by refugees and migration flows is one that Europe should be facing together.

Defense, climate, trade, and refugees and migration are all big issues, and there are clearly important differences between the EU and the US, and in some cases between the EU and UK. It is on these issues that the German chancellor is urging the EU to come together and take responsibility.

Adding to Merkel's confidence is Emmanuel Macron's election win in France. Macron ran on a pro-EU platform, and is urgently pushing for reforms, including for more collaboration on defense and security matters, and greater integration in the eurozone. During her speech on Sunday, Merkel emphasized that the relationship with France will strengthen and flourish under Macron. The chancellor is likely to see in his election an opportunity to put an agenda of reforms that had long been on the backburner.

Finally, there's domestic politics. Ahead of a general election in September, when Merkel will seek her fourth term in office, her remarks will put further pressure on Social Democratic candidate Martin Schulz, who has been lagging in the polls, and was hoping to make Europe a core part of his platform.

Merkel was speaking at a rally of the Christian Social Union, the sister party to her Christian Democratic Union, with whom she has had a difficult relationship over recent years because of disagreements about her handling of the refugee crisis. As The Economist pointed out, focusing on voter-friendly issues of defense and Europe is part of a healing process. Merkel is, after all, also a politician seeking re-election.