A Corsican town has become the third in France to ban burkinis – full-body swimsuits with hoods – from its beaches.
A week after the mayor of Cannes signed off an order banning the swimwear from the Riviera's beaches, Ange-Pierre Vivoni, the Socialist mayor of Sisco in Corsica issued a similar ruling following clashes at a local beach on Saturday.
According to witness reports in French newspaper Le Monde, a Muslim father accused a tourist of taking a photo of his wife. The discussions escalated into a brawl involving other locals, with punches, stones, and bottles thrown.
Four people were injured and taken to hospital for treatment, including a pregnant woman and someone struck by a speargun. A police cordon had to be set up to protect the Muslim families, according to the reports.
The following day, police had to be called in again; this time to stop a crowd of some 500 protesters marching into a housing estate in the Lupino district, which has a high population of North African origin. The crowd were shouting "To arms! This is our home!"
Vivoni is the first left-wing mayor to introduce a ban on burkinis. He said the measure was needed to "protect the population".
In an interview with Le Parisien published on Tuesday, Laurence Rossignol, the French Socialist government minister for women's rights appeared to defend the ban on the grounds of gender equality. She said the burkini was "the beach version of the burqa because it followed the same logic: to hide women's bodies in order to better control them".
Rossignol said the burkini had sparked tensions in France because of its political dimension: "It is not just the business of those women who wear it, because it is the symbol of a political project that is hostile to diversity and women's emancipation", she said.
However, the minister called on mayors to try and cool escalating tensions between communities, and also warned against conflating the debate, and Islam, with terrorism.
The centre-right mayor of Cannes, David Lisnard, banned burkinis last week with a ruling that states: "Access to beaches and for swimming is banned to anyone who does not have (bathing apparel) which respects good customs and secularism.
"Beachwear which ostentatiously displays religious affiliation, when France and places of worship are currently the target of terrorist attacks, is liable to create risks of disrupting public order (crowds, scuffles etc) which it is necessary to prevent."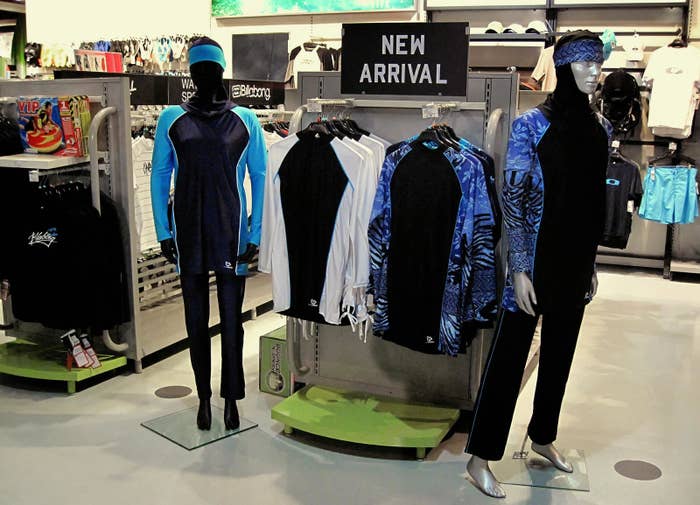 Explaining the rule's intent, Thierry Migoule, head of municipal services for the city was quoted by AFP as saying: "We are not talking about banning the wearing of religious symbols on the beach... but ostentatious clothing which refers to an allegiance to terrorist movements which are at war with us."

A court upheld the ruling after the the Collective Against Islamophobia in France (CCIF) attempted to take legal action against it. The CCIF has said it will appeal the decision.
The organisation had condemned the ruling, calling it an affront to fundamental rights. A statement on its website said the mayor's logic was "shocking", and said equating all Muslim symbols to terrorism would create tensions between Catholics and Muslims. "Need we remind the mayor that 30 of the victims of the Nice attacks were Muslims because terrorism hits all of us indiscriminately," the statement continued.
Cannes' burkini ban was followed by that of nearby Villeneuve-Loubet. The town's mayor said swimming fully clothed was "unacceptable for hygienic reasons and that in general it was unwelcome".
Under a law introduced in 2010, it is illegal for anyone in France to cover their face in public, but there is no ban on wearing religious symbols or clothing.