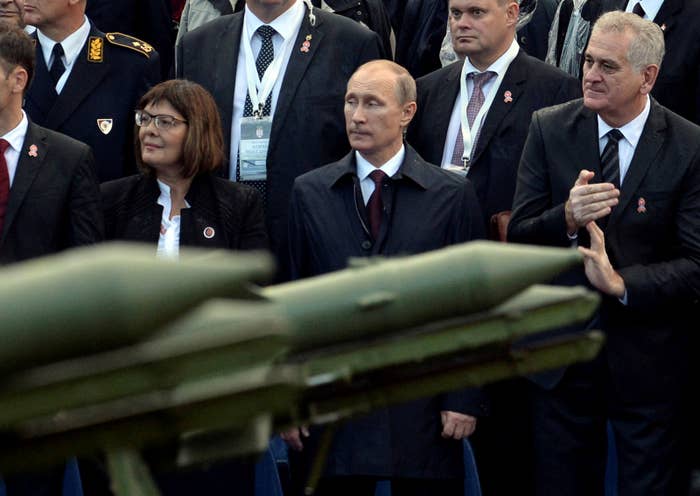 A majority of young Serbs under the age of 29 believe Serbia should not continue with European Union integration in the wake of Brexit, according to new research published by the Institute for European Affairs (IEA).
Across the population as a whole, 53% of people still believe Serbia, one of five EU candidate countries, should continue with the accession process even after Britain's departure from the union.
However, on several issues that will be central to successfully negotiating EU membership, such as the full normalisation of relationships with Kosovo, voters are divided, with younger ones taking a particularly hardline compared with the rest of the electorate, the IEA – a Serbian NGO that promotes European values and supports the country's membership of the EU – found.
Nearly 1 in 2 believe Russia is a better societal model to follow, compared to 34% who believe the EU is. Among younger voters, the proportions are 58% and 35.5% respectively. Just under 1 in 2 voters think Serbia should recognise Crimea as part of Russia. That rises to nearly 60% among under-29s.
The IEA explains the difference in age groups mostly through a lack of information: "Citizens have little information about Serbia's EU-integration. ... Young respondents from rural areas and those without high education tend to have more controversial attitudes compared to the rest of the population. There is big support for Russia, while that for EU-integration is diminishing."
Milica Delevic, former director of the Serbian EU Integration Office, told BuzzFeed News that "the EU integration of Serbia is a long process, lasting 16 years already. This generation has heard a number of political messages from all sides during this time, some in contradiction with the other. They also see that things are moving more slowly then they expected and feel that the background against which integration of the country is taking place is becoming more challenging, with the EU facing crises testing solidarity within and among member states.
"Similarly, what the 'membership' would mean or the EU would look like once Serbia joins looks unclear to them. Creating space for these – very real – concerns to be discussed in a meaningful way will be important to keep them on board. Otherwise they would turn to issues they feel they can be more passionate about."

However, the survey's respondents admit that the EU has a better economic situation, higher salaries, and greater respect for human rights than Russia.
Eighty-two per cent of voters do not want Serbia to join NATO, while 8 in 10 are against recognising Kosovo as an independent country even if to do so were a condition to joining the EU.
Two-thirds would not back membership of NATO even if Russia were to become a member. Opposition to NATO is even higher among those aged 18 to 29, who would have been children when the country was bombed by NATO at the end of the 1990s, during the Kosovo war.
Professor Srbijanka Turajlic, a former deputy minister of education, who spoke at an event where the IEA results were presented last week, said: "Young people have no knowledge of Serbia's negative role in the Yugoslavia conflicts. They need to be more informed about what happened during the wars in former Yugoslavia."
Respondents in the IEA research view Russia, Greece, and China as Serbia's closest friends, with 41%, 12%, and 10% citing the three countries respectively as its closest. Croatia, the US, and Albania were seen as "enemies", picked as Serbia's main enemy by 20%, 18%, and 12% respectively.
Four per cent view Germany and the UK as friends, while nearly 8% view the two countries as enemies, according to the research.
Germany is at the forefront of efforts to spearhead greater EU integration with the Western Balkans, while the British government has long been a strong advocate of Serbia's bid to join the EU as part of a policy historically supportive of the union's enlargement to all countries in the region.
The UK has worked with Serbia to boost reforms in a range of areas, including the rule of law, human rights, and the fight against organised crime and corruption. The view to date has been that these reforms are important not only for Serbia, but also for UK interests. Officials suggest that Britain will continue to seek to enable change around many of these same themes but through a bilateral relationship.
A spokesperson for the Foreign Office told BuzzFeed News that "the UK remains committed to supporting security and prosperity across Europe, where we will continue to have close relationships and mutual interests.
"In countries aspiring to join the EU, our bilateral focus will remain on strengthening stability, security, good governance and the economic fundamentals; and building the resilience and capability to tackle global threats and challenges including migration and terrorism."
However, the advancement of EU membership has often acted as a linchpin to enabling such a reform agenda, and is integral to the UK's current policy:


For example, efforts in the past have included funding for projects to bolster the capacity and skills necessary for Serbia to be able to campaign for EU accession, and create the conditions required to pursue EU membership – and it is not yet known whether Britain's position in regards to Serbia's membership of the EU will change after the Brexit vote.

The IEA research is based on a representative poll of 1,007 people who were surveyed between 28 June and 6 July.