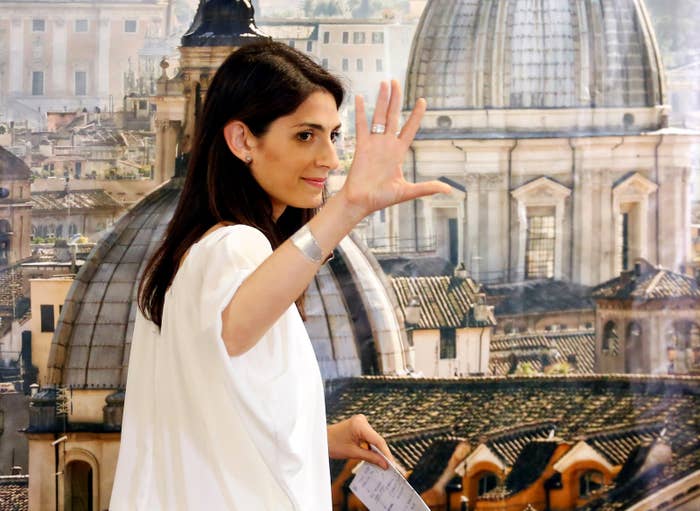 Rome elected its first female mayor on Sunday as Italy's anti-establishment Five Star Movement (M5S) achieved a number of good results in the country's local elections.
M5S's Virginia Raggi, a 37-year-old lawyer, defeated the centre-left Democratic Party's Roberto Giachetti in a runoff, with 67% of the vote.
The anti-euro party also won the mayoral election in Turin, with Chiara Appendino taking 54.5% of the vote against the incumbent Democrat Piero Fassino.

The Turin result was the biggest shock of the evening, as Fassino — a former justice minister — had topped the first-round ballot by 10 points and was favourite to win the mayoralty on the eve of the elections. However, he was unable to build on that early support, and won nearly the same number of votes in both rounds.
Both Raggi and Appendino had been selected as the M5S candidates for their cities following an online vote.
The Rome result — although highly significant — was less of a surprise than the one in Turin.
The capital has been leaderless for eight months after the former Democratic mayor resigned amid an expenses scandal, and city hall officials from earlier administrations had been placed under investigation in an anti-corruption "mafia capital" scandal.
Raggi ran much of her campaign on an anti-corruption platform.
These results are a big deal for Italian politics.
Before the weekend's local elections, the largest cities M5S governed were Livorno and Parma, with populations of around 160,000 and 190,000 people respectively.
After Sunday's results, the populist party, founded in 2009 by comedian Beppe Grillo, will now govern Italy's capital city, its largest city, and its fourth-largest city.
M5S — which won 25.5% of the vote in the 2013 general election — is also just a couple of points behind the Democratic Party of Prime Minister Matteo Renzi in nationwide polling.
The M5S is a member of the Europe of Freedom and Direct Democracy group in the European Parliament, alongside Britain's UKIP, Germany's anti-euro and anti-immigrant Alternative für Deutschland, and the right-wing Sweden Democrats. Grillo's party is campaigning to leave the euro and wants to hold a referendum on the issue.

In better news for Renzi's Democrats, their centre-left candidate, Giuseppe Sala, won in Milancentre-right Forza Italia and the right-wing parties Northern League and Brothers of Italy., defeating Stefano Parisi, a candidate backed by centre-right Forza Italia and the right-wing parties Northern League and Brothers of Italy.
The elections came at a difficult time for Renzi. The prime minister has said he will resign if a referendum on constitutional reforms doesn't pass in October. Polls point to a tight contest, although more than 4 in 10 voters are still undecided.