This is Jeroen Dijsselbloem, the Dutch finance minister and the current president of the group of the eurozone's finance ministers.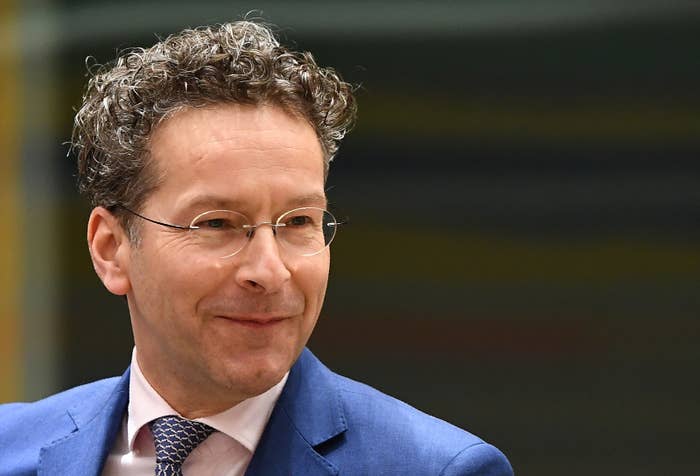 But he's now at risk of losing both jobs.
Earlier this week, Dijsselbloem spoke to the German newspaper Frankfurter Allgemeine Zeitung.
"During the crisis of the euro, the countries of the north have shown solidarity with the countries affected by the crisis," he said. "As a Social Democrat, I attribute exceptional importance to solidarity. [But] you also have obligations. You can not spend all the money on drinks and women and then ask for help."
His implication that southern Europeans waste money on drinks and women has angered many European politicians, and governments, who are now calling for his resignation.
In a post on Facebook, Matteo Renzi, the former Italian prime minister, called Dijsselbloem's remarks "stupid", and said "if he wants to offend Italy, he should do so in a bar, not while holding public office."
Meanwhile, the leader of the group of social democratic MEPs, Gianni Pittella, said Dijsselbloem wasn't fit for public office, and called his comments discriminatory.
On Wednesday, Portugal's socialist prime minister, Antonio Costa, chimed in, demanding Dijsselbloem's resignation. Costa described the Dutch finance minister's remark as "racist, xenophobic, and sexist."
Renzi, Pittella, and Costa's stance is likely to weigh heavily on Dijsselbloem's fate, as their political parties and the Dutch finance minister's Labour party are all part of the same centre-left alliance in the European parliament.
But Dijsselbloem's loose-lipped comments also caused some anxiety among centre-right politicians.
Being the Eurogroup's president isn't the only job Dijsselbloem could lose in the coming days.
The whole incident caps a bad 10 days for Dijsselbloem. In last week's Dutch elections, his Labour party collapsed to nine seats from the 38 it held five years ago. The poor result means that Dijsselbloem and Labour, currently the junior coalition partner in the Netherlands, are unlikely to be in government much longer.