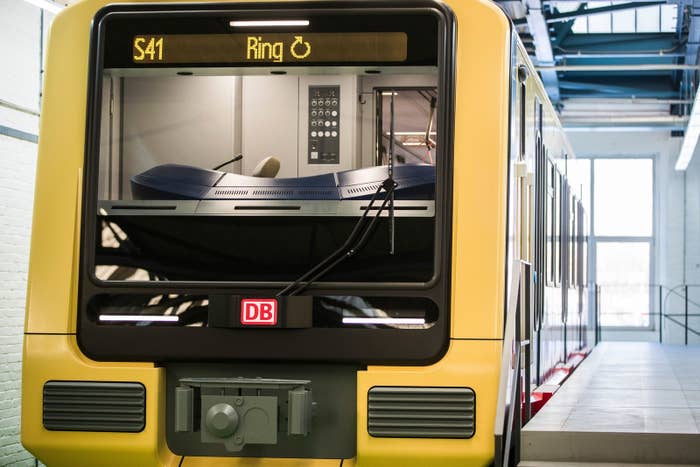 For the last couple of months, Berlin's public transport company, BVG, has been responding to a German MP from the far-right AfD party whenever he tweets that he is traveling by bus or train.
Last week, Gunnar Lindemann, who was elected to the Berlin parliament last September, tweeted that he was taking public transport to do his bit for the environment.
The BVG replied: "Exemplary! By the way, Zeynep drove you today."
Such exchanges started in February, according to German newspaper Bild. When Lindemann tweets that he is traveling by public transport to parliament, or thanks the service for taking him to the north of Berlin, the transport company promptly responds with tweets like "You're welcome. Many greetings from Tarek, the driver."

In the same thread, after the MP thanked the driver, the company tweeted back and said Tarek corrected his grammar.
"Tarek says it should be 'meinen.'"

In another exchange, BVG wrote to the MP, "Greetings from Omar, the driver," and "thank you for riding together."

The irony of the exchanges is not lost on Lindemann, but he appears to have taken the conversations with the intended humor. He often thanks the drivers for their service.

The far-right party AfD has relentlessly campaigned on an anti-migrant platform, and against multiculturalism, often targeting Muslim communities with inflammatory rhetoric.
"Thank you very much. But a special thanks to the bus and train drivers and workers who drive us around safely."

Germans have been sharing the exchange online and commenting on how masterful BVG has been at trolling the MP.
"This from BVG_Kampagne is a masterpiece in trolling and class."

"Today I celebrate the BVG :-D "

"The MP says he went for a drink with Tarek.
"I think he's confusing Tarek with Patreck because Tarek doesn't drink beer ;-)"
"Thumbs up to the social media team at @BVG_Kampagne, 'We love you!'"

This is not the first time the far-right AfD has sparred with the BVG on Twitter. In 2015, the party asked why the company was spending money on posters. The transport company replied: "Okay, we'll stop putting up posters — if you do the same."

A BVG spokeswoman told news outlet Welt they found the tweets very funny, and said the company's social media team had a free hand when posting content.

They added: "We work with people from over 50 nations... If starting tomorrow we would only work with bus drivers who have no immigration background, people would be surprised: no buses would be coming at all — or only one bus every 50 minutes. We are proud to be such a colorful company."