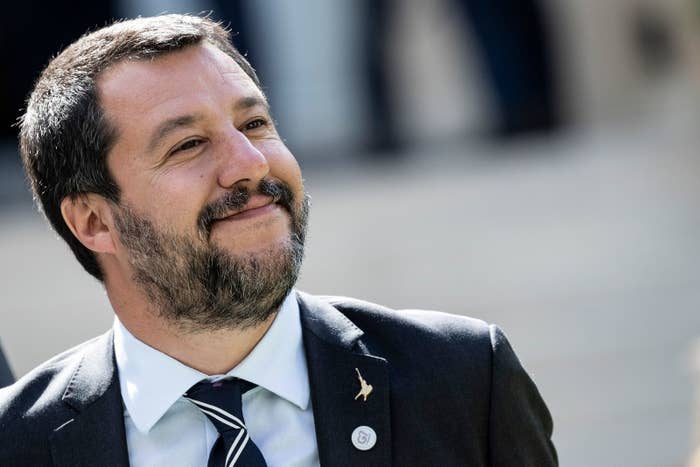 LONDON — Italy is banking on European Union governments backing its bid to host next year's UN flagship climate change summit, despite its deputy prime minister's sketchy record on the issue.

The nationalist Lega party, the junior partner in Italy's governing coalition, has formed controversial alliances with far-right climate change deniers, putting EU member states in a difficult position. There are also concerns about the Italian government's capacity to successfully deliver the event, and some officials and climate change experts now hope Italy withdraws its candidacy.
The UK and Italy both wrote to the permanent missions of the United Nations earlier this year to formally announce their candidatures to host COP26, the UN's 2020 climate summit, documents obtained by BuzzFeed News show. Turkey has also expressed an interest in staging the event, but its bid is seen as unlikely to succeed, climate experts said.
BuzzFeed News can also reveal that the British government is on a "charm offensive," lobbying Italy to drop its bid, and has pitched a collaborative proposal.
A decision is expected later this year. It will be taken by a group of countries known as the "Western European and Other States," which includes, among others, Australia, Canada, and the US — meaning that a bloc EU vote would go a long way in determining who hosts the summit.
Next year's meeting is viewed as critical to setting ambitious long-term goals and concrete action plans for the next three decades. The summit will also mark the moment governments take stock of their existing commitments under the Paris climate agreement, which is expected to come into full effect in 2020. President Donald Trump pulled the US out of the accord two years ago amid widespread criticism from allies around the world.
As a member of the European Parliament, Matteo Salvini, now Italy's deputy prime minister and leader of Lega, voted against the Paris agreement, while his party abstained from a vote in the Italian Parliament to ratify the accords.
One question on the suitability of the Italian government organizing COP26 is whether it has the ability to coordinate the united global effort that will be required, Antony Froggatt, a senior research fellow and acting director at Chatham House told BuzzFeed News.
"2020 is an important summit to negotiate crucial targets and sustainable development goals. A widespread diplomatic front will be needed to achieve this — and you need a united government that isn't having to explain its domestic position to countries it is trying to persuade to take more ambitious actions or defending core issues on a domestic front," said Froggatt.
According to research by the independent think tank Adelphi, Lega MEPs voted against all analyzed EU climate and energy policy proposals tabled in the European Parliament between 2014 and 2018, except for a vote on energy performance in buildings.
Although Lega's election manifesto references a sustainable energy transition to fight climate change, citing energy efficiency and renewable energy, as well as plans to ban petrol and diesel cars, the issue is all but absent from the party and Salvini's communications on social media, where he posts dozens of times a day.
In a rare comment on the issue last year, Salvini attacked research linking immigration to climate change, suggesting it was just an excuse to favor illegal immigration.
Salvini's alliances are also a worry. After this month's upcoming European Parliamentary elections, Lega is expected to sit in a bloc of far-right parties that includes France's National Rally and the Alternative for Germany (AfD). The National Rally, formerly known as the National Front, wishes to pull out of the Paris agreement because it deems the United Nations Framework Convention on Climate Change a "communist project." And the far-right AfD has embraced climate denial in the run up to the EU elections, attacking the Swedish climate activist Greta Thunberg as "mentally challenged" and a fraud, the Guardian reported this week.

Both the National Rally and the AfD have not supported any EU climate and energy policy proposals, Adelphi analysis shows.
Beyond Europe, Salvini has repeatedly endorsed President Trump and Brazilian President Jair Bolsonaro, who has pledged to open up the Amazon rainforest to new developments. Days after assuming the presidency, Bolsonaro fired the director of Brazil's agency for environmental protection.
"The country that has the presidency of COP — especially with the US having abandoned Paris' is important to determining the outcome of the summit, and giving it the required momentum," Lola Vallejo, the climate program director at IDDRI, an independent policy research institute, said.
"The real value of Paris is in its implementation. We need the process driven by a country leading on climate action," she added.
Still, some Italian officials hope that the country's record on climate change, and its success adopting renewable energy sources in particular, will override any concerns. These same officials are confident that in the name of "EU unity" European governments will back a member of the EU over a departing member state.
However, other diplomats are not so confident.
A diplomatic source told BuzzFeed News that there are different views within the Italian government. Some officials fear that ministers are mostly interested in the prestige that comes with hosting such an event, but underestimate the financial and extensive diplomatic capacity involved.
Behind the scenes, the UK government is going to great lengths, parading charm and diplomatic efforts, to lobby Italy to drop its candidacy, the source said. The UK has offered some form of a co-organizers role and a pre-COP event to stage in Italy, the source explained.
A British diplomat confirmed that "a collaborative pitch" had been made.
The UK diplomat said that they didn't see the process as a competition. "The Italians are an important partner, and this can be resolved jointly," added the diplomat, who stressed that the UK wanted to remain fully engaged as a key player in Europe's climate policies after Brexit.
Another diplomat said that they would not bet on French President Emmanuel Macron backing Italy given the antagonism with Salvini, and repeated provocations by Italian ministers from both ruling parties.
Just last week the Italian government declined to sign up for a Paris-led proposal calling on the EU to reach net-zero greenhouse gas emissions by 2050 at the latest. The UK has independently hinted that it will back the same goal.
"Eventually, it will be payback time," said the same diplomat who commented on Macron and Salvini's relationship. But, they added, ultimately the final decision on whether to continue to pursue the candidacy will be a question for ministers alone, not officials.
Should Italy and the UK fail to reach a compromise agreement, Macron's position, and that of Germany, will be crucial in deciding who hosts next year's meeting.
"Germany has not made a decision yet. London is a strong contender," a German diplomat said, "however, we're still in the decision-making process."
Paris, meanwhile, doesn't want to be in a position to have to choose between one of the two, another diplomatic source told BuzzFeed News.
A worry among experts is that politics plays second fiddle to climate change. "It would be a shame if EU politics were to scuttle the climate agenda," the IDDRI's Vallejo said.
Last year's COP was hosted by Poland, despite the country's mixed record on climate policies and its unwavering commitment to coal. That summit's outcomes, Vallejo noted, had been limited by a lack of support and ambition at the very top of the host country's government.
The Italian and UK governments were approached for comment.