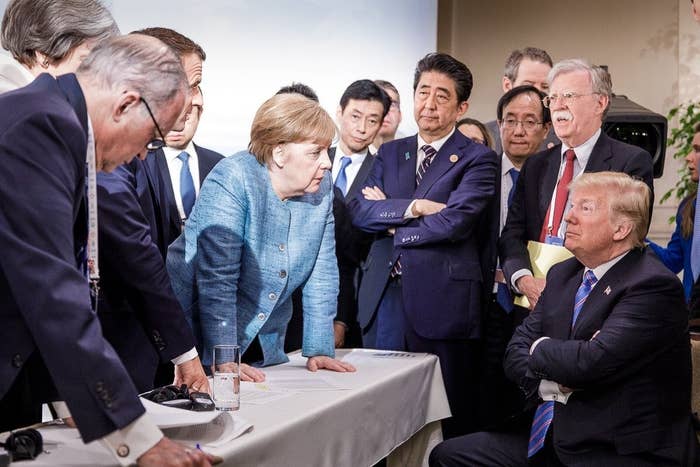 The ink on the deal was still wet when Donald Trump decided to pull out. The US president has backtracked on a joint statement that was agreed upon at a G7 summit in Quebec just hours earlier because, Trump claims, Canadian Prime Minister Justin Trudeau made "false statement" at a press conference.
Trump went on to tweet that Trudeau was "dishonest and weak."
Trudeau's office responded to Trump's tweets with a statement: "The Prime Minister said nothing he hasn't said before — both in public, and in private conversations with the President."
The office of French President Emmanuel Macron said in a statement issued on Sunday morning that "international co-operation cannot be dictated by fits of anger and throwaway remarks."
"Let's be serious and worthy of our people. We make commitments and keep them," the statement went on to say. France and the EU maintain their support for the G7 conclusions, the statement concluded.
The leaders of the world's seven most advanced economies — the US, Germany, France, Italy, Japan, Canada, and the UK — had managed to agree to a joint statement after directly negotiating among themselves a compromise set of words on the thorny issue of trade.
"I'm happy to announce that we've released a joint communique by all seven countries," Trudeau said to applause at a news conference to conclude the summit, calling the statement "ambitious."
Negotiations going into the G7 summit had been fraught with animosity, fanned by Trump's tough talk on trade. Diplomatic sources told BuzzFeed News that US officials were blocking all meaningful proposals on topics ranging from trade and climate action to violence against women and sexual/reproductive rights. There had been fears that, for the first time ever, a G7 summit could end without a joint leaders' statement, with some officials worried that Trump may even be intent on tearing apart the very rules and fabric that bind the West together.
"The president will continue to say what he says at various occasions," Trudeau told reporters. "What we did this weekend was come together, roll up our sleeves, and figure out consensus language that we could all agree to."
Trump's decision to impose tariffs on the steel and aluminum exports from the US's closest allies days before the summit, and the risk that it could lead to a full-blown trade war, loomed large on the summit, causing indignation and anger among the other six leaders.

"It's going to stop. Or we'll stop trading with them. And that's a very profitable answer, if we have to do it," Trump told reporters on Saturday. "We're like the piggy bank that everybody's robbing and that ends."
After leaving the summit — around the time that reporters on Air Force One were told that the US would sign off on the joint G7 statement — the president tweeted a threat from Air Force One to countries considering retaliating with tariffs of their own on the US.
Yet at his press conference, Trudeau announced that Canada's retaliatory tariffs would go into effect on July 1.
"Canadians are polite. We're reasonable. But we will not be pushed around," he said.

The EU is also set to respond to Trump's tariffs with €2.8 billion ($3.3 billion) worth of their own tariffs next month.

The disagreements between Trump and the other six leaders were even more intense behind the scenes.
During a discussion about trade on Friday, Trump presented a list of grievances, listing what each country, one by one, owed the US, a source at the G7 summit told BuzzFeed News. The president went through tariffs, trade deficits, defense spending, and other talking points that have featured heavily in his tweets since taking office.
According to the source, Trump was especially "strong" toward Trudeau, saying that it's useless to make tear-jerking speeches about Canadian soldiers fighting alongside the US in the war if he then puts very high tariffs on dairy products.
Trump described NAFTA as the second worst deal ever, and the WTO as the worst, the source added.
The US president also singled out Germany, saying the US paid to defend other countries through NATO when these countries aren't paying to defend themselves. (Germany, as well as most other NATO members, have yet to reach the bloc's defense spending ambition of 2% of GDP.)
The same diplomat said that French President Macron hit back hard, imparting "an economic lesson" on the US president over how free trade works and why Trump's tariffs were damaging.
Trump also brought up the idea of creating a no-tariff zone of G7 members, an idea he also mentioned at a press conference on Saturday. According to the source, the other leaders were later unclear whether this idea was a provocation said in jest, or an actual new proposal the president was putting on the table.
The diplomat described Trump as a "whirlpool" and "out of control."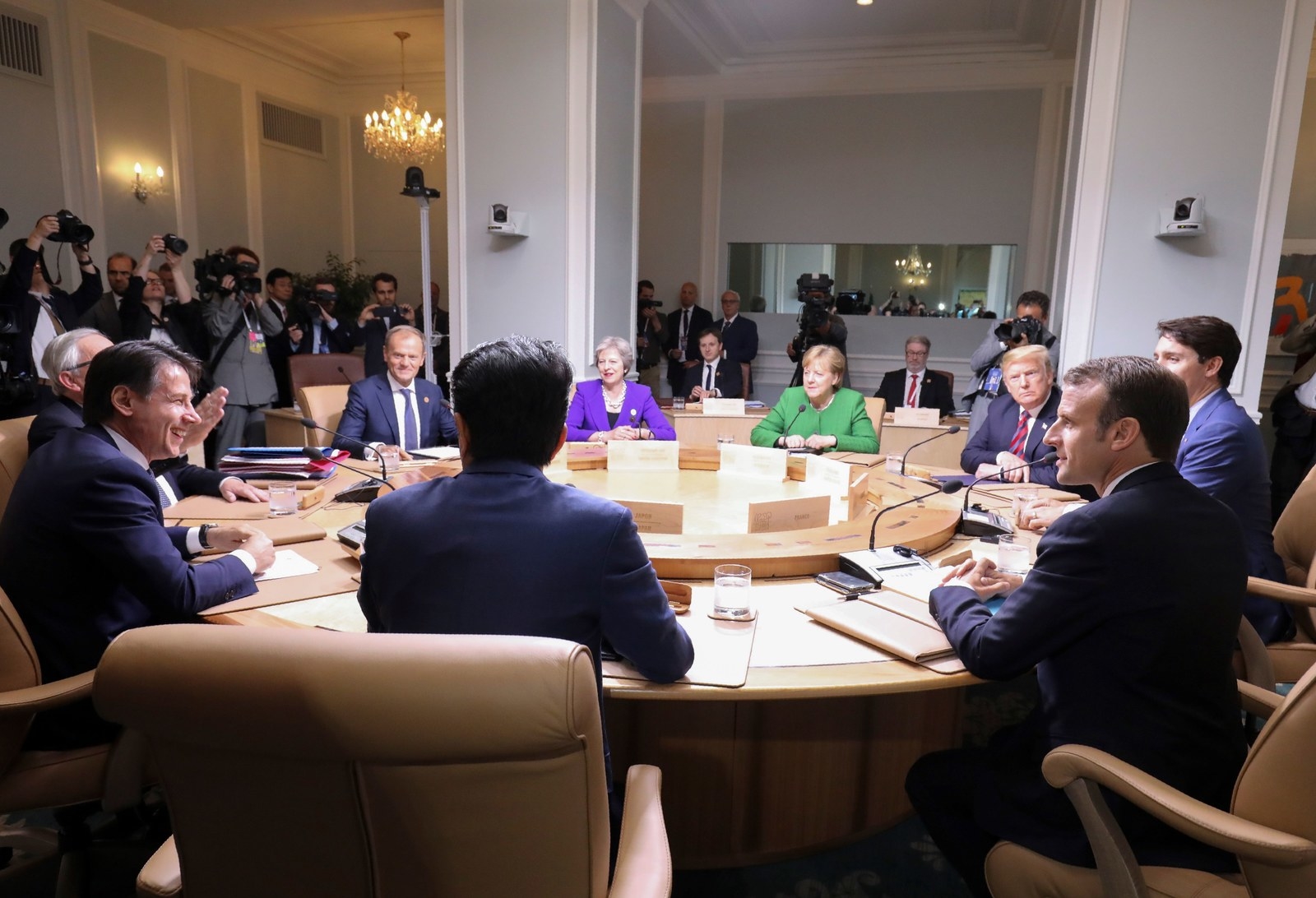 On Friday, as he was leaving Washington, DC, to fly to Canada, Trump caused more bewilderment among the other leaders by telling reporters that Russia should be readmitted to the G7. (Russia was kicked out of the then-G8 after annexing Crimea.)
Shortly afterward, Italy's new prime minister Giuseppe Conte tweeted that he agreed with Trump about Russia.
But a diplomatic source told BuzzFeed News that at a meeting of the G7's European leaders, which took place on Friday afternoon, Conte clarified that he meant after Russia had made progress on the Ukraine crisis, adding that Italy was on the same page as other European governments on all other G7 topics.
On Saturday morning Trump was late for a breakfast about gender equality and then left the summit early, missing a discussion about climate change, to head to Singapore where he will be meeting with Kim Jong Un on Tuesday.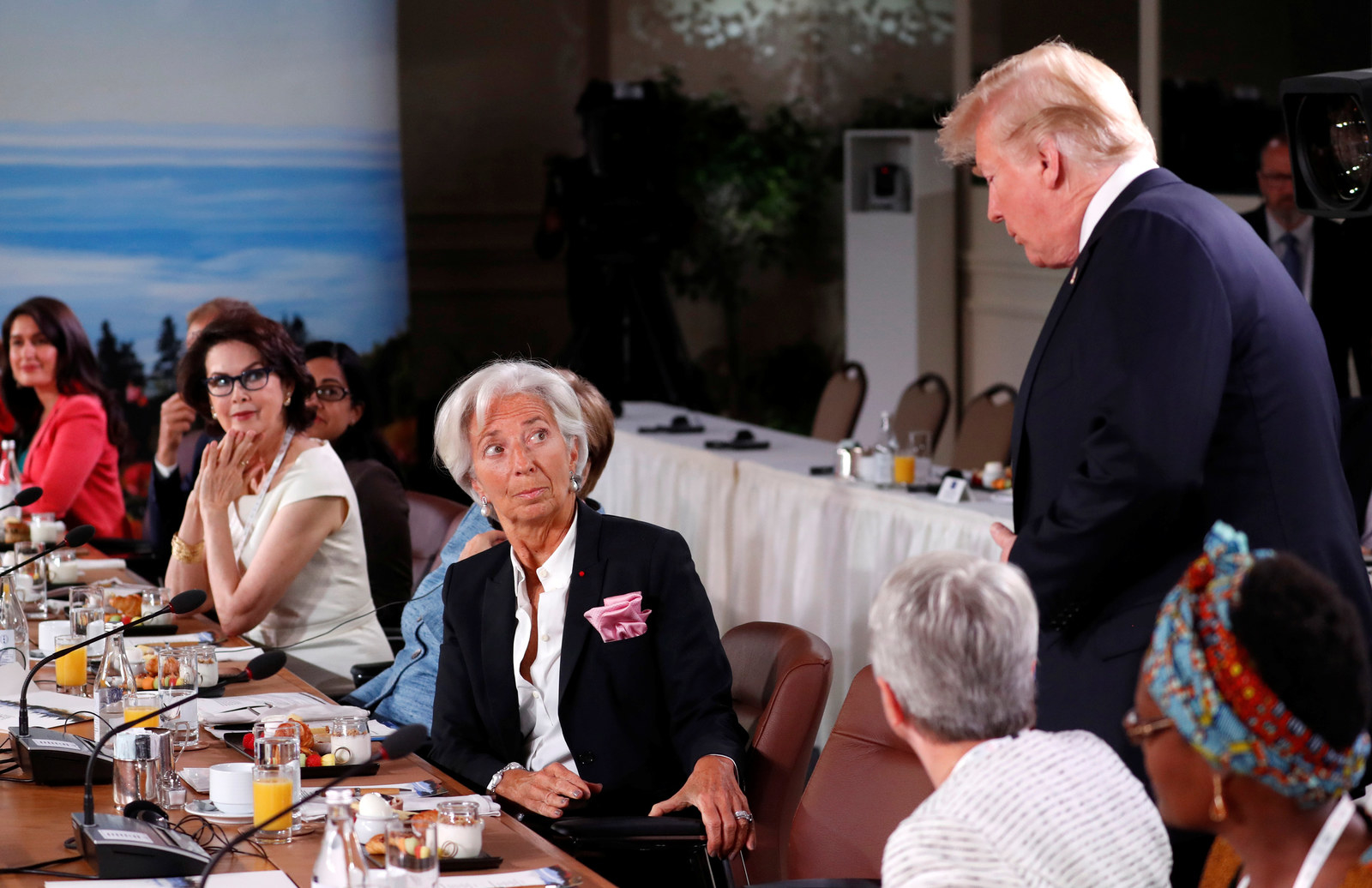 The statement agreed to by the seven leaders would commit them to modernizing the World Trade Organization and strive to reduce tariff barriers, nontariff barriers, and subsidies. It also underlined the crucial role of a rules-based international trading system and fight against protectionism.
The G7 also signed off on a series of commitments and declarations, including ones focused on ending sexual and gender-based violence, online abuse, a common vision on artificial intelligence, a declaration on quality education for girls and women in developing countries, a blueprint for healthy oceans and seas, and a commitment on defending democracy from foreign threats.

But the summit failed to reach agreement on climate change, noting that the seven governments remain divided because Trump continues to refuse to acknowledge human-caused climate change.
"Canada, France, Germany, Italy, Japan, the United Kingdom, and the European Union will promote the fight against climate change through collaborative partnerships and work with all relevant partners, in particular all levels of government; local, Indigenous, remote coastal and small island communities; as well as with the private sector, international organizations, and civil society to identify and assess policy gaps, needs and best practices," the document reads.
All six nations and the EU also reaffirmed their strong commitment to implement the Paris climate accord, which Trump pledged to withdraw from last year.
The US was also among only two G7 nations that refused to commit to a charter to reduce plastic waste, Trudeau said. The target is part of a set of measures aimed at ridding oceans of plastic.
UPDATE
This post has been updated to reflect Trump's tweeted statements Saturday evening.
David Mack contributed additional reporting to this story.